CryptoHero Review – Bitcoin & Cryptocurrency Trading Bot Platform


CryptoHero Review – Bitcoin & Cryptocurrency Trading Bot Platform
Free version is available (use it until you decide whether you want to use the platform or no)
Supports AI optimization, paper trading, and backtesting
Offers various technical indicators that you can use to customize the trading
All major exchanges supported
What is CryptoHero
---
If you want to make a profit that will change your life in the crypto world, you have to be involved in the trading business. Manual trading is not an easy task and quite often it can give you headaches and cause monetary losses.
This is where crypto trading bots come to the party. With a crypto trading bot, you can utilize your crypto funds through an automated trading tool. You can even continue regularly with your day job since you should not spend any more time figuring out what trade is next. 
One of those bots is CryptoHero. In this article, we are going to take a close look at CryptoHero, and its features and hopefully help you decide whether you want to use it or not. CryptoHero is owned by Novum Global Ventures Pte Ltd.
CryptoHero Features
---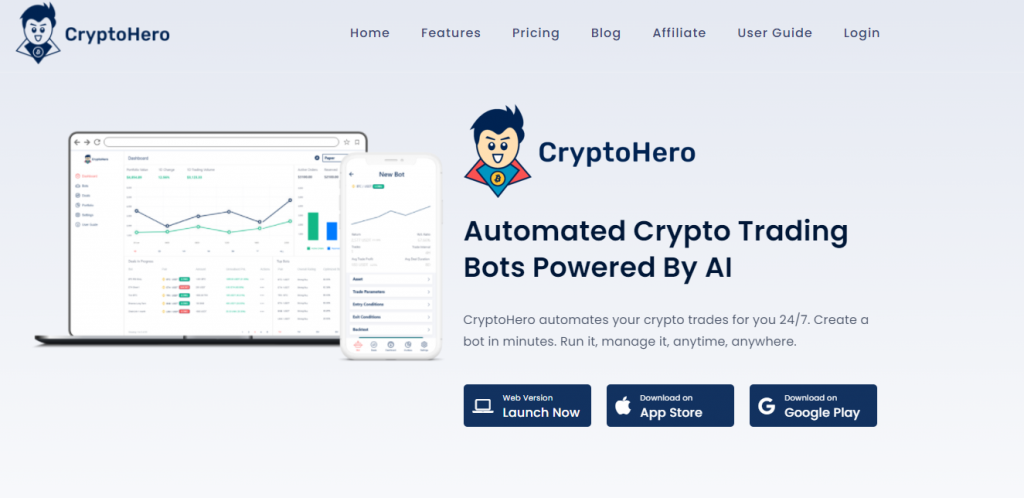 CryptoHero bot has quite a few exciting features such as automated trading, backtesting, technical indicators, paper trades, and crypto portfolio tracking. Let me break each one. 
Automated trading
---
Automated trading is the feature of every crypto bot, so it is nothing unique. The whole purpose of CryptoHero can be described in one sentence "Let Cryptohero Work While You Go About Your Day."
Backtesting
---
On CryptoHero there is also an option to run your bots through backtest strategies. When complete, these backtest show how your trading strategy measures up against historical data. Test bots can also run scenarios through exchanges without spending your money.
Technical indicators
---
With the CryptoHero bot, you will get a few technical indicators that can help you organize your traders such as Bollinger Bands (BB), Exponential Moving Average (EMA), and Relative Strength Index (RSI).
Paper trades
---
A similar feature to backtesting. With the Paper trades option, you can simulate a complete free bot that does not include any real and popular cryptocurrencies. It is a completely risk-free way to test the bot before actually using it. Simulating is done on Binance using crypto pairs available on Binance. 
Portfolio
---
Yet another exciting feature of the CryptoHero bot is the portfolio section. You can track your crypto trading performance across multiple exchanges. 
Pricing
---
CryptoHero offers its users three plans – a free plan, premium, and professional. A free plan is of course cost-free, and a premium plan is $11.66 a month annually (or 13.99 a month if you choose a monthly plan) while the professional plan is $24.99 a month annually (or $29.99 a month if you choose a monthly plan).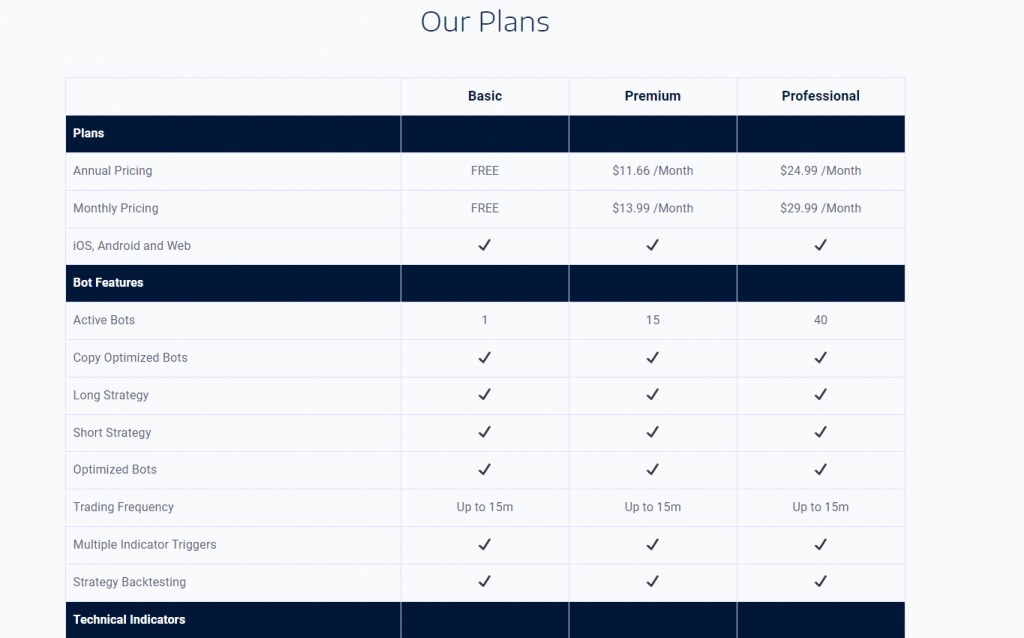 To be honest, if you just want to try out the CryptoHero bot, a free plan is completely fine for the beginning, even if you are an experienced trader. The main differences compared to premium and professional plans are the number of active bots and the number of API connections. All other important trading features such as short or long strategies, margin trading, technical indicators, supported exchanges – all these are available on all three plans. 
Please note that a maximum of 40 active trading bots can be used (not suitable for trading professionals).
When you compare CryptoHero's prices to its main competitors such as Bitsgap, it seems CryptoHero is cheaper. The good thing about CryptoHero's premium and professional plans is that there is a free trial as well.
Trade Parameters
---
Before actually using the bot, you have to set trade parameters, or rather create trading strategies for your CryptoHero bot.
AI Optimized Bots
---
Once you have finalized setting your parameters for trading, the AI-optimized robots run simulations and give you information about the best opportunities in the market.
Backtest Strategies
---
When you set up your trading parameters and strategies, but you are still not 100% sure how successful it will be, you can run backtest strategies to see how your strategy performed in different market conditions using the historical data on the market.
Entry and Exit Conditions
---
You can set both entry and exit conditions with the CryptoHero trading robot. This is particularly useful when you just want to set the trading strategy and then do not do anything until it finishes.
Long Strategy
---
Deciding on long or short strategies depends just on your goals and whether you are a long or short-term trader. In other words, if you want to see the results almost instantly, or wait a bit longer. If the latter is the case, the CryptoHero can he bot can wait and look for the best possible opportunities in the market.
Short Strategy
---
On the other hand, if you want instant results, the CryptoHero is capable of quickly analyzing the market and making moves in a matter of seconds.
No Coding Skills Required
---
The thing I like the most about crypto trading bots is that you do not have to be a developer, programmer, or anything similar to use it. You do not have to know the coding, bots are doing everything for you automatically. So, do not be afraid to use crypto bots even if you are not a "tech-savvy" person.
Various Technical Indicators
---
CryptoHero offers the technical indicators 'Bollinger Bands', 'Exponential Moving Average', 'Relative Strength Index', and 'Stochastic Relative Strength Index' for your entry and exit conditions. 
Supported Exchanges
---
CryptoHero is supported on many significant exchanges such as Binance, Huobi, Okex, Coinabase, Bittrex, Kraken,Gate.io, KuCoin, FTX, and others. Another positive thing about CryptoHero is that can be used on more than one exchange at the same time.
However, the downside is that you can connect up to 5 exchanges at the same time (even with the most expensive plan).
How Easy is CryptoHero?
---
The whole platform is pretty easy to use. Signing up and creating an account is quite straightforward and the whole interface has been designed with beginners in mind.
Setting up your bot should not cause any issues either. You just have to enter the asset allocation and edit the configurations to customize the bot, and then set parameters for trading. If you have at least some experience with crypto trading, this process will not cause any problems for you.
The only thing I see as not an easy process on CryptoHero is the fact that you can be confused about which strategy or bot to use since there are so many offerings when it comes to choosing a bot.
This platform also has a mobile app.
Is It Safe to Use CryptoHero?
---
From everything I gathered while investigating the CryptoHero bot, I think it is safe to say that the bot is safe to use. I have not found any major accusations from users on various review platforms and the team around CryptoHero seems to know what they are doing.
How Reputable is CryptoHero?
---
Based on my thorough investigation of CryptoHero, I can safely say the reputation of the bot is on a pretty high level. Besides all the features that for sure increase its reputation, I would single out the fact that CryptoHero allows you to connect all major exchanges with your bot which is something all crypto traders like to see when they are deciding which bot to use.
CryptoHero Customer Support
---
On CryptoHero there is a live chat option. Based on users' experience, they are quite fast in responding. Furthermore, there is a detailed help center that can help you to create an account and set up the usage of your bot.
How To Get Started on CryptoHero?
---
Before using any of the above-mentioned features, you will have to create an account on CryptoHero. It should be a pretty straightforward process, let me break it down.
Create Your Account
---
Just click on the "login" button in the top right corner and then click on the "Create a new account" button and fill in the necessary details and click on submit Button. The necessary details include first and last name, email, password (entered twice), and referral code (optional, if you have it).
Verify Your Account
---
Then you will have to verify your account and go through the mandatory KYC (Know Your Customer) system. This is a standard procedure that is done by providing some valid ID documents.
Connect Your Exchange
---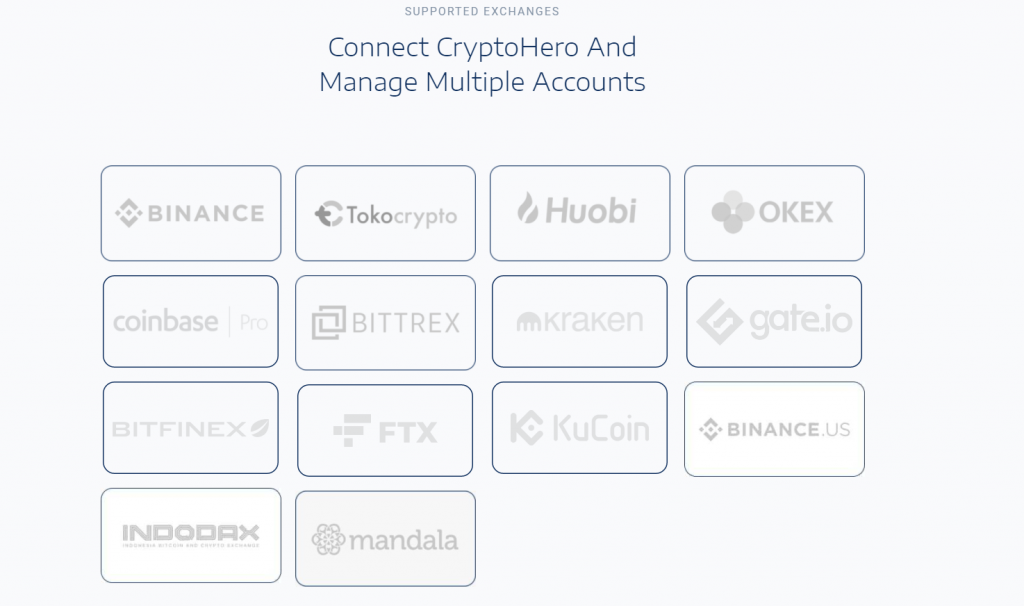 The next step is to connect the exchange where you hold your funds with your CryptoHero account. As already mentioned, CryptoHero supports a significant part of cryptocurrency exchanges such as Binance, Huobi, Okex, Coinbase, Bittrex, Kraken, or Gate.io.
Set up a Bot
---
There is a variety of bots available on CryptoHero. Make sure to choose the one that suits your goals. You just have to enter the asset allocation and edit the configurations to customize the bot, and then set parameters for trading.
Conclusion
---
CryptoHero is a new player in the crypto market but is already a very popular trading tool. To be honest, CryptoHero is suitable for beginners since the whole platform has a very user-friendly interface, and setting up your trading strategies is a fairly easy process.
Furthermore, the bot offers some advanced trading features as well such as backtesting, AI optimization, or simulated paper trading. The purpose of all of these features is pretty much the same – test the strategies completely risk-free before you actually use them.
Another positive thing about CryptoHero is that it has a free plan where all of these features are available.
Of course, as with any other platform in the world, CryptoHero has its downsides. I think the biggest one is the fact that the bot is not suitable for professional traders since, even with the most expensive plan, the number of exchanges and active bots that can be used at the same time is pretty limited.
Keep in mind that these are only my opinions based on my thorough investigation of the CryptoHero platform. Please do your own research before deciding whether you want to invest in any of the above-mentioned features.
At this point, it is good to note that all opinions and suggestions written in this article are not considered financial advice.
Read also:
Alternatives
---
It is fair to mention CryptoHero's alternative since currently there are various crypto bots available on the market. So, let's look into Bitsgap and Zignaly.
Bitsgap
---
The feature that separates Bitsgap from CryptoHero is its arbitration process. Arbitrage is a process of simultaneous buying and selling of a coin to profit from an imbalance in the price. It is a combination of trades that profit by exploiting the price difference of the identical trading pair between two or more crypto exchanges. Bitsgap does arbitrage actions automatically based on your instructions.
Please read our complete review of Bitsgap here.
Zignaly
---
Zignaly also has some exciting features such as trading signals and unlimited coins (You don't need to select coin pairs in Zignaly as they accept all the pairs from your enabled signal providers). However, one of the major competitive advantages of Zignaly over its rivals is the TradingView bot; you can send your own signals from TradingView by using indicators or their "Cryptocurrency Signal Finder" recommendations.
Please read our full review of Zignaly here. 
FAQs
---
PROS
Free version is available (use it until you decide whether you want to use the platform or no)
Supports AI optimization, paper trading, and backtesting
Offers various technical indicators that you can use to customize the trading
All major exchanges supported
CONS
You can connect up to 5 exchanges at the same time (even with the most expensive plan)
A maximum of 40 active trading bots can be used (not suitable for trading professionals)
A lot of bots and trading strategies might confuse beginners once they sign up

CaptainAltcoin's writers and guest post authors may or may not have a vested interest in any of the mentioned projects and businesses. None of the content on CaptainAltcoin is investment advice nor is it a replacement for advice from a certified financial planner. The views expressed in this article are those of the author and do not necessarily reflect the official policy or position of CaptainAltcoin.com