Alertatron.com Review – Price, Trading Strategies, Returns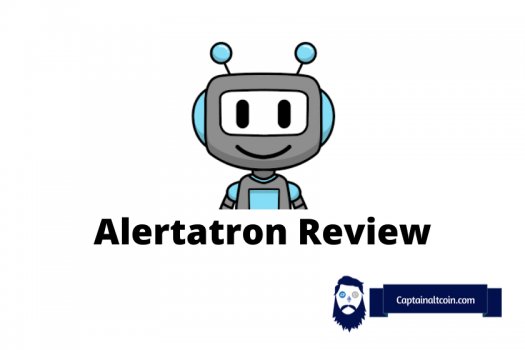 Alertatron.com Review – Price, Trading Strategies, Returns
Automatic trading
Integration with TradingView
Considered safe
Free trial available
Alertatron.com Overview
---
The cryptocurrency market is developing at a tremendous rate, and because of that, it's very unstable. It is important to think wisely and react exactly on time if some dangers and risks of losses appear. To avoid that, trading bots are designed to secure your trade and, to some extent, make a profit. Based on the entered conditions and commands, they automatically execute the given action without additional human effort.
One of them is Alertatron, about which we will say something more in the following text.
What is Alertatron
---
Alertatron is an automated algo platform for cryptocurrency trading, that comes with different trading strategies you can utilize. The main benefits of Alertatron are automated trade, high-quality captured charts, connection with email, Slack, Discord, and Telegram, and simple settings.
An important feature of Alertatron is besides running your own trade, you can also do it for a so-called trading group that can contain a large number of members.
How it works?
---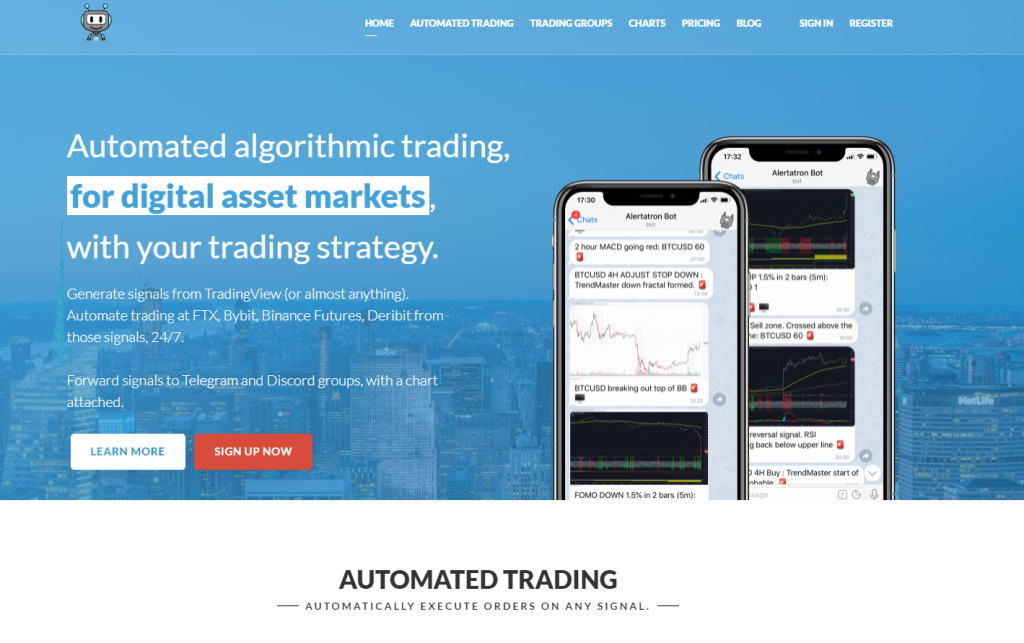 When using a trading strategy on Tradingview (or elsewhere), it produces and transmits certain signals at crucial moments at the market (Buy, Take Profit, Sell) and shows them in the chart. Alerts from Tradingview are going to be sent to Alertatron, and specific commands written in the alert message will be recognized and automatically executed by the bot.
What exchanges it supports?
---
For now, Alertatron is supporting connection with:
Bybit,
FTX Derivatives,
FTX US,
Binance Futures,
Bitfinex Spot and
Margin and BitMEX.
How can you make money with Alertratron?
---
Alertatron, like other crypto bots, does not make money literally. They serve to automate trade, and with the appropriate commands, they can make a profit that manual work might not do. Because of an unstable market, you have to be clever in selecting the proper trading strategy. After that, set up orders and alerts and let the trading bot work in order to get as much profit as possible.
What does it cost?
---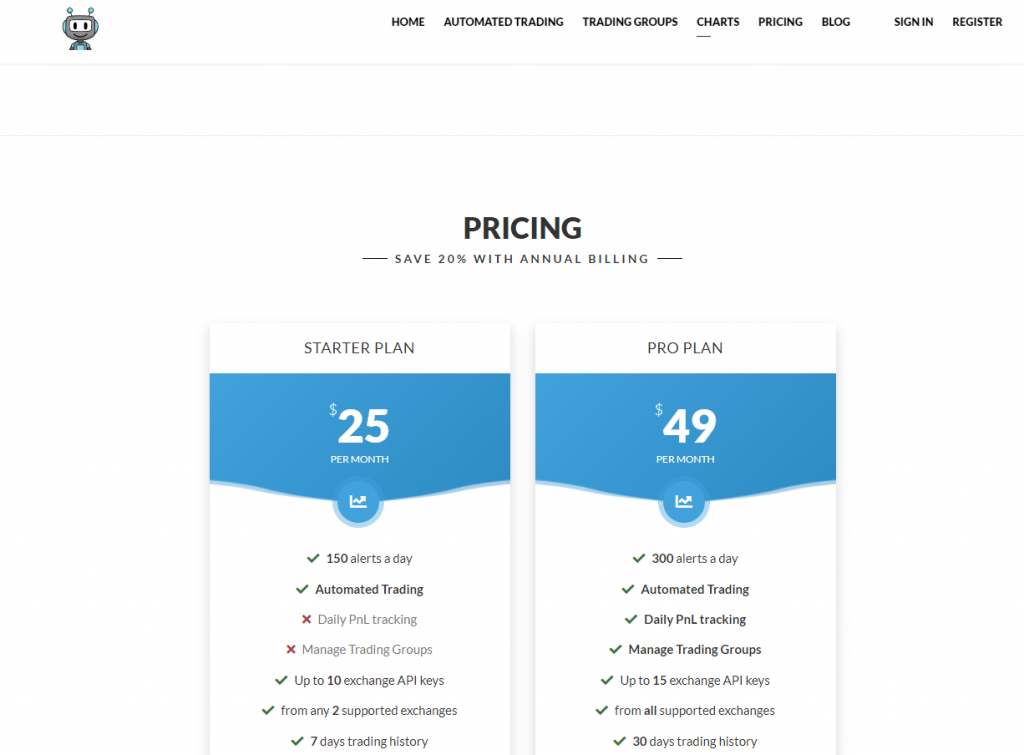 There are two options for using the services provided by Alertatron. The first of them is called the Starter Plan, which costs 25 USD monthly and includes the following benefits: Auto Trading, a week history of trading, the amount of 150 alerts per day, 10 exchange API keys from any two of them that are supported, 90 days for retention of all charts and alerts, capturing charts with alerts.
The second is the Pro Plan, which costs 49 USD for a month of use, and included services are: 300 alerts per day, 30 days for trading history, 365 days for charts & alerts retention, API keys for 15 different exchanges from all of them that are supported, managing of trading groups, daily tracking of PnL value and all services from Starter Plan.
There is a 20% discount on an annual subscription for both plans.
There is also the possibility of using a trial period of 2 weeks and checking Alertatron's services. This free period provides 5 alerts daily.
Is Alertraton safe?
---
Yes, Alertraton is safe. We haven't seen any evidence to suggest they are not legit and safe. Basically, most trading bots we come across today are safe to use because they do not depend much on human influence. They work according to a pre-set code to execute a certain operation. However, they also need supervision because unexpected mistakes can happen.
How to automate trading group using Alertatron
---
Automating a trading group is a very great option because it makes it easier to do business with a hundred clients in the market at the same time. This is possible using a unique trading mechanism.
At the very beginning, let's say that this option is only possible if you are a Pro Plan user. Setting up a trading group is easy and takes just a few steps:
1. Add a new trading group and name it – this can be done in the menu of a trading group. As soon as this is done, a new folder for signals is automatically created;
2. Now, you need to add scripts and signals;
3. Set alerts to send signals to Alertatron, so it can receive them;
4. Put in clients – everyone that you add to the group will have access to your scripts. Still, each client will work individually and independently of the others.
As you can see, this procedure is simple. It makes it easier to trade with over 100 clients simultaneously, shortening the work. Also, you can create the desired number of groups, have access to records from each client, you can calculate PnL for each member separately, as well as the total PnL for the whole group. An important item is the price of 10 USD for each member, and there is an option of the lower price if there is a significant number of people.
How to send signals
---
This is a little bit different from regular automated trading. Signals are the main feature of Trading Groups.
Every signal consist of the following:
Name of signal,
Script (A trading script will be executed on your client's accounts each time this signal show up), and
Symbol
There is 2 type of signals:
Detailed instructions on how to send signals can be read by clicking here.
What commands it supports?
---
There are 3 main types of orders in the crypto sphere: Limit, Market, and Stop Orders. They are different and intended for appropriate purposes.
Limited orders are, in short, designed to work by setting a minimum and maximum price at which you want to buy or sell in the market.
Market orders are used to buy and sell in the market at the price that is currently the best, and the execution of these commands is practically instantaneous.
Stop orders are known for working on the principle of the trade when a certain market price is reached, which is called the stop price. Then the created stop order is transferred to the market order.
Also, these main types of orders have their own subtypes that are used to execute specific actions that we assign.
There are over 20 commands supported by Alertatron: Market Order, Market Maker Order, Managed Order, Cancel Orders, One Cancels Other, Managed Order, Limit Order, Trailing Limit Order, Waiting Limit Order, Dynamic Take Profit, Trailing Take Profit Order, Stop, Stop Order, Stop or Take Profit Order, Trailing Stop Order, TWAP Time-Weighted Average Price Order, Scaled Order, Grid Order, Ping Pong Order, Iceberg Order, Aggressive Entry Order, Exchange Settings, Wait, Continue and Balance.
You can see the full list of explained commands by clicking here.
How to integrate it with Tradingview?
---
Connecting a Tradingview account with Alertatron is easy and only takes a few minutes. So, to receive alerts directly from Tradingview, you first need to be logged in to accounts on both sites. Then, on the Alertatron's control panel, select the "Incoming Alert" section, where a unique webhook address will appear in the middle of the screen, which you need to keep secret.
After copying it, go to Tradingview, where the trading charts are displayed on the screen, and in the upper right corner, you will see a clock icon that you click on and actually set and make your alerts there (this is also possible if you press Alt + A). After setting certain parameters, you have the option to enter the webhook address that you copied from Alertatron, click on "Create," and that's it. In the inbox on Alertatron, you will receive alerts with set commands.
It is also possible to connect Alertatron to Telegram, where you will receive messages in the chat.
The whole process of connecting TradingView and Alertatron is shown in the video on Alertatron.com.
Read also:
PROS
Automatic trading
Integration with TradingView
Considered safe
Free trial available
CONS
Limited number of exchanges supported

CaptainAltcoin's writers and guest post authors may or may not have a vested interest in any of the mentioned projects and businesses. None of the content on CaptainAltcoin is investment advice nor is it a replacement for advice from a certified financial planner. The views expressed in this article are those of the author and do not necessarily reflect the official policy or position of CaptainAltcoin.com