Bots.io Review – Automated Crypto Trading Bot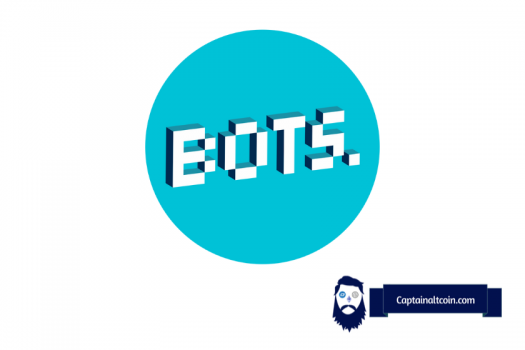 Bots.io Review – Automated Crypto Trading Bot
User-friendly platform
A variety of bots offered
Innovative features such as BOTS TV
Transparent fees
Top-performing bots transparent for all users 
What is Bots.io (RevenYOU)?
---
Crypto trading can be overwhelming for crypto traders since it requires a lot of time and energy. This is the main reason why automated trading bot platforms are emerging and becoming more popular nowadays. 
First of all, let's first understand – what are trading bots? Bots are described as automated trading strategies that can run 24/7 and make decisions instead of you. If you decide to use trading bots, I always suggest activating them for a longer period of time in order to get better results.
In this article, we will investigate one of the platforms that offer automated trading services – BOTS. The name speaks for itself, BOTS is an automated crypto trading platform that offers various trading (ro)bots to its users. 
BOTS is owned by RavenYOU, a software company from Netherland.We can still consider BOTS as a relatively new player in the crypto market since it was launched back in 2018. However, since then, the platform has completed three rounds of funding, getting much-needed capital in each one. The most recent funding resulted in 13 million euros funding which pushed BOTS's valuation to 9 figures. 
BOTS currently has more than 200,000 users and 70 employees across 5 countries. 
The first impression I got from BOTS is that it has an extremely user-friendly interface. All the information on the app is pretty well organized which means that you will not lose any precious time finding what you need. So, Without further ado, let's jump into the focal points of the article and explain how BOTS actually works. 
Trading Bots Platform
---
Bots.io mobile apps for Android & iOS, no web app
---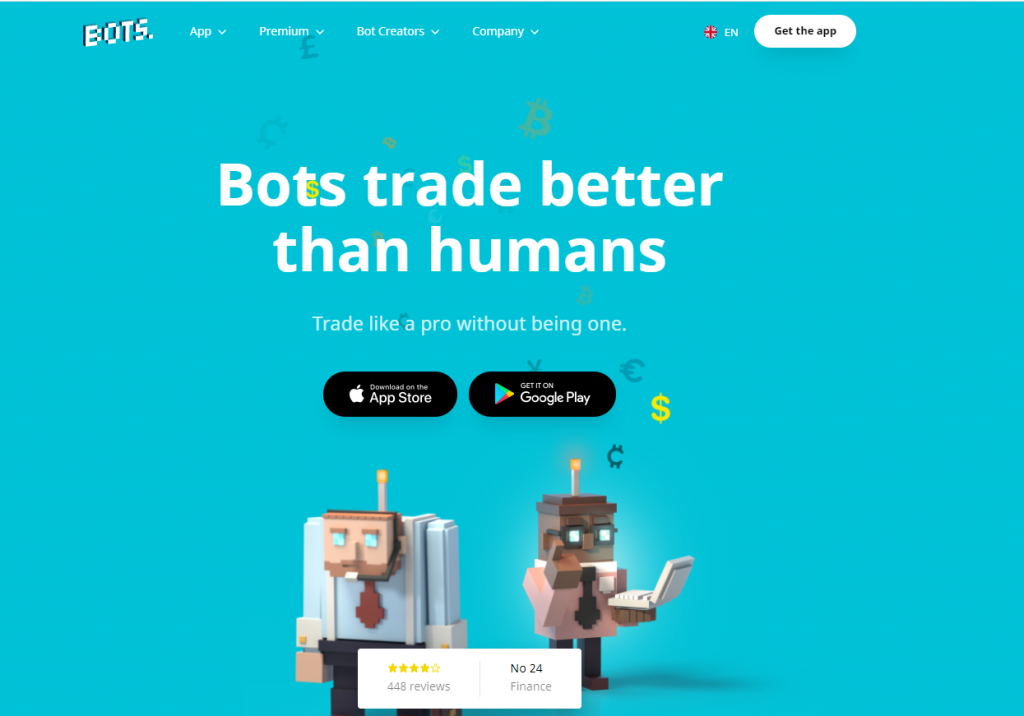 As noted above, BOTS is a trading platform that offers automated trading bots to its users. In order to start using BOTS, you have to pick your bot, risk level, or strategy. Keep in mind that you can start trading with just 50 euros. Moreover, you can get additional 50 euros as a gift from the platform if you invest 150 euros (with the code GET50).
What confused me is that BOTS does not have a web version of the platform, only Android and iOS. Not sure what is the reasoning behind this decision, I understand that we live in a "mobile-oriented" world, but I am sure there are quite a lot of traders who like to use the web version of their trading platforms. 
On the positive side of things, the mobile app looks pretty great. It welcomes you nicely, and explains all the important information about crypto trading bots before signing up.
Each bot contains the following information:
Author – who created the bot
Type-only cryptocurrency currently
Market – the name of the token (USDT, BTC, ETH, etc.)
Exchange – the crypto exchange where the bots trade.Binance for example
The overall return on investment – the rate of return in % over the bot's lifetime
Risk level – it can go from 1 to 12 (1 is extremely low risk and 12 extremely high)
Availability – how much the bot is full
Trading frequency  – shows how many times bot trades on a weekly basis 
Date listed – the date when the bot started running 
Make sure to analyze all of these before deciding which bot to use.
Signing up with BOTS
---
Signing up is done with only one step – verifying your phone number with a code. There are more than 190 countries supported, including the US.  Furthermore, if you want to start using some of the crypto trading bots, you have to verify your profile with your gender, name, email address, nationality, and address and finally go through the KYC (Know Your Customer) process by providing either passport, ID card or driving license. 
Payment methods – a bit awkward process
---
Selecting payment methods on BOTS might be an awkward process, to be honest. In fact, I found some negative reviews from users when it comes to deposits with some payment methods. If you choose a bank transfer, you need to go to the BOTS.io website to get a payment reference number. The next step is to go to your mobile bank app to make the transfer with the reference number and finally go to the BOTS app to confirm the payment. 
This is an overwhelming process for bank transfers but it has to be completed in order to get funds to your BOTS account. I suggest using other payment methods such as credit cards or Apple pay.
Demo Account
---
Yet another exciting feature of BOTS is its Demo account. As the name suggests, once you create your account, you can use a demo bot for testing. This feature is particularly useful for beginners who never used crypto trading bots before. Keep in mind that it doesn't let you test a chosen bot on market conditions before using real funds.
Additional Features – BOTS TV
---
An innovative feature of BOTS is its TV. BOTS TV is a bi-weekly broadcast through YouTube and Twitch. There are various gests in each week's broadcast covering the latest trading and investing topics.
Moreover, the platform is very transparent about its plans, latest developments, upcoming functionality releases, security updates, and asset additions.
BOTS Pricing – Account Types
---
BOTS will offer 2 types of plans to its users – Gold and Platinum. I used the word "will" since Platinum is still not established.
Gold
---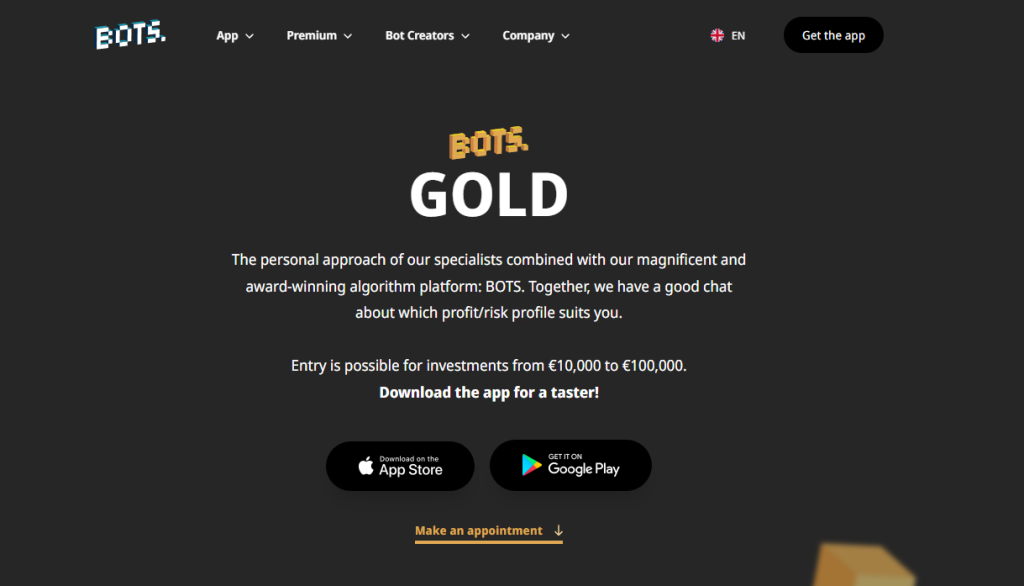 The gold plan offers three major points – personal attention, personal risk profile, and no annual fixed fees. 
When it comes to personal attention, you will get a person who will guide you through everything on the platform, from downloading the app and creating an account to using the crypto trading bots. 
A personal risk profile means that you will discuss with the person assigned to you what are the best trading strategies for your goals. Finally, you will create a personal profile based on which you will choose the most suitable bots.
If you choose BOTS Gold, you will not pay any annual fixed trading fees. You will pay only a 0.2% fee per transaction that the bot needs to perform in order to earn you profit. 
Platinum (coming soon)
---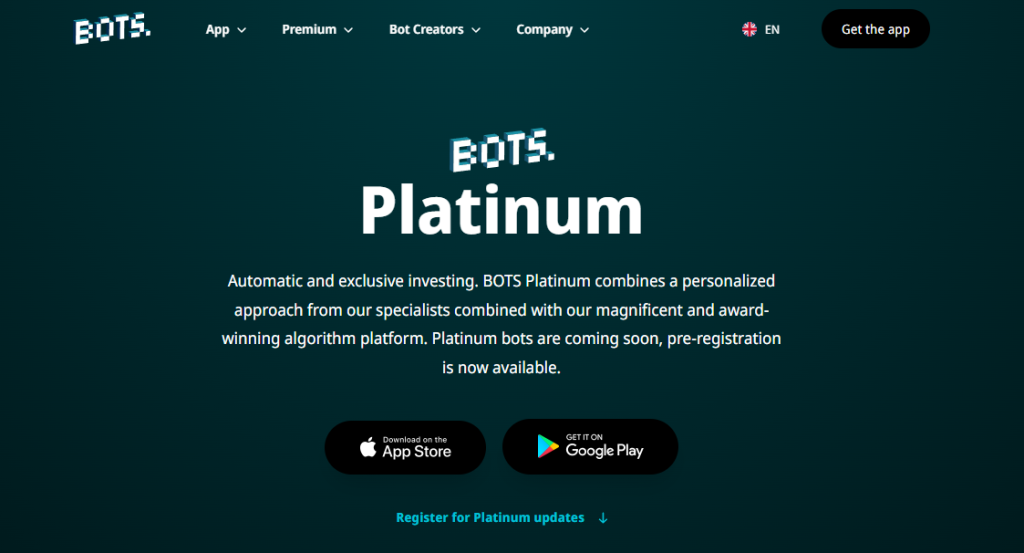 The platinum plan has not yet been published. BOTS Platinum will offer Individual trading & investing portfolio in stocks, forex, and later also crypto. This plan shows BOTS' plan to work in stocks and forex markets, rather than only the crypto market.  
If you choose a Platinum plan, you will get a personal explanation of how the BOTS platform actually works with answers to all specific questions you have.
Customer Support
---
BOTS pays quite a lot of attention to customer support. There is a live chat option that you can access through the support tab on the website or via the mobile app as well. When you open the live chat you get an immediate automatic message and you can start chatting. Live chat is available Monday – Friday 9 am – 5 pm GMT+2 (CEST).

Moreover, if your issue is urgent, you can call them via +36 17 01 00 47 also from Monday – Friday 9 am – 5 pm GMT+2 (CEST).
You can also check Reddit and Discord channels where you can ask questions directly to BOTS' developers.
Finally, you have a frequently asked questions section that includes answers to questions such as "What is a bot?" or "How do I start a bot?".
Security
---
It seems to be that the security and safety of BOTS are on a decent level. In fact, BOTS became ISO 27001:2017 certified following an intense procedure that inspected a firm's data protection processes. Users can feel secure and safe that BOTS protects users' data to a high industry standard. 
Who can access your funds?
---
As per BOTS' website, only you as a user can access your funds. BOTS serves as a depositary and not the owner of the funds. BOTS processes all transactions automatically through secure connections between exchanges, wallets, and fund accounts.
BOTS.io Verdict
---
BOTS is a new platform but has already established its position on the market. With strong capital investment, I do not have doubts that BOTS will be around for a while.
The team around BOTS seems to be ambitious and determined to expand to Forex and CFDs in the near future. When it comes to the core functionalities of the platform, my advice is to use the demo bot account in order to decide whether BOTS is exciting for you or not. 
Some drawbacks when it comes to BOTS platforms are complex bank transfers and limited data bout bots' risk levels, so keep attention on those. 
Keep in mind that these are only my opinions based on my thorough investigation of the platform. Please do your own research before deciding whether you want to use the BOTS or not.
At this point, it is good to note that all opinions and suggestions written in this article are not considered financial advice.
Read also:
Is BOTS Worth It?
---
Using automated trading robots is an easy way for traders to make money without spending a lot of time analyzing charts and market conditions on a daily basis. However, it is also a risky strategy and you have to be aware of it before deciding to use BOTS. Consider your risk profile and the BOTS risk rating if you're wondering whether it is worth it.
When it comes to BOTS' fee, it takes a flat 0.2% of the trading value as a fee for their services. Some of this goes to the bot creator and the remainder goes to the BOTS.io platform itself. Moreover, the platform charges 0.2% per deposit to your account. 
Is BOTS Regulated?
---
BOTS is a type of platform that does not provide any actual financial services directly to users so it does not need to be regulated. On the other hand, the crypto exchange you use for trading and investing should be regulated. 
FAQs
---
PROS
User-friendly platform
A variety of bots offered
Innovative features such as BOTS TV
Transparent fees
Top-performing bots transparent for all users 
CONS
No web version of the app. Not suitable for traders who like to trade from their desktop
Bank transfer payment methods can be overwhelming 
Limited data about bots' risk levels. It would be useful to have more data about how the risk level is determined

CaptainAltcoin's writers and guest post authors may or may not have a vested interest in any of the mentioned projects and businesses. None of the content on CaptainAltcoin is investment advice nor is it a replacement for advice from a certified financial planner. The views expressed in this article are those of the author and do not necessarily reflect the official policy or position of CaptainAltcoin.com