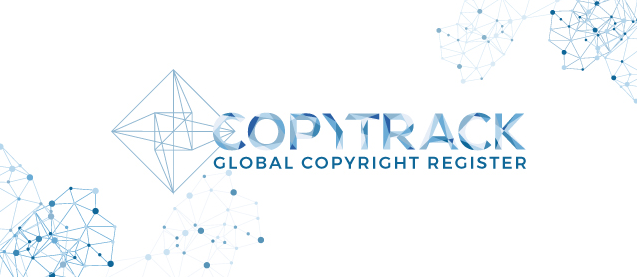 ICO Start: 2017-12-10 - ICO Ends: 2018-02-10

Digital content management faces two types of challenges – those faced by users and those faced by rights-holders. Users often misunderstand the usage of digital images online and the corresponding licensing options.
About

Team

Token Info

Links

Milestones

Our Ratings

Vimeo
COPYTRACK currently offers 4 key services. These services are free for anyone to use. We strive for equitable solutions between rightsholders and offenders. First, we must understand, in part, the nature of copyrights and how violations can occur.
As we all know, pictures are copied and distributed illegally countless times each day. These pictures are stolen from their creators countless times, who are put at a great financial disadvantage due to the current copyright enforcement system.
In the current system, copyright infringements are difficult to pursue and are often considered a trivial offense. There also remains a legal risk to rights-holders, in addition to the time required to detect an infringement and take action against it.
As such, our services are outlined as follows:
Post-licensing in over 140 countries
Legal advice by qualified lawyers
"One-click" case management
Personal customer service
COPYTRACK provides a tool to comfortably navigate this process without any risk or hassle to rights-holders. We offer our service free of charge, and even bear the risk of legal fees. COPYTRACK only takes a small success-related commission. The benefits for rights-holders are:
Free use of platform
Zero risk of legal enforcement
Focus: "post"-licensing
Fair approach for both parties
COPYTRACK always strives for a fair settlement between all sides and emphasizes premiere customer service on two fronts: post-licensing and search-matching.
Post-licensing. In essence, this is the purchase of a proper license after a registered image has been used by the rights-violator. Rather than being sued and facing tremendous costs, we cure the infringement by offering a fair post-licensing to the offender. Post-licensing provides advantages to both users of copyrighted content and the associated rights-holders. Benefits for violators include avoiding a bad reputation in addition to saving time and resources on fighting costly legal battles. On the other hand, rights-holders gain by having access to postlicensing worldwide and being paid faster. We encourage our clients to focus on their profession and not on lawsuits.
Search, Match, and License. COPYTRACK offers a full start-to-finish service – from searching for the use of a rights-holder's images on the internet, to matching the findings precisely to the photographer's images and identifying unlicensed usage – in order to obtain a post-licensing fee or claim damages on behalf of the rights-holder.
Marcus Schmitt – CEO
Stefan Baer – CTO
Sandro Maeder – Head of Operations
Marie Slowioczek-Mannsfeld – Head of Legal
Daniel Eiba – Advisor Business Model
Sebastian Mannsfeld – Advisor Intl. Finance, Tax
Sascha Schumann – IT-Security
Noriaki Okubo – Advisor Investments & Investor
Ken Shishido – Advisor Cryptocurrency
Symbol: CPY
Token sale opening date: 10. Dec 2017 a month ago
Token sale closing date: 10. Feb 2018 in a month
Concept: With the Copytrack Global Copyright Register, we are taking digital copyright registration to the next level. It is our goal is to provide a solution for the key challenges of digital content copyright and monetization as they still exist today. By creating a decentralized, open and transparent copyright register using blockchain technology, Copytrack enables creators to register, track and monetize their work without the need of intermediaries, making the multi-billion dollar digital licensing industry more transparent and fair towards both buyers and sellers.
12/2015: Foundation of COPYTRACK
04/2016: Start COPYTRACK SERVICE in 140 countries
03/2017: Open COPYTRACK API
05/2017: Launch office in New York and Tokyo
06/2017: Portal in JP, DE, CN & FR language
10/2017: Launch NEW automatic Settlement-Portal
12/2017: ICO
Q2 2018: Launch Global COPYTRACK Register
Q2 2018: Token-Swap
Q3 2018: Start converting Ltd. into Foundation Launch Evidence "Safe"
Q4 2018: Launch publiс API for "various media" registration
Q2 2019: Launch COPYTRACK-market
Copytrack is the undisputed market leader in uncovering image theft with headquarters in Berlin and Singapore and subsidiaries in New York and Tokyo. Over the past three years we have helped the photography community to claim image rights in over 50.000 of unsolicited use cases. Our rating for this ICO is 7.2 out of 10.0.
Make sure to throw a glance on our ICO calendar with new hot coins coming to the market in 2018.

CaptainAltcoin's writers and guest post authors may or may not have a vested interest in any of the mentioned projects and businesses. None of the content on CaptainAltcoin is investment advice nor is it a replacement for advice from a certified financial planner. The views expressed in this article are those of the author and do not necessarily reflect the official policy or position of CaptainAltcoin.com