Coinigy Review – Fees, Alerts & Order Types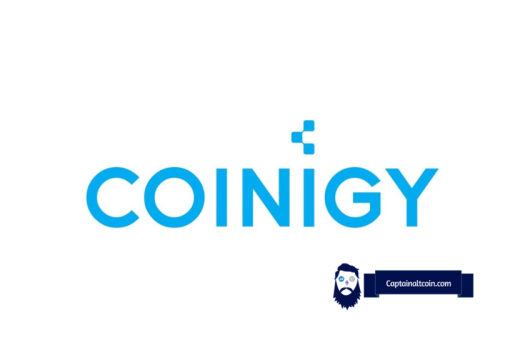 Coinigy Review – Fees, Alerts & Order Types
affordable
integrates with many exchanges
one interface for all your crypto needs
Coinigy is an excellent platform that gives you the possibility to aggregate all your wallets and exchanges' accounts into one interface by making use of the API keys of all the different exchanges. Basically, Coinigy is a multi-exchange trading platform that creates a single view of all the major Bitcoin exchanges within one visually appealing dashboard.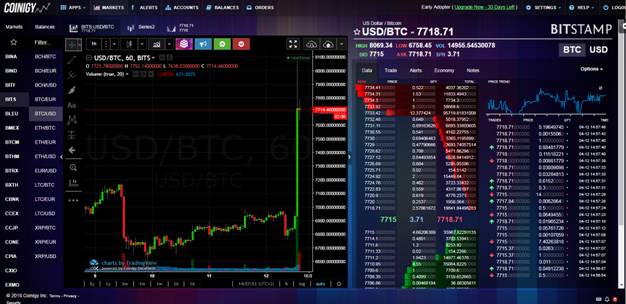 Coinigy's Layout
---
At the top of the page on the left, you can find buttons that will allow you to access different features. Going left to right, you have:
– 'Apps': These are the Coinigy apps in a dropdown menu. Apps include SMS Alerts, NewsWire, and CryptoTicker, among others with more coming soon. Visit the apps folder in the Coinigy helpdesk for more information regarding the various apps.
– 'Markets': This button takes you right back to the homepage of the market, leaving off on the last exchange and market you were looking at.
– 'Alerts': This page allows you to set alerts for your account. Alerts can be set to specify an exchange, market, and price, with the ability to add custom notes to the alert. You will also find any active alerts you have on your account and a history of alerts set.
– 'Accounts': Here, you can find a list of all of your connected exchange accounts and what permissions Coinigy has enabled on those accounts. You can also find the ability to add new exchanges on the left, or add wallet addresses and/or third-party service integrations such as Slack.
– 'Balances': This page displays all of your coin balances across exchanges. On this page, you can also find the ability to 'Sweep Dust' a coin's balance – that is, remove from view minute amounts of a coin that don't meet an exchange's minimum value to trade.
– 'Orders': Finally, on this page, users can find information regarding their orders here. Open orders are displayed along with your order history, and a short rundown of your account balances appears on the left. One also has the ability to place an order on this page.
On the left-hand side of the main markets page, you can find an alphabetical list of all of the exchanges that Coinigy supports. Once you scroll and find a market to explore, a list of all of that specific exchange's pairings will appear in the column directly to the right of the market list. Likewise, clicking the word 'Balance' at the top of this box will display your coin holdings.
The vertical bar of icons squeezed between the main market graph and the market list is where users can find basic charting tools. These functions allow you to do things like draw specific lines, shapes and angles on your graph, and place wave patterns and ranges overtop charts for better personal analysis. After clicking an icon, some functions allow even further customizations of that tool.
Just above the graph on the markets homepage, you can find a row of tools and settings to completely customize your graphs.
Directly to the right of the market graph, Coinigy displays what the orderbook currently looks like for your exchange and coin pairing. You can also find trade details like highs/ lows, bids/ asks, and volume. If you notice the tabs above the orderbook, you are currently on the 'Data' tab. The other tabs include 'Trade', 'Alerts', 'Economy', and 'Notes'.
While still under the 'Data' you can find the order history on the right. This box shows the price trend of your current coin pairing and the most recent history of trades filled.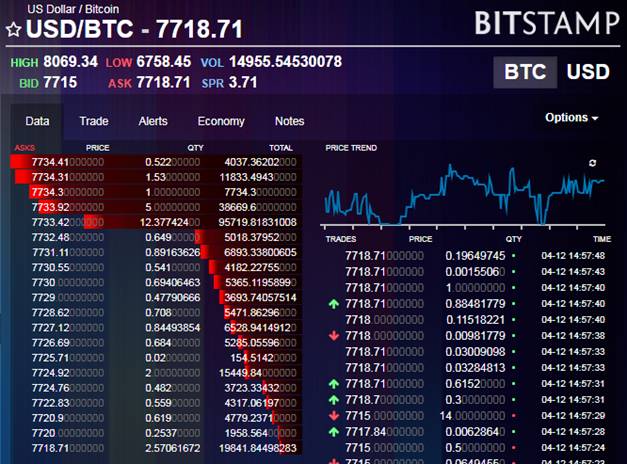 Coinigy also allows you to execute trades on all your connected exchanges, not only that it has full integration with Tradingview charts, and allows you to even set alerts and create your sell and buy prices visually on the chart.
Coinigy includes visually appealing TradingView-based charting, price alerts, portfolio tracking, and a cryptocurrency news feed.
Another interesting feature is arbitrage; it gives you a matrix overview of all exchanges with the best possible combination for the highest price difference. Arbitrage is the simultaneous purchase and sale of an asset to profit from a difference in the price. It is a trade that profits by exploiting the price differences of identical or similar financial instruments on different markets or in different forms. Arbitrage exists as a result of market inefficiencies and would therefore not exist if all markets were perfectly efficient.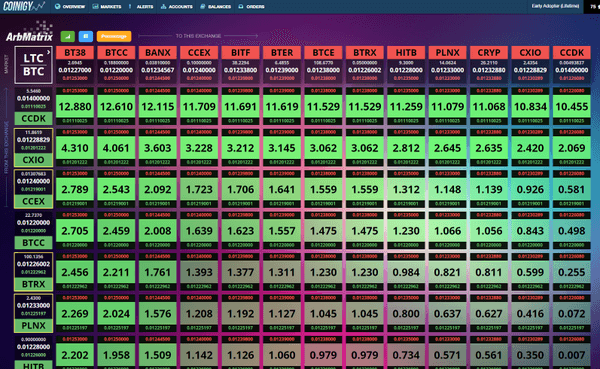 Supported Exchanges
---
Users can link their accounts to over 40 major exchanges and track (portfolio tracking) over 4000 different trading pairs and coins.
The list of supported crypto exchanges is quite extensive and keeps growing, here is a list of major exchanges supported: Binance, Bitcoin Exchange Thailand, Bitcoin Indonesia, Bitfinex, BitFlyer, Bithumb, BitMEX, Bitstamp, Bittrex, Bleutrade, BTC Markets, C-Cex, CEX.IO, Coinbase Pro, Coincheck, Coinmate, Coinone, Coinsbank, Cryptopia, Exmo, Gatecoin, Gemini, Global Digital Asset Exchange, HitBTC, ItBit, Korbit, Kraken, KuCoin, LakeBTC, Liqui.io, Livecoin, MercadoBitcoin, OKCoin Futures, OKEX, Paymium, Poloniex, The Rock, Vaultoro, Virwox, and Yobit.
Needless to say, Coinigy gives users access to all of their trading pairs through a single secure account.
Coinigy enables you to connect your Coinbase Pro wallet to their services.
On March 14, 2018, Coinigy announced that Binance Futures trading integration has been experiencing issues with Coinigy IPs being banned. This has caused issues with placing trades and stop limits in Coinigy leading to many orders failing to go through. Originally, Binance had instituted a whitelist for Coinigy IPs that would allow its users to trade through the platform without issue. While this whitelist served its purpose well and Binance saw heavy volume come from Coinigy's platform, they suddenly and without notice disabled this whitelist. As one might expect, this caused widespread issues for crypto traders as mentioned above, causing the Coinigy platform to operate sub-optimally. Binance trading was officially removed from Coinigy but added back a couple of months later, in August 2018.
Coinigy Security
---
Coinigy is taking security with top priority. There are numerous ways to secure users' data.
– All user data is encrypted with AES 256-bit encryption and sensitive user data (encrypted or not) is never returned to the client.
– Every request on Coinigy goes through a verified and secure SSL.
– Coinigy uses multi-tiered server architecture with complex credentials to ensure server integrity.
– Coinigy never handles your funds directly. All funds remain stored in the exchange's wallets.
– All user requests are filtered and checked on the front-end and back-end for XSS, CSRF, Clickjacking and Session Impersonation attacks
– Coinigy uses only parameterized queries to the database to further prevent injection attacks.
– Coinigy is hosted in Google's data centers and its team has a combined 30 years of experience in web security and best practices.
Coinigy has enabled some features that users can utilize to keep their accounts safe and secure. These features are:
– Coinigy supports passwords up to 40 characters. Use a long, unique, and complex password with a mix of alphanumeric characters and symbols.
– Coinigy also supports Two-Factor Authentication (2fa) using Google Authenticator. This is a free, offline service that doesn't use Google's servers.
– Coinigy encourages you to set restrictions on your exchange API keys which limit the capabilities they have to just the functionality you want to use on Coinigy.
– It is the user's responsibility to keep both their Coinigy account and their exchange accounts secure.
Read also:
Account Fee
---
Accounts are initially offered on a free trial basis for 30 days, and provide access to the account portfolio management, charts, and technical indicators. After the Coinigy trial account has ended, retaining access requires the payment of a fee. The pro version does not restrict session lengths. The fee for the pro version of the platform is charged each month, but the amount depends on how long the account holder commits to using the service. Pricing for a one-year agreement is less expensive than month-to-month pricing.


Coinigy order types
---
Coinigy supports right now only Limits and Stop Limits (On Premium Accounts only and up to 25 at any point). There is no form of automatic trading. The company has been signaling the addition of more advanced order types such as stop loss and take profit once their Coinigy V2 launches. It is currently in the beta version.
Team behind Coinigy
---
According to their website, a team is a group of dedicated developers, traders, analysts, and evangelists that believe in the upcoming paradigm shift that cryptography and the blockchain are bringing to the global financial industry.
They built Coinigy because they are passionate about open, transparent markets and aim to be a major driving force in widespread adoption. Its goal as a company is to empower 100,000 people through powerful tools and education.
Coinigy is based in Milwaukee and was founded by Robert Borden, CEO of the company, and William Kehl, President of the company.
Milwaukee is famous for its growing startup community that includes Gener8tor, Scanalytics, WatrHub, HarQen, Wantable, Shindig, Okanjo, and BryteWerks.
Coinigy alternatives
---
There are similar platforms, but there aren't any other platforms that feature as many exchanges with live data, a full-fledged market data and trading API, a full charting library, portfolio tools, and proprietary tools/apps (SMS alerts, ArbMatrix, MarketWatch, etc.) like Coinigy does.
One good alternative is Bitsgap, a platform that offers similar features plus automatic trading via their bots.
Off course, TradingView is another great alternative that is much older and more developed platform with extended markets and asset offerings.
Final Words
---
If you look more closely, you can see that Coinigy has all that is needed to trade big time. You have great user interface, real-time data and order books across all exchanges through one common interface, awesome charting, and more than 60 technical indicators, the platform is safe and secure including Two Factor Authentication (2FA) with a huge number of cryptocurrency exchanges supported.
At the moment, supported order types are Limit and Stop Limit. It is planned to introduce Market, Stop Loss, Trailing Stops, Conditional Orders, and Order Legs. They are currently developing apps for Android and iOS.
PROS
affordable
integrates with many exchanges
one interface for all your crypto needs
CONS
no automation
no stop loss and take profit orders

CaptainAltcoin's writers and guest post authors may or may not have a vested interest in any of the mentioned projects and businesses. None of the content on CaptainAltcoin is investment advice nor is it a replacement for advice from a certified financial planner. The views expressed in this article are those of the author and do not necessarily reflect the official policy or position of CaptainAltcoin.com