YoBit Review – Scam or Not? WARNING – Please read!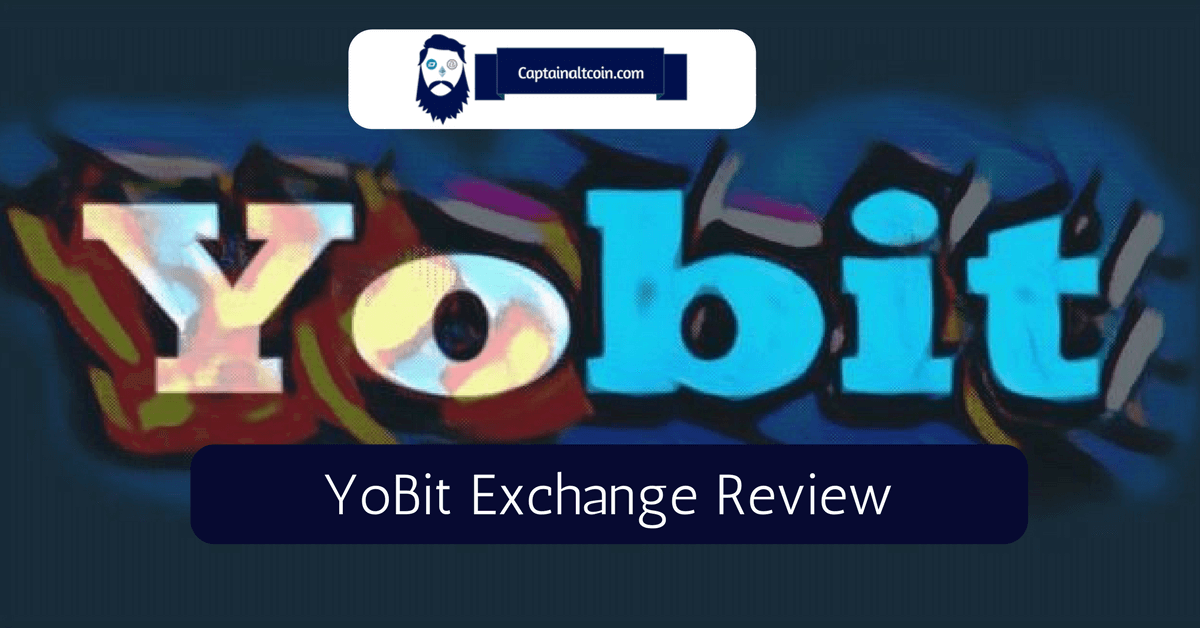 YoBit Review – Scam or Not? WARNING – Please read!
User-friendly, clean and precise Interface
Free Coins
Security -Yobi codes (codes that are provided for transactions)
One of the latest buzzes around the tech world is investing in Bitcoin.
There is definitely high risk involved. However, the potential for rewards is also high.
There are many people who feel Bitcoin is a bubble. On the other hand, there are also users who are using this potential bubble as a way of making a lot of money.
Another aspect of the Bitcoin amazing boom is the other new coins, known as "altcoins," that make up the whole "cryptocurrency ecosystem".
This is the reason why cryptocurrency exchanges like YoBit are becoming more and more popular. Using these less popular cryptocurrency exchanges, you can get access to some new coins that large exchanges like Binance and Kucoin have not listed yet.
One great thing about getting a coin on a less popular cryptocurrency exchange is that you can expect a huge price surge when one of these coins gets listed on Binance and/or Kucoin.
In this guide, I will share with you a review of YoBit.io. This is a less popular cryptocurrency exchange that frequently adds new and lesser-known altcoins.
YoBit is not a new name in the crypto world and it was introduced on the BitcoinTalk forum in 2015. The company was founded in Panama and offers many of the same features and characteristics of other cryptocurrency exchanges.
Here's how their dashboard looks like:

The website is precise, clean and mouse-motion-streamlined, which means that you do not need to break a sweat just to move your mouse pointer from one place to another.
The interface looks a little outdated compared to something like Bittrex. However, it is still good enough to easily trade cryptos.
YoBit History and Background
---
Founded in 2014, the Russian company YoBit started to offer cryptocurrency trading to users and has since then expanded to offer hundreds of different cryptos and thousands of trading pairs. Nearly 7 years on from their founding, they are now a Panama based company, sporting a large team of European developers, helping to push the platform forward with innovative programs for their users and enabling a wide range of options for traders.

YoBit has managed to establish itself as a platform that is known for its no-frills experience, as it prioritises trading over any sort of visual attraction (which increases a trading volume), this can give it a more serious image as it will attract more seasoned traders rather than those looking to get rich quick and who are attracted to flashy websites
Yobit.net Review – Supported coins
---
One of the great features on YoBit is the incredibly extensive range of cryptocurrencies and trading pairs available for you to use. The platform supports approximately 500 different currencies, which is a huge amount for a cryptocurrency exchange. In addition to this, they host over 8,500 active trading pairs. This number of pairs is somewhat unheard of and is great for giving smaller coins the opportunity to be traded as if they were a larger coin like Bitcoin or Ethereum. All of these pairs and currencies are easy to locate, by simply entering the "market" section of the website.
Payment methods
---
Whether you are looking to deposit some funds to trade with, or to withdraw some of your earnings from the site, YoBit has an array of options for you to use.
Fiat currency deposits and withdrawals
---
When depositing and withdrawing with fiat currency you have a few different platforms at your disposal, you can use the standard option of a credit or debit card, or some more uncommon methods of payment such as Payeer, Perfect Money or AdvCash.

Cryptocurency deposits and withdrawals
---
If you plan to make your withdrawal or deposit in cryptocurrency itself, this is also possible. Just as you would conduct any other cryptocurrency transaction, simply select the public address you want to send the funds to and transfer to it. If you are depositing your funds on to the site you can find the public address you need to transfer to on the "wallets" page, this will show you the wallet addresses for any cryptocurrency supported by YoBit.
If you are new to cryptocurrency in general, it is important to remember that wallet addresses are very sensitive information and that if you send your tokens to the wrong one, you will likely never see them again. It is recommended that with any cryptocurrency platform, not just YoBit, that you copy and paste the addresses rather than typing them out.
Deposit and withdrawal fees
---
One of Yobit's great benefits as a platform is that they require no minimum or maximum amount when it comes to withdrawing or depositing on the site. Having no transfer limit is great at benefitting smaller traders who may struggle to meet certain minimums required to trade. It is also beneficial to bigger traders who may have their withdrawals halted by low-liquidity issues, forcing them to wait as they watch their gains deteriorate.
Withdrawal fees
---
There are a few fees you need to be aware when withdrawing your crypto. The first of these is with a debit card, which carries a standard rate of $6, plus an additional 5% of the deposit (up to a maximum of $2,000). Some consider this to be quite steep for a withdrawal fee though it could be considered worth the money considering the benefits that YoBit offers.
E-wallet payment methods carry different fees, when using AdvCash and Payeer you have to pay a 7% fee to withdraw, and with Perfect Money you only have to pay a measly 1%
When withdrawing cryptocurrencies, you will be charged a fee in cryptocurrency, though this number is often changing due to it being pegged to Bitcoin and is usually quite small.
Deposit fees
---
One of the great things about YoBit is the fact that there are zero deposit fees! This is great for new traders who perhaps don't have as big a funds to work with.
It is important to remember though that there are fees charged with the payment methods themselves. Thankfully, Perfect Money and Payeer charge 0% on the transfer of US Dollars or Russian Roubles. AdvCash charges a 1% fee in this case.
Trading fees
---
YoBit does have a trading fee though thankfully they are at such a low level they are barely even noticeable. Coming in at a flat rate of 0.2% per transaction, it would be hard to even notice they'd been applied. Especially in a market like cryptocurrency where things are so volatile, you'd be hard pressed to find a trader whose portfolio has been put underwater due to this trading fee.
Transfer limits
---
A major advantage of YoBit is the fact that they enforce no transfer limits! This means you can withdraw and deposit as much or as little as you like! This is very helpful as it means that transfer minimums will never stop you from taking out small bags of profit or depositing some spare money. On the flipside, it will also ensure you will have no problem withdrawing your coins in events of low liquidity.
Yobit Verification Process
---
YoBit is fortunately one of the few remaining crypto exchanges that doesn't require you to fill out KYC regulations, in other words, no ID is necessary! Simply create an account using your email and from there you can trade on all the cryptocurrency markets they have available, without having to worry about sneaky prying eyes looking at your data!
How Yobit Trading Works
---
The YoBit Exhange works just the same as any other cryptocurrency exchange. In order to start trading, simply head over to the trade screen. Here you can view all the different pairs, technical charts for you to analyse, as well as the option to put on buy and sell offers. You can also view a number of other metrics so you can figure out what move you want to make.

YoBit also has the unique feature of a chatroom. On the right side of the webpage there is a chatbox where you can speak to others using the site. This is quite a helpful feature as you can listen to other traders' opinions and figure out how you want to proceed with a trade.
InvestBox- a simple how-to guide
---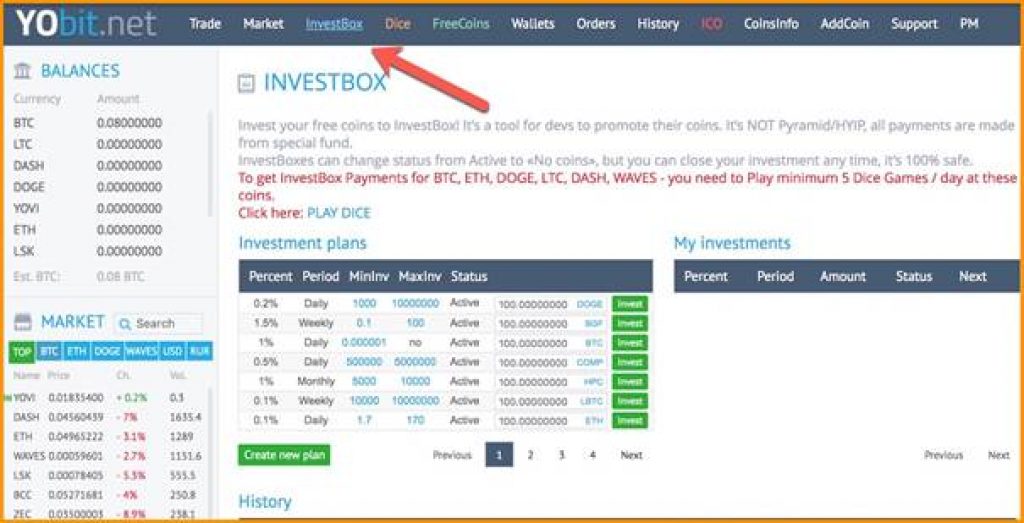 InvestBox is one of YoBit's promotions. The purpose of InvestBox is to let users deposit their coins into it and leave them there over a period of time, YoBit will then pay out interest to the user for depositing their coins. To those familiar with some of the more modern aspects of cryptocurrency, this is very similar to staking, but rather than on a specific coin it is on YoBit's exchange itself. There are a few different InvestBox plans you can choose from, simply click on the InvestBox page and pick the option that's right for you.
InvestBox offers plans on a wide range of different coins, each offering different levels of interest and over different periods of time. These plans each come with different maximums and minimums necessary for you to invest. It is important that you fit these requirements if you want to use InvestBox as if you don't, you won't be able to earn the interest stated on your coins.
Yobit Virtual Mining – short guide
---
YoBit's virtual mining is another one of their inventive ways to help give back to their users. The service acts similarly to how you would mine a currency like Bitcoin in that you buy a miner, and it produces coins for you. In YoBit's case you pay for a miner with Bitcoin, which will then steadily produce the coin "Minex" this coin is managed and supported by numerous supports to ensure that the price is stable and becomes more stable when more people are mining it. This is also a great way of enjoying the benefits of cryptocurrency mining, but without dealing with the hassle of setting up technical equipment, energy consumption and the heat that those machines produce!
There are 5 different levels of Miners on YoBit's mining program, these are used to facilitate different miners, each with different priced mining choices so that you can choose a price-point best for you.
This means that you can pay for a miner with your Bitcoin and sit back as it steadily produces Minex for you. A crypto method of earning passive income!
YoBit Customer Support
---
YoBit offers a few different ways to solve problems you are facing on their platform. The first of these is "Support Page". Here you can file a ticket which is passed to the staff who will attempt to help solve your problem for you. Although this isn't an instant fix, it can still be helpful and makes it easier to track your requests, giving proof of your complaint.
The next support function offered by YoBit is their Telegram page. Here they have a team of 10 people who respond to your queries and questions 24/7, This is a great feature and not the most common in the cryptocurrency space. They support 5 different languages, these being English, Chinese, German, Arabic and Russian. It is important to be careful when using the Telegram to ensure you contact the real team, as Telegram is known for its large amount of cryptocurrency scams due to platform's popularity amongst crypto users and traders.
YoBit's only social medias are Twitter and Telegram, make sure you do not communicate with them on any other platform as it is almost certainly a scammer.
Security of YoBit
---
YoBit offers two-factor authentication (also known as 2FA) and a login verification email security feature, which is always great when it comes to trading websites.
Enabling 2FA is optional. However, Regardless of which platform you use, this is one feature every cryptocurrency investor should enable as soon as they create an account.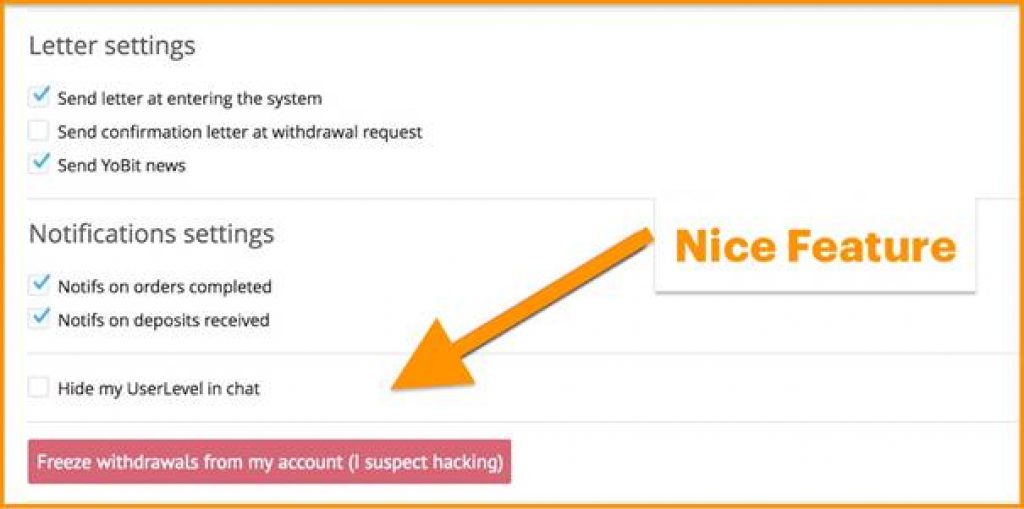 YoBit also supports a 'Freeze withdrawals' feature, which can be accessed from the profile settings page. This feature is extremely useful in case you feel you are under attack.
For security, YoBit has the following features:
Yobi Codes (deposit codes)
Hot/Cold Wallets
2FA (Email, Google Authenticator)
Intelligent system of queer transaction analysis and blocking
Anti-DDOS
Secure Sockets Layer (SSL)
File systems encryption
Company Trust: Is YoBit Legit?
---
Although the site may look fairly dated and sport some poor grammar, it is in fact a legitimate organisation that has provided great trading for a number of years now. It should be noted that some of the larger crypto exchanges such as Binance likely provide better security though, YoBit should likely be your choice only if you are seeing a strong benefit from using it specifically.
YoBit has in the past been accused of participating in some shady tactics. One of these was their "pony" feature. This is where an email is sent out to their users that lists some coins, and that they are going to put 10BTC into one of these coins causing it to rise in price and users can essentially bet on the coins by buying a "pony" and see if it is theirs's that pumps. This is a blatant Pump and Dump on YoBit's side and although it isn't technically illegal, it's a pretty immoral practice and somewhat of a red flag to those looking to start investing in cryptocurrency, especially since the use of "pony" helps to rationalise it as gambling.
Conclusion: Is YoBit a safe and legit exchange?
---
Although the exchange is not completely flawless, it does have benefits that make it stand out and it is indeed a legitimate exchange. Suited to traders who are there in a serious manner and those who are looking to trade more obscure coins, YoBit is able to attract a wider range of traders, and often those who will be putting large amounts of money through the site, earning a larger commision for YoBit, which they have rewarded with lower fees for their customers.
This in combination with their mining program and InvestBox make them an innovative project who have done well for both themselves and their customers.
However, they are not as polished as other exchanges like Binance, Bitfinex, KuCoin, Kraken, Cex.io, Coinmama or FTX.
In order to be a real player in the crypto space, YoBit is going to need to start cleaning up their reputation. Their poor writing on the site, pump and dump schemes and more also give the indication that it isn't the most official organisation which is giving them a very bad look. Hopefully in future we will see a strong effort from YoBit to try and clean up their image and treat the market with more respect.
FAQs
---
PROS
User-friendly, clean and precise Interface
Free Coins
Security -Yobi codes (codes that are provided for transactions)
CONS
A lot of negative reviews on social media

CaptainAltcoin's writers and guest post authors may or may not have a vested interest in any of the mentioned projects and businesses. None of the content on CaptainAltcoin is investment advice nor is it a replacement for advice from a certified financial planner. The views expressed in this article are those of the author and do not necessarily reflect the official policy or position of CaptainAltcoin.com