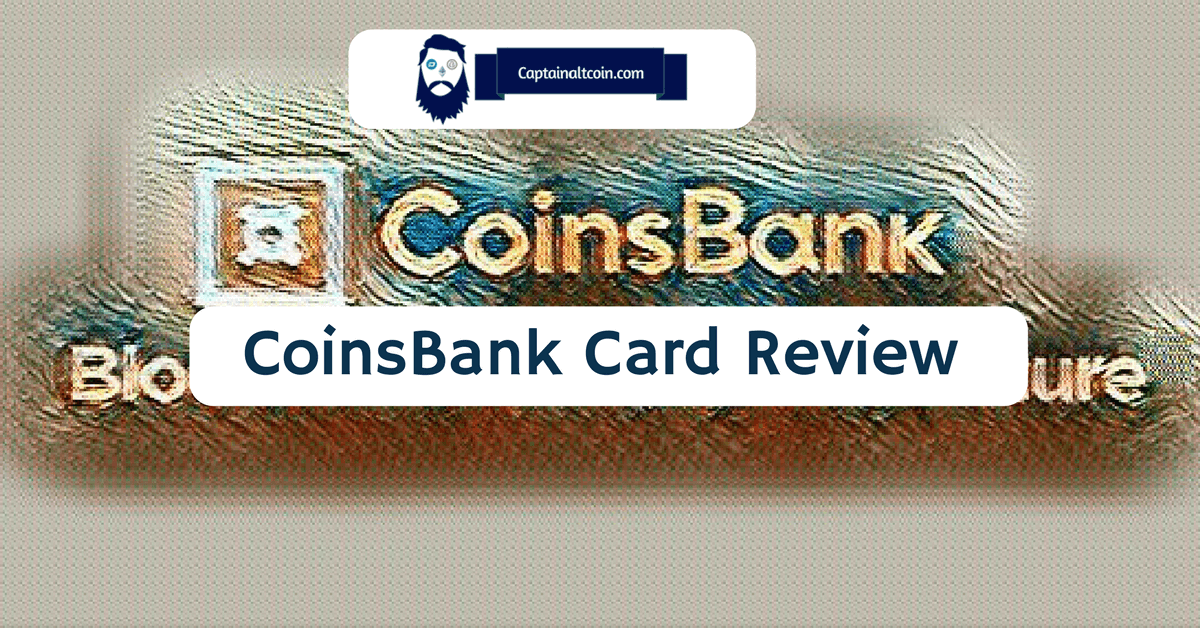 Previously called BIT-X, CoinsBank is an all-in-one gateway to blockchain services. CoinsBank may be the bitcoin debit card provider for those who are looking for a platform that provides every blockchain service available. With bitcoin exchange, prepaid bitcoin debit card, and the wallet CoinsBank offers complex services to their bitcoin clients for both sellers and buyers. Using bitcoin in whatever way is as simple as tapping on a button or sending an email with the CoinsBank bitcoin debit card. CoinsBank is a complex financial instrument. It supports not only bitcoins but a number of altcoins as well.

About CoinsBank
There is no 'About' section on the website. However, fortunately their Linkedin profile is honestly updated. CoinsBank is relatively new to the blockchain industry. They first revealed themselves on April 4th, 2016, at the Copenhagen Money 2020 Europe event with their universal crypto solution. Their headquarter is based in Suite 2, 5 St Vincent St, Edinburgh, EH36SW, Scotland, United Kingdom.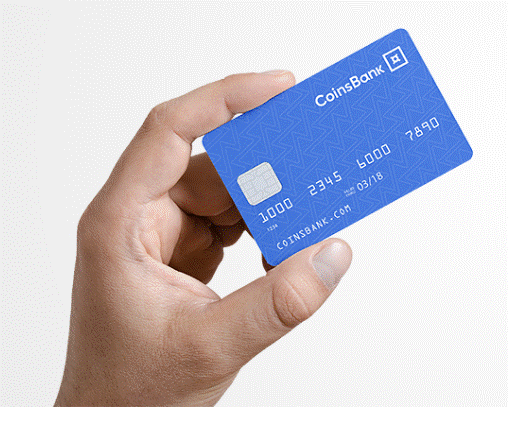 CoinsBank may be younger than its competitors. However, the CEO behind it, Ronny Boesing (https://www.linkedin.com/in/ronny-boesing-65b61720), has had tons of experience in the cryptocurrency world. He has also been founded exchanges himself. Ownership structure of CoinsBank is very complex. The coinsbank.com site is operated by CB Exchange LP, a UK company registered in 2015. In this company, the general partners and the limited partners are both offshore companies. On the other hand, the CoinsBank website is operated by CB Exchange LP. This company is licensed under IFSC Belize, with FinCEN MSB registration, and validated by PCI DSS. The financial services are provided by XBIT LTD. This company is registered at Belize.
CoinsBank tries to be in the centre of the bitcoin community by organizing events that showcase the latest in the industry's developments and expert opinions. In October 2016, they hosted a conference in Turkey, where they gathered together investors and industry experts to discuss blockchain's future developments and the state of the industry at present. The first event was such a success that they immediately organized another one in mid 2017. CoinsBank has done everything it can to make itself a known player, despite its newness on the market.
[thrive_leads id='1055′]
Services That CoinsBank Provides
CoinsBank focuses on their universal crypto solutions and they offer a bitcoin wallet for the cryptocurrencies that can be bought at their crypto exchange that is a leading platform for crypto traders. They offer VISA issued debit cards that link with their bitcoin platform. These cards can be used at both local stores and online.
CoinsBank also tries to help sellers with their bitcoin transactions, and they give merchants easier opportunities to get involved with bitcoin, allowing the market to open up by giving buyers more places to use their cryptocurrencies. The applications make the CoinsBank platform accessible from any desktop, tablet, or Smartphone devices that have Android or iOS systems.
Additionally, CoinsBank offers a range of base currencies that many other major bitcoin debit card providers don't provide, including major fiat currencies like USD, EUR, GBP and RUB, popular other fiats like CHF, AUD, JPY and cryptocurrencies like bitcoin and litecoin. These currencies can be used on their plastic cards or virtual cards, depending on the user's preference.
Regarding delivery, CoinsBank offers a surprisingly affordable delivery rate. The plastic CoinsBank cards can be shipped with airmail for a price of 4.95 EUR. This includes a tracking number. On the other hand, the DHL Express delivery cost 39.95 EUR. This provides the shortest possible timeframe for delivery.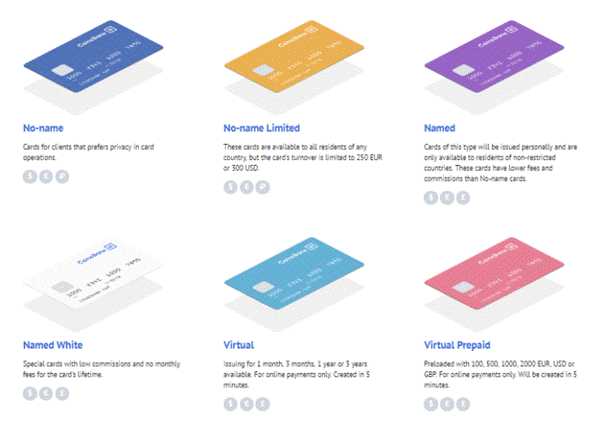 There are six types of CoinsBank bitcoin debit card currently available for users, and these include:
The No-name – This card is for clients who want to keep their privacy as much as possible and you give away almost no information. In return, you are given a card with a withdrawal of $2000, and a maximum of $30,000 through online spending.
The No-name Limited – This card is available for all residence in any country. This includes residents of countries that don't usually allow bitcoin debit cards (such as the United States and India). The limits are very low, as the card is maxed at $300, although users may order unlimited number of cards from this type.
The Name – This card is issued personally to users who are residents of non-restricted countries. It has a $2000 cash limit but no limit at all when it comes to online transactions.
The Named White – This card offers the same limits but lower commission rates for a higher one-time card price.
The Virtual – These cards can be issued within 5 minutes and valid from 1 month up to 3 years. These virtual cards have a $2000 online limit.
The Virtual Prepaid – These cards are similar to The Virtual cards, except they can be preloaded with $100-$2000.
CoinsBank gives users the option to customise certain features that they may not initially think about. For instance, you can link, unlink, and prioritise individual accounts to any card whenever you want. You can also choose to restrict the usage of your card to one country. You should know that verified users can set up their own daily and monthly limits for the accounts linked to their card.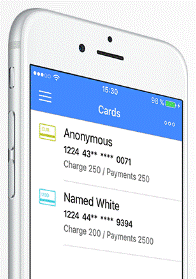 Not only that, CoinsBank also offers a bonus of daily cashback for the money spent with their card, which means that you are rewarded with 10 satoshi per day for every cent spent from the CoinsBank bitcoin debit card.
As a bitcoin purchasing and selling platform, CoinsBank operates as a licensed exchange service, and features a simple interface that makes it easy to monitor real-time exchange data and manage orders. Also, CoinsBank's exchange platform doesn't require documents to begin trading.
As a merchant tool, CoinsBank provides online entrepreneurs an easy-to-set-up and easy-to-use solution for receiving payments with flexible payout settings, and allows businesses to receive cryptocurrency payments for online transactions.
Fees and Pricing Schedule
CoinsBank offers six different types of cards. This means that the fees largely depend on which card you use. The Named card costs $9.95, while the No-name card costs $14.95. You also pay an additional $9.95 for card activation with a monthly fee of $1.95. It is important to note that they also charge inactive users from the second year $4.95 per month. This means that users have to pay attention to close the account at CoinsBank if they do not intend to use their services any longer.
Withdrawal fees also depend on the type of card you have. The withdrawals from ATMs cost $4.95 generally. However, they charge $9.95 on the Named-Limited card. POS usage is only free for the Named card, otherwise it costs $0.95 per transaction.
The most expensive card is the Named White card at $99.95. However, this card also offers a generally lower fee of 2.95% currency conversion rate for foreign purchases (as opposed to the 3-5% of the other types of cards).
The virtual cards cost are depending on the validity of the card, for example a card valid for 1 month costs $2.95, the 3 month card is $4.95, the 1 year card costs $9.95, and the 3 year virtual card costs $49.95. Prepaid virtual cards do not have an issuance fee, and currency conversion rate is flat 3% across all virtual cards. The POS (Point of Sale) purchases are charged between $1.49-$1.99 per transaction.
Top ups of the wallet in fiats or cryptocurrencies at CoinsBank is free. It doesn't matter be it litecoin or bitcoin or coming from bank transfers. The withdrawal is charged at 1% for wire or SEPA transfers and 0.5% for cryptos. CoinsBank charges the card top ups at a flat rate of $4.95 fee + 2.95%, and they also allow users to fund the account with alternative payment system providers such as Perfect Money, Qiwi, Western Union, PayPal, and Webmoney with deposits and withdrawal fees between 1-5%. A trading fee of 0.5% is charged in any currencies.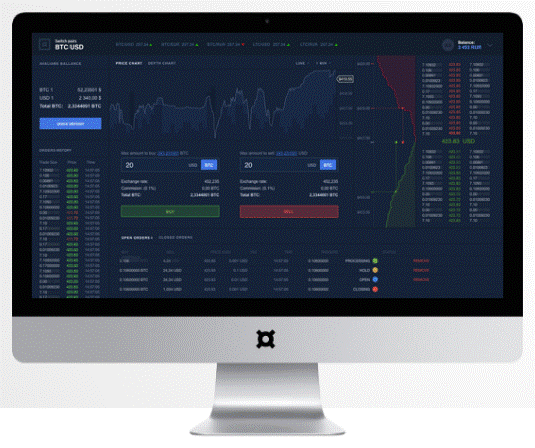 It can be easy for the average user to lose track of how much everything costs because CoinsBank is heavy with different fees for different actions, and different rules for the six different cards they offer. This is something everyone who registers with them should remember. This may also be one disadvantage to CoinsBank.
[thrive_leads id='1055′]
Account Registration
CoinsBank is issued by the same company responsible for Wirex, so you may think that you will have similar issues with the mobile phone number for registering and that it will refuse your registration because of an invalid number and that you should use a number from a different network provider. However, that is not the case, and the number that was rejected by Wirex will be accepted by CoinsBank. However, there is a problem. It will take some time before you receive the confirmation code on your phone.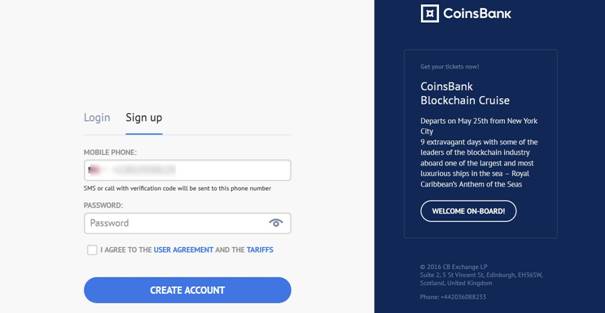 Once you receive the confirmation code, getting an account will be a breeze, and you just have to enter the confirmation code and wait a bit for the account registration to be processed. After that, you will be directed to your account, and nothing else is required. In short, you will get an account simply by entering your phone number and inputting the confirmation code, and no personal details are asked. The registration form is the login form itself.
Account Dashboard and Functions
There's a lot going on with the CoinsBank dashboard, so to new users it may look intimidating. It's not too complex but it may take some time getting used to the interface. It's not something we can consider easy to use for those who are new to bitcoin debit cards, especially to something like CoinsBank that has several functions.
There are five different sections on the CoinsBank dashboard:
General Information
Verify Your Profile
Your Accounts
Card Ordering
Exchange

The General Information section – In this section you can enable two-factor authentication, set up your recovery method, set various notifications for your account, and add/change your base currency, phone number and email address.
The Verify your Profile section – In this section you can add personal details and lift limits imposed on your account. It is important to note that you get to enjoy higher maximum transaction limits the higher the verification level you have.
The Your Accounts section – In this section you will find the difference balances of your accounts, and also where you can make withdrawals or add deposits. By default, you automatically get six accounts for six different currencies, including RUB, GBP, USD, EUR, LTC, and BTC.
The Card Ordering section – This section has a button through which you can order a virtual card or a debit card. However, you need to make a deposit before you can order a card.
The Exchange section – In this section you can purchase and sell bitcoins or other cryptocurrency. It readily presents exchange rates for bitcoins to other cryptocurrency or fiat currency, and there's also a chart showing the changes in bitcoin value over the last 2 days.
It is worth noting that CoinsBank has an automatic session timeout system, so if you leave your account idle for a while, it will automatically be logged out. This means that you need to log in again and spend the rest of your ten free verification codes (via SMS) for the day. There's a limit to the free verification codes you can get to access your account. This means that if you tend to log in to your account frequently in a day, it's better to just enable two-factor authentication so you no longer have to get a verification code every time you log in.
You may change the automatic session timeout duration to make it longer but advise against doing this (this is one of the options under the General Information section). It defeats the purpose of an automatic timeout, so switching to two-factor authentication makes more sense.
Currencies Supported and Countries Served
The following currencies are supported by Coinsbank: Litecoin (LTC), Bitcoin (BTC), Australian dollar (AUD), Japanese yen (YEN), Swiss franc (CHF), Russian ruble (RUB), British pound sterling (GBP), US dollar (USD), and euro (EUR).
Sadly, CoinsBank only provides no-name limited cards to US residents and they are not allowed to get named and virtual cards. Similarly, the following countries may only avail of no-name limited cards: Yemen, Zimbabwe, Sudan, South Sudan, Pakistan, Panama, Laos, Liberia, Central African Republic, Eritrea, Angola, Afghanistan, Venezuela, Uganda, Sierra Leone, Somalia, Nigeria, Nicaragua, Kenya, North Korea, Côte d'Ivoire, Ecuador, Algeria, Syria, Tajikistan, Rwanda, Romania, Nepal, Niger, Iraq, Indonesia, Cambodia, Congo DR, Suriname, Swaziland, Paraguay, Papua New Guinea, Myanmar, Namibia, Haiti, Iran, Belize, Congo, Paraguay, Papua New Guinea, Libya, Mali, Mozambique, Guinea, Guyana, Guinea-Bissau.
Residents of the following countries are not allowed to obtain named and virtual cards: Zambia, Zimbabwe, Venezuela, Uganda, Togo, Tokelau, Sierra Leone, Senegal, Niue, Palau, Madagascar, Mayotte, Iran, Islamic Republic of Mauritania, Guam, French Polynesia, Democratic Republic of the Congo (DRC), Ivory Coast, Cameroon, Cape Verde, Ascension and Tristan da Cunha, Belize, Yemen, Wallis and Futuna, Uzbekistan, United States, Tajikistan, Timor-Leste, Saint Helena, Samoa, New Caledonia, Nigeria, Malawi, Mali, Kosovo, Kiribati, Ethiopia, Ghana, Burundi, Cambodia, Algeria, Bangladesh, Vietnam, Western Sahara, Tunisia, Tuvalu, Syria, Swaziland, Rwanda, Palestine, Nauru, Niger, Libya, Macao, Kenya, Democratic People's Republic of Korea, Haiti, India, Equatorial Guinea, Eritrea, Comoros, Congo, Botswana, Burkina Faso, Afghanistan, American Samoa, Turkmenistan, Vanuatu, Angola, Bolivia, Benine, Central African Republic, Chad, Cook Islands, Egypt, Guinea, Guinea-Bissau, Lesotho, Liberia, Montserrat, Namibia, Pitcairn, Puerto Rico, South Sudan, Sri Lanka, Tanzania, Tonga, Djibouti, Gabon, Gambia, Honduras, Iraq, Kyrgyzstan, Laos, Lebanon, Mozambique, Myanmar, Pakistan, Somalia, Sudan.
[thrive_leads id='1055′]
Mobile Apps
Upon its redesign and relaunching, the CoinsBank mobile apps (Android or IOS) were also introduced, and the official name is CoinsBank Mobile Wallet (by CoinsBank LP). Just go to the Mobile page of the site to find the links to the iOS and Android apps of CoinsBank, or you may also look for the app at the iTunes or Google Play Store. It is important to note that you should have Android 4.1 or iOS 7 to be able to use this app.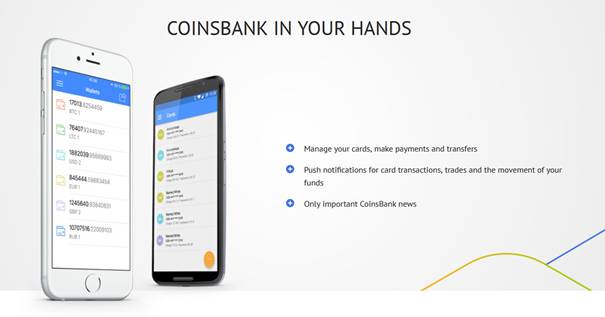 The mobile apps have decent ratings and reviews, and they are easy to use and responsive. You may encounter some problems. However, they shouldn't be rampant and should be quickly addressed – just contact CoinsBank's support team to have your concern addressed.
Security
CoinsBank does not brag anything on its website about how secure it is, but there's at least SSL encryption. Users' data have basic protection from snooping or other forms of electronic data theft, and CoinsBank also has a reassuring system when logging in.
Furthermore, logging in is not the usual entering of a password and username, and you will be asked for three details to log in: your mobile phone number, password, and a confirmation code. You can't proceed to accessing your account without the confirmation code, which is sent to you once you enter your mobile number and your password. This means that it's not enough for somebody to know your password and username (mobile number) to be able to use your account, and they also need to get the confirmation code that you can only obtain through your mobile phone.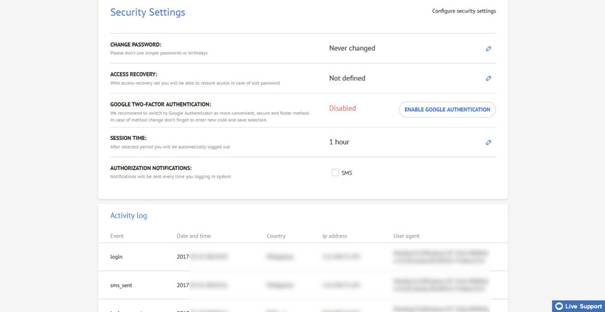 Another great thing about CoinsBank is that there is also the option to use Google two-factor authentication instead of the need for a confirmation code every time you want to log in to your account.
Other notable security features of CoinsBank are the ability to view activity logs, set daily and monthly limits for card operations, enable SMS authorization notifications (every time you log in, you receive an SMS), and set a session time (you get automatically logged out after the specified session time). If you suspect that somebody else is using your account, the activity logs are particularly useful because it shows details on the country, web browser, IP address, and operating system of the device used to log into your account on a specific time and date.
Policy on Anonymity
When using CoinsBank, you can be anonymous to a limited extent—that is if you limit your use to the no-name card service. CoinsBank conducts identity verification procedures for the rest of its services/functions. It requires users to submit documents that serve as proofs of their identity. If users are deemed to have not satisfied the required identity verification, the company reserves the right to conduct further verification procedures. It is worth noting that, on users who are residents of countries included in OFAC and FATF lists, an in-depth primary and periodic analysis may also be undertaken.
Adding Funds
The process of adding funds is similar to how it is done with other bitcoin debit cards, which means that you just make a deposit through the Deposit interface. For the cryptocurrency accounts, just make a deposit to the address indicated, while for fiat currency accounts, deposits can be made through bank transfers, OKPay, Perfect Money, Sepa, Qiwi, or debit/credit card.
The minimum deposit allowed is from 10.00 EUR/USD to 500 EUR/USD. On the other hand, the maximum deposit allowed is from 500 EUR/USD to 5,000 EUR/USD. It is important to note that all the maximum and minimum deposit amounts are indicated in the payment method interface.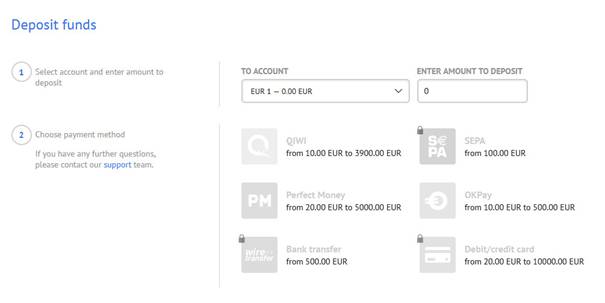 CoinsBank User Experience
When it comes to CoinsBank's user experience on its website, users have given positive feedback. Real-time data is available for its users on its main page, cryptoexchange prices are clearly visible and not hidden, and information is easy to find and access.
CoinsBank's services are appreciated very much. Only one topic is opened in bitcointalk.org forum on problems experienced with the wallet. However, everyone is defending CoinsBank services and seems to be happy about the platform.
Customer Service/Support
Go to the Support page to use the CoinsBank ticket system if you have complaints, questions, or requests for assistance. There's a live chat support facility. However, it can only be accessed if you are signed in. You may also directly contact CoinsBank through the following telephone number and email address: +442036088233 and support@coinsbak.com. Consider sending a message to their official social media accounts as well as to their official thread on the Bitcointalk forum if you couldn't reach CoinsBank's admin or support team through these options. You can find the links on the footer part of the website.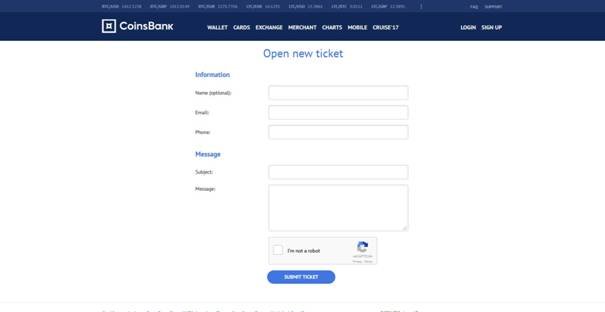 CoinsBank on Social Media
Pros and Cons
PROS:

Multiple functions (bitcoin exchange, wallet, merchant tool, and bitcoin debit card)
The card is available for major fiat currencies USD, EUR, GBP
It enables litecoin accounts too
It also supports RUB, CHF, AUD, JPY currencies
It has nice website and 24/7 customer support
It is perfect for those who prefer privacy

CONS:

Complicated card order structure and fee structure
Complex and not transparent ownership
Before you can register and log in, you need confirmation code
It does not accept registrations from the US (for virtual and named cards)
Free shipping available only for premium users

Conclusion
CoinsBank is a promising all-in-one payment or funds transfer service, and it offers an all-in-one crypto solution with wallet, crypto exchange and multiple versions of debit cards. Signing up for an account is a fast and easy process. It makes use a lot of different currencies and litecoin accounts, and there are six different possibilities to choose from based on account verification level. This is a great option for users and the service structure can be tailored to everyone's need. However, the fee structure is very complex and the overall price schedule is above average.

CaptainAltcoin's writers and guest post authors may or may not have a vested interest in any of the mentioned projects and businesses. None of the content on CaptainAltcoin is investment advice nor is it a replacement for advice from a certified financial planner. The views expressed in this article are those of the author and do not necessarily reflect the official policy or position of CaptainAltcoin.com