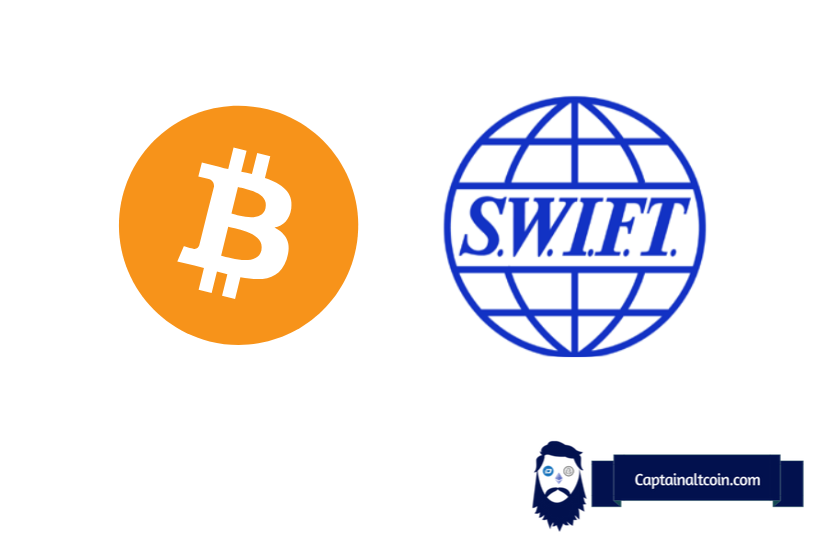 Where can you buy Bitcoin with a SWIFT international wire transfer?
---
SWIFT is one of the most popular methods used to transfer money internationally. This is because it is fast, secure, and reliable.
However, many people do not know how to buy bitcoin with SWIFT. Fortunately, there are several options out there that allow you to exchange fiat currency into crypto, like Bitcoin via SWIFT system. Let's take a look at some of the best places where you can acquire BTC with SWIFT.
The biggest downside of SWIFT transfers is speed. It can take from 1 to 5 days for a transfer to go through. On the other side, SWIFT is one of the cheapest ways to purchase crypto.
Coinmama
---
As a crypto exchange, Coinmama was founded in Israel in 2013, however, it is currently officially headquartered in Dublin, Ireland.

The exchange has more than 3 million registered users worldwide, a fast verification process, and solid customer service for its users in more than 190 countries.
Payment currency may be set to EUR, USD, AUD, CAD, GBP, or JPY. Coinmama only accepts the 6 fiat currencies listed above, so fiat currencies that are different from will need to be converted to one of them.
Clients of this marketplace may buy and sell crypto using a broad range of payment methods, including Apple Pay, Google Pay, credit cards, bank transfers, and wire transfers (SWIFT, SEPA).
eToro
---
When it comes to social trading and investing in wide variety of assets, eToro is among the industry leaders. They have over 20 million users in over 140 countries and work with many different types of customers, such as large financial institutions, hedge funds, family offices, and high-net-worth individuals.
In addition to trading stocks, commodities, indices, ETFs, currency, and cryptos, the firm, which began in Central Israel in 2007, also offers various other financial services. Over 40 distinct tokens, including DeFi tokens and stablecoins, are available for purchase, sale, and exchange.
The crypto trading platform accepts a wide variety of payment methods. These include major credit cards, debit cards, PayPal, Neteller, Skrill, bank wires, SWIFT, SEPA, and more.
Paxful
---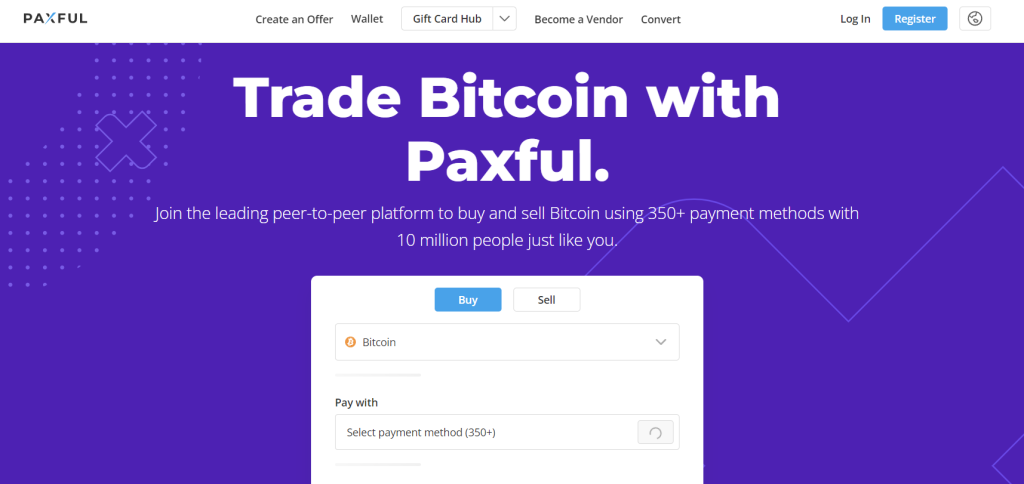 A team of developers created Paxful, a centralized peer-to-peer trading network, which was founded in 2015 and has an established headquarters in New York, with the goal of making Bitcoin more widely available. The website serves as a playground platform where crypto buyers and sellers may connect and transact business without the involvement of a third party.
The site offers over 350 different payment methods in more than 190 countries worldwide, including fiat money and cryptos. Some of the most popular payment methods on Paxful include bank transfers, SWIFT, SEPA, payment applications (like PayPal), gift cards, other cryptos, cash, etc.
Cex.io
---
CEX.IO has been around longer than most other Bitcoin exchanges. Since its 2013 London debut, it has gained over 3 million monthly active users.
The platform supports trading in Bitcoin along with many other digital currencies. Ethereum, Bitcoin Cash, Litecoin, Dash, Ripple, and many others are some of the other well-liked choices. The crypto-assets can be traded to different fiat money, such as USD, EUR, GBP, and RUB, on this platform.
It is listed as a Money Services Business in the United Kingdom and with FinCEN in the United States. To access the full feature set of CEX.IO, you must comply with KYC and AML regulations by proving your identity.
Direct purchases of cryptos may be made using Visa or Mastercard, or your account can be funded via ACH, SEPA, or SWIFT bank transfers.
CoinSmart
---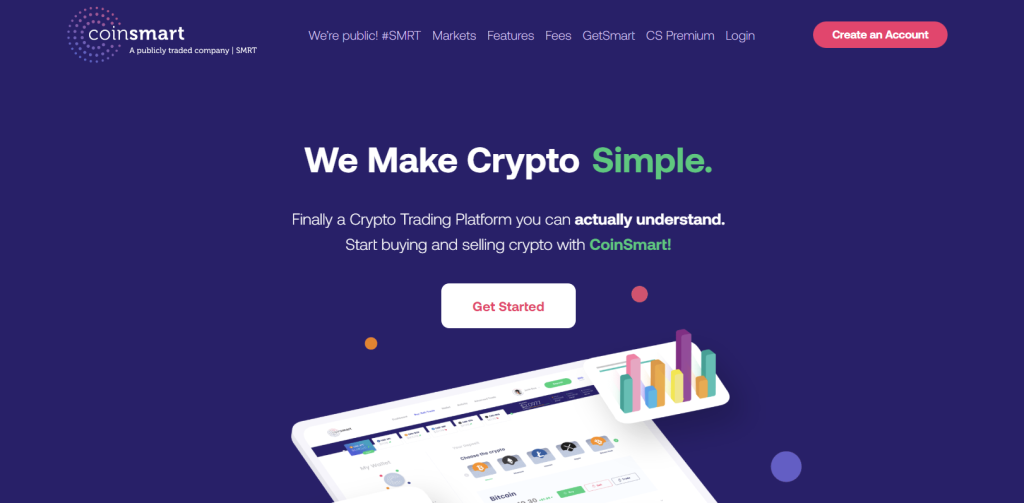 CoinSmart, one of Canada's most reputable and rapidly expanding crypto platforms, was established in 2018. It is accessible in more than 40 countries, supports 3 fiat currencies (CAD, EUR, and USD), and supports 16 of the largest cryptos (BTC, ETH, LTC, BCH, XLM, EOS, DOGE, DOT, USDC, ADA, SHIB, LINK, UNI, SOl, AVAX, and MATIC).
It is registered with the Financial Transactions and Reports Analysis Centre of Canada (FINTRAC) as a Money Service Business.
Once you have a CoinSmart account set up and validated, you may fund it via INTERAC e-Transfer, SEPA, SWIFT, a wire transfer, a bank draft, crypto, or a credit and debit card.
Binance P2P
---
Late in 2018, Binance P2P was launched for all Binance registered users, allowing them to interact between each other and buy/sell coins directly. 10 cryptos, including BTC, ETH, BNB, BUSD, DAI, and others are currently supported for exchange. Users may also purchase them using more than 70 other local currencies, including USD, EUR, AUD, and others.
More than 7,500,000 transactions are processed on the crypto platform annually, enabling buyers and sellers to interact in an inexpensive, quick, and secure manner.
A screening process that includes identification and business verification is mandatory for all P2P sellers on Binance. Authenticating all users also provides a safe layer of security for your transactions.
It accepts more than 300 payment options, including cash, online wallets, local bank transfers, SEPA transfers, SWIFT transfers, international transfers, and more.
KuCoin P2P
---
KuCoin P2P is the most flexible, powerful, and low-cost option to buy crypto, and it supports a wide variety of popular currencies. The need for a middleman, like a broker or a bank, is eliminated when investors trade or transfer cryptos between their own accounts.
Users of KuCoin's P2P marketplace may buy and sell BTC, ETH, LTC, and other cryptos. Customers may acquire crypto on the site in real-time using fiat currencies like USD, EUR, GBP, CAD, IDR, AUD, etc.
There are various payment options available, including PayPal, Payoneer, bank transfer, SEPA, SWIFT, etc.
What is SWIFT?
---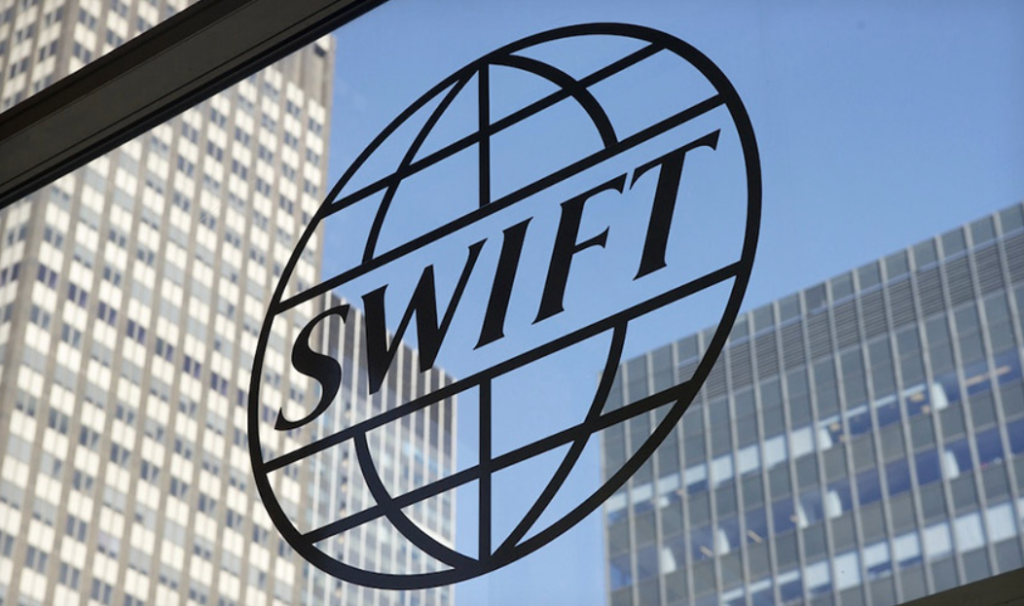 To standardize international banking communications, the Society for Worldwide Interbank Financial Telecommunications (SWIFT) was established in 1973. When it comes to sending and receiving sensitive information like money transfers and instructions, banks worldwide rely on a safe, quick, and accurate SWIFT system.
Millions of banking clients and more than 100,000 banking institutions utilize SWIFT, an international payment system, to send and receive money quickly and securely. It is a well-liked and safe way to purchase and sell bitcoin and other cryptos online.
Advantages of buying bitcoin with SWIFT
---
There are a number of advantages to using SWIFT transfers to buy bitcoins, and so it is widely used. The transfer mechanism is available worldwide for everyone with access to a bank account and funds on it. When an error is discovered, and the bank personnel is alerted, the money can be refunded.
In many situations, there are no fees at all, making this one of the least expensive ways to exchange bitcoins. You may buy up to 50000 USD in Bitcoin with a single SWIFT bank transfer, and there is no cost for orders above $1,000. But the service fee assessed by the bank handling the transaction might range from 3% to 4%. The transfer period might be from 1 to 5 working days, which is one of the few downsides.
What Is A SWIFT Code And IBAN?
---
A SWIFT code, also known as a Bank Identifier Code, is a string of eight characters that is used to identify a certain bank.
An IBAN, or International Bank Account Number, allows banks to identify your unique account while processing payments. The IBAN is not utilized in all countries.
Your bank statement will show both of these items.
How to buy bitcoin with SWIFT?
---
First, make sure your bank supports SWIFT wire transfers. Then follow these steps in the text below to buy bitcoin with SWIFT:
👉 Pick an exchange
---
To buy bitcoin using SWIFT, first, you must choose a reliable and secure crypto exchange that will allow you to make the purchase.
👉 Register
---
When you find the best option for your crypto exchange, register an account and confirm it on through mail which was sent to your email address.
👉 Verify account
---
You must verify your account at certain exchanges, so go to the verification page and submit scanned copies of your ID and utility bill.
Choose SWIFT as a payment method and input the amount you want to buy
---
Choose the crypto which you want to buy, enter the amount of your fiat money that you want to spend on a purchase, and in the part when you choose a payment method, choose SWIFT.
FAQs
---
Does Bitcoin have a swift code❓
No, Bitcoin doesn't have a swift code because a SWIFT code, also known as a Bank Identifier Code, is a string of 8 characters that is used to identify a certain bank, not for identifying crypto.
Can I buy Bitcoin with Wire Transfer❓
Yes, you can buy Bitcoin with a Wire Transfer. It is the cheapest and fastest way to buy and sell significant quantities of Bitcoin or other cryptos.
Can I buy Bitcoin directly from my bank account❓
No, you can not buy Bitcoin directly from your bank account. If you want to purchase Bitcoins, you must do so through a dedicated Bitcoin exchange.
What crypto replaces SWIFT❓
The crypto which replaces SWIFT is XRP or XLM.

CaptainAltcoin's writers and guest post authors may or may not have a vested interest in any of the mentioned projects and businesses. None of the content on CaptainAltcoin is investment advice nor is it a replacement for advice from a certified financial planner. The views expressed in this article are those of the author and do not necessarily reflect the official policy or position of CaptainAltcoin.com