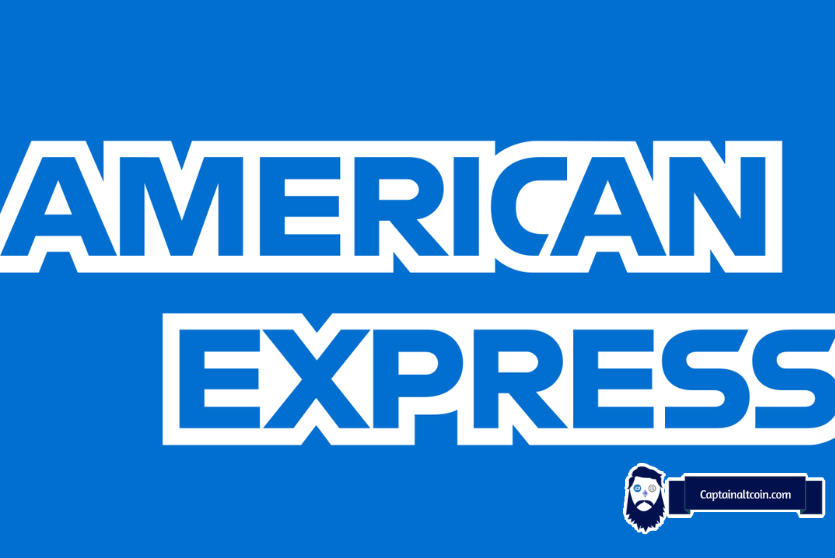 What do You Need to Know About Buying Cryptocurrency with Amex?
---
If you want to buy Bitcoin or other digital currencies using an American Express card, be aware of the limitations. You may need to pay additional fees for purchases made with a credit card balance.
American Express restricts customers to no more than $200 in Bitcoin purchases per day and no more than $1,000 in Bitcoin purchases per month.
Where to buy Bitcoin with American Express Card?
---
Almost all major crypto exchanges accept credit cards as payment methods on their platform. Hence, crypto purchase with AMEX is a fairly easy thing to do.
In the text below, we listed the six crypto exchanges which allow buying cryptos with American Express cards.
eToro – Overall Best Platform to Buy Bitcoin with Amex
---
eToro (check the full review here) is a leading social trading platform for CFDs, stocks, indices, currencies, cryptos, and commodities. It has been in existence since 2008 and provides a flexible web-based and mobile platform that allows users to trade virtually anything in a single portfolio. Since its inception, it has considerably expanded. It has a user base of about 13 million people at this time.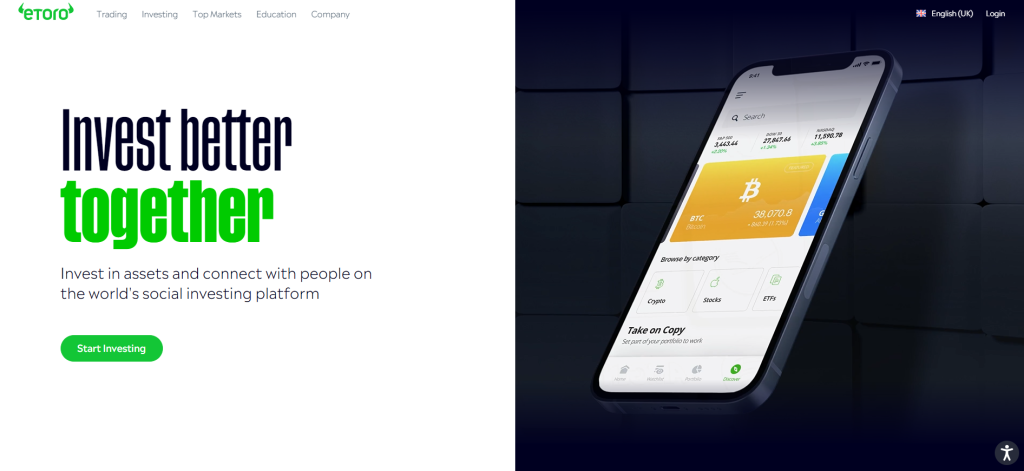 eToro emphasizes its social trading capabilities, such as copy trading and copy portfolio, in order to assist newbies to the world of trading. This straightforward but efficient model combines a lag-free contemporary trading system with the capacity to communicate with other users.
It doesn't charge any commission fees as it works via spreads (different in the bid and ask price). On top of that, there are no hidden charges either. All fees are clearly displayed upfront.
It supports multiple payment methods, including Visa, MasterCard, American Express, wire transfers, Skrill (check how to buy crypto with it fast and easy), Neteller (see other platforms where you can buy crypto with Neteller), PayPal, bank transfers, and cash deposits. 
CEX.io
---
When it comes to Bitcoin trading platforms, CEX.IO is one of the oldest crypto exchanges that is still in business. Its origins can be traced back to 2013 when it was established in London. There are already over 4 million people registered, and it supports 99% of nations worldwide.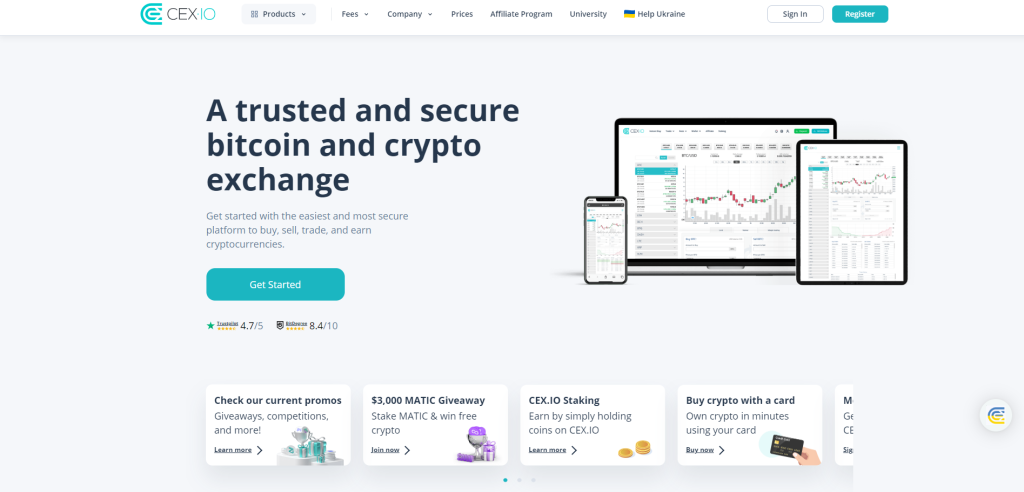 Bitcoin is one of many digital currencies that may be traded on the platform. Other popular options include Ethereum, Bitcoin Cash, Litecoin, Dash, Ripple, and many others.
A lot of people feel safe using it because of its reliability. The exchange says it's never lost user money.
It is authorized to conduct business in a variety of nations. In the US, it has been registered with FinCEN, and in the UK, it has been listed as a Money Services Business. To gain access to all that CEX.IO has to offer, you'll need to go through the identity verification processes required by Know Your Customer (KYC) and Anti-Money Laundering (AML) regulations. 
One of the funding methods on Cex.io is the American Express card.
Coinmama
---
When compared to other crypto exchanges, Coinmama stands out. After a coin buying process on their platform, it does not store the coin in its own wallet. Your funds will be transferred directly to your personal wallet, which you need to provide before you go through with the transaction. As a result, hackers have no reason to target Coinmama servers because they do not store cryptos.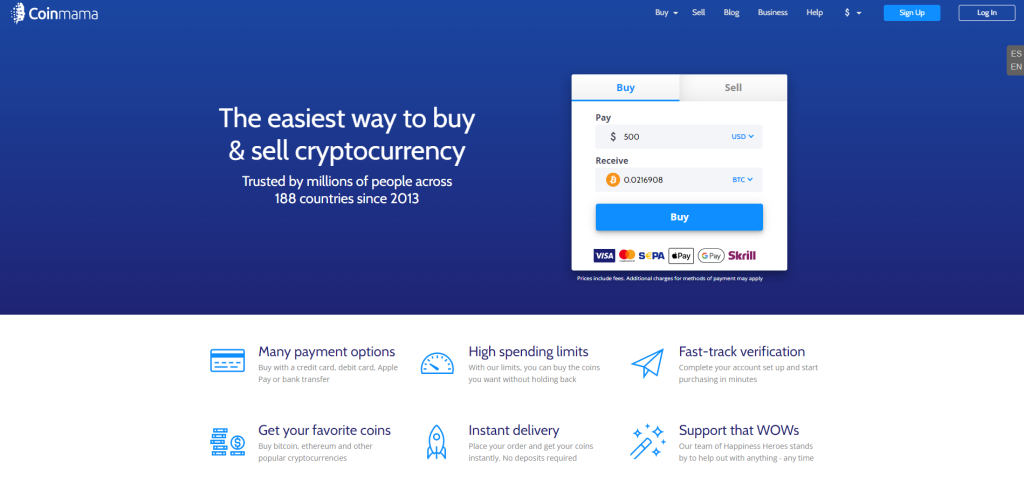 Users in 188 countries and 48 U.S. states (all except Hawaii [here is how you buy bitcoin in Hawaii] and New York – [click here to see how you can buy crypto in NY]) have access to Coinmama. It supports a wide variety of payment methods for buying crypto, including major prepaid and credit cards like Amex, debit cards, bank transfers, Apple Pay, and Google Wallet.
It also eliminates the risk of being hacked by not storing or recording sensitive information like consumers' bank accounts or credit card numbers. Two-factor authentication is an additional security measure that accounts holders can enable.
Paxful – best P2P place to buy bitcoin with Amex
---
Paxful is an open marketplace where users can purchase and trade crypto directly with one another. Buying bitcoin is hassle-free and secure using Paxful.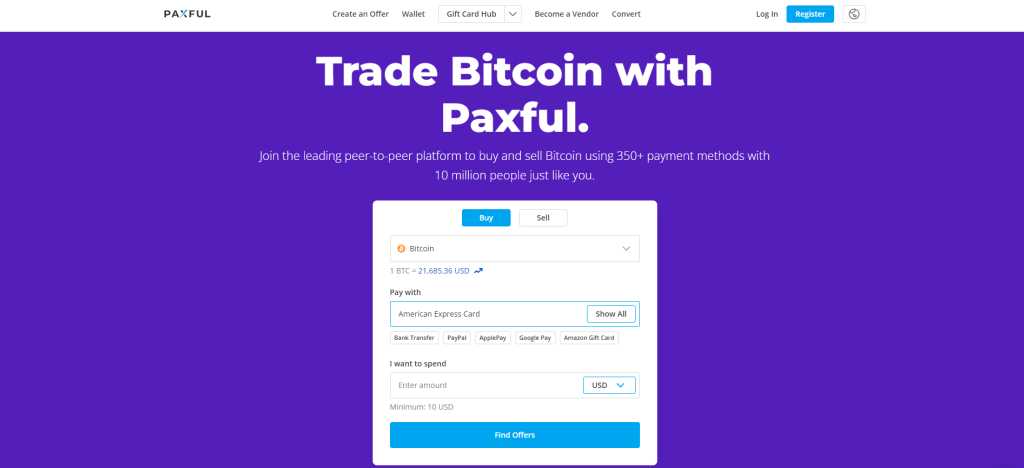 By signing up on Paxful and completing the verification process, you can quickly obtain your own Bitcoin, ETH or USDT wallet provided by Paxful. 
American Express is one of the payment methods on Paxful (it has over 200 different ways you can pay for crypto). Research the platform to find offers that accept AMEX as a payment method. Before agreeing to the terms and conditions, please read them carefully.
Once you find a seller that is accepting AMEX and has a fair offer and good reputation, you can start the transaction and arrange all other details directly with the seller via the Paxful chat.
Capital.com – Most Advanced Crypto Trading Platform that Accepts Amex
---
More than five million people from more than 50 different countries use this relatively new crypto trading platform launched in 2016.
It provides traders access to over 6,000 different assets via its CFD (contract for difference) trading platform, which is compatible with Meta Trader 4 and has its proprietary trading platform. Among the many things that brought them fame is the pioneering application of artificial intelligence as a trading help for users.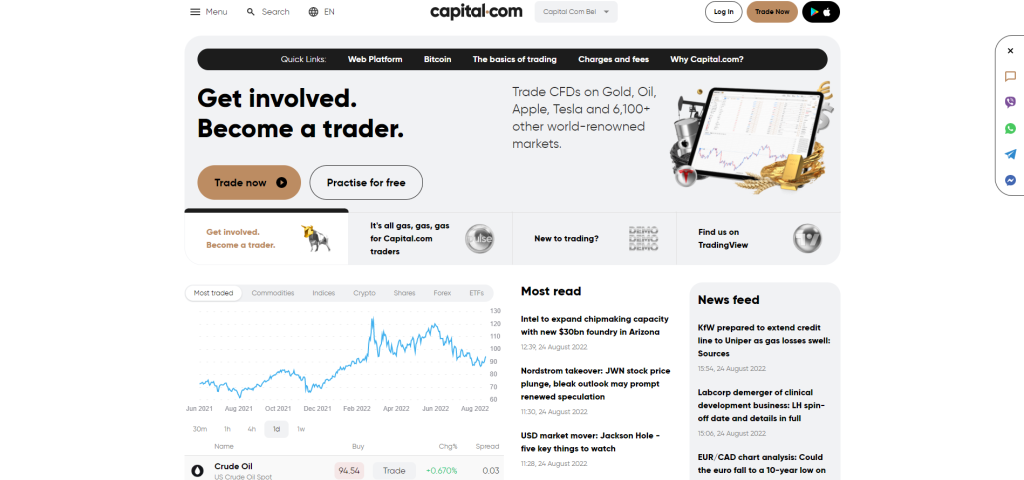 In terms of costs, it imposes no trading fees (works via spreads as well which can run high and often do) and no management costs. There are no associated withdrawal, inactivity, or deposit fees. Capital, however, is not not available to American traders; this may change in the near future. You can check the best US allowed crypto exchanges by clicking here.
Amex is one of many deposit methods on the platform.
Libertex – Low-Cost Cryptocurrency Trading Platform
---
To trade CFDs, you can use the Libertex platform, which offers low fees. While there are no spreads on purchases or sales, the platform does impose commissions, which begin at 0.001% and vary by asset type. More than 50 cryptos and other assets are listed on it.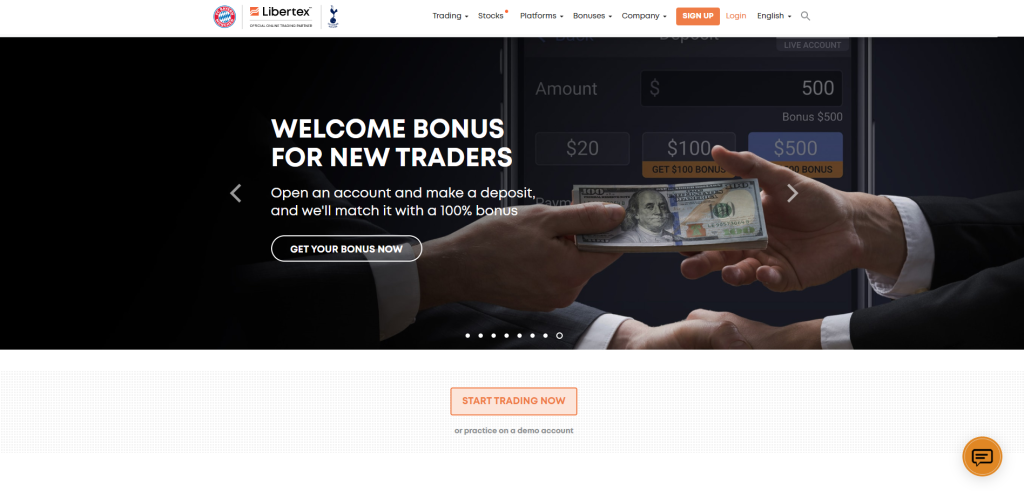 It does not charge its customers a monthly fee as well as a cost for having an inactive account. There is a $100 minimum deposit required to begin trading on the site. There are withdrawal fees associated with using Libertex, and these costs can change based on the chosen payment option.
All major credit and debit cards, bank wires, and digital wallets are accepted, including AMEX. The time it takes to process a trader's order is minimal.
How to Buy Bitcoin With American Express in 2022?
---
American Express can be used to buy bitcoins in the same way it can be used to buy anything else online.
If you're merely looking to buy Bitcoin with an American Express credit card, the process is straightforward, but if you're new to the world of online crypto trading, using Bitcoin brokers can be complicated. So here is a quick rundown of the process:
Step 1: Pick a platform
---
Firstly, choose one of the many Bitcoin brokers who support American Express as a payment method. We wrote about the best of them in the previous part of the article.
Step 2: Open an account
---
Many centralized exchanges and brokers require you to register as a member to buy, sell and trade with cryptos. To open an account, you typically need to complete a KYC process, where you upload personal information like ID, passport, proof of residence, bank statements, utility bills, etc. You may be asked to submit a selfie or scan a document. Once you pass the verification stage, you can proceed to set up an account. 
Step 3: Connect your Amex card
---
You must enter the essential information, like the card number and expiration date required to connect your card and make a deposit to the account. Also, the security code located on the back of the card must be confirmed. Observe the minimum and maximum Amex deposit amounts. Amex has put some restrictions on all of its cards.
Step 4: Buy Bitcoin
---
As soon as your balance is funded, you can begin purchasing Bitcoin. While the specific options available on each exchange may vary, the process is essentially the same. You buy bitcoins with the fiat you deposit into your account and choose how many bitcoins you want to buy. Finally, you'll confirm your transaction.
How to Withdraw via American Express?
---
Learn how to make a withdrawal to your American Express card when purchasing Bitcoins from an online crypto broker by reading the information provided below. Keep in mind that there is no direct way to transfer your crypto to an American Express card. You will need to use a service like a crypto exchange that will trade your coins into cash and send that cash to your American Express card.
Step 1: Log in
---
Firstly, you must log in to your Bitcoin broker account.
Step 2: Select Amex as your preferred withdrawal option
---
To withdraw money using your Amex, navigate to the assets menu. If you haven't already, link your card.
Step 3: Withdraw the amount you want
---
Simply enter the amount of money you want to take out of your account.
Step 4: Confirm your transaction
---
Complete the transaction.
Keep in mind that many online brokers might only accept Amex for deposits but not withdrawals, so this is something to look into before signing up.
FAQs
---
How fast is buying Bitcoin with American Express❓
Buying Bitcoin with American Express is instant, just like a crypto purchase with any other credit or debit card. 
Are fees low when using American Express to buy Bitcoin❓
No, fees are not low when you use America Express to buy Bitcoin, as using credit cards for purchasing crypto is one of the more expensive ways to do it.
Can I hold cryptocurrency in my American Express account❓
No, you can not hold crypto in your American Express account. Amex is only able to hold fiat currencies.
How to Buy Bitcoin with American Express Instantly Without Verification❓
There is no way to buy Bitcoin with American Express instantly without verification because Amex is a credit card, so you must confirm your identity to use it. You might want to try out Bisq to buy crypto directly from other crypto users without the need to verify who you are.
Is It Safe to Buy Bitcoin with American Express Credit Card❓
Yes, it is safe to buy Bitcoin with an American Express credit card. Using a credit card to pay for crypto can offer additional security. Credit cards offer fraud protection and the ability to call in and reverse the transaction. Additionally, restrictions on credit card purchases may reduce your risk of suffering irrecoverable losses.
What are some Bitcoin exchanges that accept American Express credit card payments❓
Some of the Bitcoin exchanges that accept American Express cards as payment are eToro, Coinbase, Bitpanda, etc.
Does American Express work with Crypto.com❓
Yes, Crypto.com accepts American Express cards as a payment method on their platform.
Can I use Amex on MoonPay❓
Yes, you can use  Amex on MoonPay. People who want to buy, sell, trade, and collect NFTs can pay directly with American Express without first having to convert your fiat to specific cryptos.
Can you buy Ethereum with American Express❓
Yes, you can buy Ethereum and other cryptos with American Express. There are restrictions on how much you can purchase, and additional charges might apply.
Does Coinbase accept Amex❓
Yes, Coinbase accepts all major brands of credit cards, including American Express. Please be mindful of the fees while using Amex on Coinbase, as they are greater than those for other deposit alternatives.
Does Binance accept American Express❓
No, Binance does not accept American Express. Only VISA and Mastercard credit cards are accepted by Binance. You can, however, use AMEX on Binance P2P marketplace which accepts more than 300 payment methods.

CaptainAltcoin's writers and guest post authors may or may not have a vested interest in any of the mentioned projects and businesses. None of the content on CaptainAltcoin is investment advice nor is it a replacement for advice from a certified financial planner. The views expressed in this article are those of the author and do not necessarily reflect the official policy or position of CaptainAltcoin.com