Bitlaunch Review – Features, Pricing, Payment Methods, Security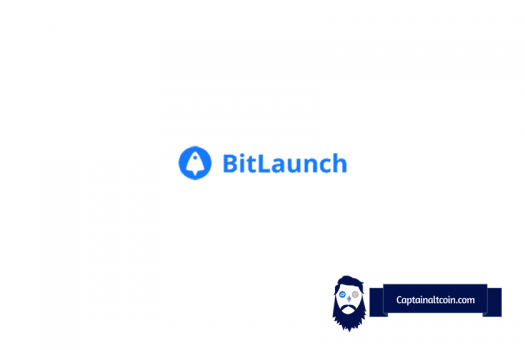 Bitlaunch Review – Features, Pricing, Payment Methods, Security
A large array of cryptocurrency payment options
Simple sign-up process
Free trial
Safe and Secure
High-quality cloud servers
Both Windows and Linux hosting
If you are in need of a cloud VPS, look no further. Bitlaunch offers a safe service, putting your anonymity and your privacy above everything. Even though Bitlaunch offers a variety of plans that cover the needs of the majority of its users, it is mainly focused on the users that already have some experience.
What is Bitlaunch?
---
As we already said, Bitlaunch is a company that provides cloud VPS to its customers. Founded back in 2017, with its center in Panama, it is a young company that has made a name for itself with its great service.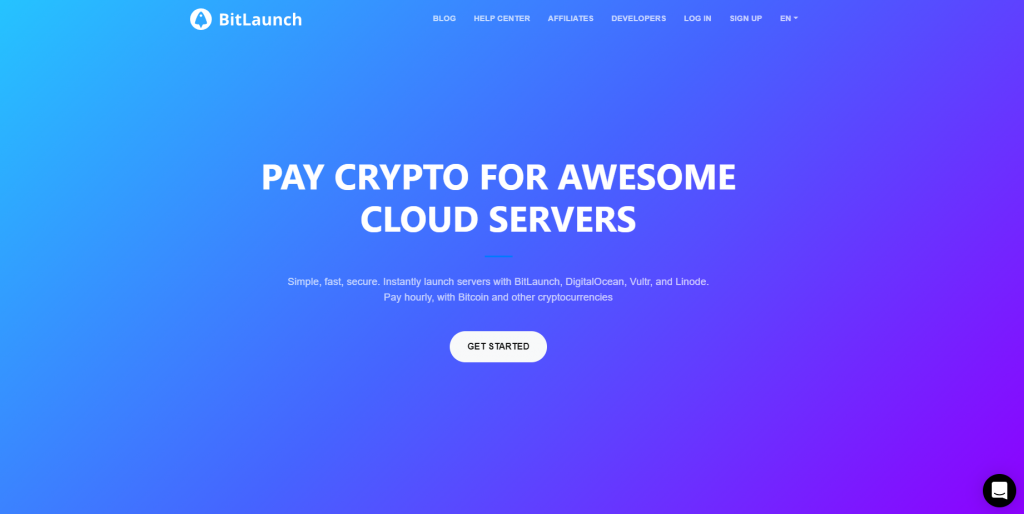 They value the privacy of their users above all else. Their main selling point is that they offer you a chance to pay for their services with more than 50 different cryptocurrencies. Furthermore, with their secure and private VPS servers, on top of paying with crypto, your data will not only be private but also safe.
Bitlaunch users have an option to pick between three main data centers depending on where they live. The first one being in Amsterdam, the second one in London, and the last one in Los Angeles. Bitlaunch also has an option for its users to start servers on Digital Ocean, Vultr, or Linode. If you opt to start your website using one of these three, then you will have more than 40 new data centers to pick from.
The main website of Bitlaunch is straightforward and easy to use. A simple design goes a long way, with its blue and purple background being very pleasing to the eye. It offers a choice between three languages that are mostly used around the world: English, Russian and Chinese.
The website also has its own blog, which can be easily navigated depending on what you are looking for. On the blog, you can find articles that cover the topic of internet freedom, while on the other hand, there are also articles that serve as tutorials for a number of diverse, closely related topics.
Each article has an estimated reading time which can help you determine how much time you will need to spend reading these articles. For the most part, it will take you a maximum of 10 minutes per article, which is not much considering how helpful they are.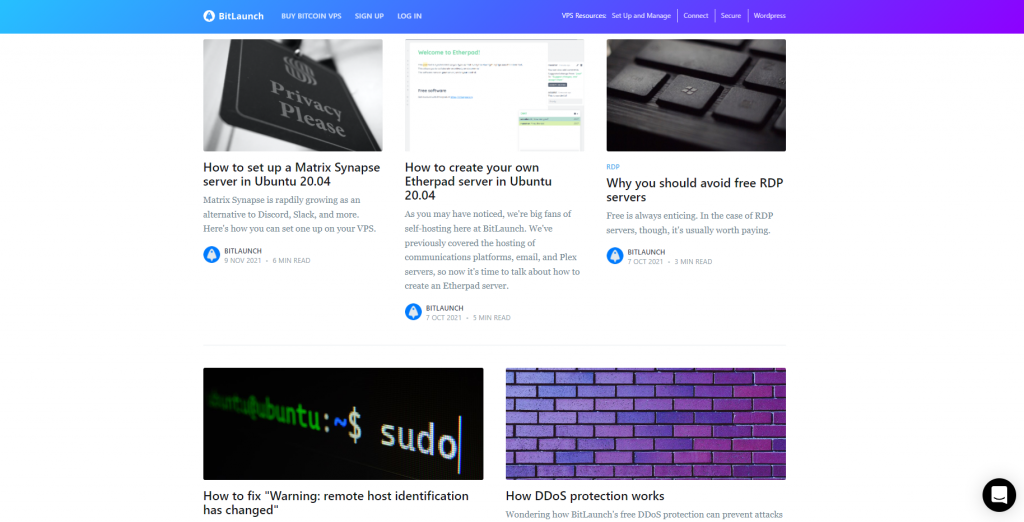 Features and Ease of use
---
With its policy of complete anonymity, for the sign-up procedure, Bitlaunch will only request a valid e-mail address and nothing more from you. After you provide a valid e-mail address, you will have to wait for the standard verification e-mail where you only need to click on the link they provide you to finally complete the whole verification process and acquire your newly made Bitlaunch account.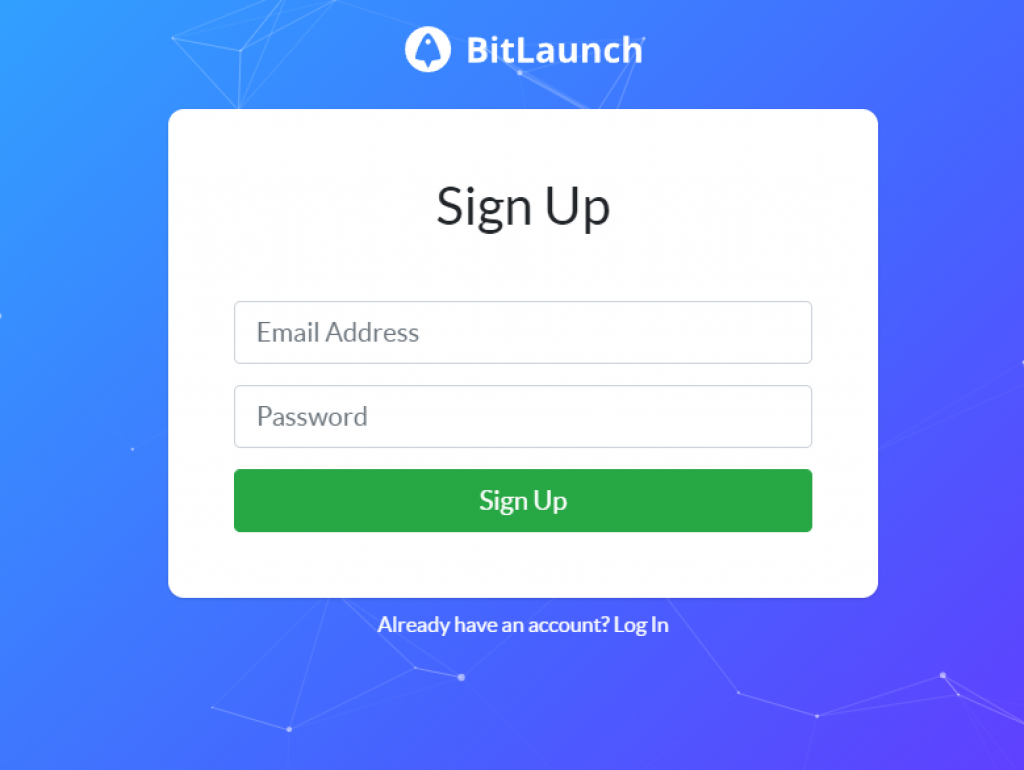 With the verification and the creation of your account out of the way, you can now take a look at all of Bitlaunch's hosting options. As we mentioned before, the website is very straightforward to use.
So if you are still unsure about which plan to pick, we recommend that you contact Bitlaunch's support team if you need any help whatsoever. On the other hand, if you already have some prior technical knowledge, using the website will not present any problems.
It is important to keep in mind that Bitlaunch does not offer free domain registration, there is no conventional industry-standard cPanel, no free migration, and no website builder. All of this can prove quite challenging for new users that might not possess the necessary prior technical knowledge.
When it comes to purchasing your plan, first, you will have to choose between a few things.
Primarily, you need to determine who will host your server. Your first option is Bitlaunch, but you can opt to choose Digital Ocean, Vultr, or Linode, which are also well-known and trustworthy companies.
After picking your host, you will need to decide on what operating system you want, and there are plenty of options, particularly when it comes to Linux. The next step is choosing a data center location. As we mentioned before, Bitlaunch offers three main data center locations: Amsterdam, London, and Los Angeles, while Digital Ocean, Vultr, and Linode offer more than 40.
Visit Digital Ocean Now Visit Vultr Now
Lastly, you need to pick your hosting plan, and you have a wide selection to choose from. Now it is time to set up a password, or, as Bitlaunch recommends, you use an SSH key to wrap up the process of creating your account.
This whole process of making an account might seem long and tedious, but on the contrary, it is extremely simple and fast.
Now let's mention the features that Bitlaunch has:
SSD KVM Storage
Developer API
Instant setup
Open-source command-line tool
Free inbound usage
1 GB to 16 GB of RAM
1 to 6 CPUs
1000 GB to 5000 GB bandwidth
Safe and Secure
Supports Windows as well as Linux
Free trial service
Affordable prices
Fast customer support
They also offer an OSS command-line tool called back. It uses GO SDK to interact with the servers, and it is written in the Go programming language. On the other hand, if you want to use cPanel, apart from installing it yourself, your only other option is to contact the Bitlaunch support team and acquire it via Vultr.
Pricing and Support
---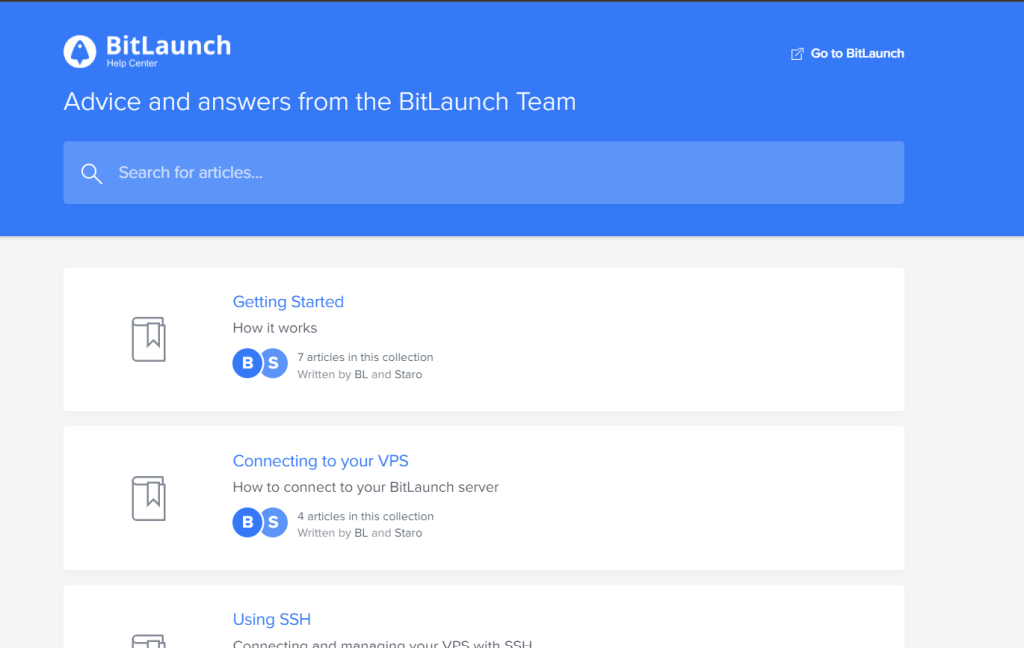 First, we already mentioned that you can get a free trial if you contact the support team. When it comes to pricing, Bitlaunch has a wide array of different plans. Instead of a standardized monthly subscription, Bitlaunch has decided to use a less conventional way of hourly billing. This method allows you to deposit any amount you would like, it is entirely up to you if you want to deposit 20$ or 200$.
Before you buy your server, you are required to first deposit your funds. After that, you can configure your server to your liking. Your server will be up and running provided that you do not run out of funds.
With many different server providers, it is expected that the prices will also vary quite a bit. Bitlaunch offers the most cost-efficient servers with the starting price of only 10$ a month or 0,015$ per hour, while Digital Ocean, Vultr, and Linode all have the cheapest plans set to 14$ a month.
What ultimately affects the price you will have to pay is the amount of RAM memory, number of CPUs, amount of bandwidth, and storage space. The price will also be different for every provider.
When you make your choices, be sure you don't make a mistake or a miscalculation because there is no refund option available, so make sure you check everything twice.
Lastly, maybe the most important, if your account runs out of funds, it will be suspended for 48 hours. If you do not make a deposit in those 48 hours, all of your data will be deleted entirely, with no option of getting it back.
When it comes to the Bitlaunch support, we wouldn't call it bad, but we wouldn't call it the best either. If you are looking for the information on the website, things such as hosting plans and a pricing list will only be available to you if you sign up. Even though there is a blog, there aren't many how-to guides, and the lack of a video center, good knowledge base, and a support forum is certainly troublesome.
As for the support team itself, they are pleasant, quick to respond, and will help you with whatever you are struggling with. You can expect a response in about 5 to 10 minutes. With their live chat 24/7 support system, you can always get help and solve your problems. Another option is to contact them via e-mail, but this approach is, as you might expect, a bit slower.
What cryptocurrencies does Bitlaunch accept?
---
Guaranteeing security when it comes to trading and crypto transactions done through cryptocurrencies is extremely important in today's time. The reason more and more platforms are accepting cryptocurrency payments is that, unlike the standard currencies, cryptos are in many ways safer, more private as well as more trustworthy when it comes to paying online.
This is the main reason why Bitlaunch can provide utmost anonymity to its users. Bitlaunch allows you to pay for their services with more than 50 cryptocurrencies, for example, Bitcoin, Ethereum, Litecoin, Bitcoin Cash, Bitcoin Gold, Ripple, Stellar, Wings, DAO, TenXPay, Argon, Golem, Tron, Civic, Mithril, Telcoin, Dogecoin, Nano, Dai, Binance coin, Augur and many more.
It is important to mention that some coins are available only after you deposit more than 50$ into your account. In addition, a few coins, for instance, Bitcoin and Litecoin, have an option to complete payments through Lightning Network. You can enable this option by hand, and this will allow your payments to be much faster as well as cheaper.
How does BitLaunch match up to the competition?
---
When it comes to the competition, there is no lack of it. In today's time, when server hosting services are in big demand, Bitlaunch must compete with many other platforms on the market. Here we will compare several similar platforms to Bitlaunch.
Let us start with Alibaba Cloud. Bitlaunch, as well as Alibaba Cloud, offer many different-sized services for awesome cloud servers. Their targeted consumers vary from simple everyday users all the way to large professional companies.
When it comes to starting out, both Bitlaunch and Alibaba Cloud aren't what you would call beginner-friendly, although Alibaba Cloud does have more self-help possibilities such as video tutorials, support forums as well as an adequate knowledge base. On the flip side, Bitlaunch's selling point is that you can pay for their services with cryptocurrencies, while Alibaba Cloud does not provide that option.
The next one is HostGator. When comparing Bitlaunch with Hostgator, the first thing you will notice is that Hostgator has more different hosting plans, a lot more options as well as features, and lastly, it is much more beginner-friendly than Bitlaunch. However, if you value anonymity above all else, Bitlaunch is a much better option than Hostgator.
When we compare Bluehost to Bitlaunch, again, it can clearly be seen that Bluehost, being the bigger company, has much more options to offer. Even so, when it comes to actually pick and purchasing a hosting plan, Bitlaunch beats Bluehost.
Getting a hosting plan on Bitlaunch requires less effort and is much easier in general than it is on Bluehost, also there are no disguised costs and no unexpected price increases on Bitlaunch. Lastly, Bitlaunch offers a free trial where you can check out what they have to offer before committing to anything.
Now let's talk about PowWeb. Both Bitlaunch and PowWeb have their originality when it comes to the services they provide in today's web hosting business. If you are a fairly new user, PowWeb will offer you a free domain, a money-back guarantee as well a beginner-friendly website builder.
However, PowWeb lacks in the sense that it offers just one plan designed to cover everything, whereas, Bitlaunch has a variety of different hosting service plans that you can pay for with a large selection of cryptocurrencies that protect your privacy. Bitlaunch comes with a wide range of server locations.
Read also:
PROS
A large array of cryptocurrency payment options
Simple sign-up process
Free trial
Safe and Secure
High-quality cloud servers
Both Windows and Linux hosting
CONS
Not for beginners
Lack of information
The account is required to see the hosting plans
No money-back guarantee

CaptainAltcoin's writers and guest post authors may or may not have a vested interest in any of the mentioned projects and businesses. None of the content on CaptainAltcoin is investment advice nor is it a replacement for advice from a certified financial planner. The views expressed in this article are those of the author and do not necessarily reflect the official policy or position of CaptainAltcoin.com