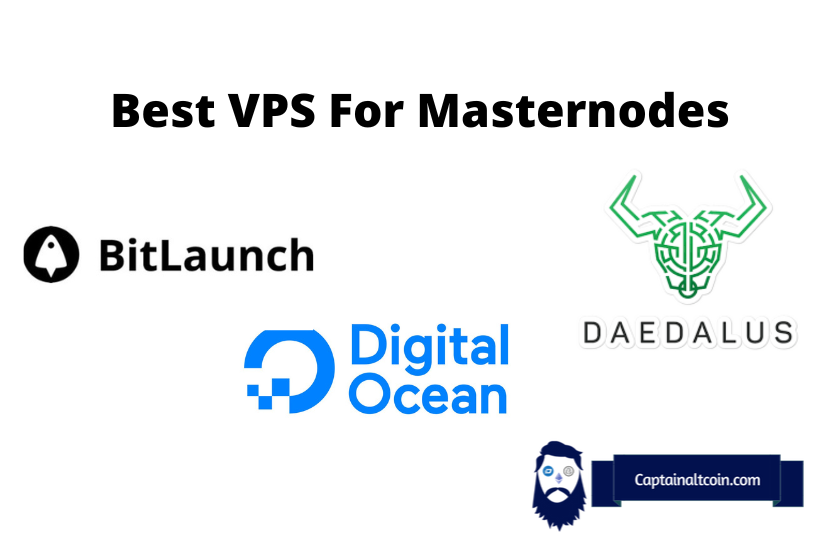 Owning a masternode is the third most popular way of being a part of the world of cryptocurrency, right after plain old "HODLing" and trading on an open market. In essence, it represents a form of passively holding cryptocurrency by running a wallet that is connected to its related blockchain network 24/7.
Running a masternode carries significant responsibility and at the same time comes with some interesting perks requirements. Among those requirements we can include Virtual Private Servers (VPS) and we'll be taking a closer look at those down below. But first, let us dissect what masternodes actually are.
Masternode Hosting Services
---
Before we go into details, let's have a quick look at the 3 best masternode hosting services.
What is a masternode?
---
Here is a more detailed guide on masternodes.
As you can deduce from the name, a masternode is an advanced network node that is placed above regular nodes in the on-chain hierarchy. It contains the full copy of a project's blockchain and is constantly in sync with the blockchain. And while both the regular and masternodes represent critical elements of one blockchain's infrastructure, there are some differences between the two in terms of network responsibility and in terms of rewards they receive for the work they do.
A normal node acts mainly as support for network masternodes, focusing on receiving, storing and broadcasting transaction data. A masternode is the one responsible for actually "verifying" transactions by creating blocks out of transaction data relayed by normal nodes and adding these blocks to the blockchain.
Additionally, a masternode often times has further responsibilities on the network, most crucial one being their role in maintaining the blockchain security. As we said before, a masternode contains the full copy of the blockchain. Theoretically, all you need to have an operational blockchain is one such node.
But running a blockchain on a single node would make the network very weak to centralized points of failure like power outages, hardware issues or blockchain data corruption/altering. This is why it's important to have a large number of masternodes on the network; the more masternodes there are, the safer the blockchain is.
Finally masternodes can sometimes come with other duties, including on-chain voting, execution of blockchain upgrades, management of blockchain treasuries, and enforcement of blockchain rules. Their increased importance to the network is usually rewarded by giving the masternode tokens or coins with each new block that is added to the blockchain and by paying them interest. That being said, running a masternode isn't an easy task and its owner will need to invest a significant amount of funds and time into the ordeal.
Requirements to run a masternode
---
First of all, not everyone can enjoy the privilege of hosting a masternode. As this is an extremely responsible position to hold, it is very important that masternode operator is someone who has a genuine interest in the blockchain staying safe and prosperous. As such, blockchains require that each masternode operator owns a very large sum of cryptocurrency (usually the cryptocurrency he's applying to manage the blockchain of).
This "bag" serves as insurance that the node will remain honest and dedicated "to the cause"; if it starts behaving malicious, operator's own holdings will suffer as well. Different blockchains will naturally demand different amounts of cryptocurrency to be held by their masternodes. For example Dash requires 1,000 coins, SysCoin requires 100,000 coins and PIVX requires 10,000 coins.
👉 This bag can also play a role in blockchain governance and voting, as masternodes that have a bigger "stake" of crypto in their wallet get proportionately bigger vote in on-chain matters (masternodes and proof-of-stake are two different systems but that's a story for a different time).
After securing your cryptocurrency bag, you'll need to consider what kind of hardware you want to be running your masternode on. The hardware required to run a masternode isn't that outlandish as 2 core, 2 GB of RAM devices will do just fine. You'll probably spend most of your hardware budget on storage space and a quality internet connection. Finally, to ensure that your masternode runs in a stable, efficient manner at all times, it is recommended that you set up a Virtual Private Server.
Learn more about the best masternode projects you can run for high profits.
About Virtual Private Servers
---
A VPS is a Virtual Private Server, or virtual machine, provided by web hosting companies all over the Internet. It is a server running within a server; a VPS is hosted by a "normal" physical server. One physical server can host multiple virtual servers which can run and be maintained independently from one another. A VPS runs on an operating system which has root access enabled, allowing the node operator to fine tune the device to his and his blockchain of choice's needs.
A VPS enables the masternode to stay online 24/7 and provide constant support to the blockchain, creating a stable, fluid infrastructure for the network to exist on. Additionally a VPS creates a static IP address for the masternode which is crucial for several reasons, most important one being that it allows the masternode to easily retain its network payments. A virtual server has an advantage over a physical one as it's a much cheaper option to run and maintain for the masternode owner. Finally, a VPS masks said static IP address, protecting the masternode funds and other data that may be stored on it.
All of the above means that running your masternode with the help of a Virtual Private Server is the way to go. Each masternode will require a different VPS Let's take a look at a couple of the best ones currently available on the market.
Best VPS providers
---
BitLaunch
---
BitLaunch is a privacy-focused Bitcoin VPS provider that stands out for its hourly payment system, instant provisioning, and acceptance of 50+ cryptocurrencies. It provides access to fast SSD KVM virtual machines through its own servers, but also lets users pay for standard VMs from Digital Ocean, Vultr, and Linode. Its personal datacenters are in Amsterdam, London, and Los Angeles, while machines from the above partners provide availability across the world. It offers the following features:
10+ Unix-like distributions
Instant sign-up and provisioning, with only an email required
An hourly payment system in 50+ cryptocurrencies
Prices that start at $10 per month ($0.015/hour) for a 1 GB RAM, 25GB SSD with 1,000 GB transfer
A 500gbit+/second reverse proxy server and firewall to protect from DDoS attacks
A developer API & CLI that enable automated server management, payment, and deployment
An expert live support team with a reply rate of <5 minutes
One-click deployment over a dozen apps, including WireGuard, Open VPN, ShadowSocks, LEMP, and WordPress
Though BitLaunch's personal KVMs start at 1 GB/ 1 GPU, they scale up to 16 GB / CPUs with a 300 GB SSD and 5,000 GB transfer. Its 2 CPU plan could also be a good pick for masternode hosting and is priced at $20 per month.
---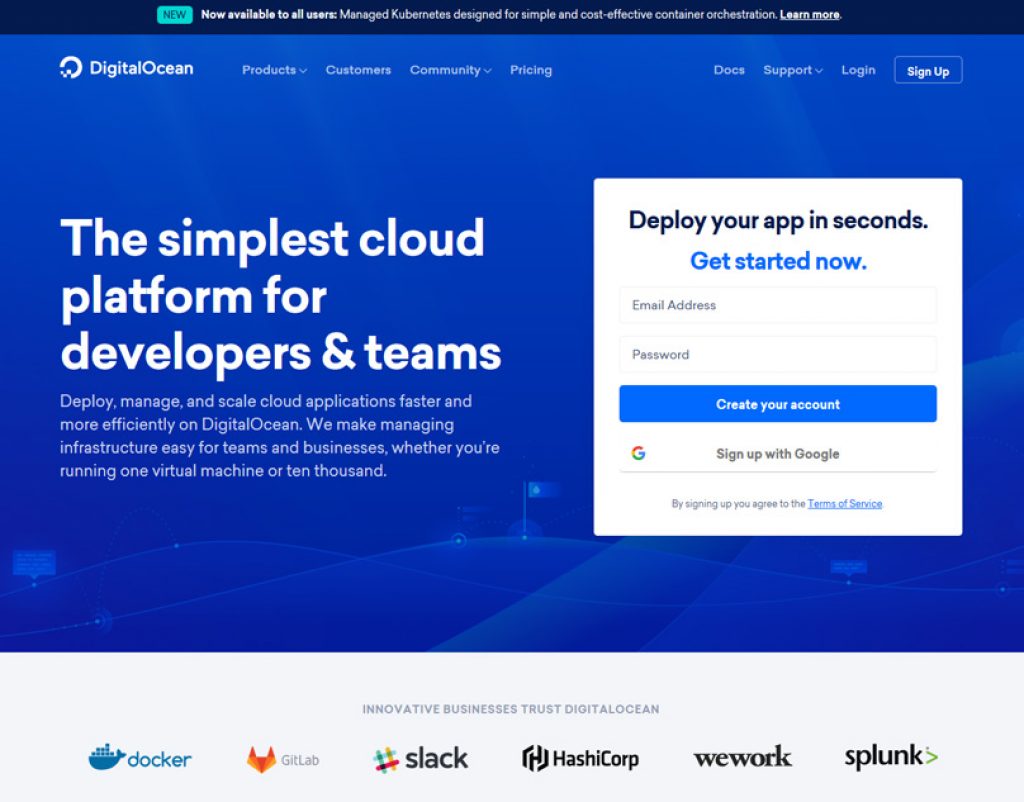 DigitalOcean is a platform currently serving over 100 thousand developer teams worldwide. It lets you run balanced virtual machines with a healthy amount of memory tuned to host and scale applications like blogs, web apps, testing and staging environments, in-memory caching, and databases. All plans this VPS provider offers come with a whole host of developer-friendly features:
Monitoring & alerts
Team accounts
No cost, pre-defined firewalls
VPS services from 8 regions of the world
99.99% uptime SLA
24/7/365 world-class support
Pre-built open source apps
Daily data back-up with point-in-time recovery
DNS Management
Worldwide availability
CLI & API
Tutorials and guides
Flexible payment plans
Prices that start at $5 per month for 1 GB memory, one vCPU, 25 GB SSD disk, and 1 TB transfer
Distributions across Ubuntu, CentOS, Debian, Fedora, CoreOS, and FreeBSD
One-click apps that include Discourse, Django, Docker, Dokku, Ghost, GitLab, LAMP, LEMP, Machine Learning, MEAN, MongoDB, MySQL, Node.js, phpMyAdmin, Ruby on Rails, and WordPress
Their plans are called "Droplets" and are quite affordable. As the best possible service available on the platform, DigitalOcean offers a 192 GB/32 core CPU/3840 GB storage/12 TB transfer limit behemoth. Perhaps more importantly for masternode operators, DigitalOcean has a rather wide variety of 1 and 2 CPU packages that are perfectly suited for their needs.
Vultr
---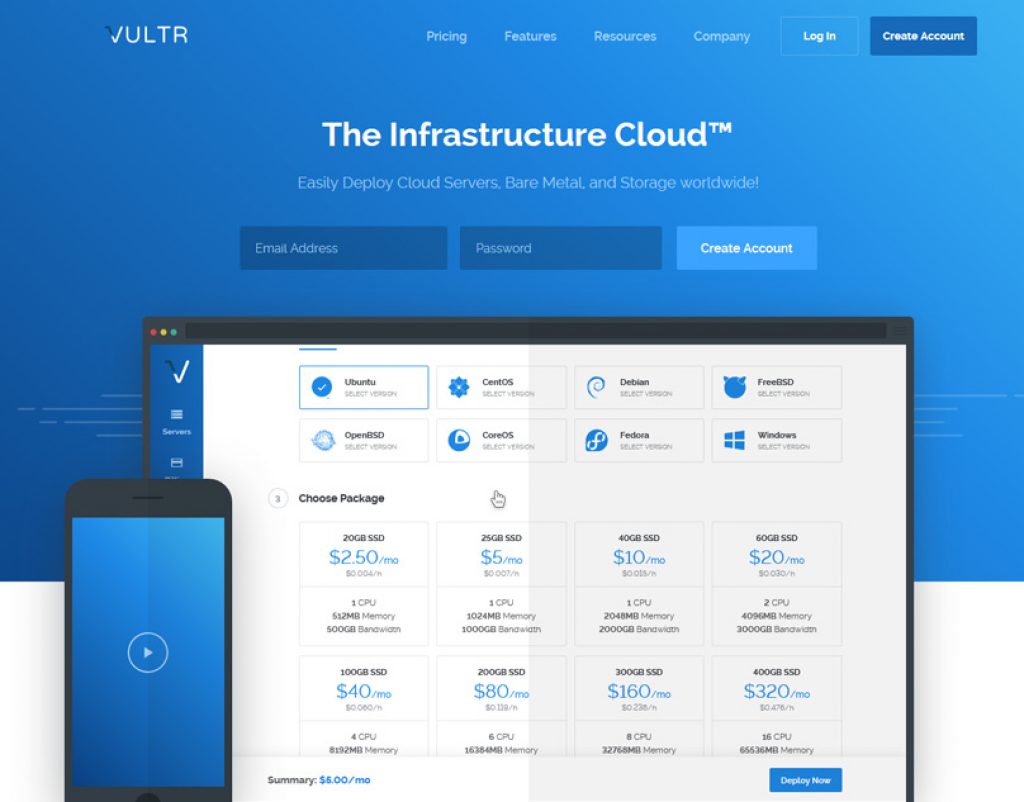 Vultr has been around since 2014 and have focused on providing a quality cloud platform for various infrastructure deployments. Located in 16 datacenters around the world, it offers a high quality, very reliable performance in each of those cities. With a team of 50 engineers behind the project, 21 million instances deployed, and over 100 thousand customers on board, Vultr is one of the most popular solutions on our list. Some of its features include:
100% latest generation Intel CPUs that guarantee consistent performance
24/7 online
Deployment of CentOS, Debian, Ubuntu, Windows, FreeBSD, (and more!) while having a built-in Upload ISO feature
Root administrator access
one-click apps allow you to quickly launch WordPress blogs, game servers, development environments, and more
No long term contracts with the ability to pay only for the hours you use the platform
Powerful API lets you quickly spin up, destroy, and control your instances
Feature-rich control panel
Advanced network connectivity (including IPv6) and many more.
Base plan (which will set you back $2.50 per month) is quite weak, as it offers you 20 GB SSD storage, one CPU core, 512 MB of RAM and 0.50 TB of IPv6 connectivity. There are also several other stronger 1 and 2 CPU plans that won't cost you more than $20 per month and will be perfect to satisfy masternode operator needs. The final plan isn't as dominant as the ones we saw with other providers, coming with 400 GB of storage, 16 CPU cores, 64 gigs of RAM and 10 TB of throughput. Another feature that crypto enthusiasts might appreciate is that Vultr accepts payments in Bitcoin.
---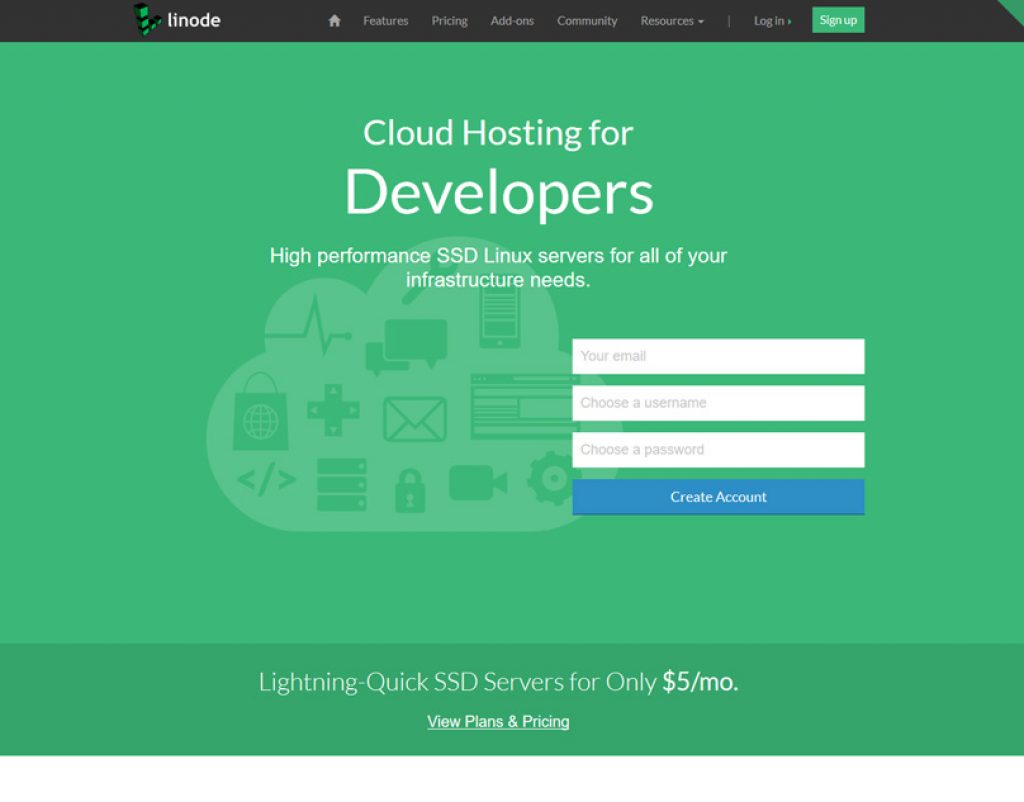 Linode is a VPS provider offering high performance SSD-hosted Linux servers for all of their customers' infrastructure needs. Fast hardware combined with scalable environments aims to bring the best possible user experience. The network is backed by a 40 Gbps throughput speeds and Intel E5 processors and is spread across 9 different service providers located in 3 world regions. The network offers some strong features:
Command line management
Click and deploy custom stacks feature
2FA
IPv6 support
A Rescue Mode for critical error recovery
A DNS Manager for your domains
Deployment of Debian, Ubuntu, CentOS, Fedora, Arch, Gentoo, openSUSE, and Slackware images
24/7 support team
Comprehensive guides
Prices that start at $5 per month for 1 GB RAM, one core, 20 GB SSD, 1 TB transfer, 40 Gbps in, and 1,000 Mbps out
While their best package offers up to 192 GB of RAM, 32 core processors, 3840 GB SSDs, 20 TB of transfer limit and speeds of 40Gbps/12 thousand Mbps, a masternode operator likely won't need this extreme level of performance. Packages with 1 or 2 cores will suffice in most cases and won't set the operator back by more than $20 per month. Overall, Linode is a service perhaps more geared towards users that require stronger memory plans; still, it is perfectly capable of supplementing the needs of an average masternode VPS.
---
Searching for a VPS that can be paid in cryptocurrencies like Bitcoin, Ether or Dash? Then Switzerland based hosting service is your choice. They have solid Linux VPS packages at very affordable prices:
From 0.00170 ฿ /month
(usually way less than $10, depending on the ฿ price in USD)
2 CPU Cores
2 GB RAM
40 GB SSD Storage
3 TB Bandwidth (speed 10 Gbps)
1 dedicated IPv4
Free Ddos Protection
---
This company is a old player on the market meaning a lot of experience and professionalism. Their approach is to offer the highest performance and most stable systems at very competitive prices.
$6/month
1 CPU Core
1 GB RAM
25 GB SSD Storage
1 TB Bandwidth (speed 1Gbps)
1 dedicated IPv4
They also offer windows servers from $10 / month. But for MasterNodes you better go for Linux anyways.
Interserver.net has 3 data centers, all in the US.
VPSDime
---
VPSDime is another Linux focused VPS that has the option of Windows support.
Support for popular Linux distros
Full root access
Full SSD storage
Fast network
Inclusive control panel
Prices starting at $7 per month for four vCPUs, 6 GB memory, 30 GB SSD, 2 TB traffic, and 10 Gbps Uplink
Premium VPS starting at $20 per month for one dedicated core, 4 GB memory, 60 GB SSD space, 2 TB traffic, and 10 Gbps Uplink
VIRMACH
---
VIRMACH has 11 datacenters and a range of VPS plans to suit most budgets.
DDoS protection
RAID 10 SSD
Dedicated IP
Available virtual dedicated servers, managed dedicated servers, preconfigured unmanaged servers, and custom options
Prices starting at $2.25 per month for 512 MB, two vCore CPUs, 20 GB disk space, and 500 GB bandwidth
Up to $160 for 32 GB RAM, eight vCore CPUs, 500 GB SSD, and 10 TB bandwidth
Secured Speed
---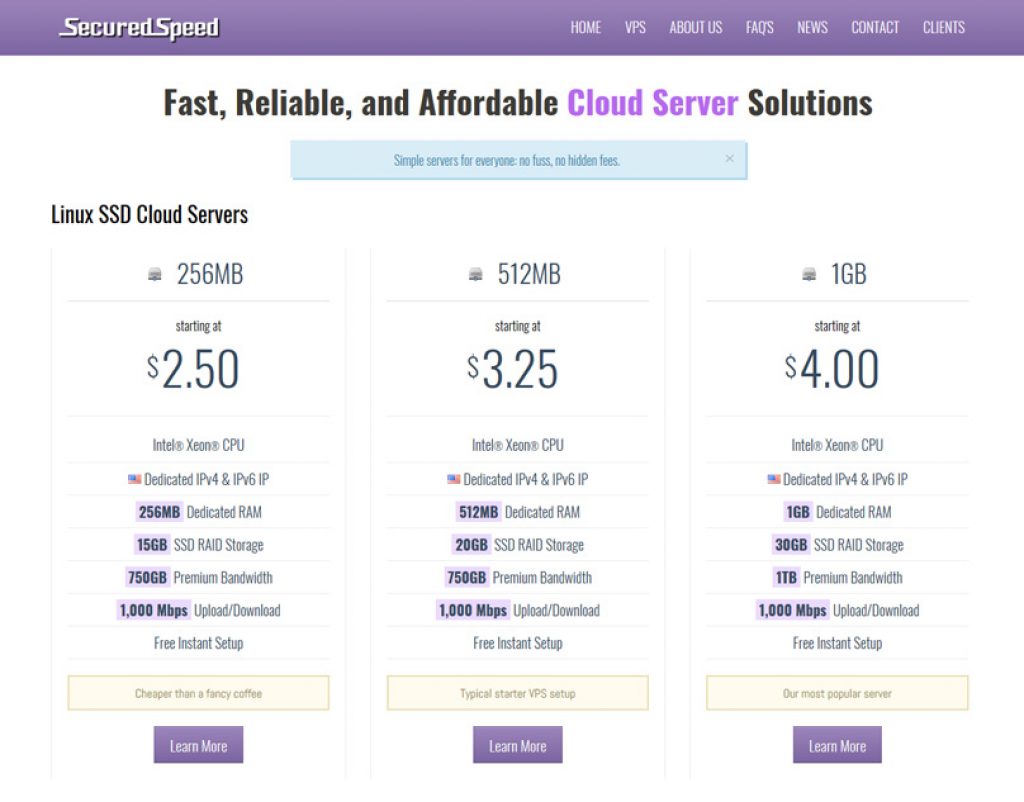 Secured Speed prides itself on affordable pricing and being fast and reliable.
Free and instant setup
Option of more than one IP address
Ability to change plan
Prices starting at $2.75 for 256 MB dedicated RAM, 15 GB SSD RAID storage, 750 GB premium bandwidth, and 1,000 Mbps upload and download
Up to $32 for two Intel Xeon CPUs, 8 GB dedicated RAM, 60 GB SSD RAID storage, and 2 TB bandwidth
Final thoughts
---
The services named above aren't anywhere near the end-all, be-all of masternode hosting. Projects like Secured Speed, OVH, Kimsufi, Virmach, VPS Server, VPSDime and others offer similar features at similar prices. You as a masternode operator will look to deploy your infrastructure with a VPS provider that is relatively close to you and offers you the best deal financially (sometimes your selection might be limited by certain masternode requirements).
All in all, if you decide to start running your own masternode, you'll have a lot to think about (namely determining the masternode's ROI and if the whole endeavor will pay off). Websites like masternodes.online and masternodes.pro offer you a collection of required information to determine if a certain masternode project is worth it. Finally, choosing one of the VPS service providers listed in this article will be an important step along the way of becoming a full-time masternode owner and operator.

CaptainAltcoin's writers and guest post authors may or may not have a vested interest in any of the mentioned projects and businesses. None of the content on CaptainAltcoin is investment advice nor is it a replacement for advice from a certified financial planner. The views expressed in this article are those of the author and do not necessarily reflect the official policy or position of CaptainAltcoin.com