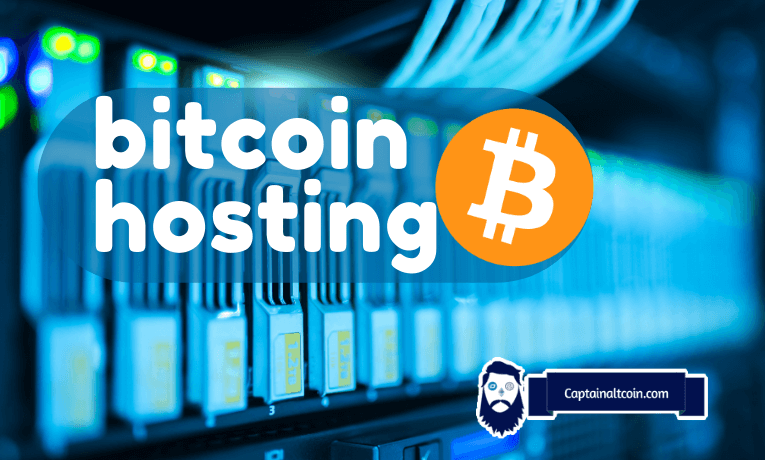 Cryptocurrency has become quite popular for the past couple of years. Bitcoin, to be specific, is the most widely used one. For users that seek privacy and want to remain anonymous, bitcoin payment is the way to go. More and more companies have looked to Bitcoin as a legitimate payment method.
For new users, the wide range of web hosting options. Some web hosting companies will offer almost every kind while others are more specific with their choices depending on their target customer. These web hosting options differ in terms of control, technical knowledge requirement, server speed, storage capacity, and reliability. Below are a few of the available web hosting options:
✅ Shared hosting- This option is ideal for beginners and is a cost-effective option. In shared hosting, the user's data is stored in a server with other users' websites. It is slower than the other options but is dedicated to hosting smaller websites that may not be an issue.
✅ Dedicated server hosting- The web hosting company gives the user access to an entire server just for their website. Users get all the RAM, memory, and bandwidth. However, the downside is that dedicated servers are expensive. Dedicated servers are mostly used by website owners and those in need of total control over their websites.
✅ WordPress hosting- it is a type of shared, managed hosting. WordPress is a content administration system that provides hosting services, including hardware management, software setup, and dealing with operating systems. WordPress is a convenient choice for private content publishers.
✅ Virtual Private Server(VPS) hosting- A VPS mimics a dedicated server's characteristics but with a shared server. It is an upgrade from a shared host, but users' websites are prone to slowing down in case of traffic. This hosting option is unique because each website is hosted within its own space on the server, though a physical server is shared with other users. Most users who opt for VPS web hosting want dedicated hosting but do not have the technical knowledge needed. It is an excellent choice for advanced users or users that want specific software and package installations.
✅        Cloud hosting- simply put, cloud hosting means that your website will be stored on the 'cloud.' In this web hosting option, numerous computers work together, running applications with combined computer resources. Cloud hosting is a good option for companies with traffic all over the world.
Read also:
Top 10 Hosting Providers That Accept Bitcoin
---
Hostinger
---
Hostinger is based in Lithuania and has over 29 million users in more than 178 countries. The company is well-known for its cheap yet fast web hosting services. For as low as 0.80$ a month, users can get started using the platform. Moreover, their friendly user interface and prompt response to customer concerns make it easy for beginners. Some of the features the web hosting service has included:
Free domain name with all web hosting plans
Open data backup and SSD
Free SSL certificate
Domain privacy available for purchase- the feature hides the user's domain registration details, making them unavailable to other parties
Free Website Builder
Cheap domain name
Web hosting price is locked for the clients' lifetime
Fast servers and strong uptimes
30-day money-back guarantee
Responsive customer support
Accepts Bitcoin as a payment method
Ensures free website migration so users can easily switch to new platforms.
Hostwinds
---
Hostwinds was started in 2010 and has since then provided various hosting web services like WordPress Hosting, cloud services, VPS (Virtual Private Server), and Reseller Hosting Packages.
Hostwinds offers attractive, wallet-friendly Linux-based shared hosting plans that come in three types: basic(offers unlimited monthly data transfer, unlimited storage, a free dedicated IP address, the ability to host a single domain), advanced(builds on basic by letting the user host up to six domains) and ultimate(adds the ability to host to an unlimited number of domains). The web hosting company has a 60-day money-back guarantee and accepts various payment methods, including bitcoin, while giving their users a guarantee of 100% satisfaction from using their services. Other features of Hostwinds are:
A variety of web hosts
Dedicated customer support system
Fast loading speed
Smart Customization options
Accepts a wide range of cryptocurrencies
30-day refund policy
Window hosting- The company is the only one to offer both window hosting and bitcoin payment
Users are at liberty to pick from the available data centers closest to their target audience to enjoy the best speeds.
Namecheap
---
Namecheap was founded in 2000 and had over one million users. Apart from being a web-hosting service, the web hosting company is the cheapest ICANN domain name registrar. For as low as 0.88$, users can purchase domain names.
The company has a network infrastructure that provides up to 99.9% uptime for every month in the calendar. As of 2013, it began accepting bitcoin as a payment method. Other features of Namecheap include:
Cheap domain name
User-friendly interface
Cost-effective
Cheap SSL certificates
Latest server technology from Dell
Unlimited bandwidth
Dedicated customer support
Linux and Windows hosting
Free WhoisGuard- Namecheap provides Whois protection for no extra charge
Secure SFTP access- Namecheap includes SFTP with its most basic plans enabling users to keep site-managing activities completely safe.
Vultr
---
Vultr was founded in 2014 by David Aninosky.
This web hosting company is the right choice for users who are interested in dedicated hosting. Dedicated hosting means that the website is hosted on one exclusive physical server. It offers a greater degree of customization and control. With this type of web hosting, customers are assured of more security, customization, and management and are less likely to experience low-performance periods.
The essential features of Vultr include:
High-performance SSD cloud servers that have a global footprint
Users have the option of choosing between 14 low latency locations.
Fast speed.
Has flexible options at a lower price level
Customer control panel
Dedicated IP addresses
Ultra-fast Intel core
Top-notch security.
Heficed
---
Heficed was started in 2008 and was later changed to Host1Plus, whose aim was to streamline the way its customers think about hosting and IP addresses.
Heficed was late to adopt crypto but now accepts more than 50 different cryptocurrencies.
The web hosting service provider, however, isn't for everybody. Beginners are advised to steer clear of Heficed as it requires a thorough knowledge of server administration and command-line modules. The company also charges a lot of money for customer support, which is something a beginner would be in constant need of.
Unlike many of its competitors, the web hosting service provider does not use traditional hosting types on the upside. The user can customize their cloud server right down to the tiniest details.
Other features of Heficed include:
To name a few, access to different functions like remote console, robot, rescue mode, and IP resource management.
Users can access advanced functionality like full control of their web servers.
The company's data center is one of the most secure.
Fool root access
Allows its users the liberty of using the custom ISO or choosing from pre-installed templates and applications
Advanced IP infrastructure.
Users can scale up resources and add more if need be
Hosterbox
---
Hosterbox is a Canadian based company that is operational in more than 170 countries around the world. The company was developed in 2005 but had some hosting history dating back to the late 1990s. Various colocation services in the US and Canada are being used to provide robust, performance-driven service from its latest-generation servers.
The website's language is in English but can be displayed in 25 additional languages.
Hosterbox offers premium web hosting services with shared, VPS, and Dedicated server offerings.
The company provides various free premium templates for users who are not willing to build their websites from scratch.
The essential features of Hosterbox include:
provides its users a guaranteed 99.9% uptime
round the clock monitoring and support of customers
Fast and redundant connection
Users have a generous amount of space and bandwidth
Offers a variety of payments plans(monthly to triennial) and methods
VPS and dedicated server customers benefit from full root access. Users are, therefore, able to exercise complete control over their hosting environment.
30-day money-back guarantee for shared and reseller hosting plans
24/7 customer support
Hawk host
---
The company was started in 2004 as Devoted Post and, in 2008, went on to be rebranded as Hawk host.
They offer various web hosting services, including reseller hosting, VPS, shared web hosting, semi-dedicated hosting, and domain name registration services.
Since then, the company has been offering different web hosting solutions with varying payment options like monthly, quarterly, or yearly.
One of its most outstanding features is its servers that repair themselves automatically if any problem arises. Apart from this automation, the company provides round the clock customer support through a ticket system. Other features include:
Unlimited bandwidth and storage
Free migration facility
1GB network ports
Free Memcache server
SSD storage
Unique web hosting services
Unlimited Domain hosting
Bitcoin Web Hosting
---
Just from the name, this particular web hosting service is mainly designed for Bitcoin transactions. It is an offshore(hosting your data in a different country other than your own) and anonymous web hosting service provider, perfect for a user to whom privacy or anonymity is of top priority.
Offshore web hosting service providers have a more flexible content policy that does not go against a first-world democratic country's laws. It helps people that want to promote content that may be banned or prohibited in their country.
The company accepts various payment methods like Bitcoin, Paypal, Western Union, and so on. The web host offers different types of hosting, like shared, VPS, and dedicated server hosting. The essential features of this Web hosting service provider include:
45-day guarantee money back policy
99.9% network uptime guarantee
One-click installation
Free domain name
Dedicated IP
cPanel hosting
Flexible payment plan
Multiple payment methods
24/7 personalized customer support all year round
Shinjiru
---
Shinjiru is a Malaysian based, smart offshore hosting company that accepts Bitcoin and offers numerous web developers options.
The company was founded in 2000 and is functional in has a client-base of over 40,000 users. It ensured safe and private offshore web hosting and provided its clients with an affordable hosting package.
The web hosting plans are pocket-friendly and created mostly for startups and personal websites that require the utmost privacy.
While registering, the company does not ask for any form of documentation or identity verification to ensure that users' anonymity is not tempered.
Moreover, their uptime, dedicated customer support, reliability, and hardware quality is remarkable. Other features that Shinjiru offers are:
Eight different locations
Up to 100GB of space
Up to 100 domains per account
Online transaction protection
SSL certificates
Round the clock technical support
Built-in transport antivirus
Google Adwords Program for businesses
A high level of anonymity in all areas
Cryptocurrency is compatible.
Budget-friendly plans
WebHostingPad
---
WenHostingPad developed about 12 years ago to provide everyone with the most streamlined hosting services.
Webhostingpad operates 8 data centers across the world and is still growing. The company has various hosting types to offer its users but does not include Cloud or dedicated hosting services, making it unsuitable for people with larger websites. It provides WordPress, shared, email, and VPS hosting. In detail, the features that WebHostingPad delivers include:
24/7 customer support- apart from the glossaries, video tutorials, and a knowledge base, users can live chat with the support team, send a ticket, send an email or call by phone
Website builder- Through their partnership with Weebly, the web hosting service provider offers a free drag and drop website builder.
Site transfer
Domain name registry- if necessary, users can get domain names for free.
cPanel
Ensures full compatibility with multiple platforms
free and fast setup
Allows free site migrations
The company performs frequent backups
30-day money-back guarantee
What do people look for in the best web hosting companies that accept Bitcoin?
---
Before delving into details of the best web hosting and domain services that accept bitcoin, it is crucial to establish the merits. What will tell a user that a particular web host is the best one?
✅ Payment through a cryptocurrency platform
✅ Reliable performance and uptime– assures you of quality hosting you can trust with high and verified up times of up to 99.9% and fast commission.
✅ Enough storage space and bandwidth– no matter the cost of using any website, storage space and bandwidth are non-negotiables. No user wants a flimsy backup plan that runs out of room after one backup.
✅ The ability to buy domain names with cryptocurrency allows users not to trace back to their accounts.
✅ Privacy features- with Bitcoin, privacy is of utmost importance. Most companies have invested in means of ensuring their users' identities remain private.
✅ Quality of technical support
✅ Reputation– Many users leave reviews on these companies websites. Going through a company's reviews can be an excellent place to start to determine whether to go with it for your web hosting needs or not.
The above features are not the only merit that can be used. Other features like user-friendly interface, price, and payment methods, to name a few, play a huge role in a user's choice of web hosting company. Below we look into the top ten best web hosting companies highlighting a few of their features.
PROS AND CONS OF BUYING WEB HOSTING WITH BITCOIN
---
Pros:
✅ Because cryptocurrency is not subject to any centralized national or local authority, users can complete transactions anonymously and securely.
✅ The procedure is not technical- Bitcoin transactions do not include technical methods like credit cards or invoices, making the process faster and easier.
✅ Organizations or individuals who make the majority of their money from Bitcoin want to carry out their transactions the same way.
✅ Anonymity- Unlike credit cards that transmit tokens, which are secret keys to accounts whose transmission exposes accounts to risks, Bitcoin shares no tickets. A signed message is instead sent, which is all the authorization needed. That makes tracking down Bitcoin transactions very hard.
✅ 100% guaranteed privacy- Transactions made are not accessible and can not be scrutinized by the bidder. Most importantly, transaction information is safe from hacking.
✅ With Bitcoin, there is no need for a middleman; thus, no extra costs are incurred by users.
✅ Costly currency conversions are avoided- when you make a payment in your local currency, merchants will convert your local currency to the merchant's local currency. That is avoided altogether with Bitcoin transactions.
✅ In some countries where it is not possible to use Visa or Mastercard, Bitcoin transactions have curbed this issue.
Cons:
❌ When you pay for web hosting services using Bitcoin, your account is not immediately activated.
❌ Verification of payments can take a few hours or longer.
❌ Due to the volatile characteristic of crypto coins, one is never sure if their refund will be worth it if they decide to ask for it.
CONCLUSION
---
The list of web hosting companies listed above that accept bitcoin is just the tip of the iceberg. Many more web hosting companies accept bitcoin and other forms of crypto. It is essential to consider your web hosting needs before settling down for an option to make sure you get the service you are looking for without spending too much unnecessary money.

CaptainAltcoin's writers and guest post authors may or may not have a vested interest in any of the mentioned projects and businesses. None of the content on CaptainAltcoin is investment advice nor is it a replacement for advice from a certified financial planner. The views expressed in this article are those of the author and do not necessarily reflect the official policy or position of CaptainAltcoin.com