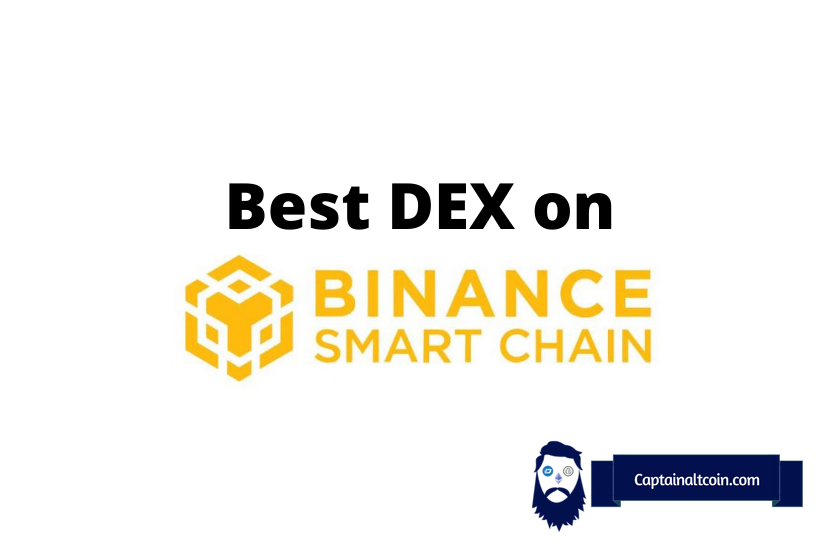 The Binance Smart Chain (BSC) has become a hotbed for decentralized exchanges (DEXs), providing a robust platform for the burgeoning DeFi sector.
This article delves into the diverse landscape of DEXs on BSC, offering a comprehensive list of these innovative platforms.
From facilitating seamless token swaps to providing lucrative yield farming opportunities, these DEXs on BSC are at the forefront of the DeFi revolution. Each DEX brings its unique features and advantages to the table, catering to a wide range of investor preferences and strategies.
However, the dynamic nature of the DeFi space also means that not all DEXs have been able to maintain their momentum. Some have seen their total value locked (TVL) and token values fluctuate, underscoring the inherent volatility and risk in the DeFi market.
Whether you're a seasoned crypto enthusiast or a newcomer to the DeFi scene, this BSC DEX list serves as a valuable guide to navigating the exciting world of decentralized finance on the Binance Smart Chain.
Quick summary – 7 Best DEXes on BSC
| DEX | Summary |
| --- | --- |
| 🥞 PancakeSwap | PancakeSwap is the original DEX on the Binance Smart Chain (BSC) and remains the largest with over $5 billion in total value locked (TVL). It offers a wide range of tokens and pairs, making it a popular choice for BSC users. |
| 🔄 Biswap | Biswap is known for its competitive offerings and incentives for users. It ranks 14th among all DEXs and offers a variety of low-volume projects and competitions. |
| 📈 Mdex | Mdex supports both Binance Smart Chain and HECO chains, allowing it to reach a wider audience. Despite its token's value decrease, it remains a popular DEX with active support and a half-billion-dollar TVL. |
| ⚠️ Wault Swap | Wault Swap serves as a cautionary tale in the DEX world, having seen a significant decrease in its token value and TVL. |
| 📉 1inch | 1inch experienced a significant drop from its peak TVL of over $2.2 billion. Its lack of updates and changes has led to a decrease in user interest. |
| 🍞 BakerySwap | BakerySwap has a dedicated user base and a TVL of over $30 million. It's known for its unique start without any presale or IDO, earning trust from its users. |
| 🦍 ApeSwap | ApeSwap gained attention for increasing its TVL to over half a billion dollars during a bear market. However, it was unable to maintain this success and currently has a TVL of around $130 million. |
Top 7 decentralized exchanges on Binance Smart Chain
---
PancakeSwap
---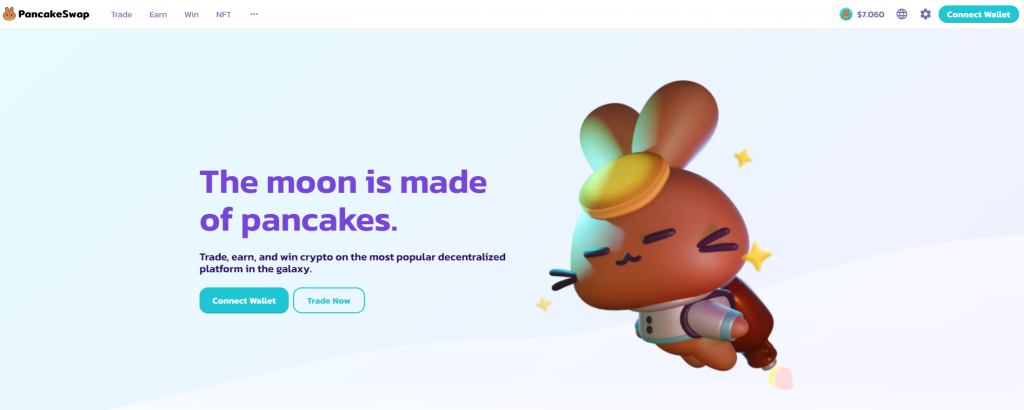 Pancakeswap is the OG Dex on the Binance Smart Chain. It has been around for a long time and was the first one that created the hype for BSC. With over 5+ billion dollars TVL and a peak of 7.7+ billion dollars, it is by far the biggest one on the list. It also has the native token used at the top of the lists as well. The name of the native token is Binance Coin (BNB).
There are 2 main types of tokens on the Binance Smart Chain — the BEP-20 token and the BEP-721 token.
There is nothing you can find on Binance Smart Chain and can't find on Pancakeswap. With a great whitelist and pair amount, they are providing people with all the good projects they could find on BSC as well. This means that if there is a good project on Binance Smart Chain (also exists Binance Chain), then there is a pair for it on Pancake as well.
BSC allows for the implementation of smart contracts for tokens on the Binance-branded blockchain, running in parallel to Binance Chain.
With a leading volume, great liquidity, a lot of TVL, and popularity, it is the first choice in people's minds whenever they are looking for a DEX ins BSC. If you are interested in getting into BSC (also exists as Binance Chain) investments, then Pancakeswap is the way to go for any newbie and even veterans.
Biswap
---

At the 14th rank of all DEXs, we have Biswap, which is a great ranking for a project that is limited to only one chain. They are known to not just be a DEX you can swap, but also a great competition place as well. Their famous marketing involves around constantly giving people something in return for using their product, which causes a lot of people to prefer them. It could be seasonal interest and could have ups and downs on volume, which you would have to follow, however, it is still a good return and show of interest.
If you are interested in learning a bit more about the lower volume projects, newly released products, big competitions, famous cameos, and a great community that you can get to know and not crowded too much to get your voice muted, then Biswap is definitely the place to be. It may not be the best out there, but it is certainly the best at this scale which makes them valuable, even if not the greatest.
Focus your Biswap swaps and investments on what they promote instead of random or your own investments, and you would get a bigger return by default, but make sure to DYOR whenever you are investing into something, no matter where you are investing it.
Mdex
---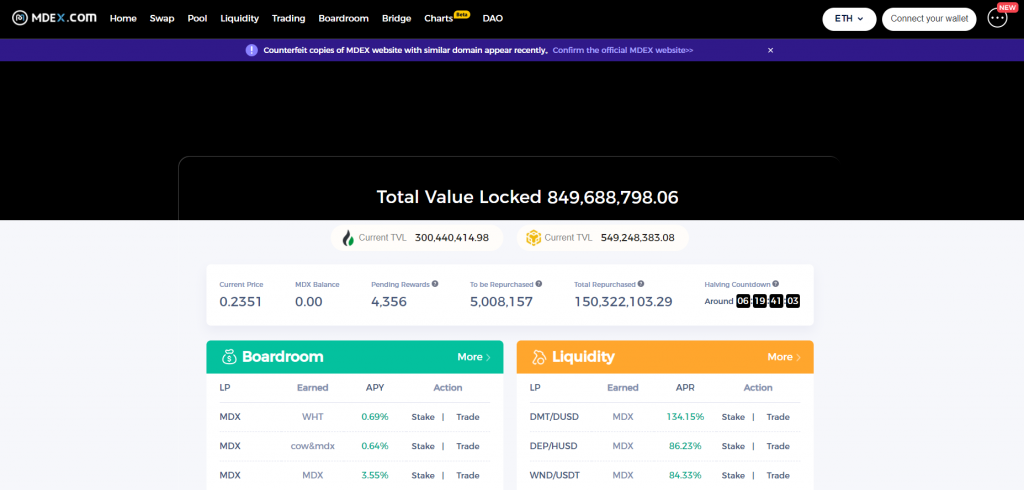 Mdex has both Binance Smart Chain and HECO chains available on their website. This allows them to spread out a bit further and also shows the potential that they are not really stuck to one thing and could grow bigger. This allows investors to freely invest into whichever chain they prefer and also grow their Mdex amount so that they could spread it to other chains in the future as well.
With a staggering half a billion dollars TVL and solid top 30 overall on all DEX's, Mdex is not a DEX that could be dismissed. It has one of the most active staff members in the project reaching out wide and far into the BSC (also exists Binance Chain) world to bring in the most for the investors. On top of that, they have active support at all times willing to help you at a moment's notice as well.
Unfortunately, their biggest downfall is their token. MDEX token reached as high as 9$ at its peak and it is under 30 cents right now. It has been on a downfall for a while and this resulted in people losing a bit of hope about the project itself as well. With a lack of purpose for the token, there were not enough buyers and even though the swap itself is used and liked a lot, the token of it is not used equally well enough.
Wault Swap
---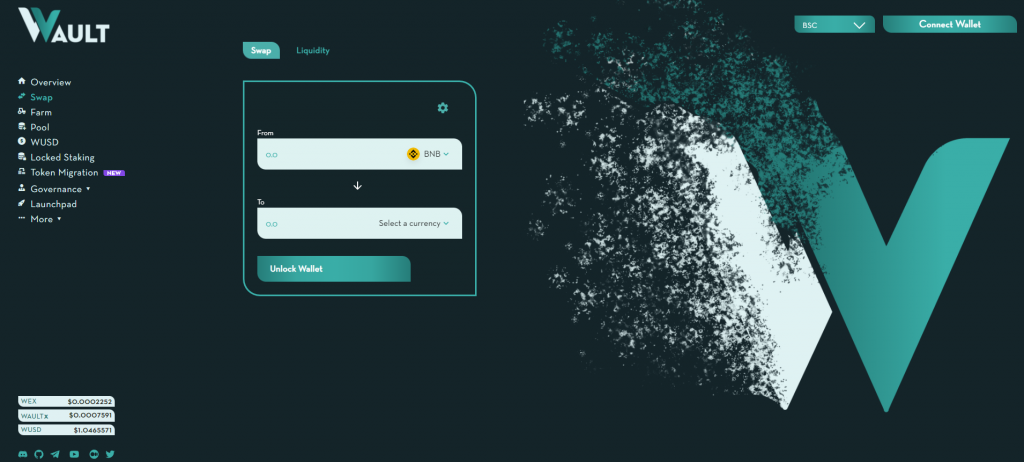 What was once a 4+ million volume on its own token alone, at 10 cents a token, with over a billion dollars TVL, now became a project with a few thousand dollars volume on the token, with a 0.0002$ price and a 6 million dollar TVL.
This is a cautionary example in the Binance Smart Chain and also the DEX world. This doesn't really mean that you should stay away from the swap part of these projects, they are still swaps, and you could give one token and get another token, and they work for that.
However, they are also liquidity providers with their own tokens that you earn when you are dealing with these projects. This means you would be earning something that will devalue for a long time and usually end up being worth nothing.
The risk you take when you invest in something that you do not know is that you are locking your money somewhere that may not earn you anything or earn you more than usual. If you are right and it earns more than bigger places, then you will be happy, but if you are wrong, then you just locked your tokens for basically nothing, and this is what happened to people who invested in Wault Finance.
1inch
---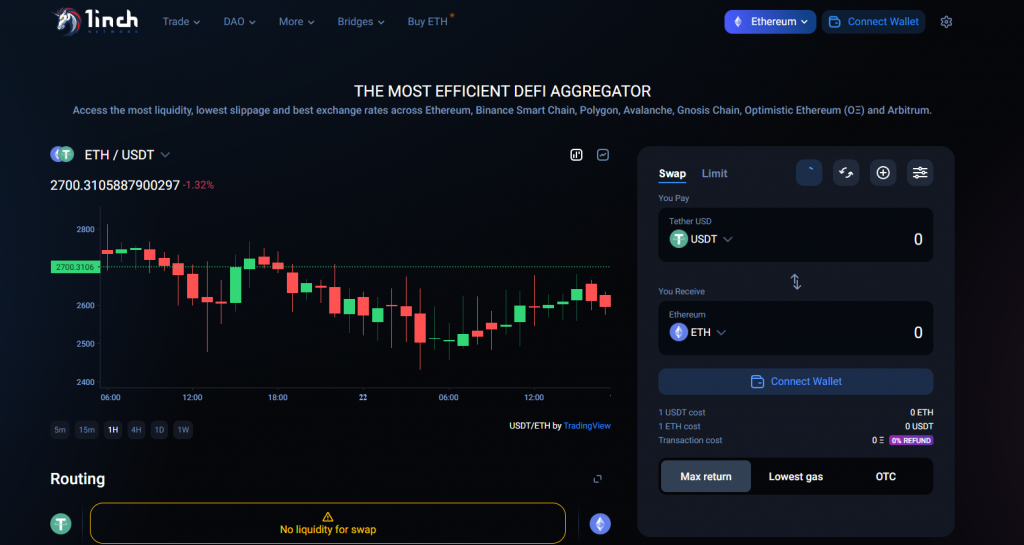 1inch is another project that saw as high as 2.2+ billion dollars at its peak and crashed very hard. They now have a bit over 20 million dollars in TVL. This shows that the Decentralized Finance world and decentralized exchange creation is not an easy market to crack into. You could get really high at the start, but to keep it going and stay at the top is incredibly challenging work.
A project that reached the top of the list at one point could be staying out of the top 100 today if they failed to keep the project alive. Not all projects are Pancakes and Uniswaps of the world, some of them get popular and then slowly diminish.
The biggest problem 1inch had was the strongest feature they promoted. Since it is a decentralized project, they stayed what they were and did not change too much since, in order to change, it required someone at the top to change those things and add new things. Unlike Pancake, where they keep adding new stuff, 1inch just got released one day and stayed like that for a long time.
This caused people to move their money into projects that kept getting updated and upgraded all the time. So centralization in a decentralized world ended up winning.
BakerySwap
---

As a project on BSC (also exists as Binance Chain), as far as Binance Smart Chain goes, Bakery created a cult-like follower base. This doesn't mean that they are at the top by any means, but they are very much liked by the ones that use it. At over 30 million TVL, just like most other projects on Binance Smart Chain (also exists as Binance Chain), this DEX is also getting fewer and fewer customers. However, the difference is that it was never at high billion numbers before the drop either. They are mainly a niche project with a less but more devoted base.
As a project that did not use any presale or IDO start, they started out with project founders' money and nothing more. This allowed a great deal of love from the users because they believed that the founders were not in it for the money.
Instead of taking money up front and making themselves rich, founders created a structure where 1 BAKE token goes to them out of every 100 BAKE staked. This allows them to earn money only if the project is loved. This is why there are so many devoted followers of the project because the founders provided solid proof they were in it for the project and not for the money.
ApeSwap
---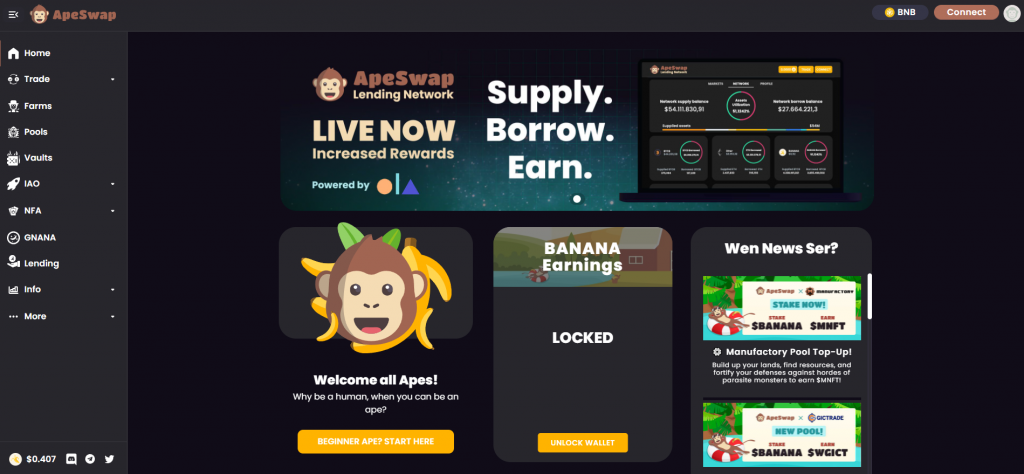 The last one on our list is Apeswap. Apeswap got the market by storm when they increased their TVL to over half a billion dollars during a bear market. Which got a lot of users hyped for what could possibly happen when the market turned bull. However, they were never able to capitalize on their success. Now sitting at around 130+ million TVL, they are not bad and in the top 30 of the decentralized exchange ranking list, however, they are far from their early success.
As a project that was mainly about the hype and the community-driven meme market, they got the interest during the peak time of the buzzword "ape," but with each passing day, the allure of such a mindset got less and less, which caused them stress. With a very talented and highly decorated team on the project, they definitely deserved to be higher. Given enough time, there is a possibility they could recover and get higher since they are not that much down in the rankings.
Read also:
Conclusion
---
Binance Smart Chain is no longer the DeFi heaven that it was in 2021. With the super high transactions at ETH, people moved to BSC and used it a lot. Combining that with the emerging high DeFi world, the amounts increased consequently higher. With over 10-15 billion dollars on its peak, BSC is no longer loved as much.
With other projects like SOL, MATIC, DOT, AVAX, and some others, BSC (also exists Binance Chain) is getting less attention. With the DeFi world fastly becoming a normal thing and Metaverse and NFT projects are getting a lot more interest, this resulted in BSC losing the majority of the customers to other networks.
If you still prefer to use BSC (also exists as Binance Chain), then you could not go wrong with Pancakeswap, it is by far the best in the network. However, if you want to test out any other from our list, they are carefully picked and you could still give them a chance.

CaptainAltcoin's writers and guest post authors may or may not have a vested interest in any of the mentioned projects and businesses. None of the content on CaptainAltcoin is investment advice nor is it a replacement for advice from a certified financial planner. The views expressed in this article are those of the author and do not necessarily reflect the official policy or position of CaptainAltcoin.com