IMPORTANT WARNINGS
---
Trying to deposit a non-supported token may result in the loss of tokens.
Send a small test amount first
Beware when choosing the network which you want to use for sending crypto
Withdrawing Cryptocurrency on Crypto.com
---
Sometimes we need to send some coins to our friends. It could be for any reason, but it is a common thing in the crypto world. Let's see how you can send from crypto.com to your friend's wallet address.

First of all, we will open up our crypto.com mobile app. It is one of the most downloaded crypto-related apps in the world for a good reason. In order to start our "transfer", we will obviously click on the transfer button.

It will ask us to either deposit or withdraw. Since we are sending crypto to our friends, we will click the withdraw button.

Here it will ask us if we want to withdraw crypto or fiat. We know that we will be sending crypto to our friends, so we pick that option.

On this screen, we are seeing the options of where we want to send our cryptocurrency. Since we are sending it to our friend, we will be picking the "external wallet" option.

Crypto.com requires you to add all the addresses to a whitelist before you are able to send it. This means either you already have your friend's address whitelisted, or you may need to add it. If you need to add it, click on the plus sign at the top right corner to start.

Here we see the options to add the address. Since we are adding our friend's wallet address, we obviously pick that option.

After you click the wallet address option, we will also be asked which coin we want to send as well. Pick which coin you want to transfer over to your friend.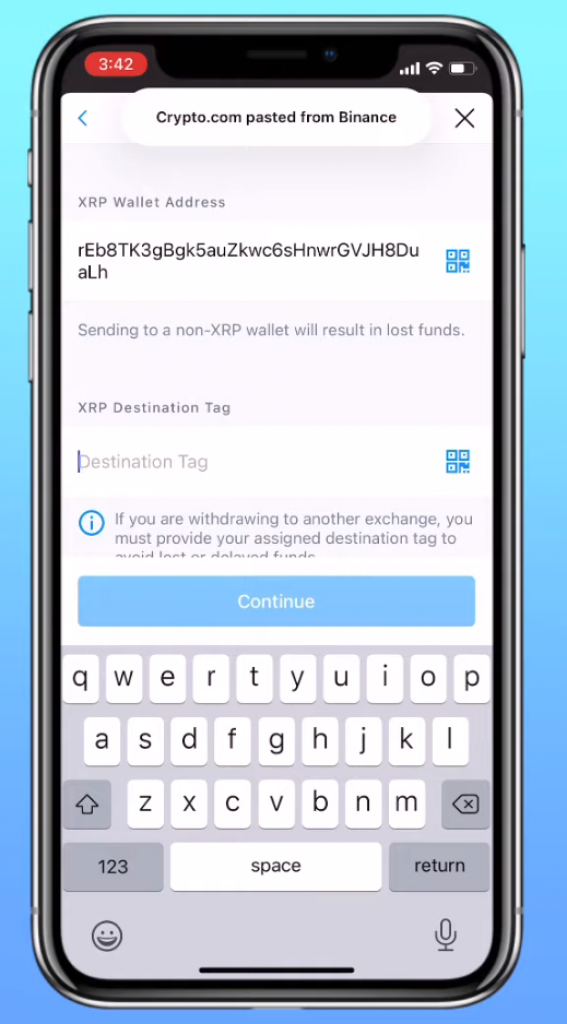 This is where we need the address. Since it is not something we can get ourselves, we will be asking our friends what their address is. Make sure that you are both talking about the same coin and the same network, otherwise, there is a risk of losing all of the coins you send. After you get your friend's address, paste it here on this page and click continue.

When you filled out the address column, we will reach the confirmation page, and that's where we will be clicking to finish adding our friend's crypto wallet address to our crypto.com whitelisted address list.

Going back to where we were before adding the address. We will pick the address and move on. Here we will be asked to enter how much we want to send. This number will be the amount of coin we are sending, and not the dollar amount, the dollar amount will be shown above. Click withdraw to carry on.

This is the last page we will see before it is done. Check if there are any mistakes, if you want you could also send the screenshot to your friend so they could see if all of them look correct. Click confirm after you are done and sure about all the information seen here.

Congratulations! You are now done and cryptocurrencies will be sent from your crypto.com account to your friend.
Read also:
FAQs
---
How will I know when my friend receives the coins?
---
If you can't reach your friend or want to double-check the results, you could always use block explorers. This way you will not have to take another person's word on the transaction and can see it with your own eyes. Between being busy to not knowing how to check, there are many reasons why others can't reply to you fast enough. Thanks to block explorers, you could see the transaction live while it is happening.
How long does the transfer take?
---
Crypto.com is not known for being a fast app. While coins such as Stellar or Ripple could be very fast, ones like LTC and XMR could take a long time, even worse when we are talking about Bitcoin itself. Bitcoin could take as long as an hour even without facing any problems. There could be some network issues that could make this waiting period even longer. It is wiser to be patient and wait.
Does crypto.com have crypto withdrawal fees?
---
There are withdrawal fees involved in transferring coins to your friend. You can see further information regarding the withdrawal fees on the crypto.com fee page over at.

CaptainAltcoin's writers and guest post authors may or may not have a vested interest in any of the mentioned projects and businesses. None of the content on CaptainAltcoin is investment advice nor is it a replacement for advice from a certified financial planner. The views expressed in this article are those of the author and do not necessarily reflect the official policy or position of CaptainAltcoin.com