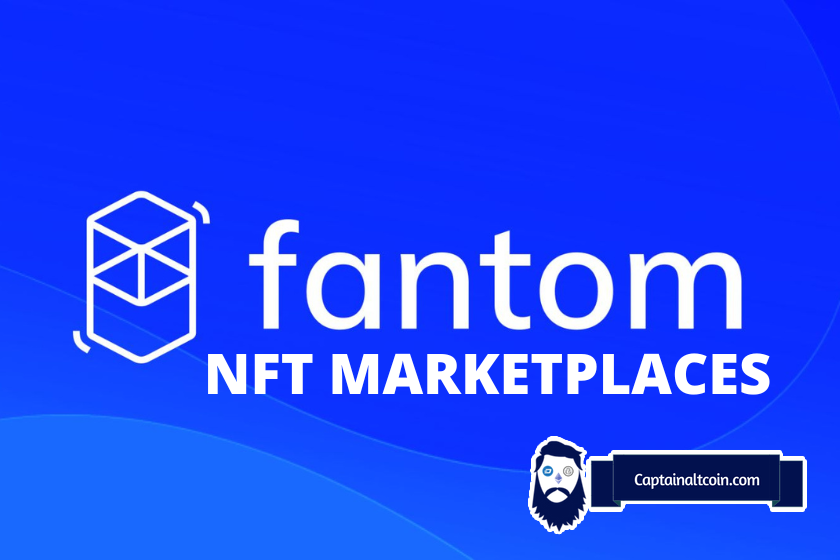 Fantom is a DeFi blockchain platform based on smart contracts, used for digital assets and decentralized applications (dApps). Its main characteristics are scalability, speed, reliability, and security – because of that, it could be the protagonist in DeFi.
What purposes does Fantom token (FTM) have?
---
Payments – based on high transaction speed and low fees;
Network fees – include fees for transactions, making new networks, and using smart contracts. Fees are paid by Fantom cryptocurrency;
Staking – by using the proof-of-stake model, owners can stake their coins and create validator nodes. In this way, staking participates in providing the network and earning rewards.
Governance – with staking and holding of Fantoms, owners can vote and propose some changes. This is because it's decentralized.
Many small cryptocurrencies are difficult to buy on the marketplaces. However, this is not the case with Fantom. It is available at several large and well-known crypto exchanges such as FTX, Binance, Gemini. It is also available on decentralized exchanges (DEX) like UniSwap and Sushiswap.
👉 As mentioned above, the speed of transactions is very high. It can sustain several thousand transactions in a second, and transactions are completed in one to two seconds. For example, about three million transactions were made in May last year, making it the fastest blockchain. As for the transaction fee, it is only a few cents, which is very convenient.
Fantom is rapidly expanding and advancing. There are several thousand active users and over 80 dApps, some of which are: yield optimizers, lending,borrowing, and NFT platforms which will be discussed during the article.
Where can you buy and sell Fantom NFTs?
---
PaintSwap
---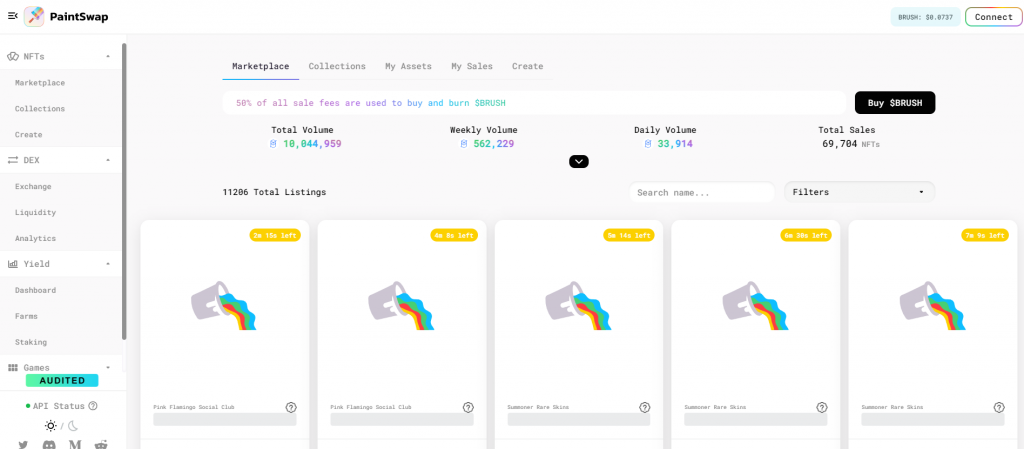 PaintSwap is a decentralized finance platform that provides trading services on the NFT marketplace and DEX (AMM) on Fantom Opera Network. Some of the many benefits this platform offers are the ability to buy, offer and bid on thousands of available NFTs on the open market and creating your own NFT by uploading data or using a Studio. In addition, you can also stake your $BRUSH tokens and thus earn more $BRUSHs and earn passive income in various ways.
As already mentioned, $BRUSH is token by PaintSwap. It is a protocol token used for various services provided by PaintSwap. It is also planned to become a governance token. Users can earn $BRUSHs by staking and farming and spend them creating works of art on Ross Studio.
Its current price is around 0.08 USD.
Artion
---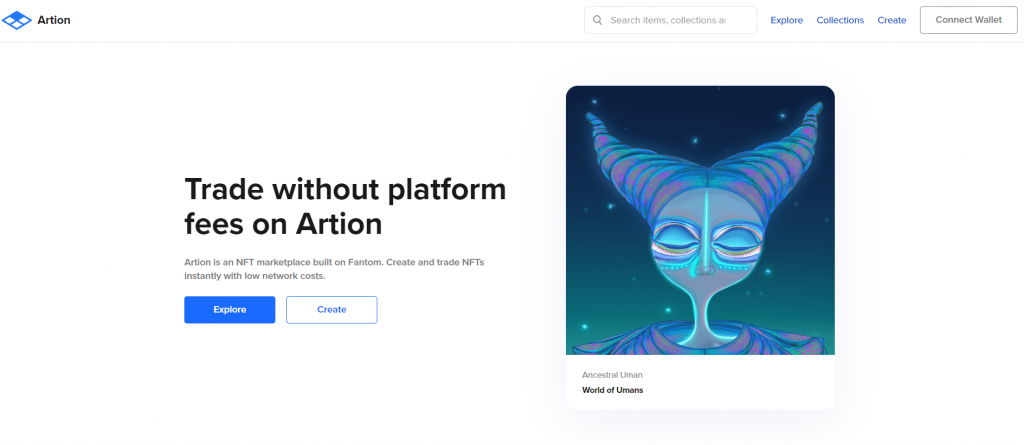 Artion is an NFT marketplace built on the Fantom. The 4 main virtues that make this platform successful and attractive to users are:
easily connect with wallet (Artion supports MetaMask and Coinbase Wallet),
super high transaction speed (between 1-2 seconds per transaction),
low transaction fees (only a few cents with the ability for users to trade and create new NFTs without high fees), and
zero platform fees (users can sell NFTs directly or through an auction without charging fees by Artion).
NFTs are divided into several categories: art, domain names, sports, trading cards, collectibles, utility, and virtual worlds.
SYFIN
---

Syfin is a reflection token of the Fantom blockchain. Specifically, it contains DeFi reflecting code in smart contracts. Syfin's NFT marketplace is built on the Fantom network, and clients can mint or trade non-fungible tokens using $SYF. For example, users who own 200 thousand SYF are rewarded with a $BOO token from Spookyswap.finance. This token will automatically be found in the wallet when Syfin buys it.
On the other hand, the Wraith ($WRA) has the role of a governance reflection token on SYF. It will be used for voting and updating the protocol on Syfin NFT marketplace and WraithSwap AMM DEXs. If the client holds 1000 WRA, he can earn the SYF that will be bought by Wraith and which will be automatically added to the wallet.
1.5% (1.5 billion SYF) is the maximum number of transactions when buying and selling, as well as the maximum wallet size.
ZooCoin
---
ZooCoin is a whole blockchain ecosystem launched by Fantom network. It contains 5 different developed projects: ZooWallet, ZooPet, ZooTrade, ZooDEX, and ZooCharts.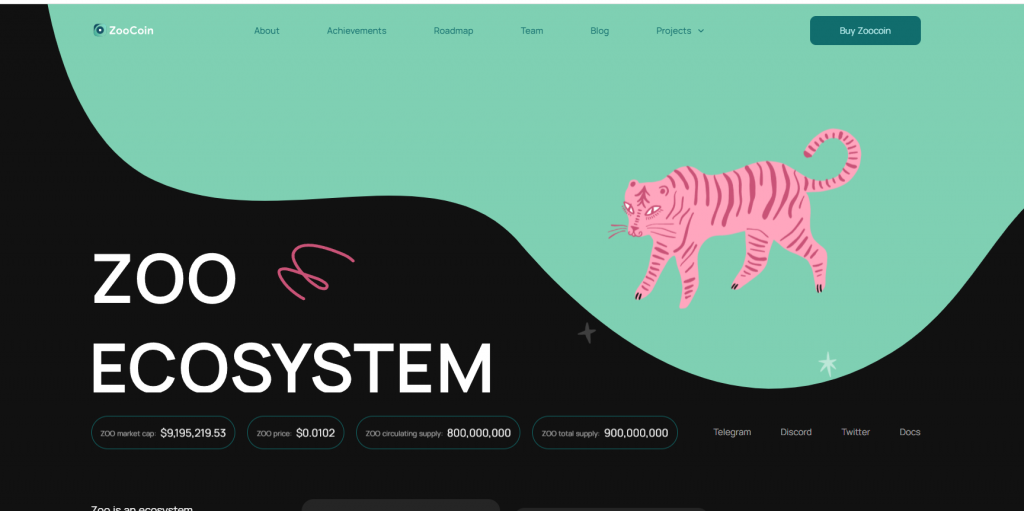 ZOO is a primary token of the ecosystem and is used for various purposes:
governance token for voting in some proposals;
the only cryptocurrency to pay in the NFT marketplaces called ZooPet;
is used to unlock additional tools and functions on ZooTrade, ZooCharts, ZooDEX, and ZooWallet;
as a holding asset for investors.
ZooPet is an NFT marketplace by ZooCoin. The advantage for the creators of non-fungible tokens on the Fantom network is low fees because they enable new NFTs at an affordable price. This further implies the cost-effective creation of works of art by famous artists and those who wish to become so. The minting fee for the new NFT is 250 ZOO. All NFTs are divided into categories (memes, anime, art, 3D, games, etc.) and custom collections. There is also the possibility to tip artists. ZooPet supports different formats, charges low fees, and provides ongoing support when buying and creating new NFTs.
The current price of ZOO is about 0.011 USD.
Ovre
---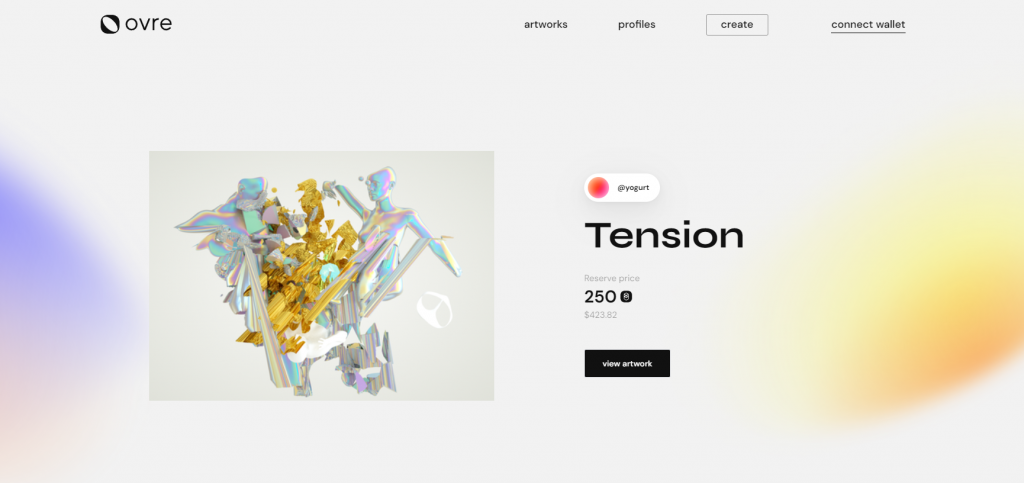 Ovre.io is another platform built on the Fantom blockchain and is characterized by very cheap fees. Users have at their disposal curators who will guide them until they make the first sale of their NFT. All material placed on the market can be in various formats such as video, image, or 3D design. Everything is kept safe in the Interplanetary File System (IPFS).
Suppose someone wants to exhibit their artwork at Ovre. A short questionnaire must be completed first, later be reviewed and analyzed by an expert team.
Read also:
FAQs
---
Where can I sell Fantom NFT?
---
The central Fantom NFT marketplace is Artion, where you can sell it at a fixed price or through an auction. In addition to Artion, FTM can be sold on other DEX mentioned above built on Fantom blockchain.
Is FTM an NFT?
---
No, the Fantom token is not an NFT because there can be up to 3.1 billion FTM tokens. If it were non-fungible, there would be only one FTM token and nothing else.
But, the Fantom Opera Chain supports NFTs. In fact, it is one of the cheapest and fastest ways to build your own NFT.

CaptainAltcoin's writers and guest post authors may or may not have a vested interest in any of the mentioned projects and businesses. None of the content on CaptainAltcoin is investment advice nor is it a replacement for advice from a certified financial planner. The views expressed in this article are those of the author and do not necessarily reflect the official policy or position of CaptainAltcoin.com