LunarCrush Review – Harness The Power Of Social Media For Crypto Trading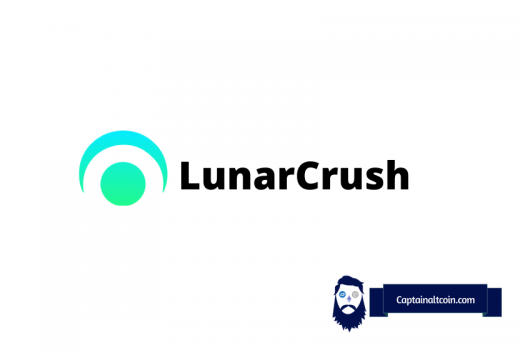 LunarCrush Review – Harness The Power Of Social Media For Crypto Trading
It provides detailed analytical data to help traders make logical trade decisions.
Its social analytics tools are among the best in the crypto world.
It has some unique metrics for better analysis.
It provides rewards for interacting with the platform in the form of points that you can convert to tradeable LUNR tokens.
It has an efficient mobile application that runs on Android and iOS systems.
It has efficient alert systems that work outside of the app.
The website interface is clean and beginner-friendly.
LUNARCRUSH OVERVIEW
---
Ready to elevate your crypto trading game with data-driven insights? Look no further than LunarCrush. This platform isn't just another analytics tool; it's your go-to social intelligence hub for everything crypto. With LunarCrush, you get real-time market data, portfolio tracking, and even community insights, all in one place. But that's not all.
LunarCrush.com also offers unique features like sentiment analysis and influencer tracking, giving you a 360-degree view of your favorite digital assets. Whether you're keen on setting up alerts for Bitcoin or tracking the latest trends on lunar crush, this platform has got you covered. Dive into our LunarCrush review to discover how you can make smarter investment decisions today.
This article will talk about one of those analytics platforms, Lunarcrush. It describes itself as a social intelligence platform that harnesses various social insights together with other market data to make crypto trading less daunting. At the end of this article, you will be able to make a well-informed decision about whether or not to use Lunarcrush for your cryptoanalysis needs.
| 📊 Topic | 📝 Summary |
| --- | --- |
| 🌐 Real-time Market Data | LunarCrush offers real-time performance metrics for various digital assets, including price, volume, and market capitalization. |
| 🔍 Market Intelligence | The platform provides tools for tracking and analyzing market trends, such as sentiment analysis, social media analysis, and news analysis. |
| 📈 Portfolio Tracking | Users can manage their cryptocurrency portfolios, set alerts, and receive notifications for specific assets or market conditions. |
| 👥 Community Insights | LunarCrush gives insights into the engagement and activity of cryptocurrency communities, including social media activity and influencer analysis. |
| 🔔 Setting Up Alerts and Notifications | Users can set up alerts and notifications for specific assets or market conditions to stay informed and make timely investment decisions. |
| 🛠 Using Portfolio Tracking Feature | The portfolio tracking feature allows users to monitor their investments in real-time and make necessary adjustments. |
| 📚 Utilizing Market Intelligence Tools | The platform offers various tools for market trend analysis, which can help in identifying investment opportunities or assessing market risk. |
| 🌟 Taking Advantage of Community Insights | The community insights can be a valuable resource for understanding the sentiment and activity around a particular asset or project. |
ABOUT LUNARCRUSH
---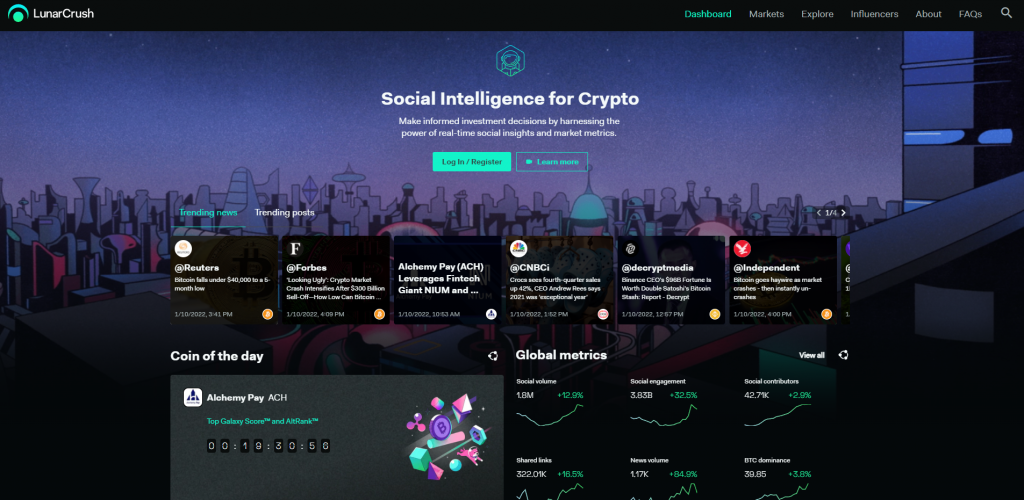 Lunarcrush was founded on June 12, 2018, by Joe Vezzani and Jon Fargo. Initially launched in Costa Mesa, California, it is now headquartered in Greater Los Angeles Area, West Coast, USA. It works by analyzing data from various social media platforms to reveal possible tops, bottoms, pumps, swings, and dumps before they happen.
HOW DOES LUNARCRUSH WORK?
---
Set up your account
---
The process starts with clicking the login/register button on the website, where you'll be asked to enter your email address and complete a captcha verification. After that, a verification mail is sent to your provided email address. Once your email has been verified, you are ushered into your dashboard. That means your account has been created.
Create a portfolio and add the coins you want to follow
---
This is the next step, and it presents you with the opportunity to earn points on the Lunarcrush platform. To create a portfolio, tap 'Add Cryptocurrency Holdings' on your dashboard. Then search for the coin you want to add and enter the amount you have and the price you bought it. It automatically shows the current value of your portfolio along with other metrics. It also rewards you with five points.
Create your first alert for your favorite coin
---
This process is also easy. You select the tab on your portfolio, and it opens up a window where you input the coin you want to watch and the alerting method(which includes app alerts, emails, SMS, and Telegram). You could also select a default alert or configure one from scratch. After doing all that, you are rewarded with five points.
Find the top influencers for your favorite coin
---
On the homepage of your Lunarcrush account, click on 'Influencers' and then search for the coin you want to track. It will bring up a list of social media influencers filtered by most influential, most engagement, most followers, and most posts. That way, you can know what the social atmosphere of your portfolio looks like.
Connect your Twitter account
---
You'll see this tab on your dashboard. It takes you to a one-button click on the account settings of your Lunarcrush account that connects your Twitter with your Lunarcrush profile. You are also rewarded with five points.
Work the gamify aspects in your favor
---
This is also another important aspect of your Lunarcrush experience to bring the best out of your analysis. As you interact with the platform and complete tasks, you earn points that you can convert to LUNR, the native token of Lunarcrush.
LUNARCRUSH FEATURES
---
👉 COMPREHENSIVE DASHBOARD
---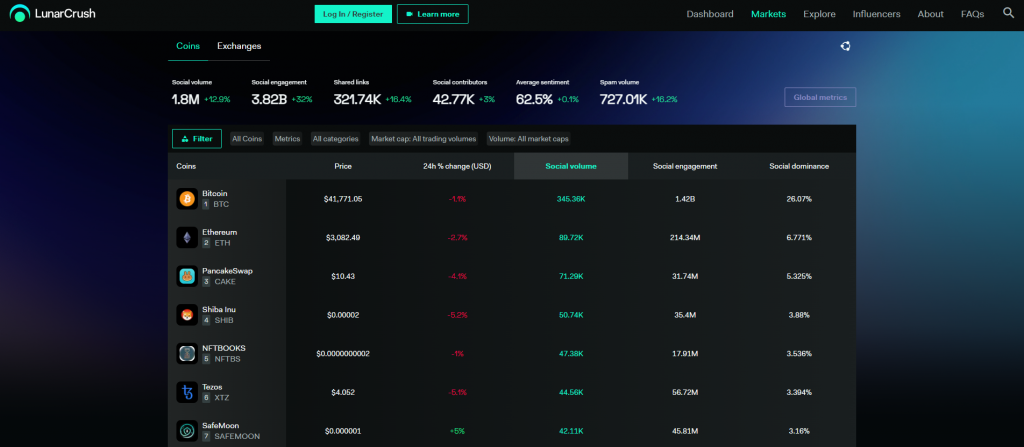 This is the first section of your account page. It evaluates your portfolio and is more of a display board for all essential metrics. It displays social volume, social engagement, bitcoin dominance, top ten coins, crypto exchanges, and influencers, etc. It also shows your favorite coins and coins recently added to the platform.
👉 ALERTS
---
This ensures that you don't have to be watching charts and social metrics all day long. With the alerts in place, you can go live your life while still keeping in touch with progress on your selected coin.
👉 SCREENER
---
This feature puts all your required information about a favorite coin on one page so that with one click, you can get a view of both the crypto market and social activity of a coin. Thus, you can compare coins using metrics like their market cap, social volume, social engagement, etc.
👉 KEY METRICS
---
Lunarcrush employs standard metrics like volatility, social volume, social engagement, BTC and Altcoins dominance, spam volume, shared links, etc., to analyze the performance of a coin. It also uses unique metrics exclusive to the Lunarcrush ecosystem. Some of these metrics are:
⚡️ LUNARCRUSH GALAXY SCORE: This uses community metrics pulled in from social media to measure a coin's performance over time.
⚡️ CORRELATION SCORE: This metric gauges the viability of Lunarcrush itself by comparing its data with those from all over the crypto world.
⚡️ LUNARCRUSH ALTRANK: With this metric, you compare a coin's performance with that of the whole cryptocurrency space.
👉 PORTFOLIO
---
This feature allows you to add coins to your holdings and track your profits over time. Apart from that, you can view them in detailed charts and track their performance. It only allows you one entry per coin.
👉 FEEDS
---
With this feature, you can view the current social status of coins across the board. It helps you get ahead of the social trend and make wise decisions that'll beat the crypto market
👉 INFLUENCERS
---
If you have been trading crypto for a while, you will agree that influencers influence the crypto sphere. If you want to get ahead of the markets, you should get a hold of the major influencers on your favorite coin. It may take just one tweet to damage whatever trading strategy you have been building. Lunarcrush takes care of all that for you.
👉 COMPARE COINS
---
No need to keep toggling between tabs to compare the metrics of two coins. Lunarcrush takes care of this for you by splitting your screen into two, each for each coin, to make the process easy.
PRICING
---
For the most part, Lunarcrush's services are free and are easily accessible the moment you sign up on the platform. To access even more features, you are required to buy (or earn) and hold a certain amount of LUNR (the native token of the Lunarcrush platform). This increases your in-platform level and opens you up to more opportunities on the platform.
If you want even more functions, you can subscribe to one of the paid plans, which range from $199 to $699 per month. You can also request a custom-paid plan if you want something tailored to your needs.
HOW TO CONVERT YOUR POINTS TO LUNR TOKENS
---
You get points every day on the Lunarcrush platform as you partake in different activities like referring someone to the platform, performing social media functions, etc. The points are collated for each account, converted into LUNR automatically, and sent to the in-platform Lunarcrush wallet.
They have to be claimed every day and come with a claiming fee of 10%. This fee is used to maintain general repairs on the Lunarcrush platform and allocate rewards. To send out your LUNR tokens for trading and other purposes, transfer them to a Zilliqa contract address, and you're good to go.
LUNARCRUSH CONCLUSION
---
Cryptocurrency trading goes beyond just technical or fundamental analysis. It is also hugely affected by social sentiment analysis, especially since more people have been introduced into the crypto space in recent years. Therefore, you need a competent guide to handle the social aspect of cryptocurrency trading.
Lunarcrush is a good guide in that aspect. It helps you analyze various social metrics to enable you to stay ahead of influential social events in the crypto space. It is also mainly free and offers a vast array of social analysis tools with your email address as the only requirement. Why not try it out? You may be better off with it.
Read also:
ALTERNATIVES TO LUNARCRUSH
---
DYOR.NET
---
This is another powerful analysis tool that works on Binance and Kucoin markets and analyses coins from top to bottom based on their current trend strength and reversal potential. The analysis done by the platform is done on the BTC and USDT pairs of the almost 1,000 coins traded together on those two platforms.
It also analyses Perpetual futures and tokenized equities on the FTX exchange platform.
Unlike Lunarcrush, you do not get freebies for using the platform. However, the paid plans are pretty affordable, even for retail traders. You can get the 30-day premium plan for $15, the 90-day premium pack for $48, or the 360-day premium pack for $90. Users can make payments with either USDT deposits or a Binance Pay transaction.
Among its other unique attributes, DYOR.net provides users with access to a demo account for about six hours, the ability to edit charts as they see fit, customizable alerts on the web, email, or telegram, etc.
If you want to open up an account on DYOR.net, go to the website and click on 'Sign up and go premium'. You will then be asked to create a username and provide an email address and a strong password. Once that is done, and your email is verified, your account has been successfully created.
SANTIMENT
---
Santiment is a cryptoanalysis powerhouse that goes much more beyond social media. It was launched in Zurich, Switzerland, in 2016 and aims to provide traders with the complete crypto experience by comparing trade volumes, movement in and out of whale wallets, social media activity, and other metrics to predict the market's next direction.
Several features stand out with Santiment. They include Sansheets, Sanbase, SanAPI, SanR, Sanhunters, etc. Like Lunarcrush, the platform has a native token, the Santiment Network Token or SAN. This token provides staking rewards and up to 20% trading discounts for users. It is also used as a reward token for the various members of the Santiment ecosystem (Sheriffs, Hunters, SanR leaders, etc.)
There is only one payment plan ($49 per month), and this plan can be further discounted by staking SAN tokens, burning them, or providing liquidity to the trading pair on Uniswap.
CRYPTOQUANT
---
This data analysis platform was founded in 2018 in South Korea and provides various metrics that help traders to make logical trade decisions. Cryptoquant has a free version along with three different paid plans that range from $29 monthly to $699 per month.
It also provides educational resources like quick takes, on-chain research, exclusive reports, FAQs, among others. It also has an alert system that incorporates Telegram alerts, browser pop-ups, and email notifications.
COIN360
---
This cryptoanalysis platform bests all others in that it is completely free to use and still maintains the standard quality required of analytics platforms. It collects data on over 3,000 different coins from over 250 exchanges and displays such information on a single page updated constantly. The various coins are apportioned segments of the single page according to their market dominance stats.
Even though it is completely free to use, it allows for essential data analysis functions like historical charts, exporting of charts in JPEG or PNG versions, liquidity books, exchanges comparison, etc. However, it doesn't alert you to market changes, and it also doesn't provide a variety of metrics to aid your analysis. Still, it is a good starting place for crypto noob and retail traders.
PROS
It provides detailed analytical data to help traders make logical trade decisions.
Its social analytics tools are among the best in the crypto world.
It has some unique metrics for better analysis.
It provides rewards for interacting with the platform in the form of points that you can convert to tradeable LUNR tokens.
It has an efficient mobile application that runs on Android and iOS systems.
It has efficient alert systems that work outside of the app.
The website interface is clean and beginner-friendly.
CONS
It doesn't allow users to edit charts.
It doesn't ask for passwords or two-factor authentication before accessing the platform. This casts doubts on the security of the platform.
Even though it gives free points for interacting with the platform, you can't withdraw it until you've accumulated at least 30 LUNR(you'll need more than 2,000 points to get that amount of LUNR).

CaptainAltcoin's writers and guest post authors may or may not have a vested interest in any of the mentioned projects and businesses. None of the content on CaptainAltcoin is investment advice nor is it a replacement for advice from a certified financial planner. The views expressed in this article are those of the author and do not necessarily reflect the official policy or position of CaptainAltcoin.com