Santiment Review – Onchain & Crypto Social Media Analysis Tool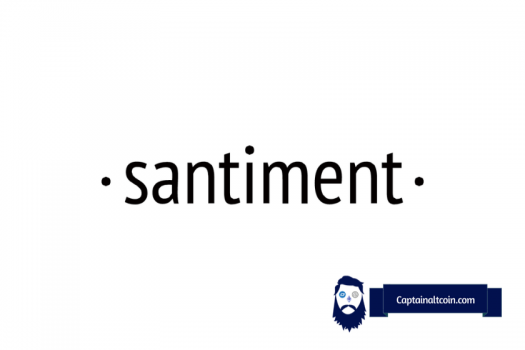 Santiment Review – Onchain & Crypto Social Media Analysis Tool
Santiment provides real-time data analysis that can prove to be the crucial difference between profit and loss
It has an easy-to-use platform.
Ever since Bitcoin started trading at $0.08 per unit in July 2010, it has been controlled by market sentiment, FUD(Fear, Uncertainty, and Doubt), FOMO(Fear Of Missing Out), groundbreaking news, and personal sentiment.
These external factors, along with the sentient value of Bitcoin itself, have led to a rollercoaster of volatility over the years, not only for Bitcoin but for other cryptocurrencies as well.
Many fear this volatility and refrain from investing in cryptocurrencies. They say they do not want to get burnt or 'rekt'. There are others, though, who have decided to brave the storm and ride the roller coaster wherever it leads them. They are the courageous ones known, in other words, as crypto traders.
To make it easier for them to make intelligent decisions not swayed by emotions, these traders employ several analytical tools. With these tools, they can predict, to an extent, where the trade would take them. One of such tools is the Santiment website.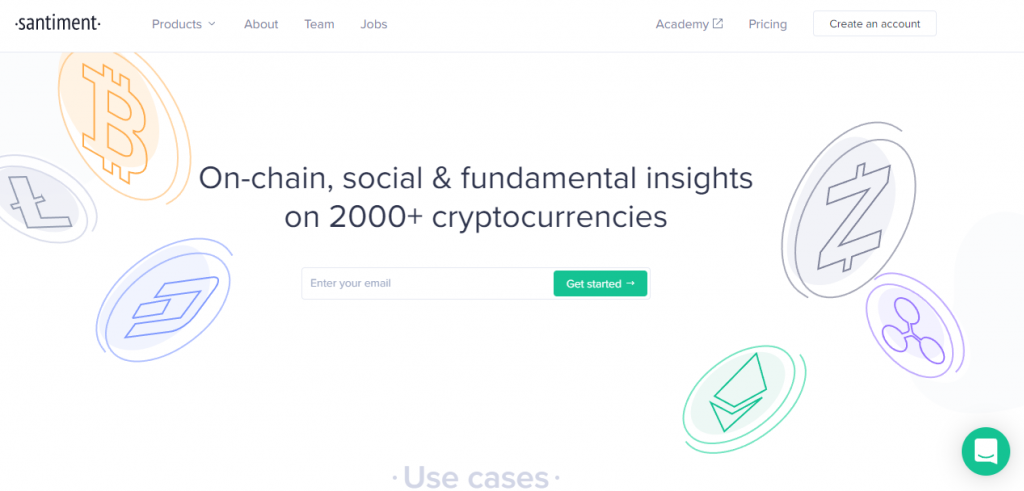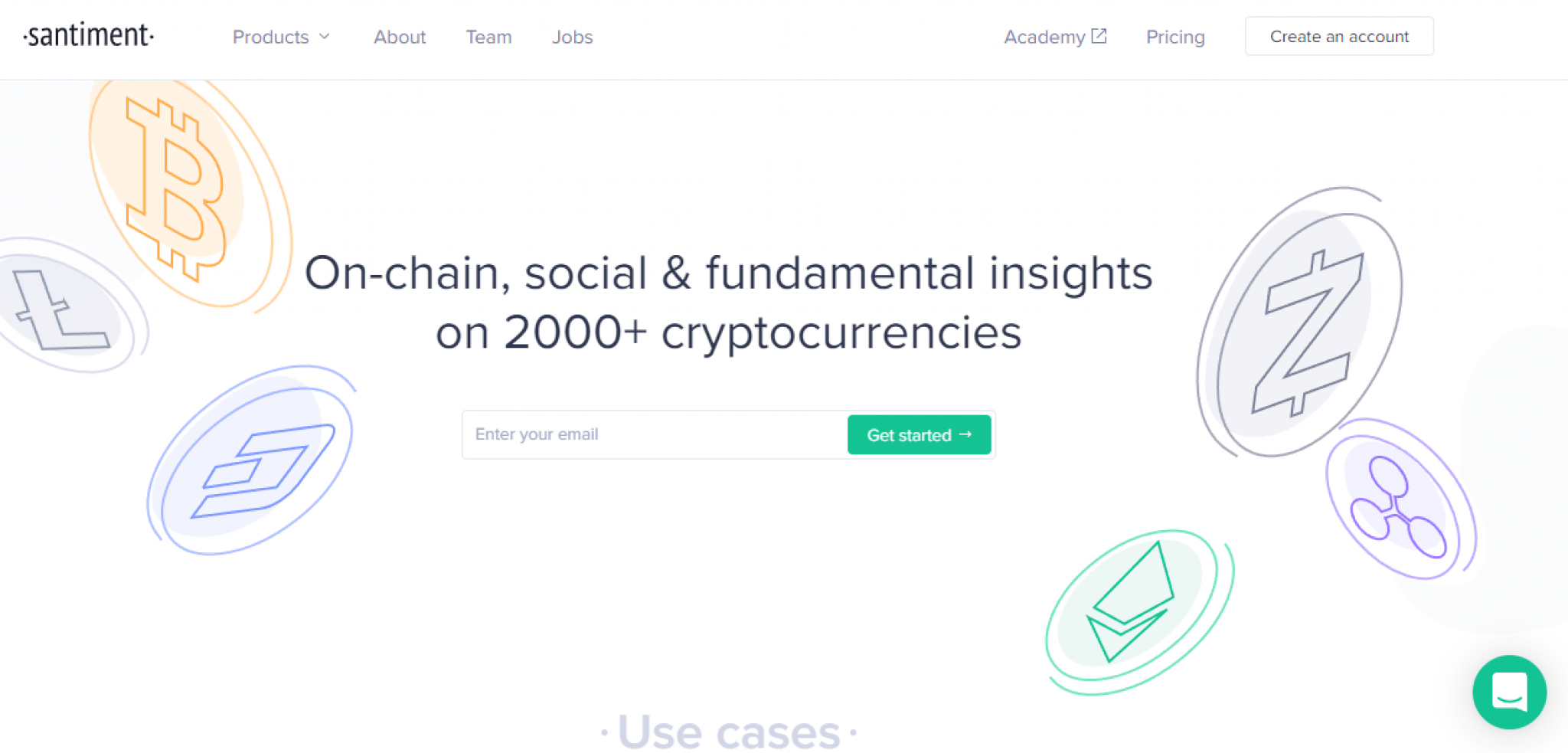 In this article, we will talk about the various features of the Santiment program and how it can be helpful to crypto traders. Let's start.
SANTIMENT INTRO
---
Santiment is a comprehensive data analysis tool that aims to guide crypto traders into making the best trading decisions based on real-time data and not on emotions.
It was developed in Switzerland by established professionals in the cryptocurrency world who saw the need for a guiding compass through the vast, turbulent sea of cryptocurrency trading.
With this in mind, they developed Santiment to combine on-chain analytics with real-time data gotten from social media and general crypto market sentiments. They aim to make Santiment the go-to tool for crypto-metric analysis.
Sentiment provides data in these three categories:
Content streams. They are subscription-based services that act as newsletters, providing general market information about a coin.
Sanbase. This is an analysis page that is similar to Coinmarketcap in the way it provides real-time growth metrics about different coins
Datafeeds. More technical market data is provided to active traders on the go who utilize them for their various trading strategies.
HOW DOES SANTIMENT WORK?
---
Santiment works by combining social media activities of a coin, movement of coins in and out of idle or significant wallets, and many other metrics to come up with a prediction of a potential market cycle top(the best time to exit a market) or potential market cycle bottom(the best time to enter a market).
Even though these metrics are usually accurate, they do not always come up correctly. After all, expert traders will agree that you can't always know the market direction. Sometimes, even with the best analysis, the market seems to have a mind of its own and goes against all perceivable logic. However, with Santiment, you have a better chance of predicting coin movements.
As an example, examine the following scenario
---
A coin is pumping and has attracted much social media attention. Now, you could be in one of two scenarios:
1.) You have been holding the coin for some time and are already in profit, but you're wondering if you should leave or ride it on, in case it blows up even further.
2.) You heard about the coin on social media and are now wondering if you should jump in and join the increasing horde of holders and hopefully make some significant gain as the coin goes mainstream.
What will you do? In such a case, you mustn't make decisions based on emotions as they will likely betray you. It would help if you had an emotionless guide to assist you in coming to terms with reality and making logical decisions.
That is where Santiment comes in. With its social data analysis, you can know when the coin's social volume is at its peak, thereby signaling a possible top.
SANTIMENT FEATURES
---
Santiment is one-of-a-kind. It has several unique features that make it the preferred tool for traders and holders alike. Let me take you through some of those features:
SANBASE STUDIO
---
As the name implies, Sanbase studio is a professional suite of unique analytical tools that push Santiment towards its goal of being the foremost cryptocurrency tracker.
It also functions as a crowd sentiment database for cryptocurrency projects where you can find information on a coin, such as the team behind it, its history, price analysis, etc.
Do you mind getting into some of the unique tools of the Sanbase Studio? Join me:
Sanbase
---
This tool provides real-time information about significant changes in a coin's general activity.
This information is obtained from analyzing hot topics on crypto social media and activities of prominent wallets holding a coin to predict what may happen(or when and how).
Sansheets
---
Sansheets is an extension that can be added to your google sheets page to track and compute relevant cryptocurrency information automatically.
You simply add it to your Google sheets the same way you add extensions to the Google Chrome browser.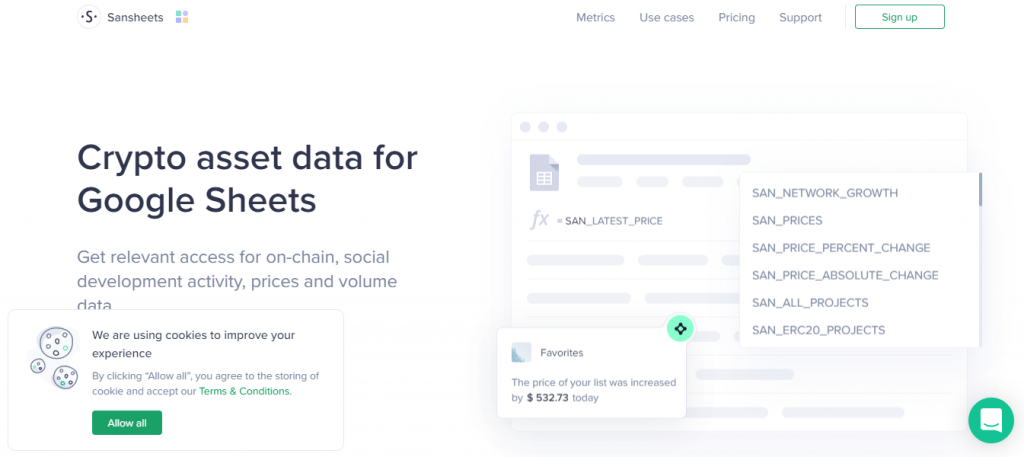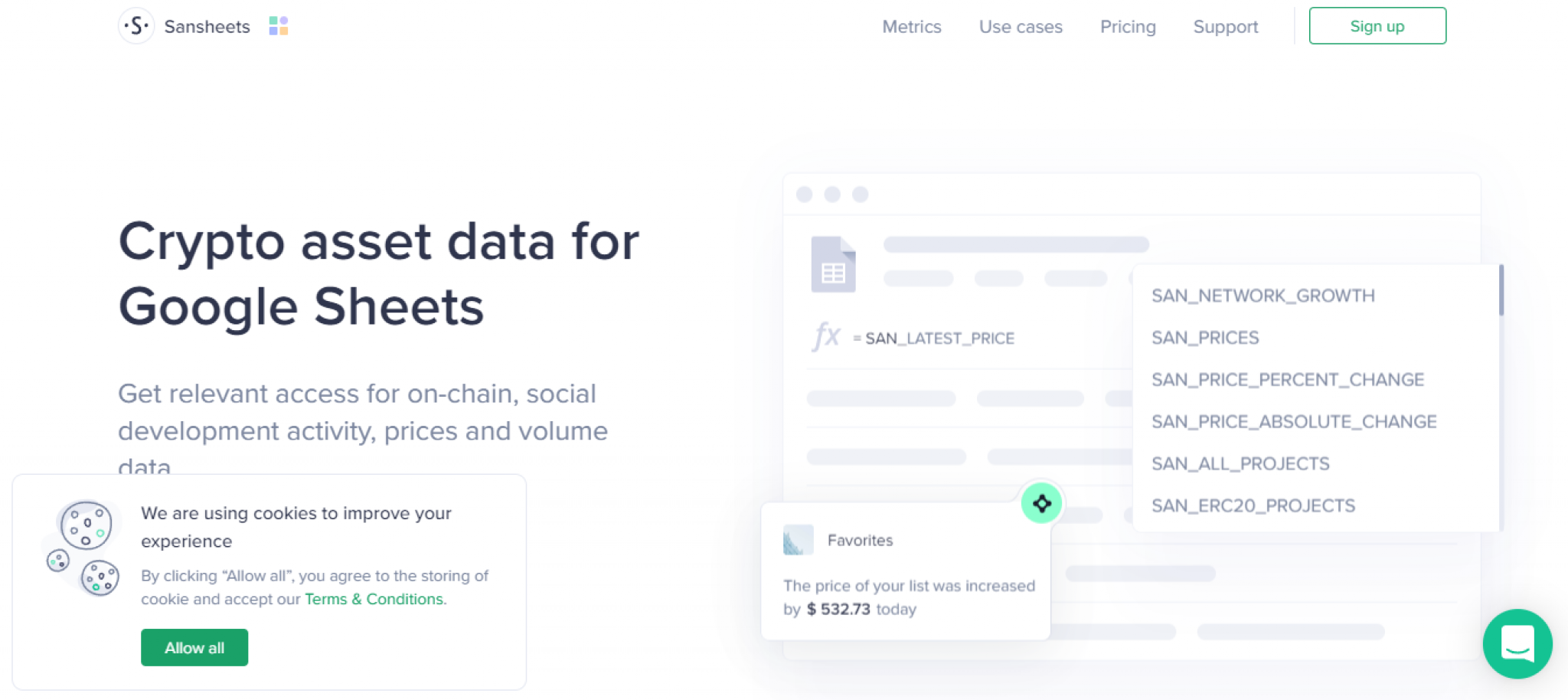 SanAPI
---
API stands for an application programming interface. It's a software messenger that enables developers to build upon already existing codes as they develop new applications
The SanAPI is an avenue for developers to interact with the Santiment code and develop a crypto-metric application that suits their needs.
SanR
---
This is one of the most exciting aspects of the Santiment ecosystem. It is a decentralized marketplace for cryptocurrency price signals in which users are encouraged to generate their own signals using the vast array of tools available to them in the Sanbase studio.
Users are then ranked, based on how effective their signals were, in a leaderboard that's updated weekly. The top ten users share a reward of 750 SANs (The top 5 get 100 SANs each while the next 5 get 50 SANs each).
You can also choose to follow the top traders on the leaderboard and copy their strategies if they decide to share.
Sanhunters
---
The Sanhunter(or Santiment wallet hunter) program was introduced to further direct transparent, market-driven research into the crypto world.
In this program, you can either be a hunter or a sheriff. Hunters are like the worker bees who scour the online world to find current market info and are rewarded for their efforts with SAN tokens
You can also be a Sheriff. To be a sheriff, you have to stake at least 50 SANs. Sheriffs have an added advantage as they get more rewards by voting on hunters' proposals and inputting their own research ideas.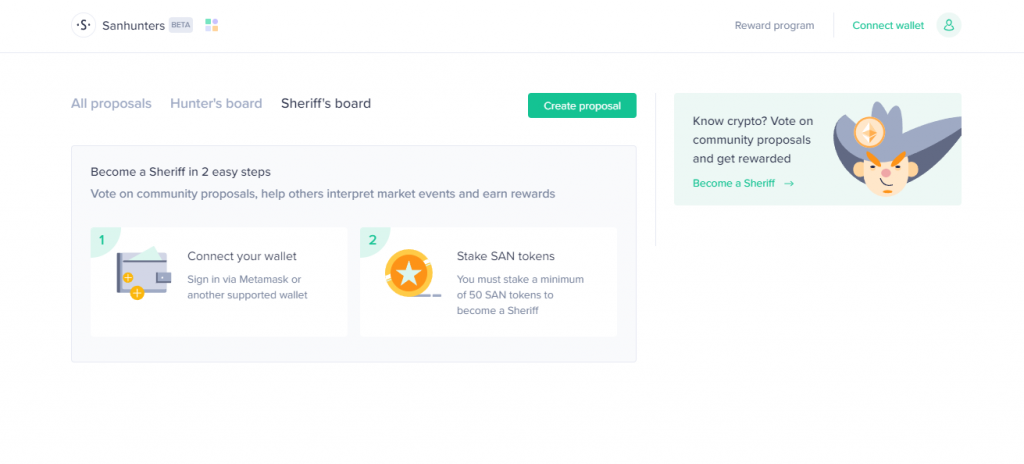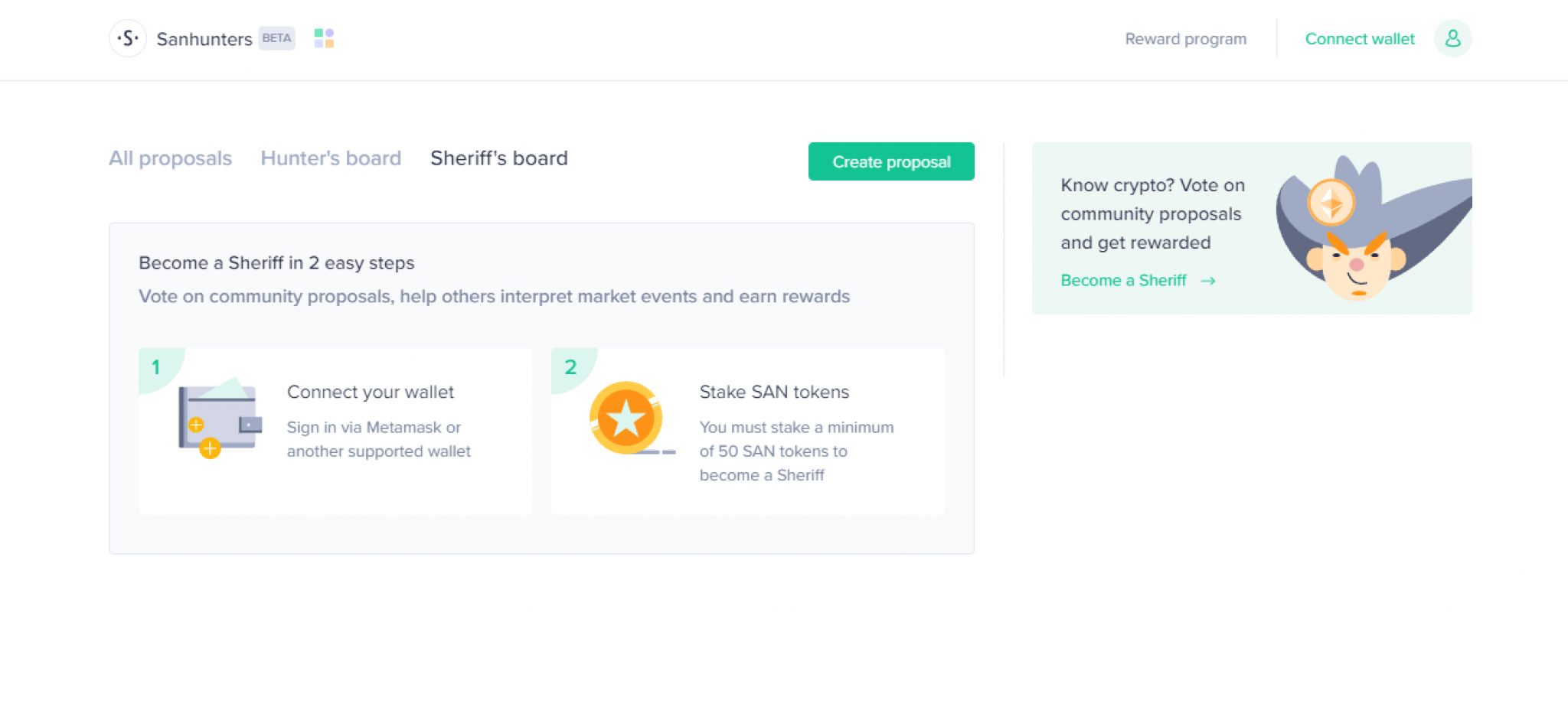 Read also:
ADDING ALERTS
---
You can add alerts to your Santiment page to be immediately notified when there is a specific change in a coin's properties. You can set customizable alerts over four different parameters:

Price
Santrends (Social media trends), 
Daily active addresses, and
Historical balances
WATCHLIST
---
With this tool, you can keep tabs on all your favorite cryptocurrencies. You can examine daily market insights and weekly updates that are not general but personalized to your specific crypto interests.
UNIQUE MARKET METRICS AND INDICATORS
---
Santiment has unique indicators apart from the usual indicators found in many chart systems(like Volume, Bollinger bands, relative strength index, etc.).
Two examples are the daily active addresses(the total number of unique addresses involved in daily transactions) and the network growth indicator(which lists the number of new addresses created on the network each day).
INSIGHTS AND BEHAVIOURAL REPORTS ABOUT THE MARKETS
---
This tool tracks hot crypto topics on various social media channels to predict market sentiment, and subsequently, the price direction. Therefore, it helps you to stay ahead of the market
For example, if there are many bullish words like 'buy', 'moon', 'when 1000x' around a coin. It may be a sign that the coin is overheated and a market top has been reached.
HOW TO USE SANTIMENT?
---
You can use the Santiment software to:
Spot market tops and exit opportunities. Using the social trends tool, you can subscribe to alerts on your invested coin and be notified whenever it experiences a surge in social or daily volume, as that usually signals a correction.
Spot bottoms and entry opportunities. You can do this by using the Daily active addresses(DAA) and the MVRV long/short divergence to determine when it would be best to enter a trade.
Identify and monitor volatility markers. The token age consumed (TAC) indicator comes in handy here. It traces activities of previously idle wallets to indicate when there may be periods of volatility. This helps the user to prepare to ride the wave when it comes.
Study and contextualize market activity. This simply means using valuation metrics to perform deep technical analysis to assist traders in making the best logical decision.
THE SANTIMENT NETWORK TOKEN
---
The Santiment Network Token (SAN) is the governance token of the Santiment network. Users can stake SAN to gain rewards as well as have access to streams of real-time analytics.
Apart from being used for staking, SAN tokens can also be used for discounts (up to 20%) when subscribing to the Santiment plan. They are also used as rewards for hunters, sheriffs, and SanR leaders.
As of writing, the SAN token traded at $0.2 with a market cap of over $13M. It can be bought on various exchanges like Uniswap, Bitfinex, HitBTC, among others.
ALTERNATIVES
---
LUNARCRUSH: Lunarcrush is a social intelligence tool established in 2018 to help crypto traders get ahead of market events by analyzing social media activity. It rivals the social trends tool of Santiment with the added advantage of being free to use for everyone.
COIN360: Coin360 is an online information portal that displays current information about cryptocurrencies. Even though it's not as detailed as Santiment, it has the perk of offering free services to anyone who wants to have access to the information it contains. It was established in 2017 by Cointelegraph.com
CRYPTOQUANT: Founded In 2018, Cryptoquant aims to find the next gem in the cryptocurrency world by analyzing inflows and outflows of BTC to and from exchange wallets. It has a free version and a subscription service, which starts from $29 a month.
CONCLUSION
---
Are you one of the brave ones mentioned earlier who has chosen to ride the storm of the volatility of the crypto world? You will need a guide, an emotionless guide who makes decisions purely on logic and not sentiment. Santiment is that guide. Can it work for you? I hope this article has helped you find an answer to that.
FREQUENTLY ASKED QUESTIONS
---
PROS
Santiment provides real-time data analysis that can prove to be the crucial difference between profit and loss
It has an easy-to-use platform.
CONS
It has some pretty strong competitors.
It hasn't announced any reputable advisors yet, so there is little basis for trust.
Compared to other crypto analytics platforms, it is more expensive.

CaptainAltcoin's writers and guest post authors may or may not have a vested interest in any of the mentioned projects and businesses. None of the content on CaptainAltcoin is investment advice nor is it a replacement for advice from a certified financial planner. The views expressed in this article are those of the author and do not necessarily reflect the official policy or position of CaptainAltcoin.com