CryptoQuant Review – Pricing, Coupons, Metrics in Overview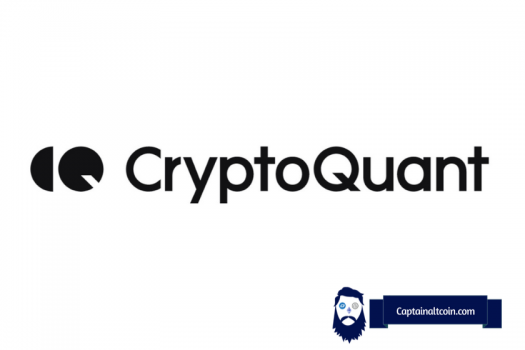 CryptoQuant Review – Pricing, Coupons, Metrics in Overview
It provides a very detailed analysis with a vast number of metrics and indicators to help traders make well-informed choices
It has a nice, user-friendly interface that even beginners can navigate.
The alert system is good as it alerts users on three different platforms(telegram, email, and browser).
Thus, it's easier for the user to keep abreast of recent market events
The charts can be edited and customized to suit your style. 
It has API integration. In layman's terms, this means that other developers can build upon the software's interface to build a customized version for themselves
There has been an increasing demand for a comprehensive analytical powerhouse to guide traders to make logical decisions devoid of emotions. It doesn't matter if you're a fan of technical or fundamental or sentiment analysis, you will have to use one or more analytical software before jumping into the murky waters of crypto investment.
Cryptoquant is one of the frontrunners in this area. It provides a qualitative analysis that traders (retail traders also) have come to use and love. This article will discuss the various features of Cryptoquant and why it is worthy of consideration as a crypto analysis platform.
ABOUT CRYPTOQUANT
---
Cryptoquant is a data analysis platform that provides research-driven cryptocurrency market and on-chain data for crypto traders. It was founded in Korea in 2018 and has since grown to be one of the top software for crypto trading. 
As a testament to its influence in the crypto world, it raised $3M in a seed funding round in August 2021, showing evidence of serious backing and signs of more growth in the future. 
CRYPTOQUANT FEATURES
---
Charts Overview
---
As you can guess from the name, this feature enables users to employ different filters and metrics to decipher information about various cryptocurrencies. 
Some of those metrics are network indicators, flow indicators, miner flows, fund data, market data, etc.
They are used to chart out patterns for cryptocurrencies categorized under four sections: BTC, ETH, Stablecoins, and Altcoins.
Exchange Flow
---
This is another important feature of the platform. It analyses the inflow and outflow of fiat and cryptocurrencies around cryptocurrency exchange. Why is this important?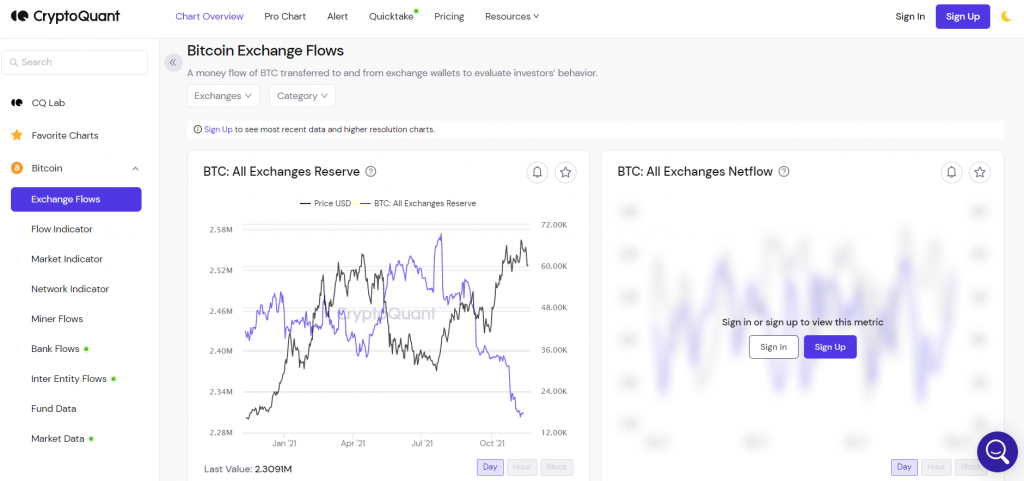 If a significant amount of crypto(BTC, for example) is moved into an exchange, that might be a bearish sign because it may mean that whales have decided to cash out on their large holdings.
On the other hand, if a significant amount of crypto is moved out of an exchange, that may mean whales are accumulating and holding, which is a bullish sign. 
Therefore this metric makes you anticipate when there might be a pump or dump and act accordingly.
Pro Chart
---
With this feature, you can get access to and edit ready-made charts drawn out with a trading view. It also has a social feature that allows you to share your charts with others and edit theirs too.
Alerts
---
Like many other data analysis platforms, Cryptoquant has an alert system that notifies you of significant current market events that you may be interested in. It goes a step further by integrating these alerts with your telegram account, your email address, and a browser pop-up.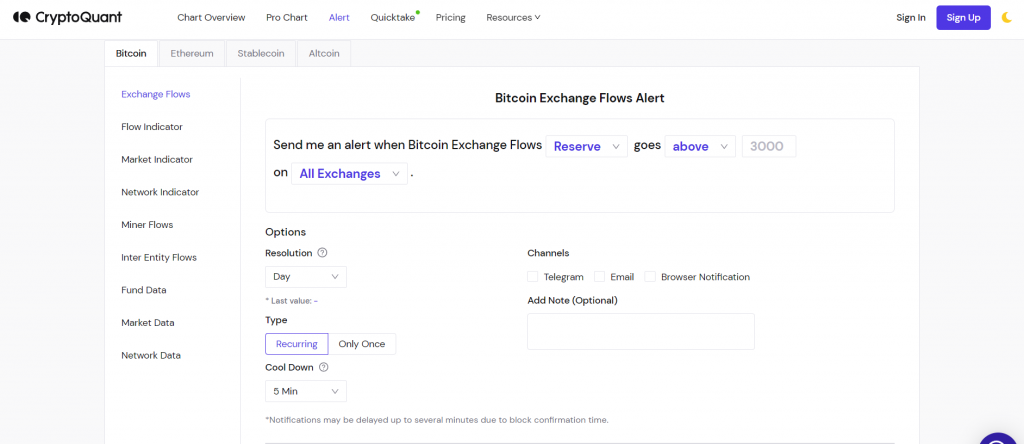 CRYPTOQUANT PRICING
---
There are three different paid packages on Cryptoquant. There is also a free version which is severely limited in terms of what it provides access to. This may be discouraging to retail investors.


The other plans are:
Advanced Plan
---
This goes for $39 monthly(or $29 if you pay once yearly). With this plan, you can access the Pro charts and five custom alerts as well as full historical data.
Professional Plan
---
You can get this plan for $109 monthly(or $99 if you pay yearly). It gives you access to everything you can get with the advanced plan. In addition, you also get twenty custom alerts and Data API up to 24H resolution.
Premium Plan
---
This is the most expensive at $799 monthly(or $699 if you pay once yearly). It gives access to all the features in the professional plan. In addition, it allows you to make 100 custom alerts with a Data API up to block-level resolution.
EDUCATIONAL RESOURCES
---
As a data analysis platform, Cryptoquant provides many educational resources that can turn a novice into an expert in little time. These include: 
Exclusive reports that give insights into unique information about the markets
On-chain research, employing publicly available data on the blockchain
Technical support for those having technical issues on the platform
Investigation into various crypto market events 
A 'frequently asked questions' section consisting of fifty-three articles written under six sections
Quick take: These are short articles that provide precise and concise, qualitative viewpoints on market events. The reports come with taglines that describe what it is about. Examples of those taglines are 'Bullish', 'TA'(short for technical analysis), 'FA'(Fundamental analysis), 'SA'(Sentiment Analysis), etc., 
CONCLUSION
---
The world of crypto has become increasingly complex as more people are now interested in this fast-expanding ecosystem. Whether you're a trader or a holder, you need a qualitative guide to help you make smart decisions and know when to enter and when to exit a cryptocurrency market or trade.
Traders and analysts in digital asset markets are constantly improving their understanding of how to monitor activity on the Bitcoin blockchain, scouring the network for clues on where the largest cryptocurrency's price might go next.
Cryptoquant is a good option for this as it provides detailed analysis employing various metrics to present matters as they really are in the markets. I hope this article has helped you to decide if it works for you. If it doesn't, check out the list of alternatives that come at the end of this article.
ALTERNATIVES
---
Glassnode
---
This cryptanalysis platform was formed in Germany in 2018, the same year as Cryptoquant. Just like Cryptoquant, it also comes with a free plan which is limited in its features. Apart from that, it has two other plans(one going for $39 and the other for $799).


The Glassnode platform is one of the best with customized metrics like UTXO value, entity-adjusted MSOL, etc.; altogether, it comes with over 200 metrics that provide reliable information about the markets.
Unfortunately, it doesn't come with an alert system, neither does it offer users the ability to create and manage watch lists.
Coinmetrics
---
Coinmetrics is an open-source crypto analytics platform founded in 2017 in Boston, Massachusetts, USA. It employs over three hundred metrics(some of them unique) for over one hundred crypto assets.
It is a reputable platform with backings from some of the biggest names in the industry, like Goldman Sachs, Dragonfly Capital Partners, etc. It also raised $15M in seed funds in its latest funding round held in May 2021, evidence that it has not come to play.
One unique thing about Coinmetrics is its Pro plan. Unlike other crypto analytical platforms, you'll have to contact the Coinmetrics team for an API key which you'll use to upgrade to a paid plan to access more features. 
In addition, Coinmetrics allows users to import and export charts in three formats – CSV, Microsoft Excel, and PNG. However, even though it is simple to use, it doesn't allow users to edit charts and customize them for their own uses.
Lunar Crush
---
Lunar Crush is an analysis platform that focuses more on community insights as a way to track the performance of a coin. It was founded in the United States in 2018.
With social, trading, and other vital metrics in place, users can use the platform to track and compare the activities of favorite cryptocurrencies over different time frames. It has several plans ranging from a free plan to the most comprehensive at $699 per month. However, unlike Cryptoquant and a few others, the free plan is good enough and contains most of the essential features.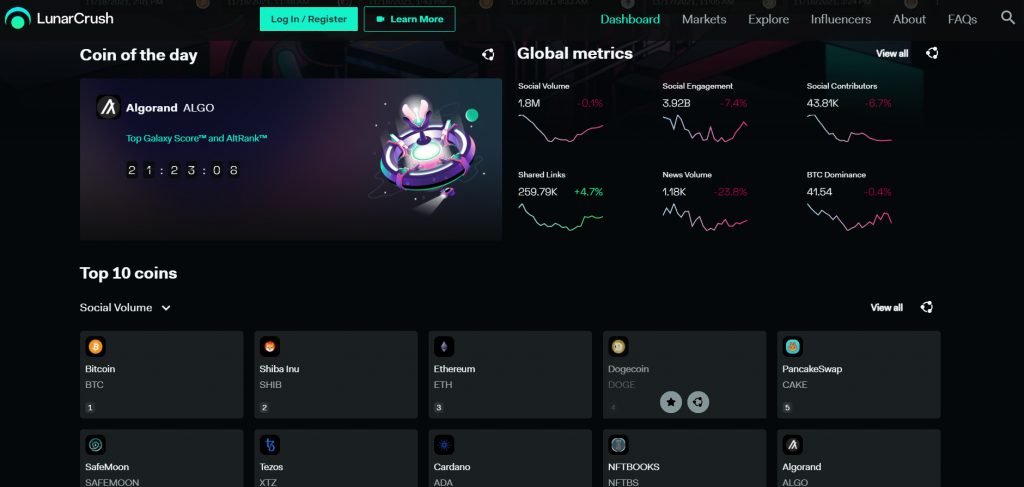 In addition to those mentioned above, it provides portfolio tracking for a more personalized experience as well as API integration for developers.
Read also:
FREQUENTLY ASKED QUESTIONS
---
PROS
It provides a very detailed analysis with a vast number of metrics and indicators to help traders make well-informed choices
It has a nice, user-friendly interface that even beginners can navigate.
The alert system is good as it alerts users on three different platforms(telegram, email, and browser).
Thus, it's easier for the user to keep abreast of recent market events
The charts can be edited and customized to suit your style. 
It has API integration. In layman's terms, this means that other developers can build upon the software's interface to build a customized version for themselves
CONS
The free plan is very limited in what it offers to the users. You have to pay to really enjoy the features of the program. This may be discouraging to retail investors

CaptainAltcoin's writers and guest post authors may or may not have a vested interest in any of the mentioned projects and businesses. None of the content on CaptainAltcoin is investment advice nor is it a replacement for advice from a certified financial planner. The views expressed in this article are those of the author and do not necessarily reflect the official policy or position of CaptainAltcoin.com