Delta Pro Review – How Good Is The Investment Tracker by eToro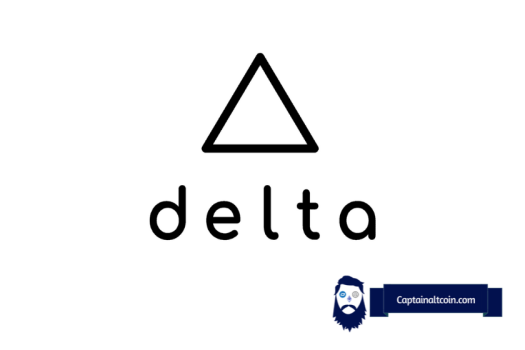 Delta Pro Review – How Good Is The Investment Tracker by eToro
7,000+ supported cryptos
Personalized notifications
Ability to track traditional investments as well
Simple interface and great design
Advanced features even in the free version
300+ supported exchanges
While trading cryptocurrencies has become extremely popular over the course of the last few years, it doesn't mean that traditional investment trading has 'slowed' down.
If you trade both cryptos and stocks, you might've had a difficult time finding a tracker app that covers both of these investments. The Delta investment tracker app might be what you were looking for.
Launched in 2017, Delta has made strides in the industry due to its unique features and the ability to track both crypto and traditional assets.
In this article, we will walk you through what Delta is, how you can use it, and explain all of its different features.
What Is Delta Investment Tracker App?
---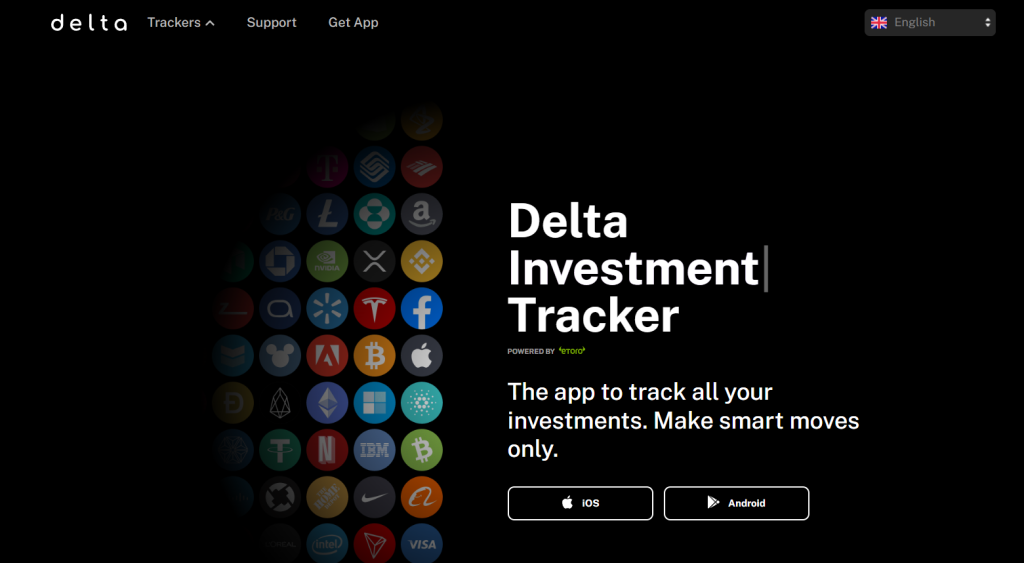 The Delta investment crypto tracker is an app that allows users to monitor their crypto holdings and stay on top of trades in real-time, all through a mobile device.
Delta was officially launched in October 2017, but it was eventually sold in November 2019 to one of the world's largest multi-asset brokeragees – eToro.
This app has been around for quite some time and many refer to it as one of the best crypto tracker apps in the industry due to its simple interface and advanced functionality.
Traders can keep track of real-time updates regarding BTC, LTC, ETH, and thousands of other altcoins, while also seeing their current position in local fiat currencies.
Plus, you can set up an alarm system that will notify you each time something significant occurs in the market, so you don't miss out on any potentially great trading opportunities.
There are 300+ supported crypto exchanges and a robust portfolio manager feature that tracks your crypto portfolio's value, alongside profits and losses in the last hour, week, or month.
✍️ Also, you can use the portfolio manager to acquire a personal graph that showcases your progress in positions like BTC, fiat currencies, or any other cryptocurrency.
One of the biggest advantages of Delta is that you can track portfolios from other users as well and see which trading strategies they incorporate.
In summary, Delta is a crypto tracker app that provides you with a detailed overview of your sources, locations, asset splits, position status, and ultimately helps you come up with better trading strategies.
What Can You Track with Delta Tracker App?
---
Now you know what the Delta tracker app is and how it works, but what exactly can you track with this advanced platform?
Let's review.
Crypto
---

Delta is one of the most comprehensive crypto tracker apps.
With more than 7000 altcoins available, you can easily stay on top of all the latest updates regarding cryptocurrencies and easily find the most lucrative trading opportunities.
The app showcases coin prices and market charts in real-time and you can even use the alert feature to make sure you don't miss out on any important information.
Delta Pro also has support for DeFi tracking and recently added NFT tracking abilities.
Stocks
---
Aside from cryptocurrencies, you can also use Delta to track stocks and equities. The app covers all significant global markets such as NYSE, NASDAQ, HKEX, Eurnext, and much more.
You can use Delta to stay informed on all the stock prices and market chart updates in real-time.
All you have to do is connect your portfolio with your preferred broker, while the transactions and broker fees will automatically be tracked from that point onward.
NFTs
---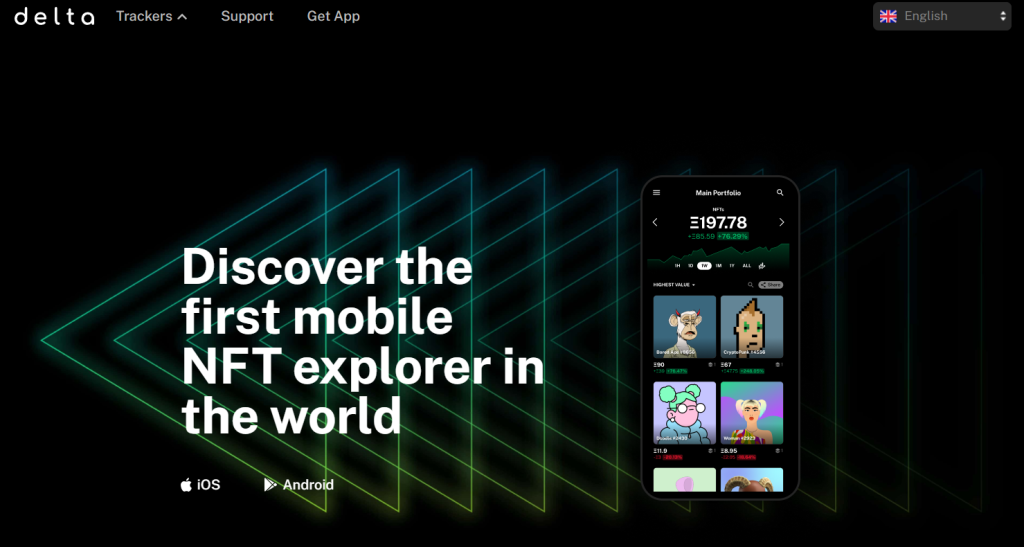 Lastly, the Delta app allows you to track NFTs.
It will provide you with a clear overview of your NFT collections and you can even use some of the advanced features to maximize your trading efforts.
Additionally, you can also track wallets from other users, including some of the most influential NFT investors in the world.
With the NFT Explorer feature, traders can browse through thousands of different collections and save up a hefty amount of time.
Best Features of Delta Crypto Tracker
---
Below, we will go over some of Delta's most notable features in detail.
Varied Asset Trackers
---
One of the things that set Delta apart from other crypto trackers is that it doesn't track strictly crypto exchanges.
You can also track more traditional investments such as stocks and use the same advanced features and comprehensive interface.
Most of the other trackers on the market don't offer this type of service, they focus solely on tracking cryptocurrencies, which makes them pretty much useless to traditional investment traders.
Real-Time Tracking
---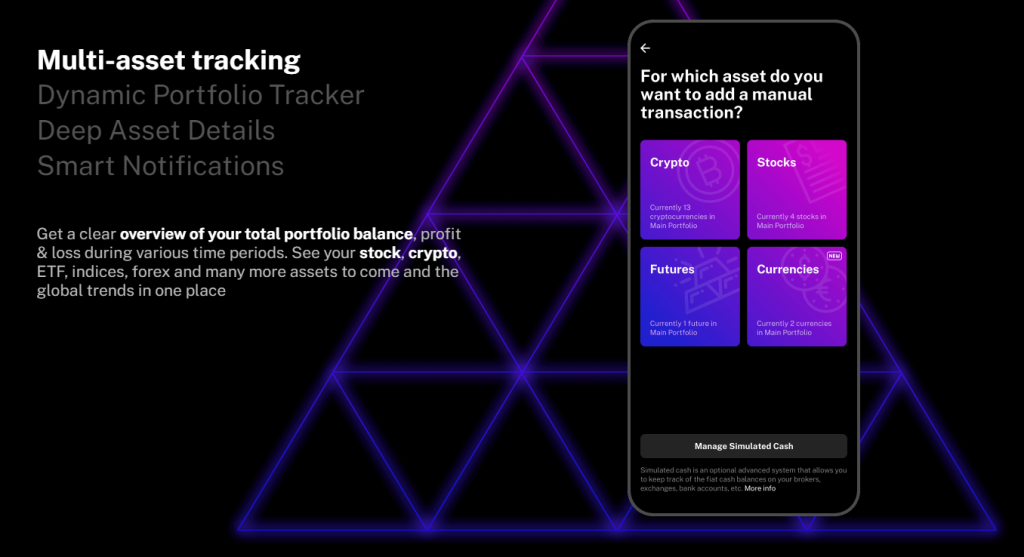 While 24-hour charts can be helpful, the crypto market is simply far too much volatile to rely only on them.
Those of you that have some experience in crypto trading already know how much of a difference a single hour can make, and if you don't stay on top of all the latest updates, you could miss out on some great investment opportunities.
This is why the Delta app integrates real-time tracking charts to help you stay informed.
Customized Portfolio Organization
---
Delta allows you to customize a variety of crypto portfolios in any way you deem fit.
You can either choose one main portfolio and connect it to several exchanges or create a few different ones.
Additionally, you can use the customization features even on sub-portfolios.
A Strong Development Team
---
This feature doesn't seem to be as appreciated as it should be among the platform's user base.
Delta investment tracker has one of the most professional development teams in the industry and they are the ones behind the platform's cutting-edge features.
Even though Delta is one of the leaders in the crypto tracking community, the developers are constantly coming up with new ways to improve the overall experience.
Precise Alerts and Tracking Options
---
While Delta doesn't provide you with the ability to trade directly from the app, the precise alert system will let you know exactly when you should switch to your crypto exchange and make a transaction.
You can customize the alert feature by setting up each parameter individually, so when all of the parameters are met, your phone will notify you that it's time for action.
Is Delta App Free to Use?
---
You can download the Delta crypto tracker app on both Apple and Android app stores, depending on if you use an iOS or Android device.
The download is free of charge, and you will be able to use some of the app's basic features, but you can also subscribe to the PRO version if you want access to some of the advanced options.
Delta PRO offers a 7-day free trial, and it costs $80 per year.
Supported Operating Systems
---
You can use Delta on all the different platforms, but you first have to download the mobile app on your iOS or Android device.
Then, if you want to use the app on your laptop or computer, you will have to download the desktop extension.
This extension works on Windows, macOS, and Linux computer devices. However, if you want to sync your data with a larger number of devices, you will have to subscribe to the Delta Pro version.
Is Delta Safe?
---
When it comes to crypto tracking apps, they don't come much safer than Delta.
The main reason for this is that users don't make any trades directly on Delta, they only connect their exchange accounts to track the latest updates.
However, you still have to be careful when inserting an exchange API key into the account since there are different types of API keys. You will need the one that is for 'view only' purposes.
What Cryptocurrency Exchanges Are Supported?
---
There are 300+ supported crypto exchanges on the Delta App, but most of them can be used strictly for price tracking.
Some of the most popular exchanges included are Binance, Coinbase, Coinbase Pro, Bitfinex, Kraken, KuCoin, Poloniex, eToro, Bittrex, Bitstamp, and many more.
Who Owns Delta App?
---
Delta App is owned by one of the largest crypto exchanges in the world – eToro.
EToro bought Delta in November 2019, two years after the platform's official launch.
Delta Investment Tracker Supported Countries
---
The Delta crypto tracker is available in almost every country in the world, except in those that have entirely banned crypto trading.
For example, these countries include China, Nigeria, Nepal, Ecuador, Bolivia, Algeria, and others.
How to Open a Delta Investment Tracker Account
---
You can open up a Delta account by going to their official website and using the download links.
After creating an account, you can connect your specific wallets and exchanges, just be careful when picking the import methodology.
Pros and Cons of Using Delta App
---
FAQs
---
PROS
7,000+ supported cryptos
Personalized notifications
Ability to track traditional investments as well
Simple interface and great design
Advanced features even in the free version
300+ supported exchanges
CONS
Delta Pro version is a bit expensive
No trading capabilities within the app

CaptainAltcoin's writers and guest post authors may or may not have a vested interest in any of the mentioned projects and businesses. None of the content on CaptainAltcoin is investment advice nor is it a replacement for advice from a certified financial planner. The views expressed in this article are those of the author and do not necessarily reflect the official policy or position of CaptainAltcoin.com