BingX Review – Is BingX.com Copy Trading Any Good?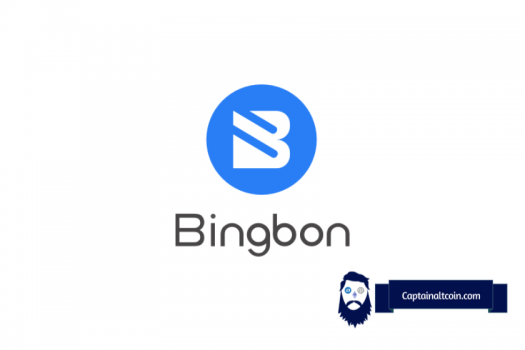 BingX Review – Is BingX.com Copy Trading Any Good?
Great for newbies
Good for experienced traders with an option to earn profit from your follower's earnings, it is certainly a great way to boost your profits while trading as well
Competitive fees
What is BingX (formerly Bingbon)?
---
In the bustling landscape of cryptocurrency trading, BingX has emerged as a platform of interest for many investors. This BingX review aims to provide a comprehensive look at what the platform offers, answering key questions like "Is BingX legit?" and "Is BingX safe?" that are on the minds of potential users.
We'll delve into the specifics of BingX's unique features, such as BingX copy trading, and provide an in-depth analysis to help you understand if this platform aligns with your trading goals. So, if you've found yourself intrigued by BingX, or have come across BingX.com reviews and want to learn more, this article is your one-stop resource for all things BingX.
You may like to do some trading, or you might be interested in social media. These days we have seen the crypto interest on Twitter a lot, people sharing tips with each other is something we are used to by now. We are talking about a place that has both trading AND social media all on the same platform. This is what BingX is known for. They are a trading platform but also they allow people to have profiles and share their trades and their success as well.
This method allows people who are great at trading to boost their profile and prove that they are great at it, and allow them to gain reputation. While others could follow those people and make the same trades those people do in order to profit. While allowing some sort of community growing around not just the cryptocurrency exchange but also the people in it, Bingbon also leaves the door open for newbies to learn from the best as well.
| Content | Details |
| --- | --- |
| 💰 Pricing | BingX offers competitive fees for trading. Takers are charged a fee of 0.05% per order, while makers are charged 0.02%. There are no fees for depositing cryptocurrencies into trading accounts. However, fees may apply when transferring fiat currency to cryptocurrency based on the deposit method and the selected third-party provider. Withdrawal fees are only the network fees, which are paid to the relevant crypto/blockchain miners and not to the exchange. |
| 📋 Features | BingX provides a range of features including Copy Trading, Spot Trading, Futures Trading, Convert, Grid Trading, and VST Trading. The Copy Trading feature allows users to automatically replicate trades made by well-known traders. Spot Trading allows users to buy or sell cryptocurrencies in real time. Futures Trading provides a robust crypto margin platform, which includes derivatives and futures that are available with leverage of up to 125x. The Convert feature is touted as the "most straightforward way to trade". Grid Trading is an automated trading bot that operates 24/7 and captures any potential profits. VST Trading offers a demo trading currency called VST, which is a great way to support demo trading. |
| 👍 Pros | BingX offers access to a Copy Trading Platform, availability of a Demo Account, high leverage for selected assets, well-integrated trading platforms, economical crypto trading with maximum fees capped at 0.2%, derivatives and leveraged margin markets with up to 125x leverage, and 24/7 live chat support. |
| 👎 Cons | Traders from the US are prohibited. Trading with fiat currency is not supported, only third-party purchases. The exchange's security information is not comprehensive enough. There is limited information on the storage and security measures for assets. Crypto-to-crypto transactions are limited to USDT trading pairs. |
| 🛡️ Security | BingX emphasizes the importance of reliability and security and has implemented various measures to ensure the platform's security. These measures include two-factor authentication (2FA) verification, bank-grade custody solutions, regular operation and maintenance reviews, partnership with SlowMist for real-time security monitoring and response services, and an insurance fund mechanism to protect users against potential losses due to unexpected events. |
Being another exchange based in Singapore (the best place legally to start an exchange) Bingbon allows both futures trading and spot at the same time. You could check any profile open to the public and see what type of trades they are doing and if it fits into your mindset of how to trade and they are doing it better than you, then you could both follow their trades and also connect with them as well. It is a crypto exchange and Twitter combined in one place.
Bingbon has recently rebranded to BingX, but I will still use the name Bingbon in this article since it is widely known among traders.
Services & Features
---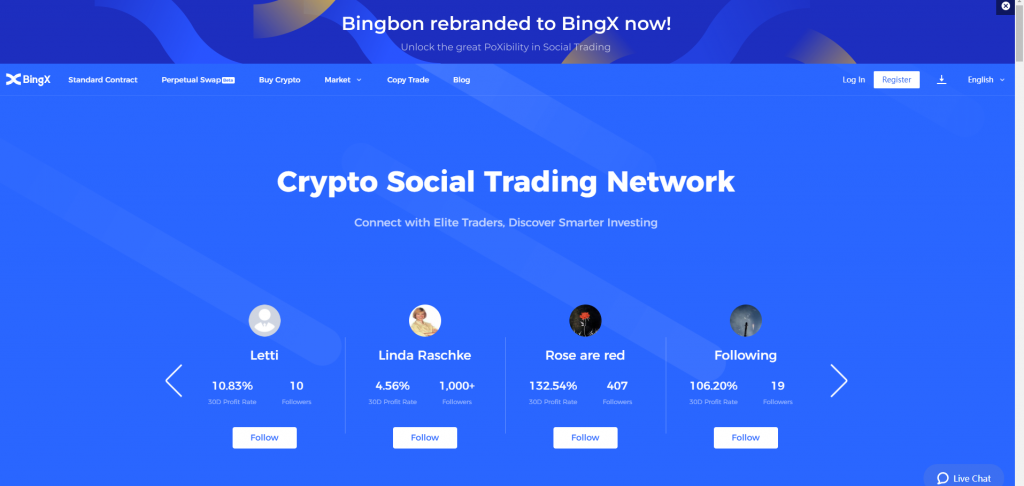 Buy crypto
---
They are offering an instant swap system where anyone who would like to trade without the need of a market could go and instantly turn their crypto into fiat or fiat into crypto (or stablecoins). That way people could always save time and wouldn't need to follow the markets all that much since it is only for urgent instant purchases and not for trading purposes.
Spot exchange
---
As it is usual with any exchange, BingBon offers spot trading as well, even though they are not known for their spot exchange, it is still one of their highest volume crypto markets since its spot trading. As a place mainly known for its options trading, its spot trading doesn't even get listed in Coinmarketcap.
If you are only looking for social trading in spot exchanges we would suggest looking for another place listed a bit higher or at least listed in CMC. However, if you are here for perpetual or futures and you want to use spot trading meanwhile, then the spot exchange part is good enough to not deter anyone from changing crypto exchanges.
Please check also Coinmatics, another copytrading platform that is getting some traction in the crypto world.
Futures trading
---
Futures trading is a bit better, they have good leverages and so far it is a growing market. Not the best futures trading experience ever and their trading volumes are not the best, but they do cover that differences with features.
They have a trading view package where you could allow a TradingView chart that you establish to do your trading and you could check it to make your own trades as well. Instead of having their own charts, they have opted for this alternative in order to appease everyone including hardcore veteran traders. Which allows them to attract more traders.
Perpetual
---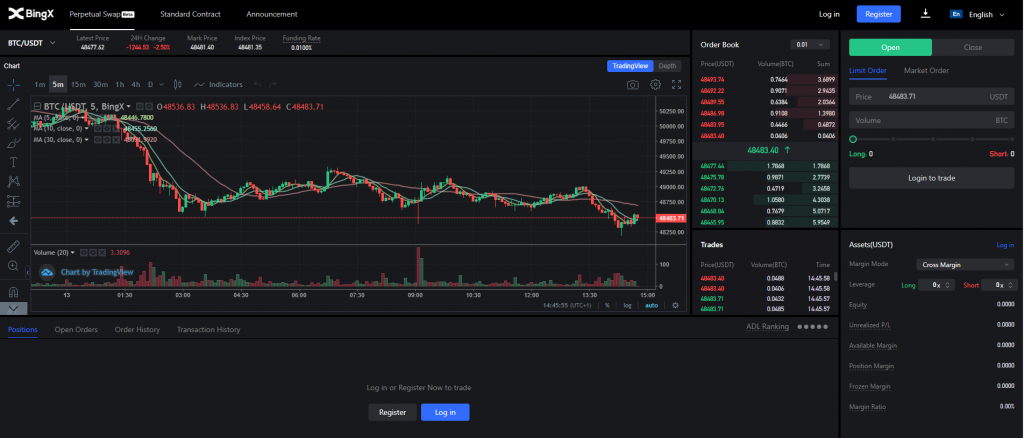 Perpetuals are what BingBon is known for the most. There are around 4 billion dollars and they are in the top 10 places according to Coinmarketcap in the perpetual market. Being top 10 in perpetual is no small feet. Just to make calculations, 4 billion dollars daily volume equals the volume of 15th through 20th place all combined totals.
So it is clear that people love to trade perpetual at BingBon by far more than many other places. Being a social platform, most people share their perpetual trading success as well (and try to hide their failed trades). This means that if you are good at trading in this market, you could gain some recognition and become famous as well.
Copy-trading
---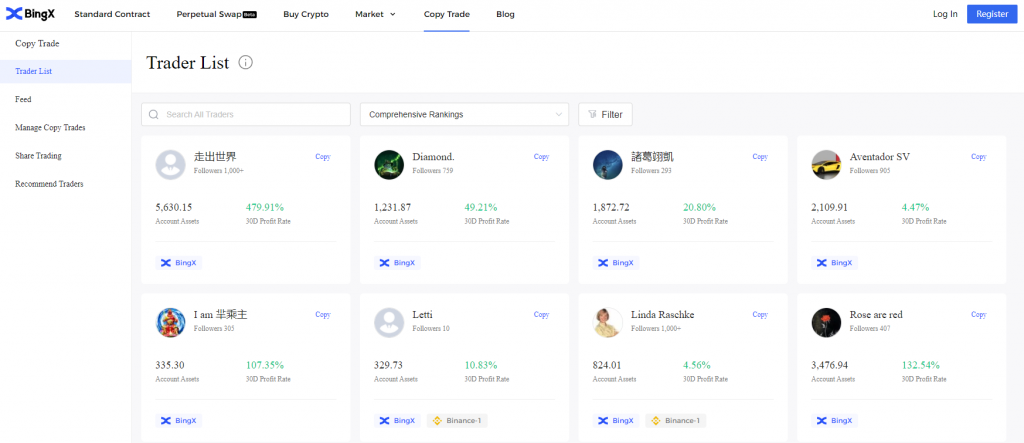 Copy trading is basically leaving your results up to someone else that you trust without needing to trust them with your money. Have you ever got an offer from someone saying they will trade with your money and only take a profit from it? Did you feel like they could take your money and leave?
Well, fear no more because copy trading means that you could leave the faith of your crypto in the hands of someone else, someone that has proven time and time again that they know what they are doing and still not fearing they may steal your money.
Your crypto will be in your account, without ever exchanging hands and will simply copy the trades someone else does in order to profit from their experience. Certainly, a feature that newbies would love to use because it allows them to make the same trades as a veteran trader does, and instantly as well without needing to be online.
BingX supported coins
---
Bingbon does offer a lot of cryptos to trade, both on their spot exchange but also on their perpetual as well. This is not unique and it doesn't stand out all that much compared to other top 10 ranked centralized and decentralized exchanges. However, one thing is very unique about Bingbon that you may not see in other places; they allow you to invest in other things as well.
From forex pairs to assets such as oil and gold, from SP500 to other stock markets all around the world, Bingbon allows people to invest in many other assets using only crypto if they want to. A rare thing to achieve in crypto, we are talking about a unique approach to investment as well. This allows them to cater to any crypto investor out there, but also investors who would like to invest in other things using their cryptocurrencies.
BingX deposits & withdrawals
---
Most places try to not scare away any investors by putting any deposit limitations. However, Bingbon is not like those places. Even though it is a tiny amount, there is a minimum to deposit such as Bitcoin 0.0002 or for ETH 0.01 and for USDT/USDC it is just $1. So it is quite a low amount and not a bother for most people since you deposit at least that much when you want to trade.
It also has credit card and debit card options available as well. This means you could directly buy crypto with your cards if you want to. Any SEPA-connected bank account owner could also wire transfer fiat to purchase crypto as well. This allows people to not deposit crypto but purchase crypto with fiat as well.
Certainly not unique but definitely a great positive for anyone who wants to get into crypto. However you need to be careful about the rates, it sometimes rises up way too higher than what the exchange rate of coins could be. This may result in paying as high as %10 more than what the rate is, so it is not an advisable method but you can consider it as a charge for ease of purchasing crypto so quickly.
Withdrawals on the other hand look to be quite cheap. With a $20 ETH-ERC20 withdrawal fee, it is one of the cheapest ERC20 withdrawal fees in the market right now ETH itself has a 0.007 ETH withdrawal fee and BTC has a 0.0005 fee. All of which are among the cheapest in the high volume exchanges.
Bingbon Trading Fees
---


Contract trading fees have a spread of %0.02-0.1 which is not too bad. Considering the insurance involved with them, it is once again a good amount of spread and the volatility is usually high enough to keep the spread low.
With a %0.045 trading fee, it is certainly low enough for investors to like, and a high enough volume to keep this a profitable business for Bingbon altogether. This rate will eventually reach %0.075 when the marketing period for lower fees ends. Investors are welcome to take advantage of the low fee period to test the exchange before it goes up.
Copy-trading on the other hand has a profit share ratio. This means whoever you are following gets a cut from the profits if they help you earn from trading. This rate changes based on who you follow, there are people who offer with %0 in order to gain more followers, and there are ones who ask as high as %25. So this rate depends on who you copy and how much they are asking for. The only good side is that they get nothing if you earn nothing.
⚡️ Does BingX have mandatory KYC?
---
While it is not mandatory to register and follow others, in order to be able to trade you need to fill out the KYC form. Otherwise, BingBon doesn't allow you to trade for any amount. So this allows the social media part of it to be KYCless while the exchange part of it mandatory KYC in order to trade.
Does BingX have a demo trading account?
---
When you first register to BingBon you have credited a "fake" token called VSD. This way you do not have to deposit at all to try and test how the system works. You could do spot trading, you could do perpetual, futures, copy trading. Anything you want to do, you could do with VSD.
This means you could be a newbie, unsure about going into crypto, register here, fill out the KYC form, and use that 100k VSD to fail as much as you want until you get better and learn. Afterward, you could purchase real crypto with your credit card and start to trade for real. Another marvelous feature for people who would like to get into crypto for the first time.
How does BingX CopyTrade work?
---
When you register to Bingbon you will realize see a "copy trade" button at the top that you can now use. There you will see a lot of people who share their successes or failures.
It is ranked based on how they have done so far and when you go into their profiles you could see their assets, their PnL, their 30-day return, max drawdowns, and even the total earnings of their followers as well. All the information that you need in order to pick who to follow will be in their profile. When you decide which one to follow and copy, the rest is quite easy.
How to Copy Successful Traders
---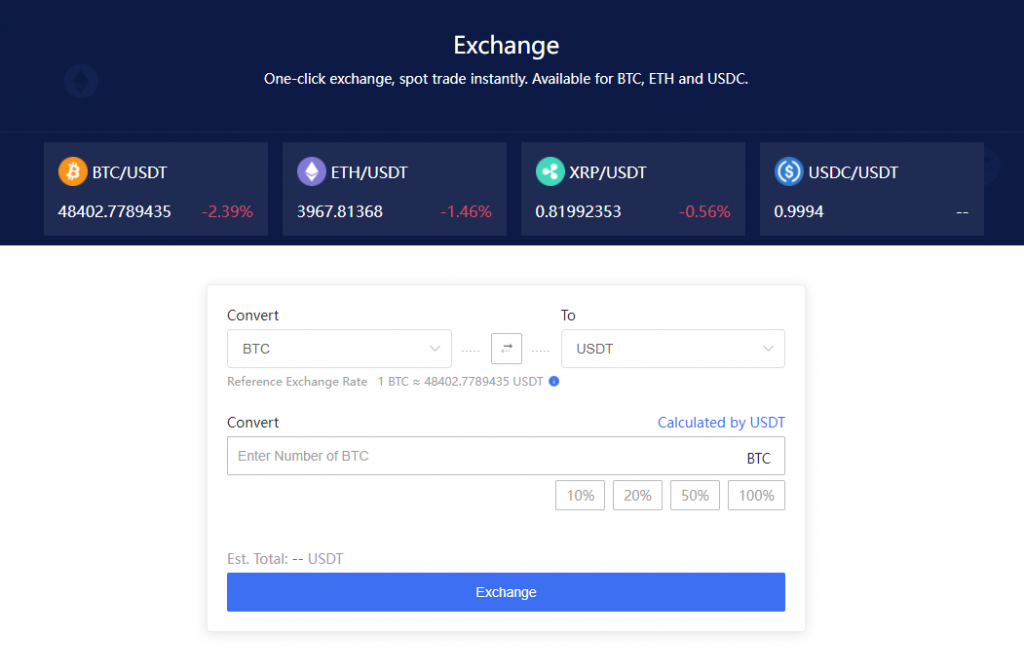 After you select who to follow, you need to click on copy. This will redirect you to a configuration page because you may not want to copy 1to1 and may want to do some changes. You could pick if you would like to copy with how much amount when you want to get out if you lose, how much you would like to earn and stop, if you want a fixed margin rate or based on your funds.
Basically, you configure it depending on how much you want to risk and what you can afford. Afterward, you click confirm and the system will make the same trades your followed trader does but with amounts and rates that you are feeling more comfortable with.
Bingbon supported countries
---
BingBon is based in Singapore but they are available in almost every nation that allows crypto exchanges. They are also heavily invested in the Asian market specifically South Asia and Japan. If your nation doesn't see crypto trading as illegal, then you can trade at Bingbon. Even though some other nations require licenses like Australia, BingBon managed to get licenses from Estonia (where they are registered but not based in), Australia, and even FinCEN for money services license.
Are US investors allowed on Bingbon?
---
Unfortunately, a license from FinCEN doesn't mean a license from SEC. This results in USA citizens not being allowed to trade in Bingbon. Certainly a letdown for many US citizens, however, they must be accustomed to finding out new exchanges only to learn they are not allowed to trade there. As long as SEC keeps requiring every exchange to get a license from them, the exchange world will mainly ignore the USA market.
Does Bingbon have a Native Token?
---
So far Bingbon doesn't have a Native Token for their exchange. This doesn't mean that they won't have any, and with a demo token, they have certainly laid the groundwork for a future token if they ever consider it.
Is Bingbon legit and safe?
---
With a "schrödinger's safety" situation going on with Bingbon, there is really no clear answer if we could call it a safe exchange. It is %100 legit and they are doing a great business so far to get their exchange to be in the top 10 for perpetual trading.
So there is no denying that they are doing a great job and fully legit. However, safety is a concern because there is not enough information regarding their safety methods. However, it has never created any problems or never been hacked so that means they look safe so far. This is why we call it a "schrödinger's safety", it is safe until you open the box (or if anything ever happens).
Conclusion
---
Bingbon is definitely a great place. If your plan is to only focus on spot exchange, you may not like to use this exchange. However, if you are planning on contracts, from copy trading to regular method, from crypto to stock markets and other assets, this place has it all.
It is certainly one of the most inclusive and wide varieties of selection exchanges in the world. Not just the amount of things you could trade, but also the ways you could trade as well. It is a vast exchange with a big network that everyone from very first-timers to decade-long traders could use and love.
Conclusion
In conclusion, BingX is a reliable and convenient crypto trading platform that allows users to trade various digital assets and traditional markets with ease. The platform's unique feature of social trading attracts users, enabling them to copy professional traders with just one click and automate their trades. With over 1,000 active traders to choose from, BingX provides a sufficient variety for users to emulate a trading style of their preference. Its built-in social trading feature, which allows users to subscribe to favorite traders and automatically copy their trades for a low fee, offers convenience.
Moreover, BingX has local offices in North America, Canada, the EU, Hong Kong, and Taiwan. Their affiliate program that offers legal entities who provide brokerage services in the cryptocurrency market an opportunity is also worth noting. Users can set limits on the amount they want to invest per trade hence minimizing risks. Overall, BingX is a trustworthy crypto trading platform that offers efficient and secure ways for its users to trade in the cryptocurrency markets.
If you are not fond of BingX, Make sure to check out our guides on other cryptocurrency exchanges:
FAQs
---
Deposits & Withdrawal Methods
8
PROS
Great for newbies
Good for experienced traders with an option to earn profit from your follower's earnings, it is certainly a great way to boost your profits while trading as well
Competitive fees
CONS
Copying trades of anyone you want. This leaves the door open for horrible traders to convince others to copy their trades
The limited number of crypto available for deposits

CaptainAltcoin's writers and guest post authors may or may not have a vested interest in any of the mentioned projects and businesses. None of the content on CaptainAltcoin is investment advice nor is it a replacement for advice from a certified financial planner. The views expressed in this article are those of the author and do not necessarily reflect the official policy or position of CaptainAltcoin.com