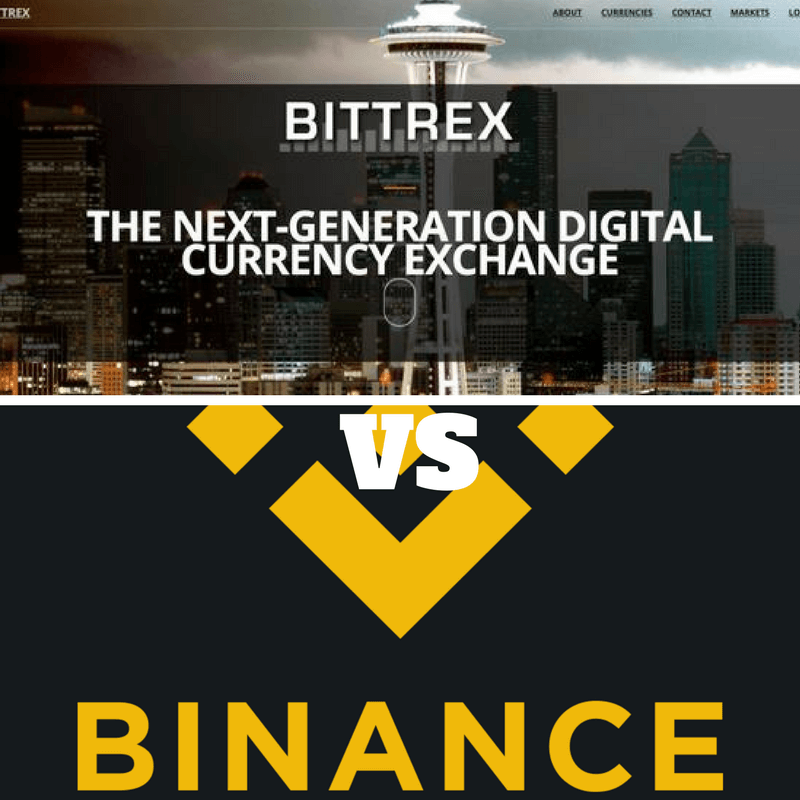 Bittrex used to be one of the most popular crypto exchanges in the world. Binance is the most popular crypto exchange nowadays.
Binance (Binary + Finance = Binance) used to purely crypto exchange. This means you could not trade fiat currencies such as EUR, USD or GBP. However, thanks to its incredible expansion, Binance does support fiat deposits, staking, margin trading, savings, DeFi staking etc. According to their white paper, Binance matching engine is capable of sustaining 1,400,000 orders / second, making Binance one of the fastest exchanges in the market today.
Lets compare Bittrex and Binance head to head.
Account opening and verification
Bittrex
To open an account at Bittrex you will have to go to link https://www.bittrex.com/Account/Register and enter your email and password. Click on Sing Up and in order to complete the registration process you will need to open your email and look for an email from "Bittrex Mailer" with the subject "Bittrex Account Verification".
After you have confirmed your email, you have to login to your account and then you will be sent to the Basic Verification page, where it displays a "Warning About Deposits" – Unverified accounts cannot withdraw from Bittrex. Here you need to fill you personal details such as full name, birth date, address etc.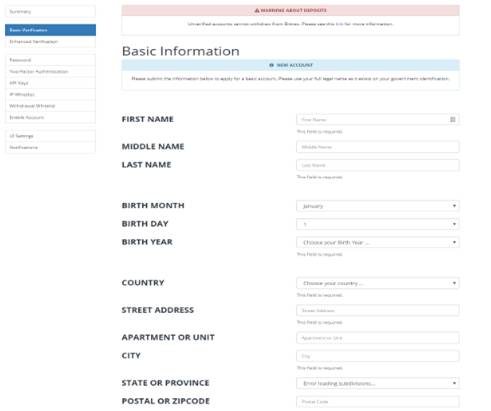 Then click on Submit and continue the sign up process by clicking the "Upgrade to Enhanced" verification. You will need to complete this step before being able to withdraw any funds. Enhanced verification requires you to take photos of your official government identification and a selfie to verify your identity.
Once you have submitted all information it will take a few minutes for the system to process your documents.
Binance
Registering on Binance is similar to the Bittrex registration process.
Go to the link and enter your email and password. Binance will send you a verification email.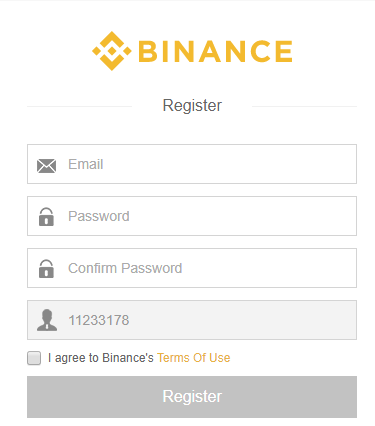 After that, just login to your account and you are able to deposit your crypto assets. The platform will inform you to enable a 2FA which will strongly suggest you do.
Withdrawal for unverified account is limited to 2 BTC in 24 hours, while verified accounts can withdraw up to 100 BTC per 24 hours.
Your account can be verified in the Account settings.


You can get even higher withdrawal amount, but you will have to contact Binance directly to make arrangements.
Compared to Bittrex, registering on Binance looks a lot easier as for most people 2 BTC daily limit should be more than enough.
The Fee Structure
Bittrex fee structure
According to their web site, Bittrex applies following fee structure:
Trades – All trades are charged .25% of the profits of the trade. This is calculated by taking the (amount * purchase price * .0025). Any portion of an order that has not execute, will be refunded fully upon the cancellation of the order.
Deposits – There are no fees for deposits. Please be aware that some coins require to move your funds to another address before Bittrex can credit them. This means the coins network will charge you the normal transaction fee for this send.
Withdraws – Binance intention is to not make any profits on withdraws. However, each coin has a network transfer fee that is built into the coin. This means that they must charge a small amount to cover this fee. You can view the fee for a coin by clicking the – next to the coin to bring up the withdraw window which shows the fee.
Binance fee structure
Binance's fee structure is divided into three categories:
Fee for trading:
– 0.1% trading fee
– If you own BNB, Binance will use your BNB to pay for transaction fees as default. A 50% discount is applied, when using BNB to pay transaction fees, which is 0.05%.
Fee for deposit is zero.
Fee for Withdrawal: For each coin there is minimum amount required for withdrawal and different fee applies. For instance, minimum withdrawal amount for Bitcoin (BTC) is 0.002 and transaction fee is 0.001 BTC. Or minimum withdrawal amount for NEO is 1 and fee is equal to zero. Also withdrawal fee for GAS is zero. The withdrawal fee are adjusted according to the blockchain conditions on regular basis.
In February 2018, Binance announced that they want to show their gratitude for users' unwavering support throughout the upgrade process and Binance will provide all users with a 70% discount on trading fees (0.03% on all trades, 0.015% with BNB) from 2018/02/09 to 2018/02/24 00:00 AM (UTC).
It is easy to conclude that Binance has significantly lower fees on trading, additionally if you are using Binance token (BNB) to pay for your fee you will get 50 percent discount, meaning your fee will be 0.05%.
User Interface
Bittrex
The Bittrex's UI looks quite simple, with different options chart, massive number of studies and tools to help you make better decisions, trading book, order book and market history.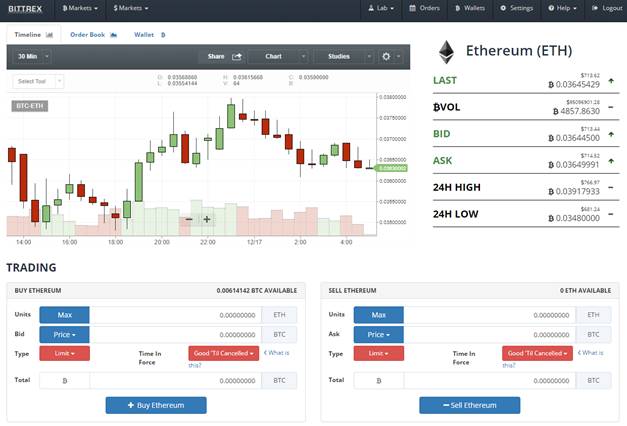 Despite all of that, you can find many users complaining on Bittrex UI. They are complaining that you have to scroll up and down all the time so see key chart and order book details, can't see the order book graph and timeline at the same time, no notion of notifications of when your trades execute, If you cancel an order, you need to refresh the page before placing a new one or it gives errors and losing your chart drawings, etc.
Binance
There are two types of User Interfaces on Binance, basic and advanced. In the basic version of UI, you can see currency pairs trading, graphs and charts, trade history and order book.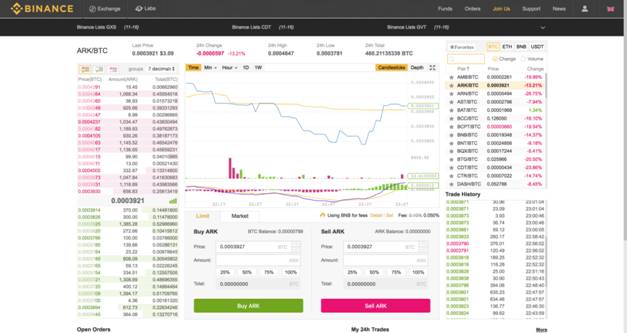 In the advance version, you can also see currency pairs, open orders, trade history, but the advanced version offers more-in-depth technical analysis of crypto assets value over time.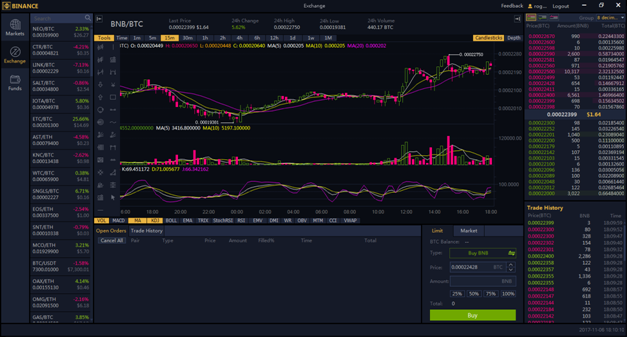 Binance offers a more detailed view compared to Bittrex. It looks more complex for the beginners as it offers much more option and boxes.
Daily Trading and Coins Supported
Bittrex
According to their web site, to help drive innovation in the blockchain industry, Bittrex is committed to supporting both new and established blockchains. Bittrex seeks to provide its users with an ever-growing selection of blockchain technologies and digital tokens.
There are two main reviews that Bittrex completes before a token may be listed on the Exchange:
Preliminary Review: This is an initial review to determine whether a token that seeks to be listed on the Bittrex Exchange should proceed through the full listing process. A Bittrex employee will notify you if your token has been selected to undergo the Full Listing Review.
Full Listing Review: This is a more in-depth review of the token. Bittrex requests certain documentation through this process, including an executed Non-Disclosure Agreement and Listing Agreement. A committee comprised of Bittrex employees will determine if the token meets the Exchange's robust criteria, and whether it will be listed on the Exchange. As part of this review, Bittrex may consult with outside advisors.
Bittrex does not currently charge a fee for listing a token on our Exchange. They believe in promoting the blockchain industry, and they have spent, and will continue to invest, significant resources to review tokens for listing on our Exchange.
At the time of writing, according to the web site CoinMarketCap, there are 271 trading pairs supported by Bittrex. Currently Bittrex is standing on 8th place based on daily trading volume of $463,921,825.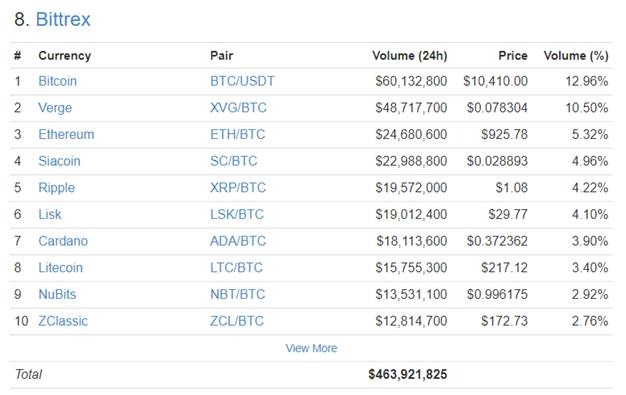 Binance
If you are looking to list a coin on Binance, there is a team dedicated to reviewing applications for new tokens to list on Binance. If you would like to list your Token, you can have a look at guide for how to make an application if you visit the following link https://support.binance.com/hc/en-us/articles/115000822512-Listing-a-Coin-on-Binance-com.
At the time of writing, according to the web site CoinMarketCap, there are 267 trading pairs supported by Binance. Currently Binance is standing on the 1th place based on daily trading volume of more than $2 billion.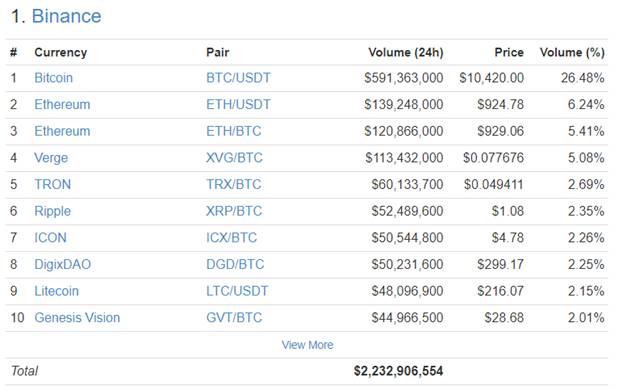 Bittrex has more currency pairs you can trade with, but Binance has bigger liquidity pool looking at the daily trading volume. Also, keep in mind that Bittrex was launched in 2014, while Binance was launched only in 2017 after an ICO.
Accessibility
Both exchanges are web based. But, unlike Bittrex, Binance has fully functional mobile app for Android and Windows. There is also a Beta version for iOS.
If you are looking to trade on the go, Binance is your definitive choice.
Conclusion
After comparing some of the crucial factors on the two popular exchanges, we can easily conclude that Binance is more modern and more accessible platform of the two.
You do not need to go through rigid account verification process to withdraw coins from Binance as 2 BTC per 24 hours is more than enough for majority of individual users.
Binance has lower fees compared to Bittrex. Trading fee of 0.1% and possible additional discount of 50 percent if you are using Binance token to pay your fee is more than attractive compared to Bittrex 0.25% trading fee.
Binance's user interface may look more complex for beginners, but after the adjustment time it will provide users with more information and tools needed for quick and well informed actions. Bittrex has a fairly solid UI but the general overview lacks improvement. The lack of mobile app is another big minus for Bittrex.
Bittrex has more currency pairs you can trade with, but Binance has bigger liquidity pool looking at the daily trading volume. Also, keep in mind that Bittrex was launched in 2014, while Binance was launched only in 2017 after a successful ICO.
Other exchanges compared:
exchange comparisons
Make sure to check comparisons we made between some of the most known exchanges:

CaptainAltcoin's writers and guest post authors may or may not have a vested interest in any of the mentioned projects and businesses. None of the content on CaptainAltcoin is investment advice nor is it a replacement for advice from a certified financial planner. The views expressed in this article are those of the author and do not necessarily reflect the official policy or position of CaptainAltcoin.com