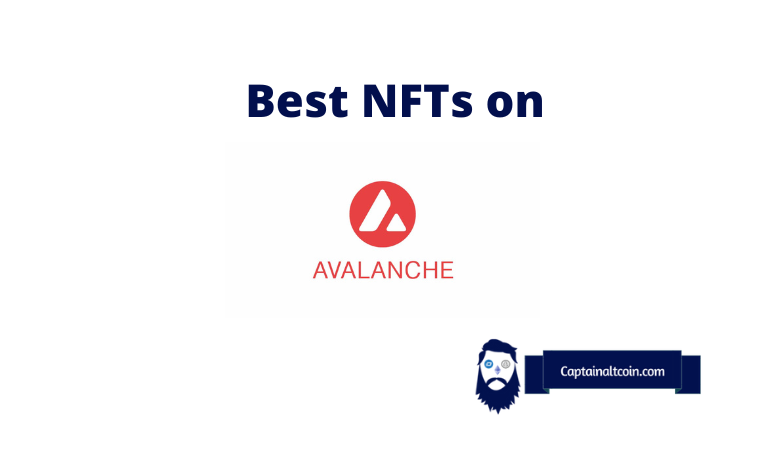 NFTs are becoming a staple in the world of cryptocurrencies and are gaining more and more traction with each passing day. With more and more different blockchain platforms emerging, users are provided with safe ecosystems teeming with new opportunities to make a fortune.
If you are interested in NFTs and everything that comes with them, especially the opportunity to make some money, the Avalanche blockchain might just be the thing you were looking for. Here we will go over some of the NFT projects that are on the Avalanche blockchain, so if you are interested, let's begin the review.
Best NFT projects on Avalanche blockchain
---
Avalanche is a blockchain network designed to be a decentralized network that is available to anyone regardless of where they live. The platform itself is very safe and secure, while the developers refer to it as the "platform of platforms." Avalanche being an open, programmable smart contracts platform, gives way to the creation of many decentralized applications. Here we will talk about the best NFT projects that are based on the Avalanche blockchain, so without further ado, let's begin.
CryptoDappers
---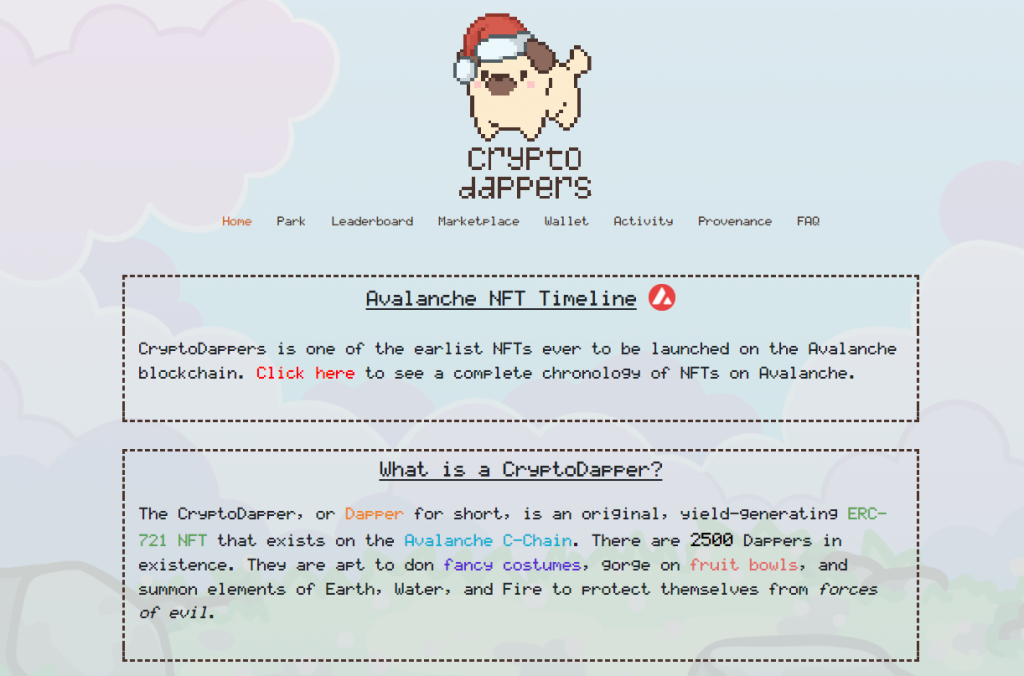 First, let's talk about CryptoDappers. CryptoDappers is part of the group of NFT projects that were one of the first to come on the Avalanche blockchain. But what is a CryptoDapper? CryptoDapper, also known as Dapper for short, is a yield-generating ERC-721 NFT that is based on the Avalanche C-Chain. It is an original idea, and currently, there are 2500 Dappers that exist.
Dappers are distinguished by the different costumes that are available for them as well as many different aspects. There are a lot of different categories they can be classified in. First of all, there are a lot of different breeds from an Australian Shepherd to Beagle, even a wolf, and a fox, so there is something for everyone. Furthermore, they are divided into rarity categories: common, uncommon, rare, epic, legendary, mythic, and spectral, being the highest.
To acquire a CryptoDapper, you can get them from a companion vending machine in a gacha like a system every eight hours or through a marketplace.
Elk Moose NFTs
---
Next, there are Moose NFTs. Moose are NFTs that are native to Elk Finance. Moose are not your everyday NFTs, with them, you can receive $ELK airdrops, gain exclusive access, gain experience, and they are necessary for the process of running mainnet nodes.
By owning a Moose, you gain quite a bit of benefit and options. First, Moose NFTs will be used to operate paranodes on the upcoming Elk mainnet by staking them on the supported network of your choice with the goal of creating a proxy token. Furthermore, as a moose holder, you are given priority access to promotions and special events. Additionally, depending on your liquidity score, you will get trading and farming benefits. Lastly, there will be $ELK airdrops with every future chain launch so keep an eye out for that.
AvaxApes
---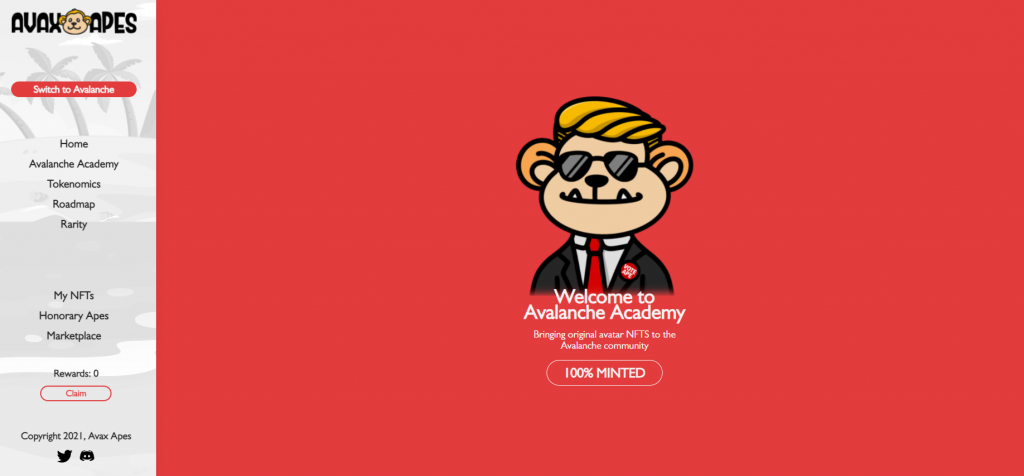 AvaxApes are NFTs based on the Avalanche blockchain. The creators say that AvaxApes are bringing original avatar NFTs to the Avalanche community. There is an Avalanche Academy where there is no dress code and where every ape is welcome regardless of their outfit. That being said, some of the apes have better outfits than others. What this refers to are the different rarities that the AvaxApe NFTs can possess.
Every AvaxApe has a score that goes from 3 all the way to 13. Depending on the maximum score, that is the combination of all attribute scores; your AvaxApe is assigned a certain ranking as well as a background color. Consequently, the rarer the item or the feature of the AvaxApe, for example, something like an astronaut suit is better than a simple bandana, the higher it will score overall.
Furthermore, the platform uses a reflection minting system which provides Ape holders with AVAX. This is achieved by giving 10% of every minting fee back to the AvaxApe holders that can be claimed whenever. Lastly, original minters earn an additional 1% royalty fee whenever their AvaxApe is resold, while 3% of every sale is given back and shared amongst all AvaxApe holders.
ChiknFarm
---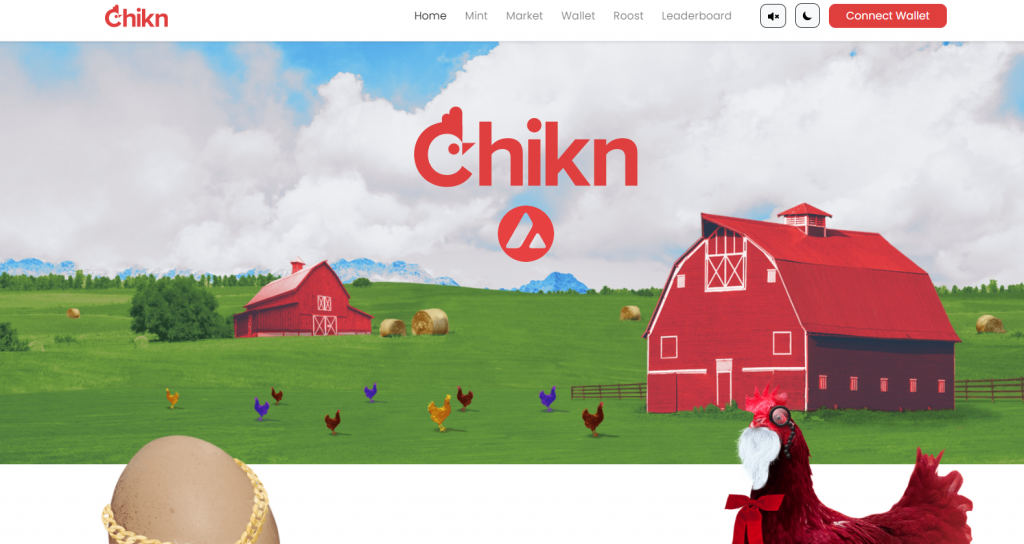 ChiknFarm is an ecosystem that is built and operates around Chikn NFTs. Chikn is 10000 "algorithmically generated, unique NFTs that lay eggs." As the creators state, Chikn is extending the utility of Public Minting, they provide a Marketplace and Farming for emerging NFT+Token creators on the Avalanche blockchain.
Basically, the Chikn is an upgradable NFT that lays eggs for you. These eggs represent the governance and utility tokens of the platform. You can either use them, sell them or hodl them, it is completely up to you. Furthermore, there is also $feed which is acquired from the chikn.farm and can be used to feed your Chikn, or you can sell it on the marketplace. Additionally, for you to be able to farm $feed, you need $egg LP tokens. Lastly, $feed permanently increases the size of your Chikn, and bigger Chikn lay more eggs.
AVAXCELLS
---


AvaxCells is a project on the Avalanche blockchain that offers a platform where you can acquire your own AvaxCells, train them for combat, and battle other players one on one to achieve rewards and, most importantly, have fun.
When you create your own AvaxCell, you have eight different elements as options: fire special, water special, natural special, earth special, electric special, light special, arcane special, and dark special. AvaxCells have different rarities: common cells, special cells, rare cells, epic cells, and legendary cells. It goes without saying that when you are creating the cells, you want them to be legendary, but keep in mind there is only 1% of cells have a legendary rarity.
Avaware
---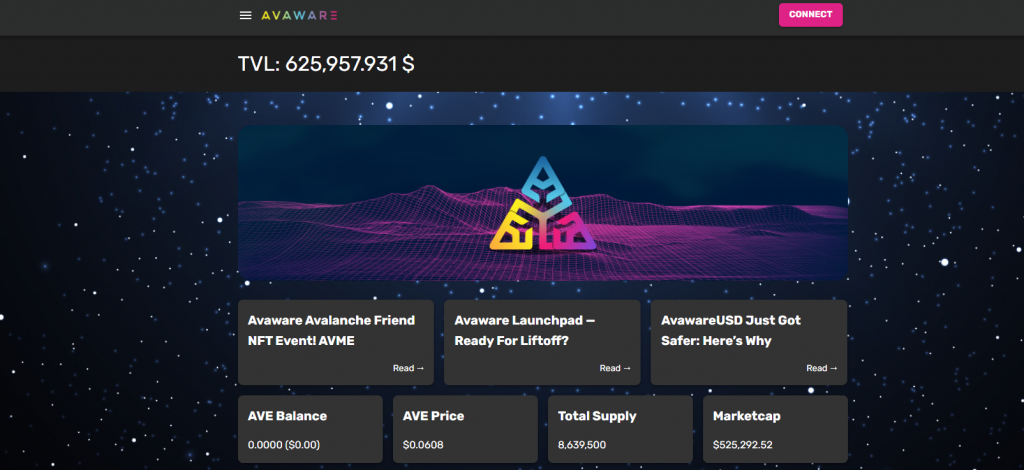 Avaware is a DeFi platform that consists of many projects that are built on the Avalanche network. When it comes to NFTs, it is, as the creators say, quite "flexible." They can handle anything from simple NFT launches to whitelisted private sales for their partners. The platform Stable Token called AUSD is backed up by many different Stable Coins, which provide the platform with the ability to pin NFT sales to a fixed amount.
What this does is it gives way to opportunities for buying and selling, providing the possibility to raise funds for projects and artists that are in need of additional funds.
Citizens of Avax
---
Citizens of Avax is a project that consists of 10000 distinctively generated avatars. Each and every avatar has special traits that consist of elements and items, some better than others.
Citizens of Avax NFTs provide its owner's Citizenship. The project offers several different tribes you can be a part of. The aim of the creators is to provide the best possible quality NFT art to the users of the Avalanche blockchain. They pride themselves in their art and state that every item is custom designed by their experienced team of designers.
DefiDinos
---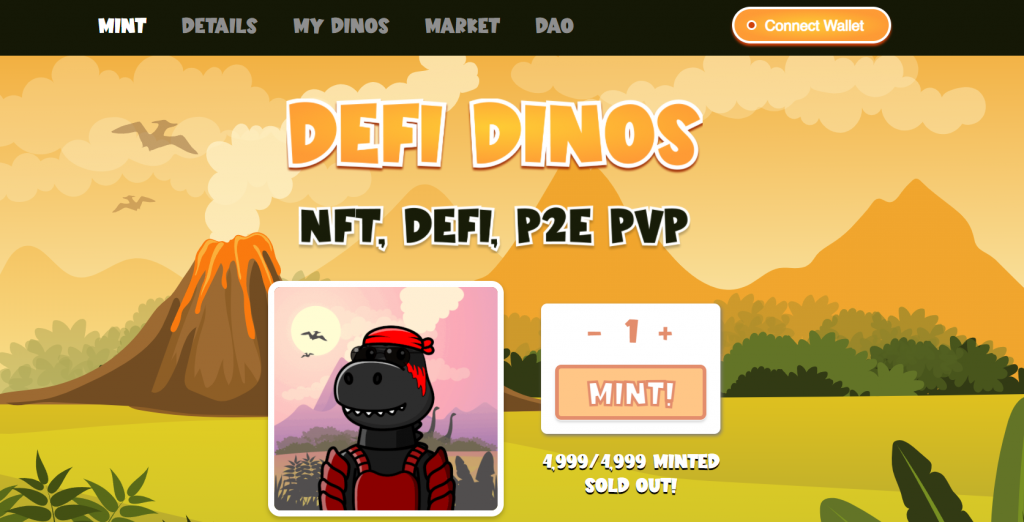 DefiDinos is a project based on the Avalanche blockchain that brings a fun battle-type game where you fight other Dions with your own. Through the PvP battles, you can earn $DXP upon winning and use them you strengthen and level up your Dino to help you continue winning more and more fights. Keep in mind that the higher the level of your Dino, the more $DXP it will earn for you in the end.
Furthermore, there is a point system to determine the tier of your Dinos. As you can probably already tell, the more points your Dino has, the better. If you get enough points, you can get your Dino into the legendary tier. The point system is divided into five parts, each trait having 5 points, making it go from 5 to 25. Lastly, there are also a few mythical Dinos that you can get if you are lucky enough.
dcrcRaceX
---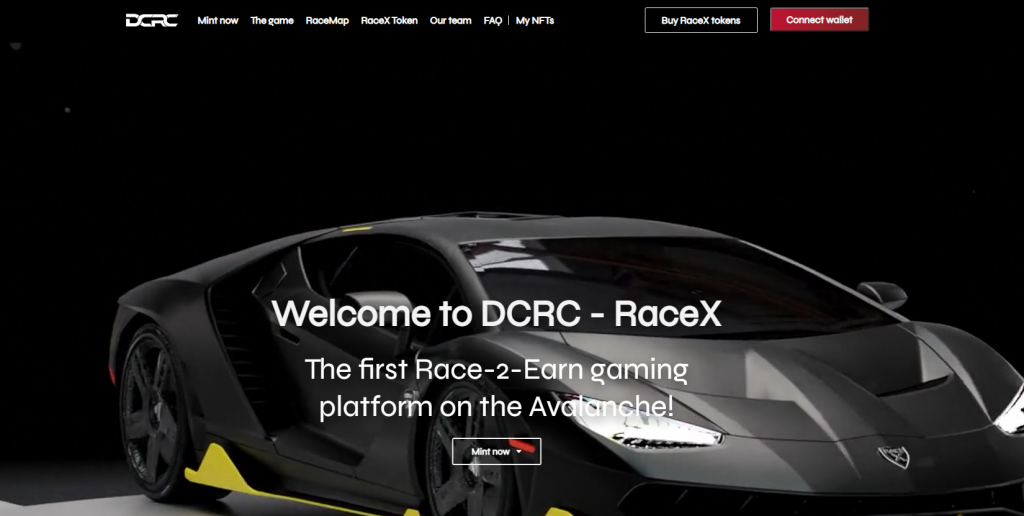 DCRC-RaceX is the pioneer on the Avalanche blockchain by bringing the first Race-2-Earn gaming platform to Avalanche users. The project will also be the first racing simulation to try and blur the line between real-world racing and virtual racing with the simulation engine being developed currently.
The RaceCar NFT holders will have an opportunity to play with a representation of the identical car in the simulation giving users benefits from Race-2-Earn features. The cars will be upgradable in-game using burn and re-mint, adding body kits, changing color, changing the wheels or the tires of your car. Additionally, you can also upgrade the performance of your car.
ClubDegenAvax
---
ClubDegen is a project that is focused on the community with the goal of providing the readers informative, entertaining as well as reliable content related to the Avalanche blockchain on social media as well as a discord server that you can join and keep yourself informed on a daily basis.
FAQs
---
Does AVAX have NFTs
---
Yes, Avax does have NFTs.
How do I buy NFT with AVAX
---
You can transfer your AVAX from your Avalanche wallet to the platform or project of your choice and buy the NFTs.
Read also:

CaptainAltcoin's writers and guest post authors may or may not have a vested interest in any of the mentioned projects and businesses. None of the content on CaptainAltcoin is investment advice nor is it a replacement for advice from a certified financial planner. The views expressed in this article are those of the author and do not necessarily reflect the official policy or position of CaptainAltcoin.com