Webull vs Coinbase: Intro
---
Choosing the right crypto exchange is probably one of the most difficult things every crypto investor and trade has to go through. However, the good thing is that they can now choose between various exchanges since the offer is quite big.
In this article, we will compare two of the largest crypto exchanges in the US – Webull, and Coinbase. Without further ado, let's jump into details.
Webull vs. Coinbase: Which Crypto Exchange Is Right for You?
---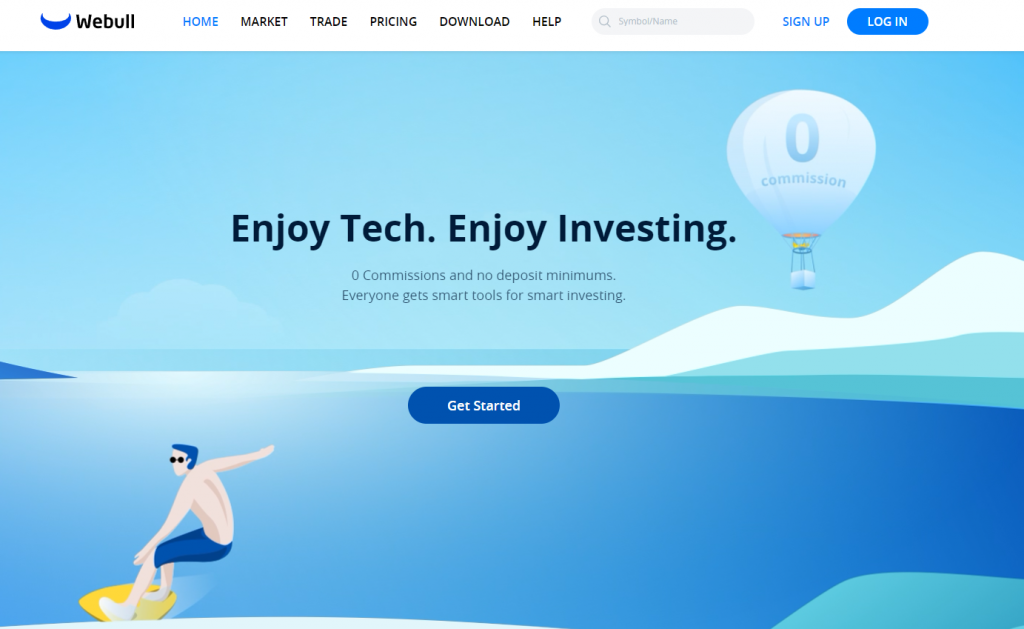 If you are searching for an exchange, Webull and Coinbase are definitely the ones you should look at. The similarities between the two include a beginner-friendly design, excellent mobile applications, and reasonable trading fees.
Webull is not only a crypto platform, it is also a brokerage that lets you buy stocks. On the other hand, Coinbase is focused only on crypto and it allows crypto withdrawals while Webull doesn't. I do believe that after reading this article you will have a clear picture of which crypto exchange is better for you – Webull or Coinbase.
Webull vs. Coinbase At a glance: The main differences
---
Webull and Coinbase have their differences, so let's look at the table below to understand them better.
| | | |
| --- | --- | --- |
| Main comparison | Webull | Coinbase |
| Year founded | 2017 | 2012 |
| Fiat currency supported | EUR, USD, GBP, JPY, CHF, AUD, CAD, HKD, CNY, INR, CNH | USD, GBP, EUR |
| Minimum deposit | None | $2.00 |
| Countries supported | United States, India, Brazil, Turkey, the Philippines, Malaysia, Japan, China, Korea | 100+ |
| Headquarters | New York, USA | Wilmington, Delaware, USA |
| Withdrawal limit | None | $50,000 / day |
| Debit Card Purchase Fee | None | $3.99 |
| Margin Trading | Yes | No |
| Digital Wallet | No | Yes |
| Mobile App | Yes | Yes |
As you can see in the table, Webull is better in terms of withdrawal limit, debit card purchase fee, margin trading, and minimum deposit. On the other hand, Coinbase is in favor when it comes to a built-in digital wallet and the number of supported countries. Coinbase can definitely also offer longevity on the crypto market since it was launched in 2012 and is considered one of the oldest crypto platforms in the world.
Best For
---
As already mentioned above, Webull is also a brokerage platform so it is best for intermediate investors, stock buyers, active traders, margin traders, and cryptocurrency traders in general.
On the other hand, Coinbase is best for cryptocurrency traders looking for a beginner-friendly platform and traders who want to find an easy way to convert one cryptocurrency to another.
Pros & Cons of both platforms
---
Webull
---
✅ Pros
$0 stock and ETF commissions
No minimum or maximum deposit and withdrawal
Competitive margin fees
❌ Cons
Account types is limited
Lack of mutual funds
Coinbase
---
✅ Pros
On of the most popular crypto platforms in the world
Longevity on the crypto market – it has been around since 2012
Excellent mobile app
Built-in digital Coinbase Wallet
It offers a debit card
❌ Cons
High fees
Difficult to understand fee structure
Webull vs. Coinbase: Fees
---
Fees are something each crypto investor will look at before deciding which exchange to use. When you compare Webull and Coinbase fees, the vote clearly has to go to Webull.
Webull does not charge any fees on credit card purchases and it does not charge any trading fees. However, Webull charges a spread of 100 points which is equal to 1% so this is what you can expect in fees when you are buying and selling crypto on Webull.
Coinbase has a pretty complex trading fee structure since fees depend on your 30-day trading volume. Please look at the table below:
| | | |
| --- | --- | --- |
| Pricing Tier | Taker Fee | Maker Fee |
| Up to $10,000 | 0.50% | 0.50% |
| $10,000 to $50,000 | 0.35% | 0.35% |
| $50,000 to $100,000 | 0.25% | 0.15% |
| $100,000 to $1,000,000 | 0.20% | 0.10% |
| $1,000,000 to $10,000,000 | 0.18% | 0.08% |
But, to put this perspective into real numbers, let's compare a fee on a $1000 Bitcoin purchase.
| | |
| --- | --- |
| Crypto Exchange | FEE ON $1,000 BITCOIN PURCHASE |
| Webull | $10.00 |
| Coinbase | $14.90 |
Coinbase also charges a $1.49 fee on Bank transfers and a $3.99 fee on Credit card purchases while on Webull, you will not pay for any fees when you use credit cards and bank transfers.
Webull vs. Coinbase: Cryptos available
---
When it comes to the number of supported cryptocurrencies, the vote clearly goes to Coinbase, and it's not even close. Inexact numbers – Coinbase supports more than 100 cryptocurrencies while Webull supporters 11.
Even though Webull supports main cryptocurrencies such as Bitcoin and Ethereum, it lacks some of the popular ones such as Solana (SOL), Polkadot (DOT), Uniswap (UNI), Algorand (ALGO), and Internet Computer (IP). Furthermore, Webull does not support any stablecoins.
Webull vs Coinbase: Wallets
---
When it comes to wallets, Webull does not offer any kind of crypto wallets to its users. You are able to buy and sell crypto on the platform, but you can't store it or transfer it anywhere. To be honest, this is a big minus for Webull since you are not in full control of your assets.
On the other hand, Coinbase offers a non-custodial wallet that is widely considered as one of the most popular crypto wallets in the world with millions of users. A non-custodial wallet means that you as a user are in full control of your assets. Coinbase Wallet is a free-to-download app that you can use both on iOS and Android devices.
Please read our full review of the Coinbase Wallet.
Also, please read our review on the best Coinbase tax calculators.
Webull vs Coinbase: Security
---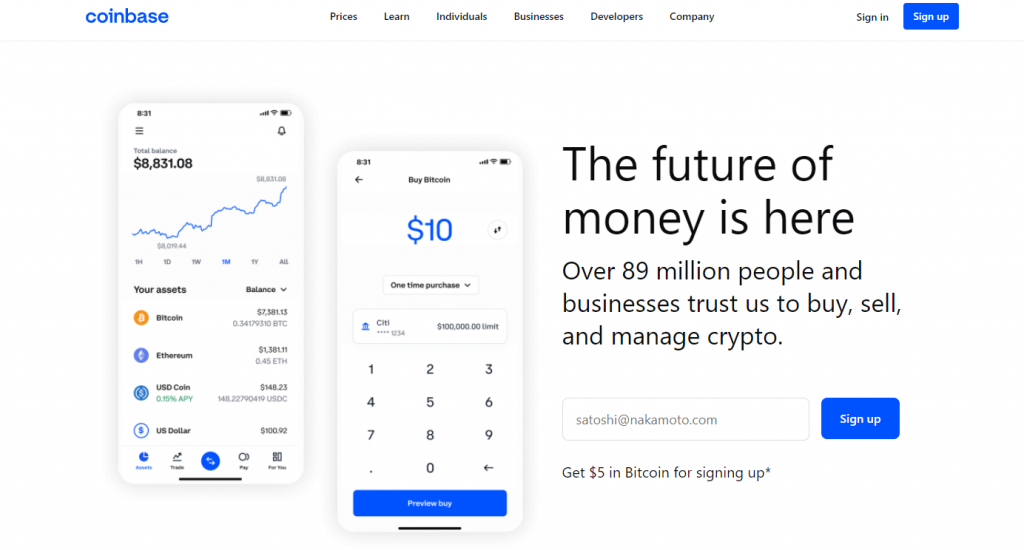 Both Webull and Coinbase are considered safe and secure crypto platforms. However, Coinbase offers more security since you are in full control of your crypto assets.
Webull has a partnership with a company called Apex Crypto for crypto transactions. This means that when you buy crypto on Webull, Apex Crypto executes that transaction and store those crypto funds. Even though Apex Crypto provides safe storage for your crypto, keep in mind that they do not have any insurance on crypto holdings.
Coinbase stores your crypto on its own. It reports that 98% of users' funds are stored in cold storage which means that they are stored offline which means that the security of your funds is on the highest possible level. For the remaining funds, Coinbase has insurance and this mix of cold storage and insurance has established Coinbase as one of the safest cryptocurrency exchanges.
Read also:
Final take
---
So, after all the investigation on Webull and Coinbase, it would be fair to give a final take. If you are a serious crypto investor and enthusiast, then Coinbase is definitely the platform you should look at. The variety of coins is a big advantage of Coinbase compared to Webull. Furthermore, Coinbase allows you to fully control your crypto, while Webull does not.
Webull offers various types of investing, so if you want to invest in stocks for example, and use one app for both stocks and crypto, then Webull is the platform for you.
Note: Keep in mind that these are only our opinions based on my thorough comparison of Webull and Coinbase. In any case, please do your own research before deciding which one to use.

CaptainAltcoin's writers and guest post authors may or may not have a vested interest in any of the mentioned projects and businesses. None of the content on CaptainAltcoin is investment advice nor is it a replacement for advice from a certified financial planner. The views expressed in this article are those of the author and do not necessarily reflect the official policy or position of CaptainAltcoin.com