PocketBitcoin Review – Fees, Supported Coins & Countries, Payment Methods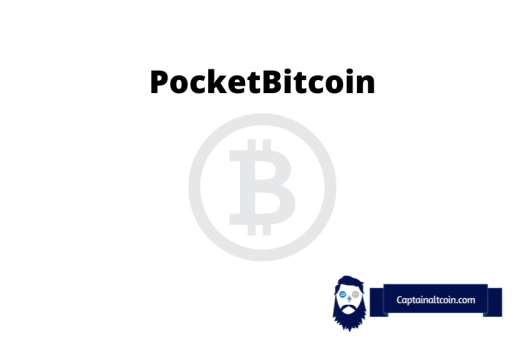 PocketBitcoin Review – Fees, Supported Coins & Countries, Payment Methods
You can buy Bitcoin without registration
Competitive fees
Bitcoin, the largest cryptocurrency in the world by market capitalization, was created by Satoshi Nakamoto in 2009 and has since seen dramatic changes in value as the price rises and falls frequently.
Recently, though, Bitcoin has gained its ground and has stabilized, with only a few mood swings from time to time. With a fixed supply and an increased amount of institutional interest, many expect it to keep rising. This has brought in more investors and traders who believe that Bitcoin is a sort of digital gold that can be a hedge against inflation and volatility in the future.

Sadly, though, this heightened interest has made Bitcoin (and crypto assets in general) a target for fraudsters who take advantage of their digital nature to swindle investors out of their hard-earned funds, 
To counteract this, many tools have been made that help investors keep, and hold on to their virtual currencies. This article will discuss one of them, Pocket Bitcoin, and consider how it can be of benefit to investors and traders alike.
WHAT IS POCKET BITCOIN?
---
Pocket Bitcoin is a tool that allows you to buy and store Bitcoin directly from your bank into any Bitcoin wallet of your choice.
Pocket Bitcoin has been confirmed by investors to be a very valuable tool because only you have access to your fund. It also supports automated recurring buys, giving you the liberty to stack up as many coins as you desire.

HOW DOES IT WORK?
---
It has a simple mechanism of action. You make payments directly from your bank and Pocket Bitcoin exchanges them automatically into Bitcoin. It doesn't stop there. It also sends it to any Bitcoin wallet you provide. That's all.
It can be used with no account registration, but you will need to register whenever you want to upgrade your transaction limits.
HOW TO GET STARTED?
---
As explained earlier, the platform doesn't make things complicated at all. All you have to do is follow a few steps, and you are done. First, though, you would need to set up a Bitcoin wallet. How do you do that?
There are a lot of wallets to choose from. Pick the one you prefer and install it on your phone or computer
You will be given a private key. It is your sole means of restoring the wallet if you lose your device. Keep it safe.
Transfer crypto to your wallet.

Your wallet is set up! Let's go back to Pocket Bitcoin and finish setting up our account
Go to the pocket bitcoin website and connect your preferred wallet to the website for payment.
Choose how you want to be notified (either by email or text message)
Set up your payment parameters (your bank account and the payment frequency).
SUPPORTED COUNTRIES
---
Currently, Pocket Bitcoin is available in 35 countries including Andorra, Belgium, Croatia, Estonia, Austria e.t.c
There are talks on the ground already to extend the services to 12 more countries in the future. Countries like Albania, Kosovo, Ukraine, Malta, Monaco, e.t.c.
SUPPORTED FIAT CURRENCIES
---
There are two fiat currencies supported on Pocket Bitcoin. The main supported fiat currency is Euros while the Swiss Franc is also supported.
FEES
---
The platform charges a flat fee of 1.5% for transactions. This is different from the network fees charged for transacting on the Bitcoin network. However, Pocket tries its best to make these fees as low as they can be. Most times, though, it all depends on the nature of the BTC network at that point
DEPOSITS AND WITHDRAWAL METHODS
---
In Pocket Bitcoin, deposits of money are made directly from your bank account and converted to Bitcoin currency. You don't stress much. Just connect your bank account and set the parameters, and you're good to go.
You can make two types of payments. It's either you pay at once and leave it at that, or you set up your account to make recurring buys at specific intervals. This method is known as Dollar-Cost Averaging and is a proven method to manage the risk of crypto investing over time.
However, there are limits to the purchase you can make without registration. You can purchase up to 900 Euros daily or 90,000 yearly. If you choose to use Swiss Franc instead, the limit is 1000 CHF daily or 100,000 CHF yearly.
If you wish to increase your transaction limits, all you will be asked to do is identify yourself in a short video call with pockets.
The call will take only a few minutes, and you will be asked only to provide an identity document.
WITHDRAWAL
---
Pocket Bitcoin does not allow you to withdraw into your bank account. It only helps you process payments from your bank account to convert your Euros and Swiss Franc to Bitcoin. It then withdraws the converted BTC into your provided Bitcoin wallet.
You can withdraw into any of the following options:
Your existing Bitcoin wallet, which you'll provide at the point of registration.
An OpenDime wallet. This is a USB drive that makes it easier for you to store and spend BTC.
A Trezor wallet, is a hardware wallet with distinction which gives you rest of mind that your coins won't be tampered with.
A Ledger wallet. Just like the Trezor wallet, this hardware wallet also keeps your BTC safe from hackers.
BitBox 02. It is another wallet that is popular among Bitcoin enthusiasts for its ease of use and it's security capabilities.
The Pocket Bitcoin website provides step-by-step guides to installing and connecting these wallets with your pocket account.
Read also:
WHICH WALLETS CAN I USE TO RECEIVE BITCOIN AFTER BUYING IT ON POCKETS?
---
Open dime Bitcoin stick
---
With this tool, those who do not have prior knowledge about Bitcoin but want to start anyway can save Bitcoin in small bits.
Hardware wallets
---
They have been hailed for their improved security features. Because they are completely air-gapped from the internet, they can hardly be hacked. Examples of wallets in this category are Trezor wallets and Ledger wallets.
Visit Trezor Now Visit Ledger Now
Bitcoin wallets
---
These wallets only support BTC deposits and transactions. An example is Bluewallet.

PROS
You can buy Bitcoin without registration
Competitive fees
CONS
The limited number of fiat currencies supported]
The limited number of supported wallets for withdrawal
No fiat withdrawals

CaptainAltcoin's writers and guest post authors may or may not have a vested interest in any of the mentioned projects and businesses. None of the content on CaptainAltcoin is investment advice nor is it a replacement for advice from a certified financial planner. The views expressed in this article are those of the author and do not necessarily reflect the official policy or position of CaptainAltcoin.com