IMPORTANT WARNINGS
---
Trying to deposit a non-supported token may result in the loss of tokens.
Send a small test amount first
Beware when choosing the network which you want to use for sending crypto
How to Withdraw Cryptocurrency on Binance
---
Go to the website Binance.com and you will see a register button at the top right corner. If you do not have an account at Binance, register to start your account. If you want to withdraw from Binance that means you need to first deposit and have funds there.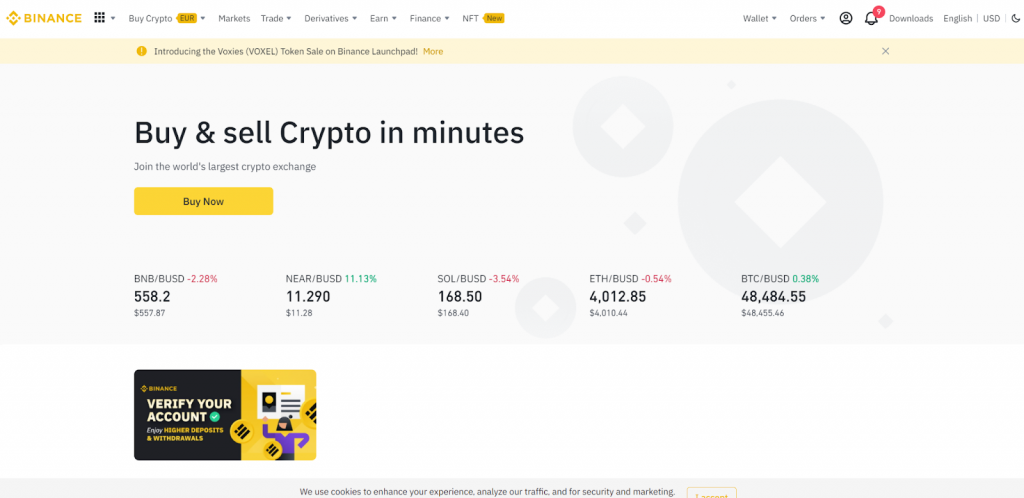 When you reach to dashboard screen, click on the wallet and overview button in order to see your funds at Binance.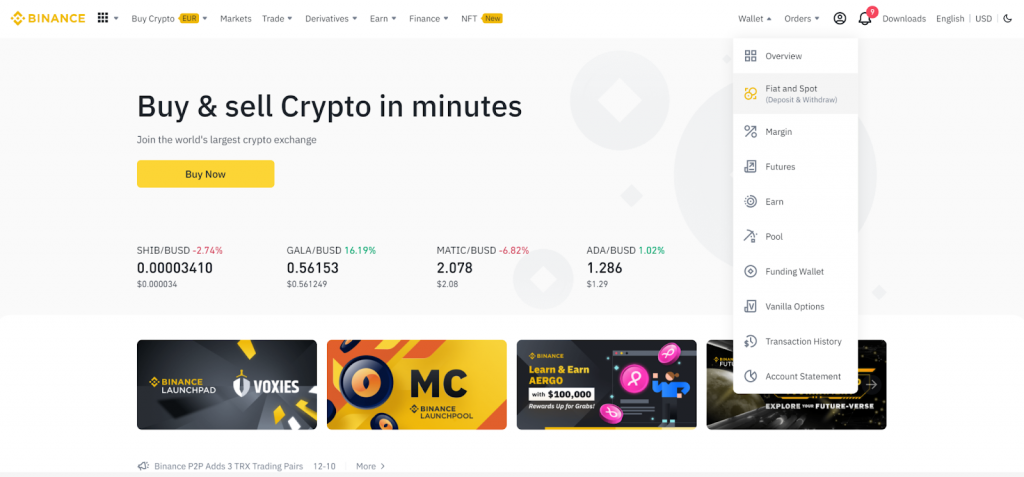 This will pop up two options for you. Deposit or withdraw. Today we are going to talk about the withdrawal function to send money to your uphold account.


Select the withdraw button and move to the crypto withdrawal option. Pick the coin and the network you would like to withdraw as the first step of the withdrawal process.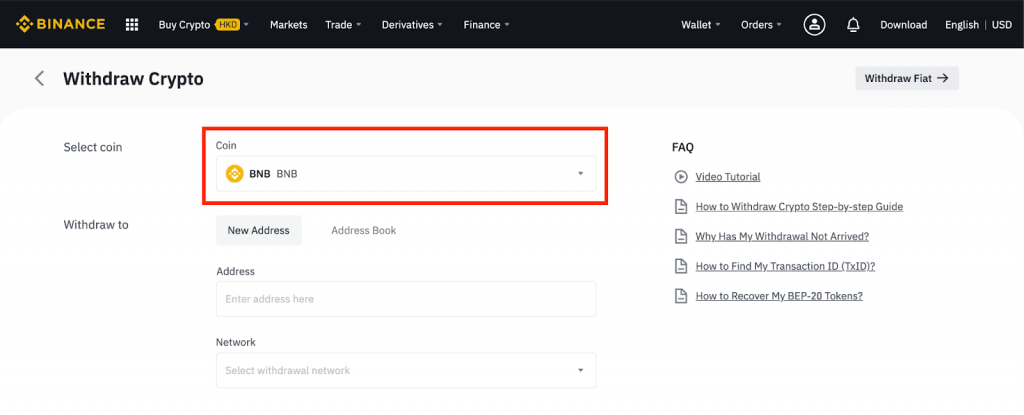 In the blockchain network world, gas fees are a very important aspect of every transaction. Selecting a blockchain network that is heavily congested will have an expensive withdrawal fee, and this could cost users unnecessary expenses. In order to avoid this expense, most people prefer to use cheaper networks that can do the same thing.
We would be moving our funds from Binance to Uphold, so the most important aspect is to make sure both coins and networks are available in both exchanges. When we list down which coin and which network we can use, the last task is to check which one of the available ones is the cheapest.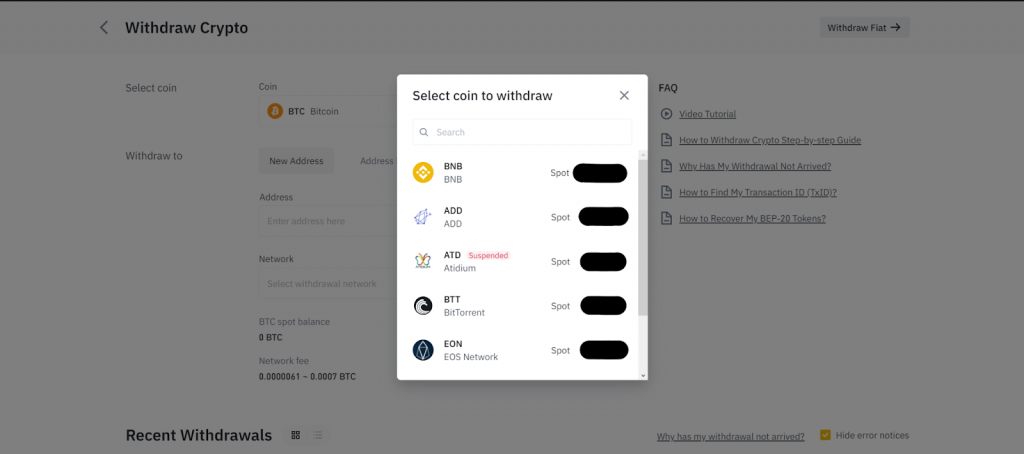 Under Coin text, there is a dropdown menu. Select the coin you would like to transfer over to uphold from this dropdown list. There are coins and there are wrapped coins representing the same coin on a different network.
We have BTC and WBTC, we have ETH and WETH, and similar currencies. Be careful when you are picking and make sure it is the right one you want to withdraw. Networks are also another part of it that you need to be careful about, whatever network you have picked to Uphold deposit should be exactly the same here at Binance when you are withdrawing as well.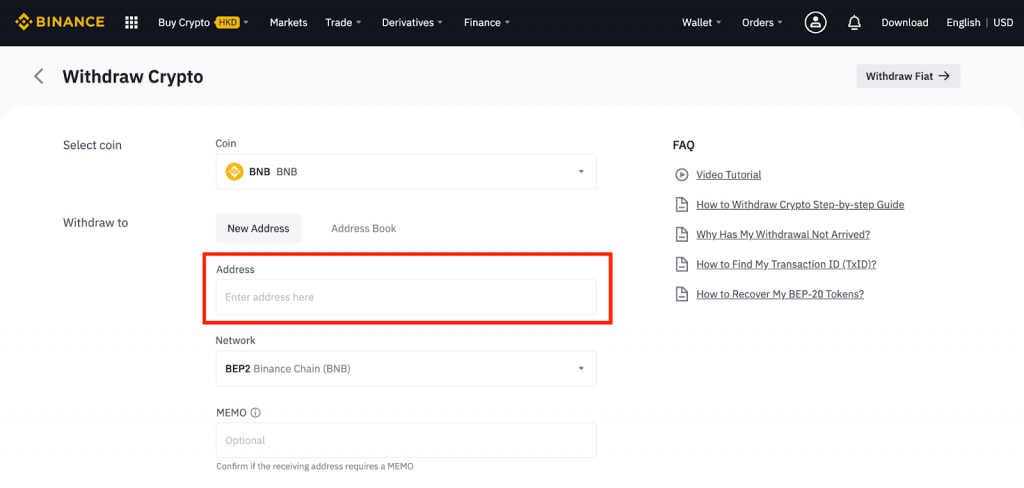 In this field we are filling out the address we would like to send the selected coin to, we pick the network we want to use when sending, and if there are any other extra boxes to fill depending on the network we need to fill those out as well.
This is the stage before the last confirmation stage, so any double-checking procedure could start from this point forward. If you are using copy-pasting from Uphold to Binance, make sure it has copy-pasted the right address without missing the first or last digits which is the most common mishap while transferring crypto.
In order to withdraw from Binance, you need the withdrawal address, which is the deposit address at uphold. Follow these steps to get the deposit address from Uphold to be used while transferring your currencies.
Visit Binance Now Visit Uphold Now
Getting deposit address from Uphold
---
If you do not have an account at Uphold, sign up using this link; https://wallet.uphold.com/signup
After your registration is complete, click on the dashboard button to open up this page;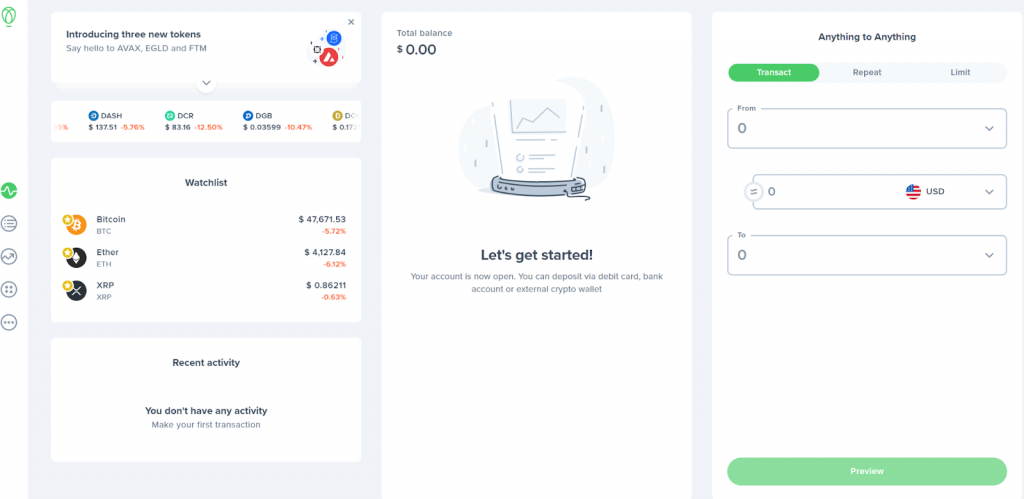 Next stage, click on "from" at the right corner of your dashboard, which will open up the selection of coins you could deposit.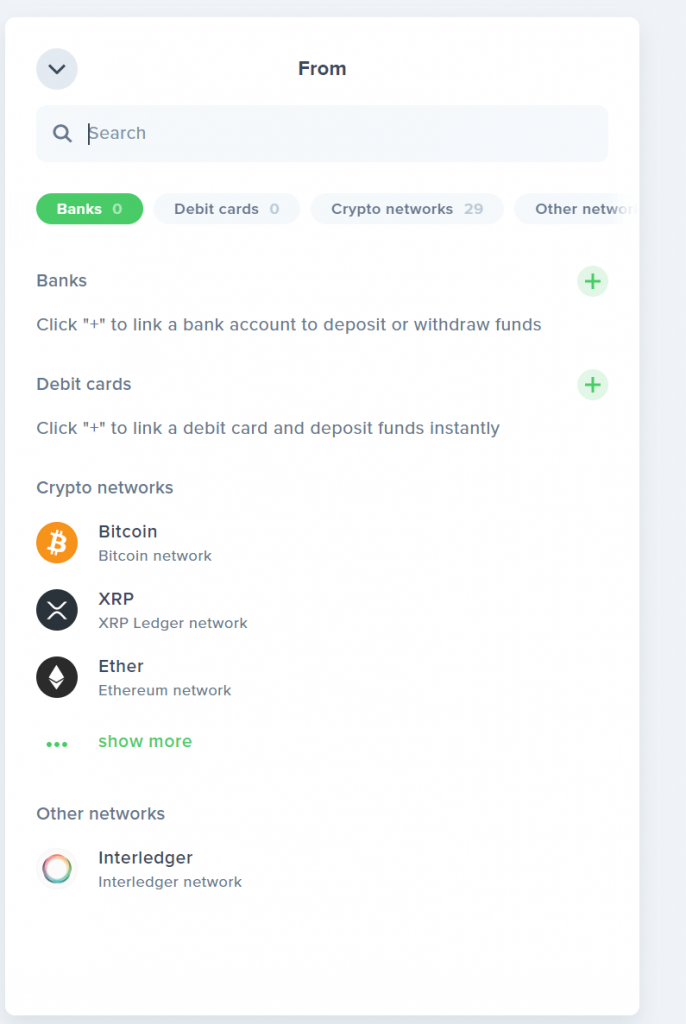 Select the coin you would like to deposit. Under the name of the cryptocurrency you pick, the network will be shown. Pick the right coin and network combination.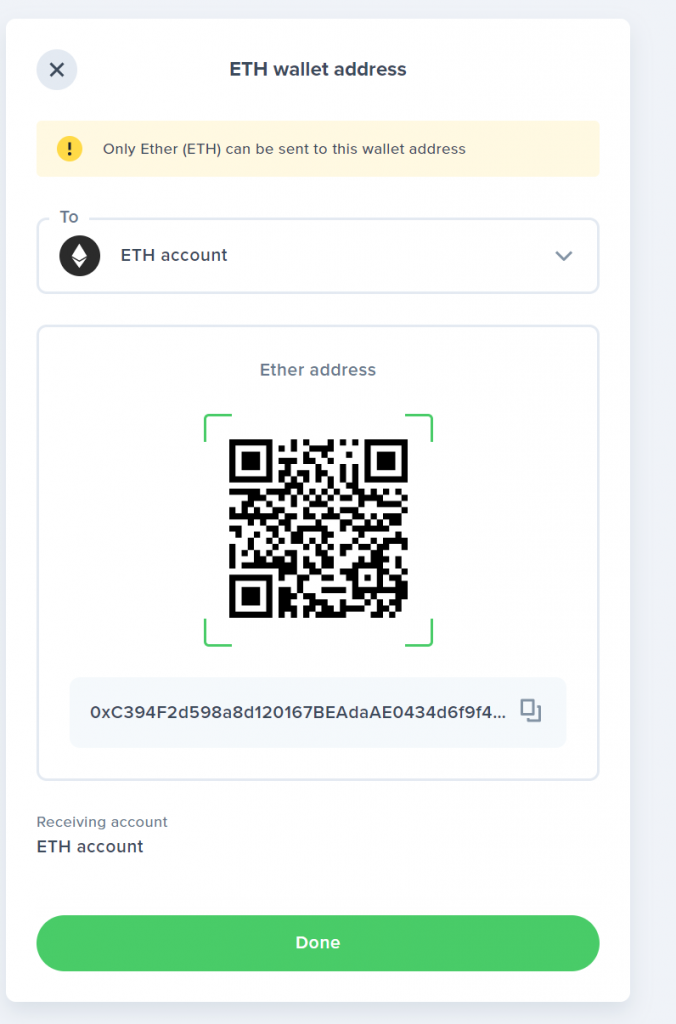 Lastly, there will be a pop-up showing you a QR code of the deposit address, and also the address itself. Depending on how you want to do it, pick one of these as your withdrawal. For our Binance withdrawal purposes, we will copy-paste the address itself.
Last stages of Binance withdrawal
---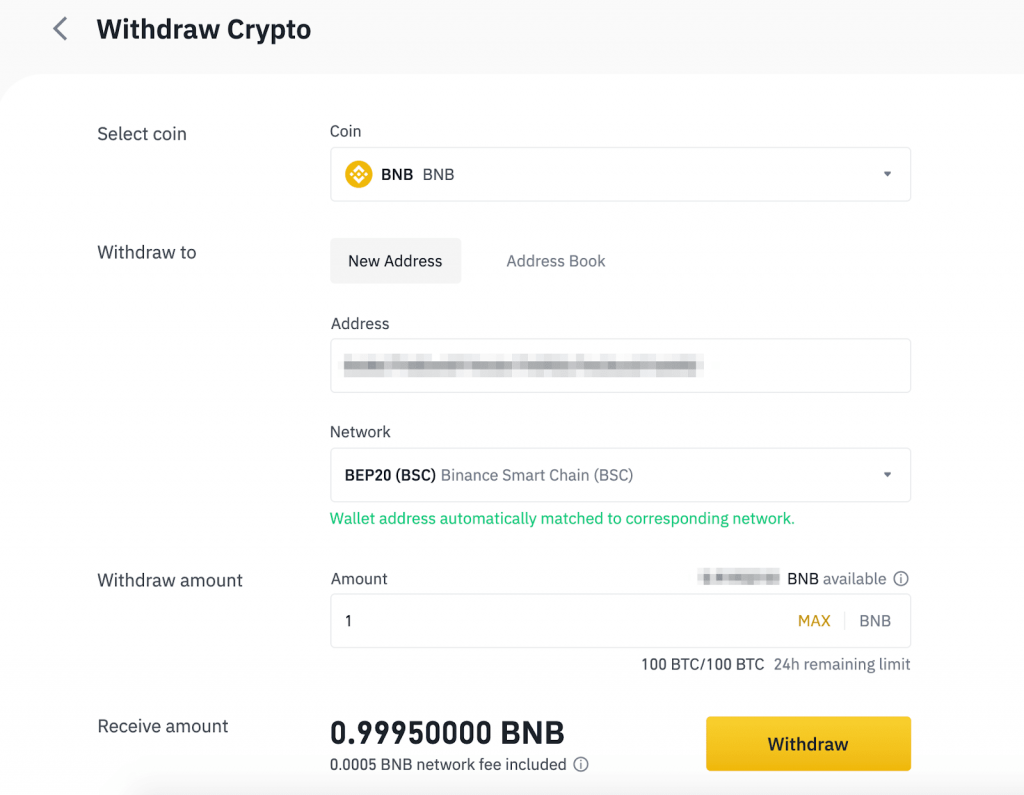 Using the deposit address we got from Uphold, we will copy-paste the address into the correct form named "address" and pick the network. Fill out how much you would like to withdraw, uphold does not require you to pre-inform how much you would like to deposit, so you can send any amount you want.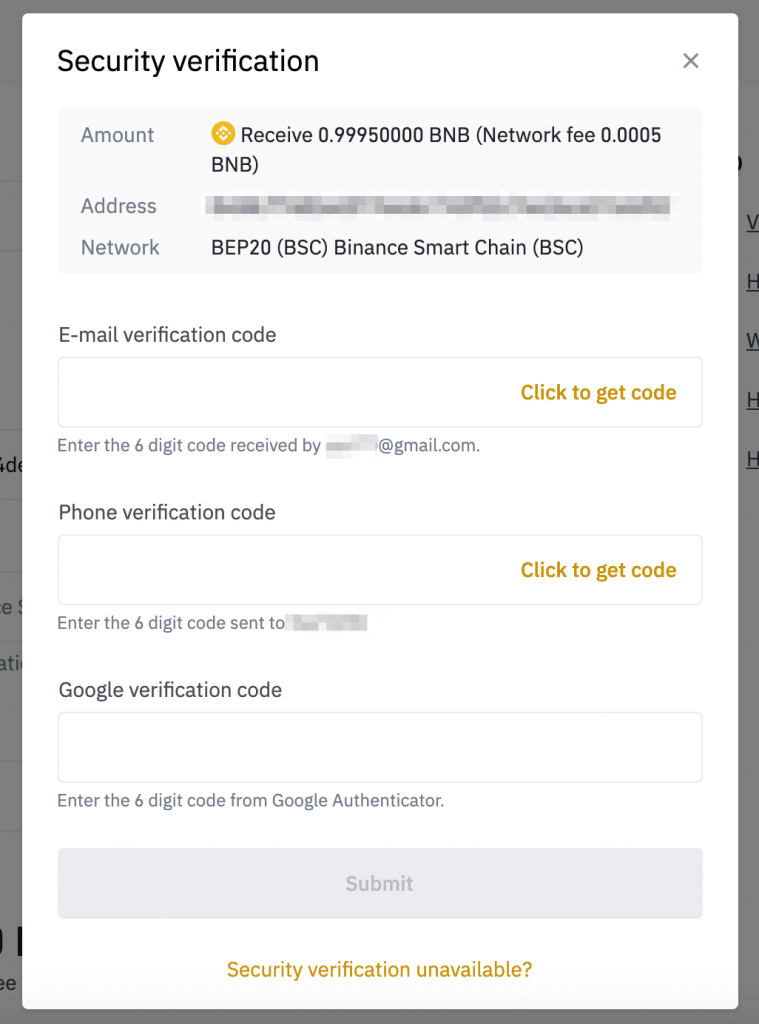 On the very last stage, Binance will send you an e-mail with 6 digit code for security purposes. Write down this code, fill in the Google 2FA code from the app, and click on the "submit" button to finish withdrawing from Binance and deposit to Uphold.
Visit Binance Now Visit Uphold Now
Conclusion
---
Transaction times could change depending on the coin you sent and the network you have used. While Bitcoin legacy transactions could cost more and take some more time, some other coins and networks are cheaper and faster.
So the results will vary depending on the transaction itself. Make sure to double-check every step, it is estimated over a million Bitcoins are forever gone because of transactions sent to wrong addresses.
Read also:

CaptainAltcoin's writers and guest post authors may or may not have a vested interest in any of the mentioned projects and businesses. None of the content on CaptainAltcoin is investment advice nor is it a replacement for advice from a certified financial planner. The views expressed in this article are those of the author and do not necessarily reflect the official policy or position of CaptainAltcoin.com