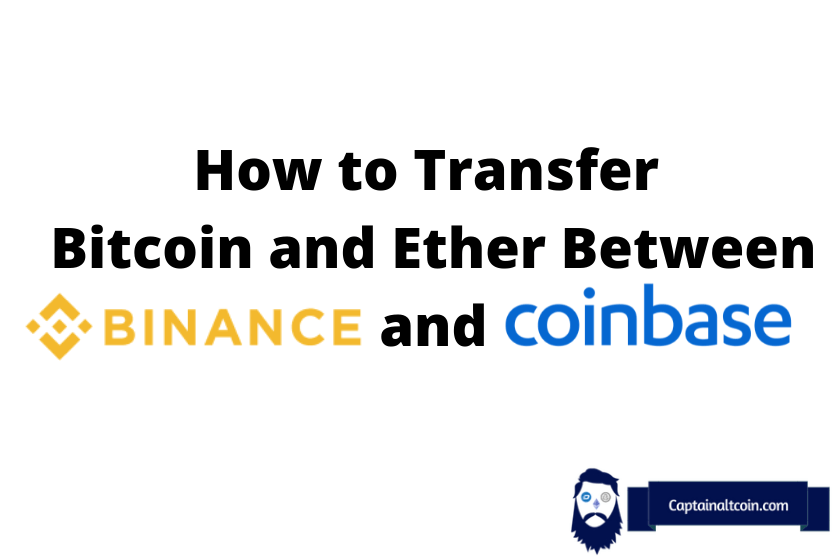 This is a walk-through of how you transfer cryptocurrency between the 2 most popular exchanges, Coinbase and Binance. The first thing you need is an account at each exchange. Once we've nailed that set up, we'll dissect the transfer process.
It will become clear that the most obvious route isn't always the best. The Ethereum network is still expensive, and there are cheaper and faster options than the Bitcoin network. We'll go into all that good stuff at the end.
Creating the Accounts
---
Binance
---
Head over to the Binance website and click on Register Now.
Enter your email address and choose a password.
Then click Create Account.
Convince them you're not a robot by moving a slidy thing – you know the drill.
Binance emails you a 6 digit confirmation code to enter.
You now have a Binance account.
With no further KYC requirements, you are ready to receive cryptocurrency into your account. You need to find your wallet addresses and there are several ways to do this. The safest and easiest way is as follows –


From the Wallet drop-down menu at the top right of the screen, select Fiat and Spot (Deposit and Withdraw).
Uncheck the 'Hide Small Balances' box to reveal a full list of cryptocurrencies.
Select the 'Deposit' link (right-hand side, in yellow) for the cryptocurrency you would like to receive.
This will automatically choose the correct network for you.
Copy the receive address which appears on the right-hand side of the screen.
Coinbase
---
The Coinbase account creation process is much the same as for Binance. Enter an email address and a password, click on the link they email you, and you're off to the races. The process is well designed and walks you through all the steps.
To find your Coinbase receive addresses –
Click on the Send and Receive button next to your username in the top right.
In the pop-up window select 'Receive'
Choose a cryptocurrency from the dropdown menu.
You will see a QR code with the full address underneath – copy this full alphanumeric address.
But Then This Happened –
---
When I tried to create an account, Coinbase informed me that my email address was already in use. OK, so yet another forgotten account from the good old days of 2017. I managed to reset the long-forgotten password via a link sent to the email address. The problem was that I no longer had the old phone number to receive the 2FA security code.
Not to be deterred, I contacted support via email. To cut a long story short, I was back into my old account within 10 hours. Coinbase had me set up a temporary account which they later deleted. There was the usual back-and-forth of emails, document checks, a bit of confusion, and finally a great result.
I've been through this process with several exchanges and I have to say, the good folks at Coinbase support were amazing. Sadly, there was no valuable coin-dust hanging around my old account… but still, very well done Coinbase!
Transferring BTC and ETH Between Coinbase and Binance
---
Binance to Coinbase
---
Copy the desired Coinbase receive address as described above. Once you have this, you can start the transfer from Binance.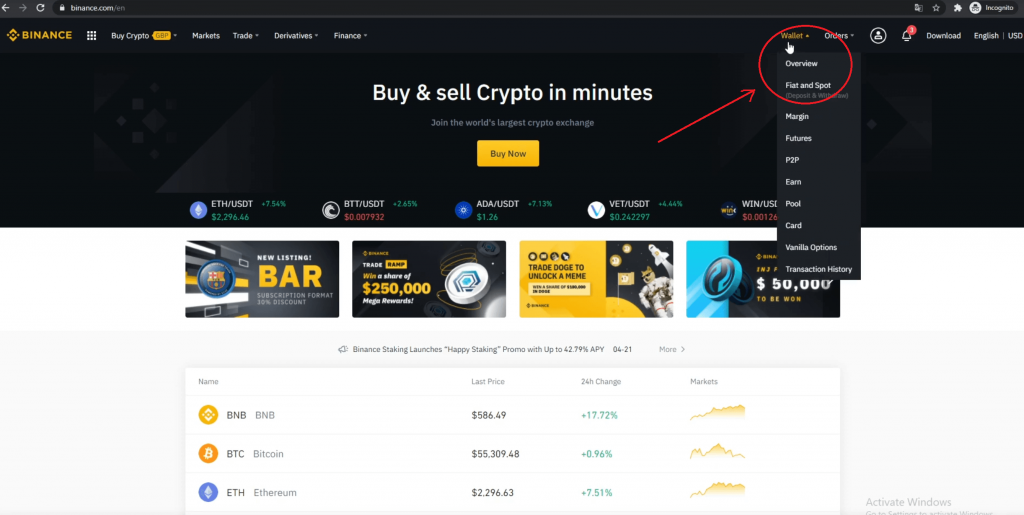 From the Binance Wallet dropdown menu, select Fiat and Spot – as before.
Select the cryptocurrency you would like to transfer and click on Withdraw.
Enter the Coinbase receive address and select the relevant network.
Enter the transfer amount – and gasp in shock at the fees!
Click on Submit.


Done? You well and truly have been, but more of that later.
Coinbase to Binance
---
Once you've copied your Binance receive address, you can initiate the transfer process from Coinbase.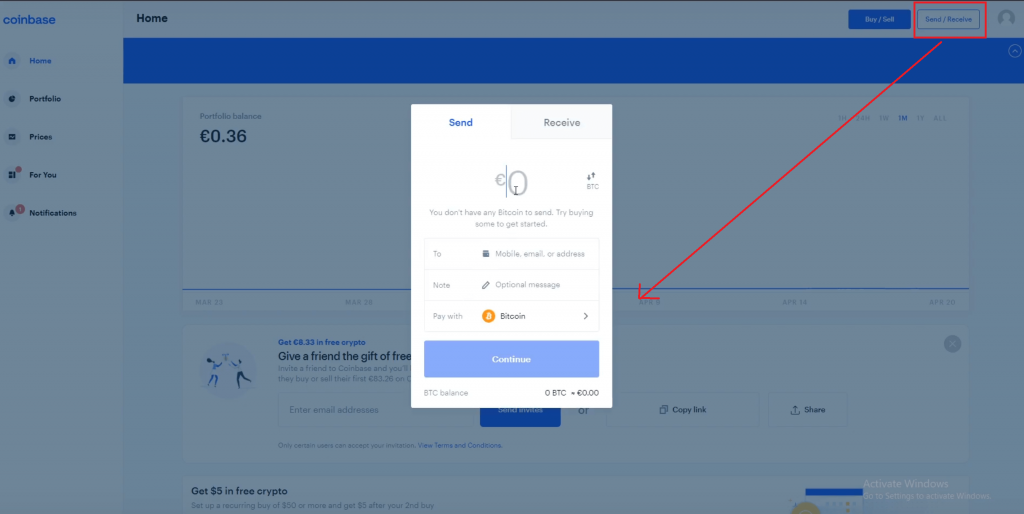 Select the Home icon to arrive at your account dashboard.
Click on Send/Receive in the top right corner next to your username.
The Send and Receive window will appear, defaulting to Send.
The window should also default to BTC, but you can select your intended cryptocurrency from the 'Pay With' menu.
Paste the BTC/ETH receive address from your Binance account
Click send and follow the confirmation prompts / 2FA authentication process.
Better Options for Transfering Crypto Assets Between Coinbase and Binance
---
As an Experiment –
---
I just paid fees of 0.25 XRP ($0.32) to transfer 70 XRP from Binance to Coinbase (70XRP Sent, 69.75XRP Received). The end-to-end process took exactly 3 minutes. There would be a few cents of trading fees to convert my ETH or BTC into XRP on Binance, and for changing it back on Coinbase. The whole deal still comes to less than a buck.
Update –
---
Apparently, you can transfer XRP in and out of Coinbase but you can't do anything with it once it's there. The Coinbase wallet will hold it, but I could no longer swap it for ETH or BTC.
— I checked out XLM (Stellar Lumens) as another example and yet again, you can send your XLM to Coinbase for just a few cents. I'm also happy to report that you can swap XLM for BTC/ETH on Coinbase. —
At the time, the quoted Bitcoin network fees were $27.35, and Ethereum was $33.37. Worse, I've never had a BTC/ETH payment complete in anything approaching 3 minutes. If you're transferring thousands of dollars then fair enough, but for modest amounts, it definitely pays to shop around.
In the past, I've transferred between exchanges using Dogecoin. Back in 2017 when it was first becoming a meme, Doge was the most efficient way to move value between certain platforms. And they say there's no use-case?
Take a look at the list of tokens that can be received by Coinbase and match them with the tokens that can be sent from Binance. Compare the fees. The difference is stunning.
As with BTC and ETH transfers, make sure to select the correct network and complete all the required information. For example, you must supply both an 'XRP Tag' and the receive address when transferring XRP. Both Binance and Coinbase prompted me about this, flashing up a warning/confirmation tab before I could proceed.
I always triple-check every detail, as one tiny mistake can cost your crypto.
Job Done!
Read also:

CaptainAltcoin's writers and guest post authors may or may not have a vested interest in any of the mentioned projects and businesses. None of the content on CaptainAltcoin is investment advice nor is it a replacement for advice from a certified financial planner. The views expressed in this article are those of the author and do not necessarily reflect the official policy or position of CaptainAltcoin.com