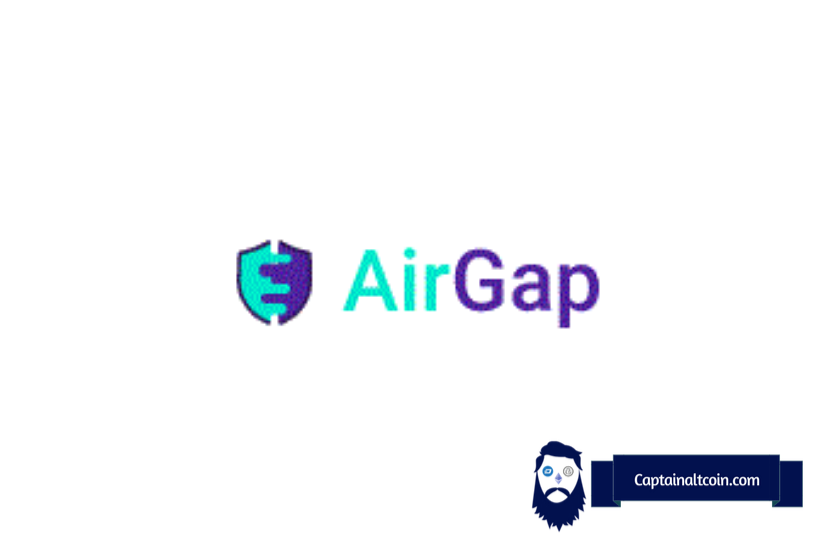 The Crypto world has seen a surge in sustained interest over the past few months. At the time of writing, the overall crypto market cap rests at an impressive $2.3T showing that more and more people are trading and holding cryptocurrencies
As with any form of currency, cryptocurrencies need a secure storage place for trading and holding purposes. There is a particular need for security in this case as hackers are all out to gain access to and steal your hard-earned funds. That is why more and more wallets are coming up which promise top-notch security for your crypto assets. One of such digital wallets is the AirGap wallet.
In this article, we'll explain what's unique about this crypto wallet and why it may or may not be the right wallet for you.
WHAT IS AIRGAP: AN ALTERNATIVE TO HARDWARE WALLETS
---
Without a doubt, hardware wallets (also known as cold storage wallets) are the most secure means of storing crypto assets. This is because private keys are stored and encrypted on the device which is disconnected from the internet. The detachment of these devices from the online world makes them inaccessible to hackers.
A disadvantage of standard hardware wallets is that they may be costly. Prices range from $50 to $200 in some cases. Even though those prices are still within range for experienced traders, retail traders with small investments may find it discouraging to own one.
That is where the Airgap wallet comes in. It has been described as the alternative to hardware wallets because it offers the basic principles that guide hardware wallets while also providing an accessible and cost-effective model. How exactly does that work? Let us discuss the two-way approach that makes the Airgap wallet a contender among rivals even though the wallet offerrs one device approach as well.
THE TWO-WAY DEVICE APPROACH OF AIRGAP
---
AirGap Vault: There are two ways the AirGap vault works. It could be used either with two devices or with the same device

With two devices: With this approach, you can sign transactions completely offline on a smartphone dedicated to that purpose. You'll download the AirGap Vault application on the dedicated phone, and your private keys will be stored on this device, completely free from any penetrations from the online world.
With the same device: If you only have one phone, you can install both AirGap vault and AirGap wallet on it instead of installing them on two different devices. Additionally, you will still benefit from added security through sandboxing and switching apps for communication.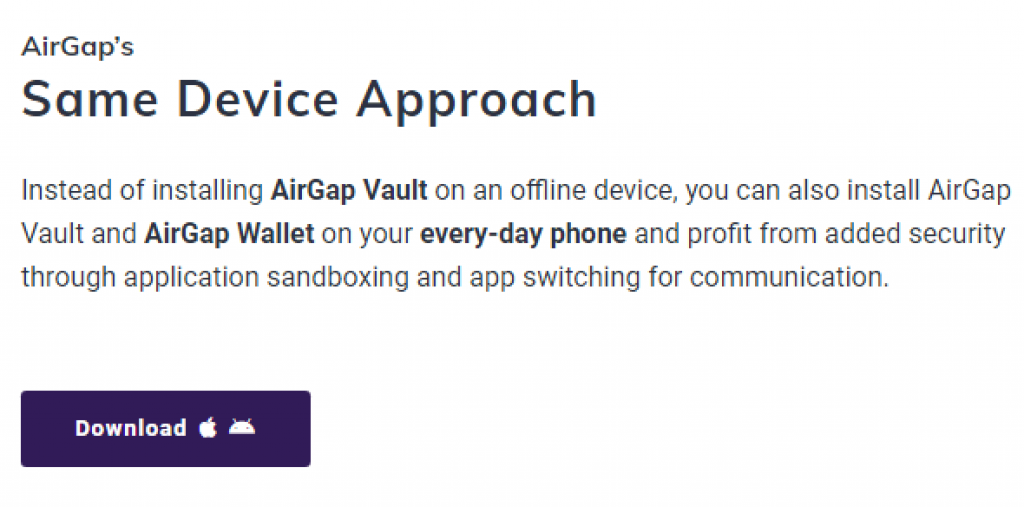 AirGap Wallet: An AirGap wallet resides on an everyday smartphone and works in conjunction with an AirGap vault. It is the online counterpart to the vault responsible for communication with the blockchains. It doesn't store the private keys and is not aware of any secret codes.
KEY FEATURES OF THE AIRGAP WALLET
---
It makes use of an offline signing mechanism in which all the confidential data, passcodes, and private keys are stored offline in the AirGap Vault.
The AirGap vault communicates with the AirGap wallet using QR codes (for different devices) or a URL scheme run through a sandbox operating system(for the same device).
The AirGap wallet contains support for Bitcoin, Ethereum, and the top 100 ERC-20 tokens. It also recently announced integration with Walletconnect. With this feature, it can add other ERC-20 tokens available on Uniswap.
It has an in-app exchange for swapping tokens seamlessly. It makes use of apps like Changelly, changeNOW, and recently Quipuswap.
It has a browser extension offering secure interactions with protocols directly and signing transactions on the AirGap Vault device.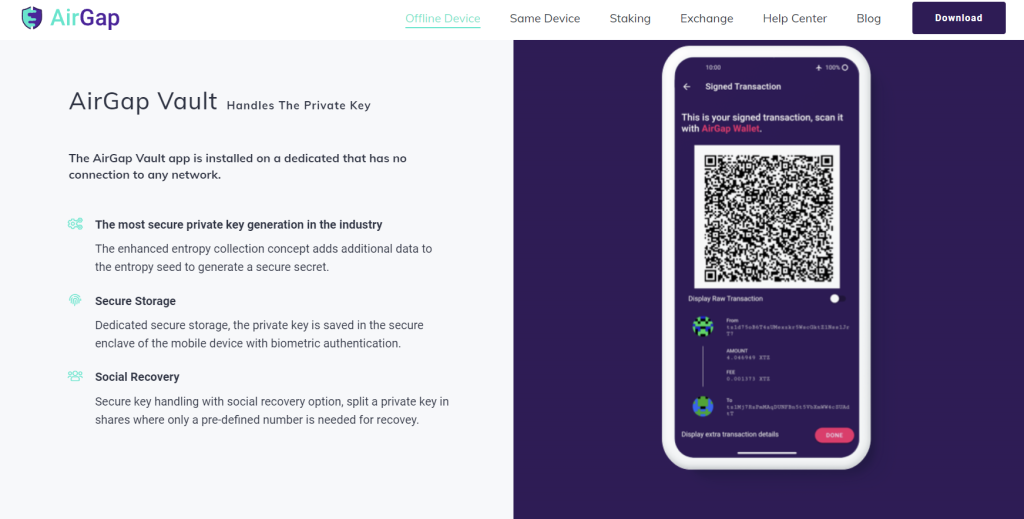 It offers a staking feature through which you can earn rewards on your saved coins
It has BIP-85 mnemonic management. Put simply, this is a mechanism in which you can have an unlimited number of wallets(each with its own mnemonic secret phrase), but you only need to back up one phrase.
HOW TO STAKE ON THE AIRGAP WALLET
---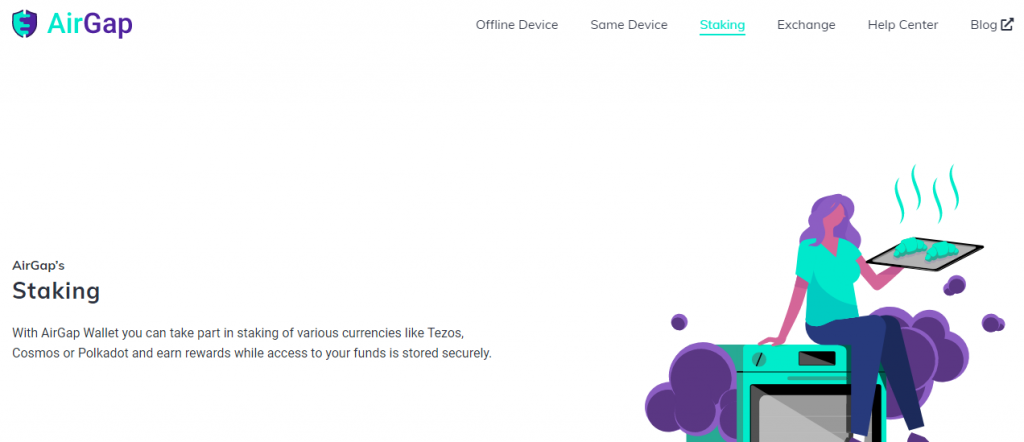 AirGap supports staking for various protocols using the 'delegation' functionality. After clicking on the 'delegate now' button, validations are run by the AirGap team, who take an active part in validations of multiple staking protocols. These one-click delegations are possible directly in the AirGap wallet. You can earn as high as 7.2% Annual Percentage Return (APR) on the various staking protocols.
WHAT ARE THE FEES ON THE AIRGAP WALLET
---
The AirGap wallet doesn't charge any fees/charges for the use of the medium. The only fees users have to pay are network fees (paid to miners) and staking fees (for those who wish to stake their coins). The AirGap team maintains that grants from various cryptocurrency foundations mainly fund it, making it possible to improve the product overall and add new features.
HOW SECURE IS THE AIRGAP WALLET
---
The AirGap wallet can be considered secure to some extent. It would be necessary to have physical access to the AirGap Vault as well as the PINs or passwords that can be used to access the funds in order to steal from it.
It is designed to be immune to hacking. Even if, somehow, the phone containing the AirGap is connected to the internet via USB or Bluetooth, the funds stored on it are still secure. This is because your private keys never leave your device. Thus, even if malicious software tries to gain access to your funds by 'signing' a transaction initiated in your AirGap Vault, the transaction will not go through because it would be an incorrect signature.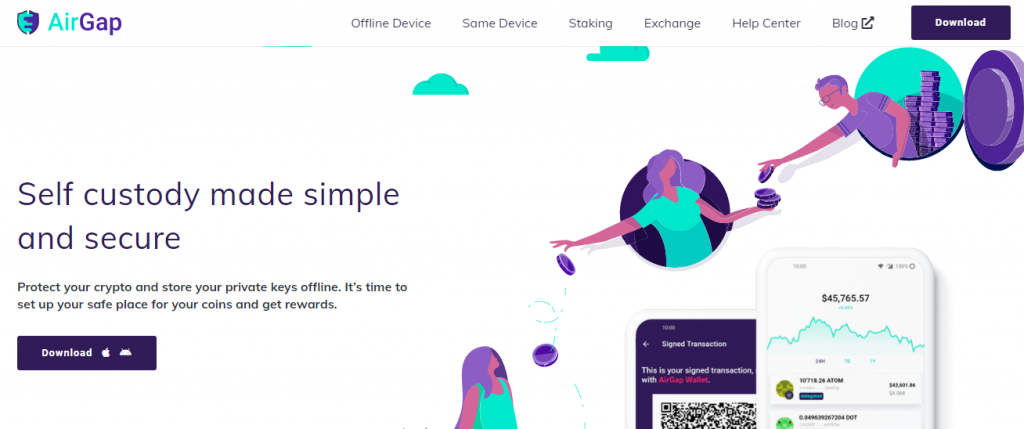 In addition, the AirGap vault, AirGap wallet, and airgap-coin-lib have undergone a third-party comprehensive security audit by the Swiss IT-Security consulting company, Compass Security. The audit report brought up some points for consideration. The AirGap team has addressed all findings and vulnerabilities.
CONCLUSION
---
The AirGap wallet is one of the few wallets to combine top-notch security with low-cost affordability. Apart from offering high protection, it also adds essential features like swapping through its in-app exchange and staking through its validators.
What is more? Even if you lose your phone, which contains the vault, you can still have access to your funds as long as you have the secret 24-word mnemonic phrase backed up on a piece of paper. Conclusively, the AirGap team continually improves on its features, making it safer by the day. All in all, it is a wallet option that deserves close consideration.
Read also:
FREQUENTLY ASKED QUESTIONS
---
PROS
Open-Source Code
Offline Approach

CaptainAltcoin's writers and guest post authors may or may not have a vested interest in any of the mentioned projects and businesses. None of the content on CaptainAltcoin is investment advice nor is it a replacement for advice from a certified financial planner. The views expressed in this article are those of the author and do not necessarily reflect the official policy or position of CaptainAltcoin.com