Gate.io NFT Marketplace Review – How To Get NFTs on Gate?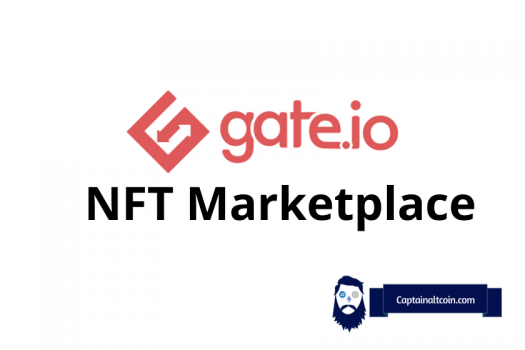 Gate.io NFT Marketplace Review – How To Get NFTs on Gate?
Low fees
Huge number of potential buyers
Easy to use
Are you passionate about the crypto trade? Do you have an eye for strange art pieces? Can you predict what a certain photo, painting, or gif will be worth a few months from now?
If the answer to any of the previous questions is affirmative, you should consider checking out Gate.io's newly launched NFT Magic Box. It is a place where artists from all corners of the globe can expose their works to international audiences and offer them for sale. Here's what's going on!
What Is Gate.io?
---
Gate.io is currently one of the fastest-growing cryptocurrency exchanges on the cryptocurrency market that's capable of attracting thousands of traders each hour. According to the latest data available at CoinMarketCap, its current 24-hour trading volume exceeds $4 billion, and it supports more than 15 hundred crypto trading pairs. But, that's not all.
The development team responsible for the huge success of Gate.io has decided to start the first centralized NFT trading platform. And, they launched Gate.io NFT Magic Box.
Gate.io is a crypto exchange that is regarded as one of the most important for users worldwide. Also Also it is a crypto exchange with over 400 listed cryptocurrencies paired in various markets. Gate.io provides the majority of the leading digital assets and has over 10 million registered users worldwide.
Purchase Options for Fiat Users can buy crypto tokens on Gate.io Exchange using a variety of fiat currencies. For this transaction, the user has the option of using a credit card or a bank transfer.
What is Gate.io NFT Magic Box?
---
Gate.io NFT Magic Box is a platform for the creation and auction of NFTs (Non-Fungible Token) easily accessible to everyone. It focuses on the management of NFT artworks through well-known blockchain technology.
As we speak, thousands of new artworks are being published on the platform, and millions of bidders from all corners of the globe continue to compete for the pieces they like the most. On top of all that, Gate.io often organizes special auction events during which you can get additional discounts and personalized gifts. So you should make sure to check their homepage every once in a while.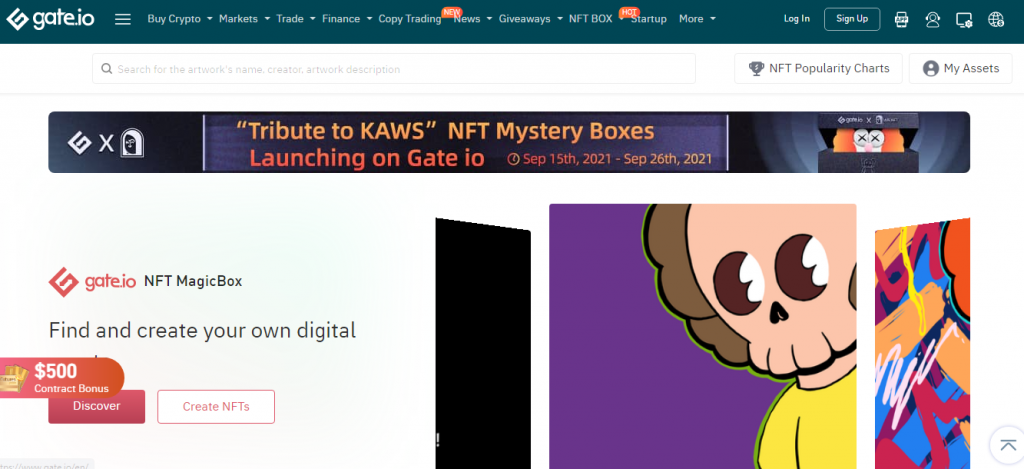 Main Features
---
Unlike most of its competitors, Gate.io does its best to attract both creative individuals who produce NFTs and experienced traders who buy and sell them. The platform relies on the now-famous GateChain protocol and offers a cheap and trustworthy blockchain. Consequently, the only thing artists should worry about is their creative process. At the moment, Gate.io has more than 4 million subscribers, and about a quarter of them are daily users of the platform.

Pioneer Creation Platform
---
Gate.io's centralized NFT trading platform is often referred to as the NFT platform for everyone. It offers an unprecedented degree of freedom for all artists, and it imposes no fees for minting NFTs. To help artists express themselves and reach broader audiences, Gate.io has founded an NFT Art Fund that will be used to promote their works on various global platforms, exhibitions, and popular media outlets.
Over the next few months, Gate.io plans to launch a promotional campaign and present some of its most successful artists to other artistic associations, educational institutes, and auction houses. Since the platform is currently going through its most successful period, this is very likely to attract traders in large numbers. So, if you are thinking about creating some unique content on Gate.io, now is the best time to do so.
Auction and Trading Platform
---
As you will soon find out, Gate.io's NFT action and trading platform pretty much resembles an average e-commerce platform. The layout of the interface is fairly simple, and it allows you to easily navigate between the sections such as categories, status, payment methods, advanced attributes, and others. This means that even the most inexperienced users will easily find what they are looking for without wasting their precious time.
Fees For Using Gate.io NFT Marketplace
---
At the moment, Gate.io NFT marketplace offers thousands of artworks that are separated into groups such as culture, art, collectibles, sports, virtual world, domain names, and others. The supported payment methods are Bitcoin, Ethereum, USDT, and GT.
Another great thing about the platform's huge offer is the prices. They differ greatly and go as low as 0.001BTC and as high as $1 million. This means that even those who plan to trade on the budget have fair chances of making a profit. A small percentage of every sale will end up in Gate.io's art fund that aims to support new aspiring artists.
Read also:
How to Create NFT on Gate.io?
---
The platform does its best to motivate the creators to express themselves in every way they find appropriate. Unlike on other similar platforms, minting new NFTs at Gate.io is completely free of charge. This and other similar policies were put in place to jump-start the creative process of inexperienced artists and allow them to focus on what they do best.
If we consider the quality and diversity of works on offer, we can conclude that they did a great job so far. All you need to do is to sign up for a free account (it is simple to open an account on the Gate.io cryptocurrency exchange), and your NFT journey may begin.
How to Trade NFTs on Gate.io?
---
Things aren't any more complicated when it comes to trading either. As soon as you claim your account, you may begin your bidding. The simplicity of the website's layout will allow you to browse through thousands of artworks per hour.
As you dive deeper into the diverse world of NFTs, you will see that some pieces are offered for a fixed price while others are auctioned. Just like the number of creators, the number of artworks continues to grow each day. And, if the current trend is sustained, Gate.io's Magic Box will soon become the largest NFT marketplace in the world.
Conclusion
---
All things considered, Gate.io's Magic Box is one of the currently most promising NFT trading platforms. It offers great conditions both for artists and creators of NFTs and for traders who don't need much experience to get started. If you are creative, this is one of the best places to express yourself.
And, if you want to earn some money on the side, Magic Box might be an inexhaustible source of passive income. In the end, it all depends on you and your ability to assess the quality of a certain art piece and predict the future movements of the market. So leave your hesitation aside, make your account, and let your NFT adventure begin!
PROS
Low fees
Huge number of potential buyers
Easy to use

CaptainAltcoin's writers and guest post authors may or may not have a vested interest in any of the mentioned projects and businesses. None of the content on CaptainAltcoin is investment advice nor is it a replacement for advice from a certified financial planner. The views expressed in this article are those of the author and do not necessarily reflect the official policy or position of CaptainAltcoin.com