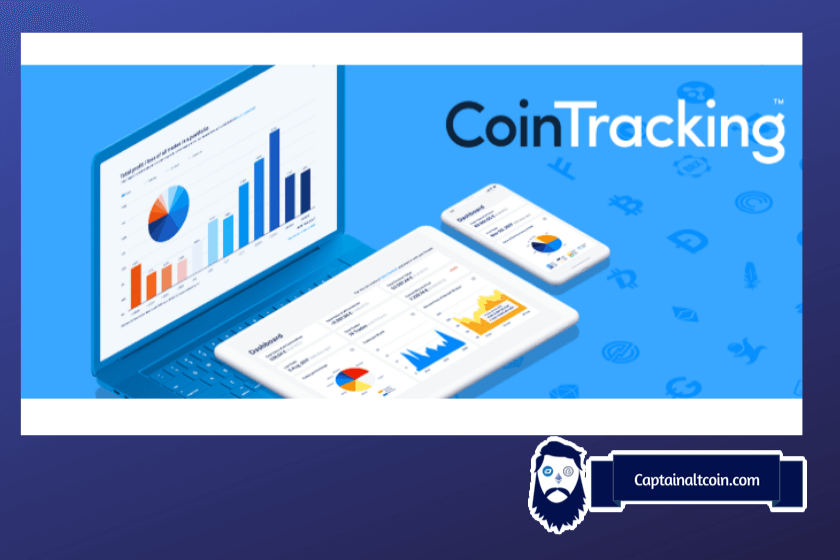 Tax agencies across the world needed a lot of time to get up to speed with complexities and new paradigms that crypto brought about with itself.
It took them time but they finally got there and shouldn't be taken casually – just the contrary. As the panic started setting in among crypto traders, as they were overwhelmed with the sheer number of data points they needed to collect, Cointracking.info jumped in to the rescue and swiftly became one of the best crypto tax tools on the market and the leading crypto tax software.
This Cointracking review will weigh up on features, pros and cons of Cointracking.info and compare it to its peers like CryptoTrader.Tax or Koinly.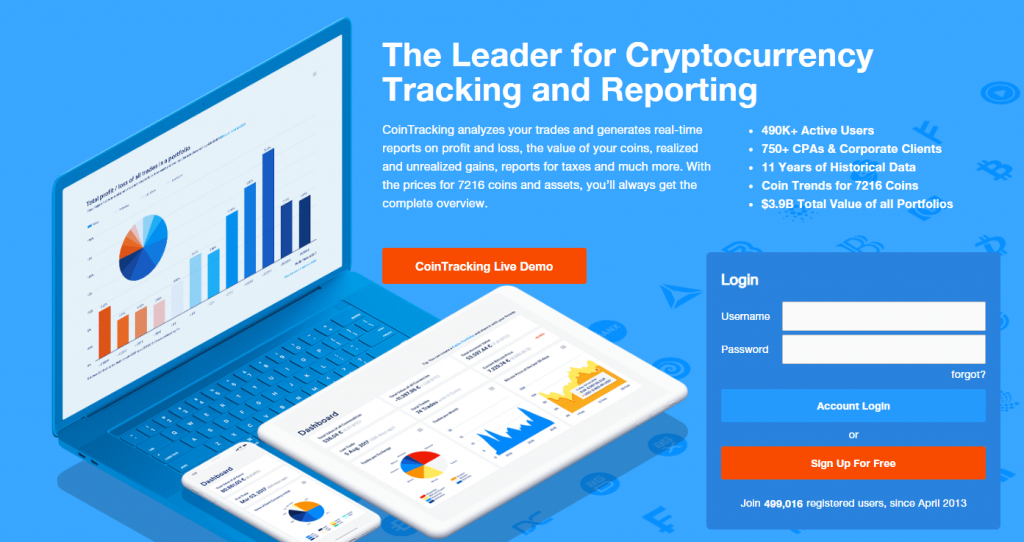 What is Cointracking.info and how does it work?
---
Cointracking.info started out as a cryptocurrency portfolio tracker app and with time, added the tax reporting features which made it far more popular and known in crypto circles.
It has a dual role – a crypto portfolio manager and a tax reporting tool, which is the focus of our review.
CoinTracking as a crypto portfolio tracker
Considering many crypto users own multiple accounts on different cryptocurrency exchanges, portfolio trackers are very useful in maintaining an overview of your funds. You can link exchanges all together with CoinTracking and view the value of all your cryptocurrency assets in a single interface. You can also connect many different cryptocurrency wallets with Cointracking app.
In a word, Cointracking.info is a cryptocurrency portfolio manager and a crypto tax software that integrates with leading cryptocurrency exchanges to gather your trading history which is then used for creating tax reports, automatically. It supports different forms of annual tax reports, among other things according to the standards of capital gains, FBAR, Form 8949 and the German Income Tax Act. Furthermore, it supports automatic import.
On Cointracking.info you can find 25 customizable crypto reports along with Interactive Charts for trades and coins. Moreover, you can file unlimited transactions and try different accounting methods.
In addition to crypto tax reporting abilities, CoinTracking is still a good portfolio tracker as it analyzes your trades in real-time giving you overview of the value of your coins, realized and unrealized gains and much more. It tracks over 7000 coins and supports over 70 exchanges making it almost impossible to trade a coin that is not visible to Cointracking.info.
Cointracking.info – Pricing
---
Cointracking offers a tiered pricing models with 3 packages:
Free. Users can generate tax reports, but there is no automatic help as everything needs to be done manually using CSV files.
Pro. CoinTracking Pro costs $166/year with discounts for purchases for longer time periods. If you pay for two years of service upfront, you can get a $76 discount. Alternatively, you can purchase a lifetime CoinTracking Pro subscription for $434, or 0.043 BTC.
Unlimited. CoinTracking Unlimited costs $302/year where you can save $162 (or 0.016 BTC) by paying for two years of service in advance. A lifetime subscription will cost you $3459.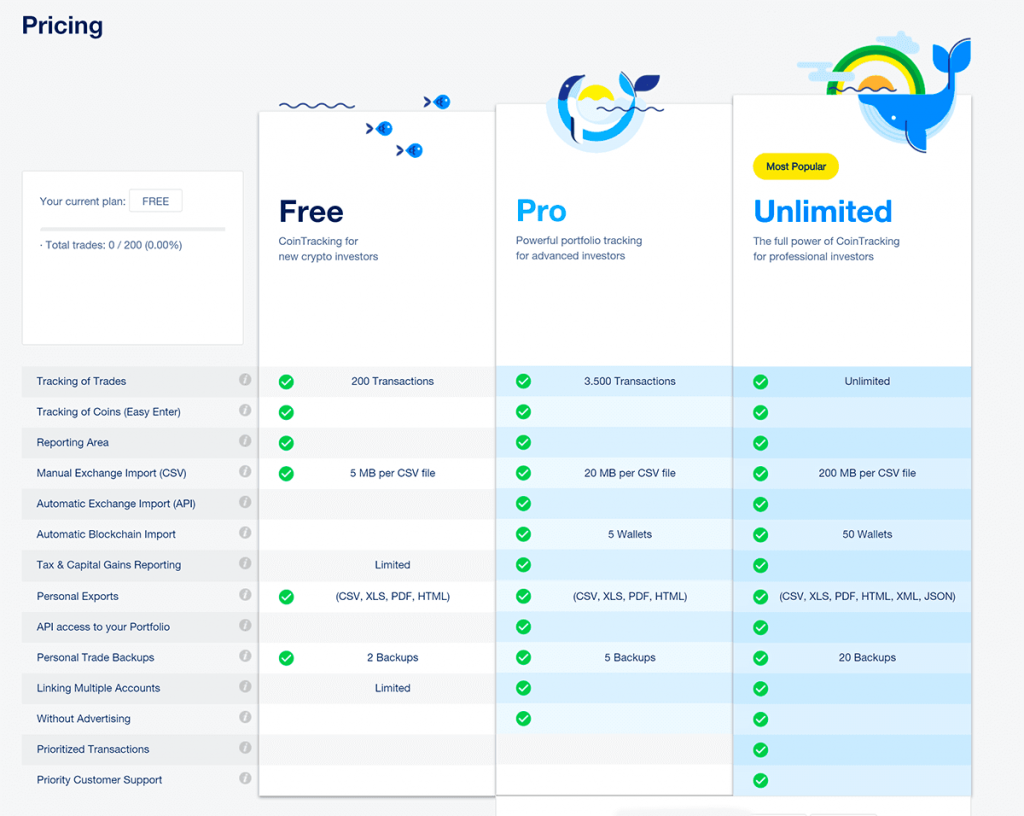 Is Cointracking safe?
---
In a recent interview with Wealthica, CoinTracking founder Dario Kachel explained the origins of the company:
"I started trading with my own first bitcoins in 2013 at Mt. Gox along others. After several trades I realized quickly that properly tracking all my trades was almost impossible. So I started off with an Excel spreadsheet like many others but I quickly grew tired of manually updating it. I met several traders at that time who had similar problems. So I realized that the need for a professional cryptocurrency portfolio tracking tool is huge and started developing CoinTracking, which initially launched in April of 2013."
CoinTracking says it has over 520,000 daily active users and enjoys great reputation among traders which can be witnessed in different communities like Reddit or Twitter.
Cointracking has no access to your withdrawal rights on the exchanges you connect with the app. They only have the ability to see activity in your account which means that even in case of Cointracking going rogue or suffers a hack attack, your coins will be safe on the exchange/wallet you stored them on.
Cointracking adheres to the stringent security practices to prevent any breaches into their system. Some of the methods used to enhance the security of the system comprise of:
Data and API encryption
2-factor authentication
Create and restore trade backups
No access to your exchanges required
Coin tracking review – which exchanges and wallets are supported?
---
In a word – almost all. In more detail, over 70 most popular exchanges and 8 cryptocurrency wallets (popular hardware wallets like Ledger Nano X, Trezor also supported).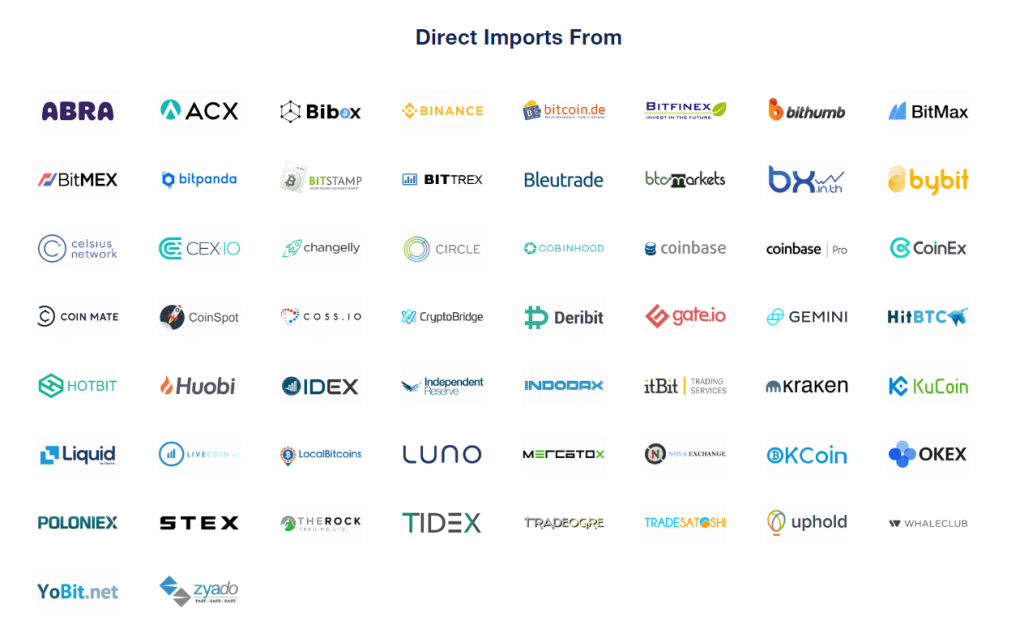 When we say "supported exchanges" – we refer to exchanges that can be directly imported to Cointracking app via API integration. Trading history from other exchanges that are not listed as supported can also be used by simply exporting it from the exchanges and importing it into Cointracking.info app.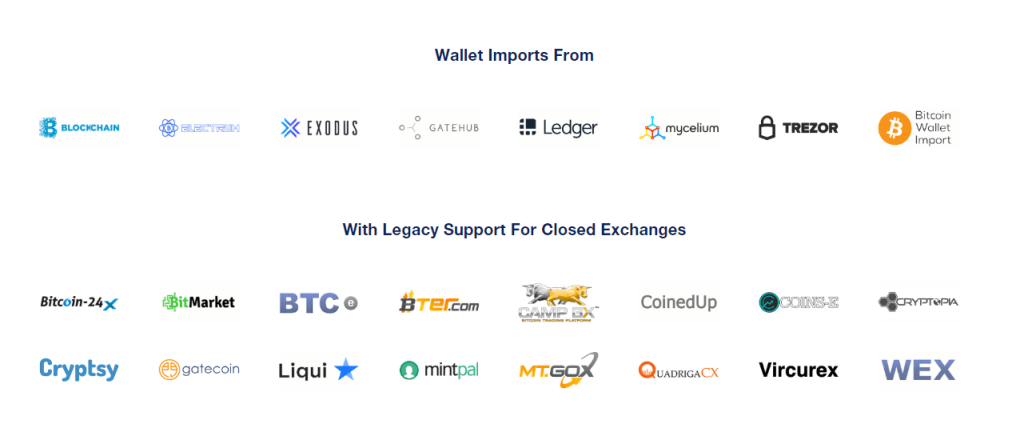 How to setup and use Cointracking app?
---
How can you enter your trading history into Cointracking.info?
---
Your trading data can be input either manually, by a manual import, CSV import from exchanges or fully automatically via APIs.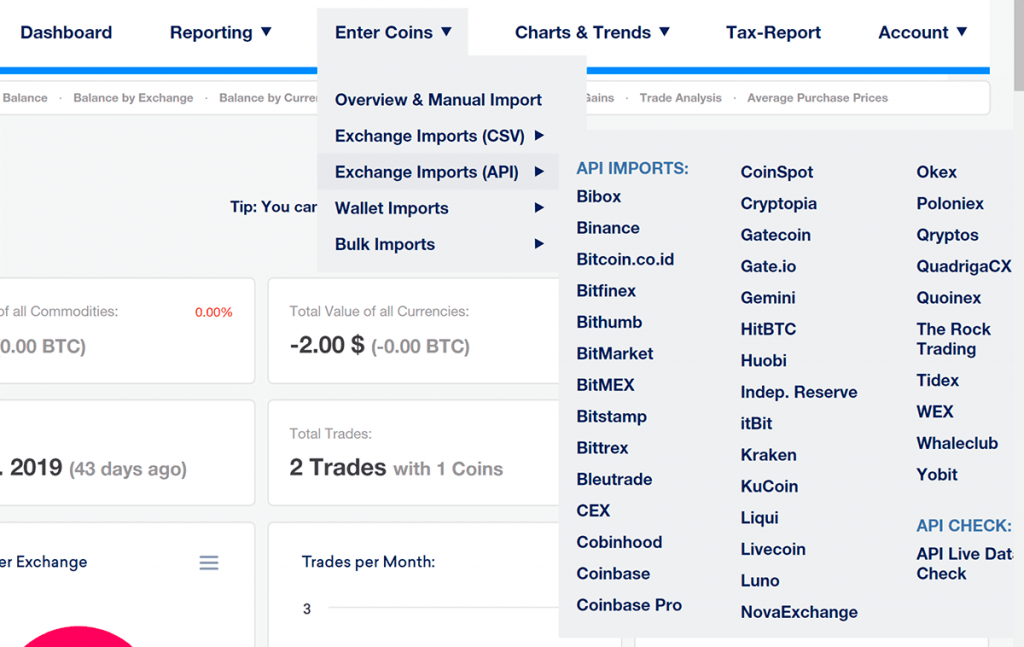 Enter trades manually into Cointracking app
Once you download and open your Cointracking app, you will need to create an account. After you do that and log in at CoinTracking, first thing to do is to enter your coins, so CoinTracking can track them.
To do this, check navigation bar and click Enter Coins.
This will be empty at first so you will need to add your first trades.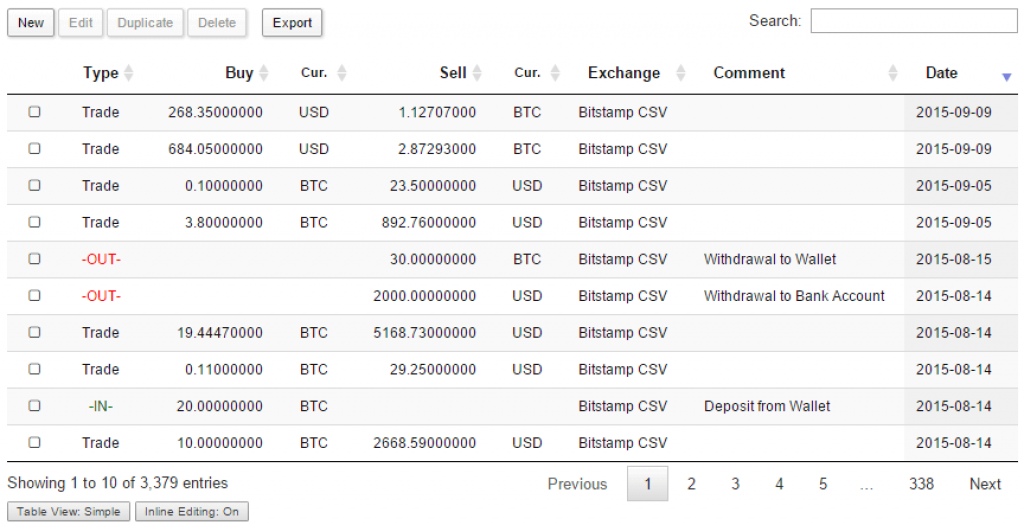 Choose the New button to create a new trade. Enter the needed data: which coins did you buy, how many, at what USD rate and when did you do it.
After saving your first trade appears in the Trade Table. You can edit or delete it at any time.
Import your trades into Cointracking app via CSV
CoinTracking supports a broad selection of leading crypto exchanges, making it easy to import data from them.
To import trading history this way, click below the Trade Table on the logo of an exchange, to start the Exchange Importer. Follow the instructions on the next page to upload your trades.
Import your trades into Cointracking app directly via API Importer
Once you hook up your Coin Tracking app with exchanges or wallets, via the API keys – the app does all the heavy lifting all alone, allowing you to monitor your trades or your BTC Wallet automatically. The Cointracking app checks the status every few minutes and if there any new trades, it adds them automatically into your account. Click on the logo of an exchange or on BTC Public Address and follow the instructions to set up the API Importer.
What tax reports can you make with Cointracking.info?
---
CoinTracking surged in popularity after adding a separate feature with the annual tax return of Bitcoins and other digital currencies.
CoinTracking can prepare your taxes automatically according to several methods like FIFO, LIFO, HIFO, AVCO, ACB…
How do create your tax reports with Cointracking app?
---
The process is simple and straightforward.
Click on the Tax-Report page and navigate to the Open settings and create a new Tax Report button.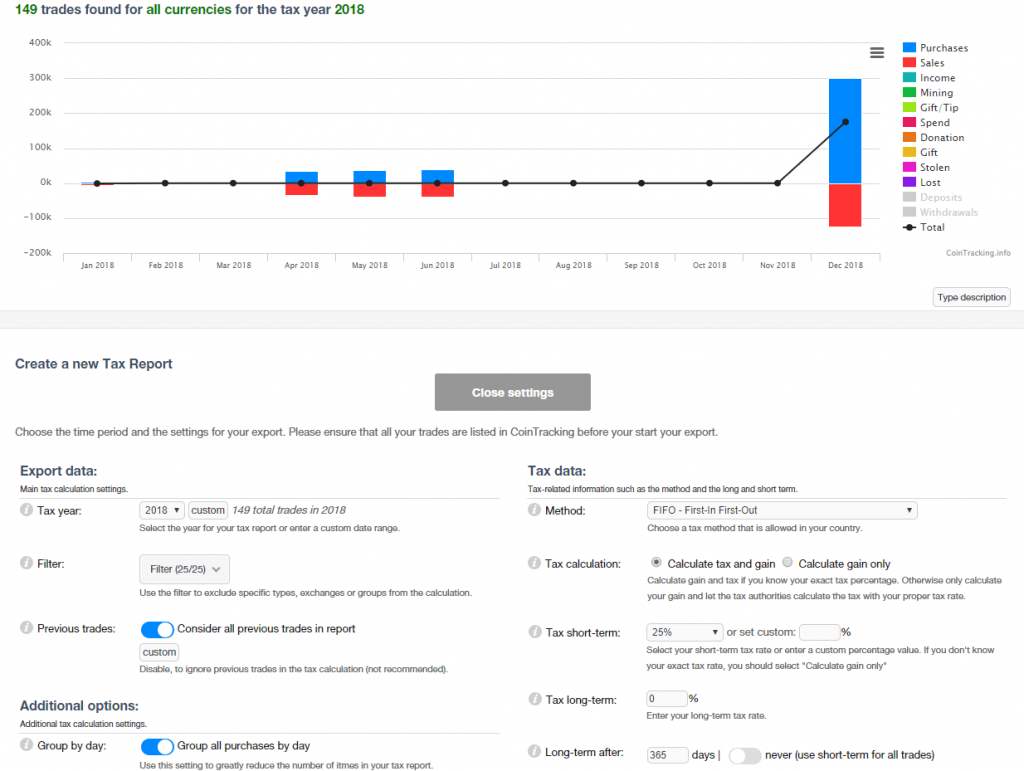 Pick the tax year and tweak other settings per your needs (stuff like like the method, filters, tax rates, etc.)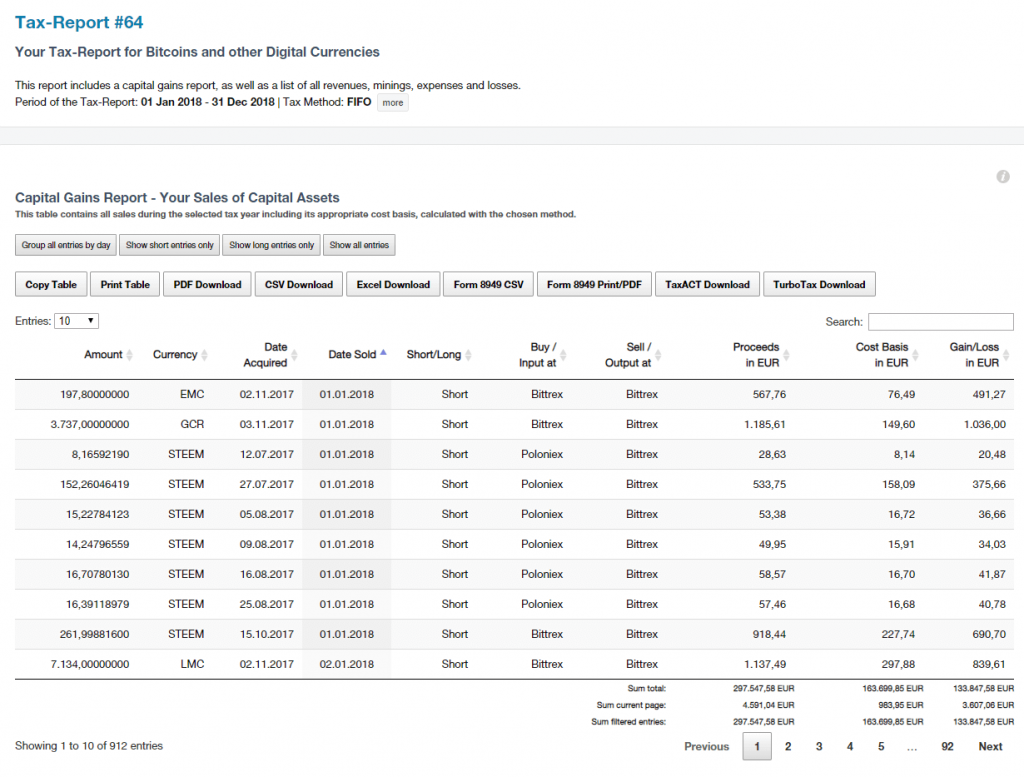 Once finished, click on the button Generate a new Tax Report now!.
And that is it! You can view the newly created report by clicking on the "Load Report" button which will show all the reports generated, including: Capital Gains Report, Income Report, Donations and Gifts Report, Stolen and Lost Coins Report and the Closing Position Report
Cointracking app is designed not only for US tax laws but can be customized for other countries as well – such as Capital Gains, FBAR, Form 8949, the German tax declaration under the Income Tax Act, and many more.
CoinTracking vs. The Competition
---
The main competitive advantage that separates CoinTracking from the pack is the fact that it has broader API support compared to competing crypto tax calculators, even though competitors have closed the gap in the last year.
CoinTracking also offers lifetime license, which are costly, but can pay off in the long run, especially if you are a power-trader with a lot of trades behind and in front of you.
Also, most crypto tax calculators lack a free plan. The fact that you don't have to pay anything if you have 200 transactions or less to process makes CoinTracking price a logical choice for beginner traders.
Main competitors of Cointracking are listed below. We reviewed all of them and can safely say that crypto tax tools are a neck and neck race with all tools following each other in a lockstep when it comes to features and pricing.
Cointracking.info review – Final words
---
Simply put, Cointracking app is a great tool for crypto traders of all skill and experience levels – from beginners to top of the line whales that run the show on exchanges. It is easy to use, has a wide offering of supported wallets and exchanges, is run by a well-reputed company that keeps improving the product. Cointracking is one of the leading tax reporting platforms. To sum up – Cointracking.info does its job very well and will surely stay in the top ranks of crypto tax tools for a long time.
PROS
One of the leading crypto tax platforms
Automatic import
Interactive charts
Beginner-friendly

CaptainAltcoin's writers and guest post authors may or may not have a vested interest in any of the mentioned projects and businesses. None of the content on CaptainAltcoin is investment advice nor is it a replacement for advice from a certified financial planner. The views expressed in this article are those of the author and do not necessarily reflect the official policy or position of CaptainAltcoin.com