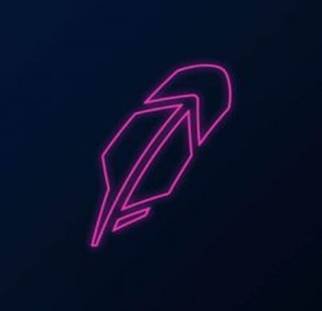 Robinhood Financial LLC, launched in 2015, is a brainchild of two Stanford roommates Vladimir Tenev and Baiju Bhatt. Soon after graduating they realized that stock trading needs to be simplified and brought closer to the new generation of investors. They also noticed that electronic trading firms pay effectively nothing to place trades in the market yet charge investors up to $10 for each trade — and thus the idea for Robinhood was born. Robinhood has so far been known as a zero-commission stock trading Android app designed as an investment tool to connect ordinary people with financial markets. However, the company has recently announced plans to start offering the cryptocurrency and bitcoin trading services on its mobile platform. This trading will apparently be conducted without fees and the service will be starting this February.
An early access page is available at crypto.robinhood.com; as of mid-February, over 1,000,000 people have signed up for it. They also have a referral program which awards you with an increased chance of getting early access and a free stock of a major company like Apple or Sprint.
Robinhood aims to make crypto trading available in late February of 2018 to customers in California, Massachusetts, Missouri, Montana, and New Hampshire, with the intention to spread its services across the entire USA by mid-2018. Currently, the Robinhood app can be downloaded by 18+ legal US residents on Android and iOS.
How is Robinhood funded?
Even though the company takes pride in their commissionless trade model, they are far from a charity. Robinhood has built a business model which collects investors' money into a single investment pool. With approx. 3 million users, Robinhood earns a pretty hefty interest from the collected capital. Robinhood also offers a premium subscription plan called the Robinhood Gold premium tier. That subscription is priced at $6 to $200 per month and raises its users borrowing limits into $1,000 – $50,000 range.
Finally, they have raised around $176 million from top investors like Andreessen Horowitz, Index, and NEA. The collective valuation of the company stands at $1.3 billion.
How to use Robinhood Crypto?
You can access Robinhood's cryptocurrency trading features through relatively the same interface you would use for standard Robinhood stock trading. The themes of these two interfaces are different, as the Robinhood Crypto trading interface features an 80s inspired, retro, Tron-like aesthetic design. This design is different from the conventional "day and night" themes of the stock-based Robinhood trading interface, where the UI switches between these day and night themes to indicate whether the markets are open or closed. In the crypto world the markets never close, which the Robinhood Crypto team alludes to both with a pulsing, almost disturbing neon sign on their front page, as well as with their implementation of a constant, non-changing theme for the UI.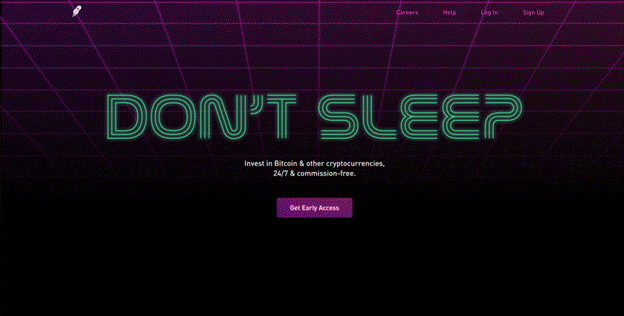 Because other traders won't
All your cryptocurrencies, stocks, ETFs and options are available side by side in the Robinhood app, allowing you to track your complete portfolio from one place. Robinhood emphasizes easy access to funds: wherever you go, you'll be able to easily invest in whatever asset you desire. You don't have to miss a major news story and miss out on the next big crypto jump. In preparation for the launch of crypto trading in February, Robinhood added crypto news and price alerts to its app in January. Today, users can track the price and news for 14 top cryptocurrencies.
Initially you will be able to buy and sell Bitcoin and Ethereum on the platform. However, you are allowed to create a watchlist of other cryptocurrencies which include:
Qtum (QTUM)
ZCash (ZEC)
Dogecoin (DOGE)
The watchlist currently allows you to simply follow the growth and movement of the coins that are on it; however it has been suggested by the Robinhood team that they plan on adding full trading support for these coins.
As for the payment methods, Robinhood allows you to use your bank account for deposits and withdrawals. You can easily add most major US bank accounts through the app's integration feature, but smaller banks may require manual linking. Robinhood team announced that they plan to add alternative funding options like PayPal and virtual wallets in the future. At this time, they don't allow transfers of existing cryptocurrency assets into Robinhood Crypto accounts. There are a few reasons for this, but the primary concern is to prevent money from illegal activity being used for transactions on their platform.
How to Place a Crypto Order with Robinhood
You can place an order to buy or sell cryptocurrencies for any USD amount (above $0.10 USD for BTC, and above $0.01 USD for ETH), or in any fractional amount of a cryptocurrency (above 0.00001 BTC, or 0.001 ETH). You can place market orders and limit orders for cryptocurrencies in your Robinhood Crypto account.
Placing a cryptocurrency order with Robinhood is designed to be as straightforward as possible. When the crypto feature launches, you'll be able to instantly transfer up to $1,000 from your connected bank account (or more, if you have a Gold membership). Any additional funds transferred to the platform will arrive later via ACH transfer (i.e. you can transfer more funds, but you'll only have instant access to the first $1,000). This instant access to funds gives the Robinhood an edge over other crypto trading platforms known for long transfer times. Prolonged transfers can create annoying delays which more often than not result in users missing out on price drops and other purchase opportunities.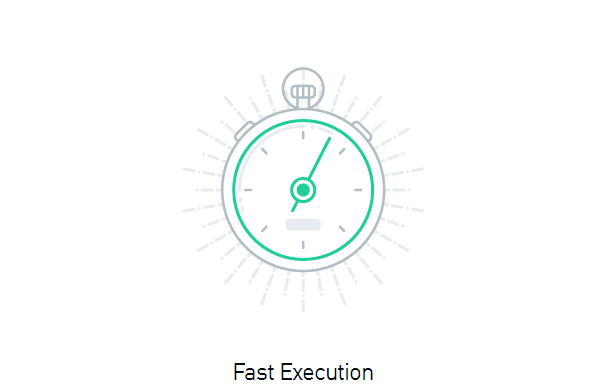 Once you have money in your account, you can place a buy or sell order. The types of orders available are:
Robinhood gives you an estimated price and connects to a sea of market centers to find the lowest price.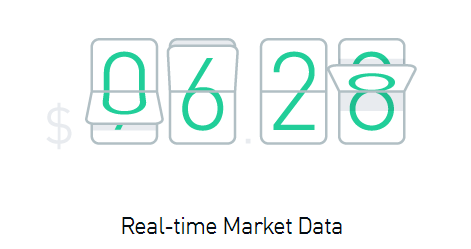 This price is commission free, as the platform doesn't charge any extra fees on the market price. Robinhood also reduces market volatility by "collaring" your trade. If it can't execute your trade at close to the estimated price, then Robinhood will wait for the price to return to the set "collar"(collars up to 1% for buys, 5% for sales) – or return your money.
Robinhood will also support limit orders, which means you can set a price where you automatically buy or sell. Your limit buy order will only execute if the cryptocurrency meets or falls below your limit price, and your limit sell order will only execute if the cryptocurrency meets or goes above your limit price.
You can invest in cryptocurrencies 24/7 on Robinhood Crypto, with the exception of their weekly downtime for site maintenance. Your app will notify you about scheduled maintenance windows and their duration. During a maintenance window, you can place orders to buy or sell cryptocurrencies, but they won't execute until the maintenance window is finished. Previously pending orders will remain in that state.
Its important to note that your cryptocurrency assets are held in your Robinhood Crypto account, not your Robinhood Financial account. This means your cryptocurrencies need to be backed entirely by cash, and can't serve as collateral for equities positions that you hold in your financial account.
Security and regulation
Cryptocurrencies purchased on the Robinhood platform are stored in a mix of hot (online) and cold (offline) storage. Strong security measures are put in place to protect the exchange and its funds, including required authorization from a select group of people (which is constantly rotated) when making operations on coin transfers as well as strict operational security which ensures that employees need to ask for security access before getting it. Furthermore, their Security Team constantly reviews all code and infrastructure deployed within Robinhood, and they hire third-party security experts to test their security systems regularly.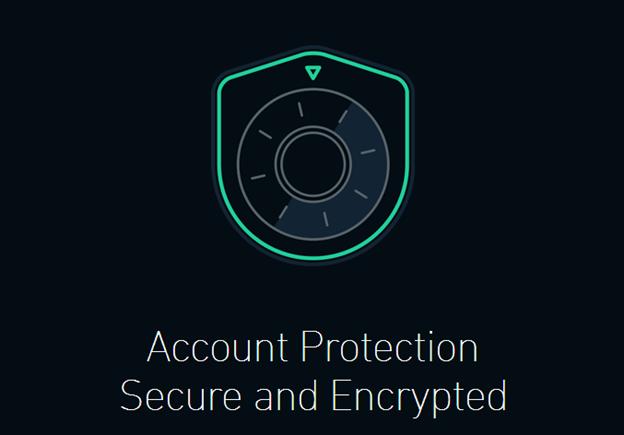 Robinhood Crypto is registered with FinCEN as a money services business. As such, Robinhood Crypto is subject to the requirements of the Bank Secrecy Act as well as the money transmitter laws of most U.S. States. It is also a member of the Financial Industry Regulatory Authority (FINRA) and the Securities Investor Protection Corporation (SIPC) but these protections DO NOT extend to its crypto trading platform yet.
Pros and cons
Pros
Easy to use
Supports wire (bank) transfers
Free, comissionless trading
Regulated
Secure (Touch ID, Face ID, a custom PIN code or two-factor authentication)
Fast approval and instant availability of funds
Cons
Limited reach, initial support for only 5 US states
No plans of becoming available outside of USA as of yet
Full support for only two currencies
Low number of trading options
Transfers potentially tax susceptible
Doesn't support virtual wallets
Robinhood comes into the crypto market as an already established investment player, with its current user base of 3 million showing they know how to deliver quality service. Their plan to offer commission-free trading to American investors is a really good strategy to gain a strong foothold in the market and possibly threaten some of the major players that are being plagued by various issues at the moment. As they plan on adding new cryptos and including desktop support, expect to start hearing a lot more about Robinhood Crypto.

CaptainAltcoin's writers and guest post authors may or may not have a vested interest in any of the mentioned projects and businesses. None of the content on CaptainAltcoin is investment advice nor is it a replacement for advice from a certified financial planner. The views expressed in this article are those of the author and do not necessarily reflect the official policy or position of CaptainAltcoin.com