NEO is formerly known as ANTSHARES. They did their re-branding in the beginning of August 2017.
What is NEO?
Blockchain technology will make a huge impact on our society as a whole, but it is still uncertain how these changes will be introduced. Different projects in the cryptocurrency space are working toward a similar goal and one of those projects is called NEO. NEO is China's Ethereum according to many people. However, the question is can it live up to the expectations?
NEO Smart Economy is the future of economy and trade where all economic and trading agreements are coded in programming languages using a Smart Contract that sits in a decentralized blockchain. This smart contract will execute when the conditions of that contract are met and no party can influence or change terms once they are agreed upon.
With this concept, there is no need to trust among parties as the Smart contract will do everything according to automated rules programmed in it.
NEO goes further than Smart Contract and wants to digitize everything – every asset (house, car, baseball bat) will have its own digital identity on immutable blockchain. Every asset can have multiple owners and not just one.
In this scenario, trading anything will be a breeze – there will be no need for 3rd parties to verify your ownership claim, to oversee the transaction or do any mediation between parties. All of that will be automated and executed by a Smart Contract.
NEO will not only provide digital identity to assets and things, but also to humans and institutions. This way governments and authorities will be able to enforce laws as they do today.
How to Buy NEO?

The first step when buying NEO is to open a compatible wallet that enables you to store NEO and GAS. Here is a full list of NEO wallets.
Open NEO Wallet
Finding and opening a wallet for NEO coin is easy. Here are some of NEO wallets that allow you to store the coin.
The official NEO wallet – The official NEO community wallet. Available for mobile, desktop and web.
Binance – Binance is the most popular crypto exchange that also has its own web wallet for all coins the exchange supports. The advantage is ease of trading those coins from this wallet but on the other side, you don't own your private keys.
Ledger Nano X – Most popular hardware wallet or cold wallet. This is the safest option you can choose to store your coins.
Trezor wallet – Another very popular hardware wallet that is easy to use and can't be hacked since it is not connected to the internet and the coins are held in "cold storage".
Some of the multi-coin wallets like Exodus, Jaxx or Atomic Wallet are also good solutions for keeping your coins safe. They are especially convenient since they offer support for all platforms and devices (mobile, desktop, MAC, Windows). However, these are susceptible to hacking attacks since the private keys are stored on devices that are connected to the Internet.
NEO Tracker – A 'light' web wallet that has been developed independently from NEO and allows NEO holders to interact with and explore the NEO blockchain via the web.
NEON Wallet – Beneficial to hold your NEO in this wallet as it allows you to claim your GAS.
How to Buy NEO with Credit Cards and Fiat Currencies
There are not many exchanges that enable you the purchase of NEO coins with USD, EUR or some other currency of traditional money. You need to make a one step in between by buying BTC or ETH (or some other coin like XRP) and then convert those coins into NEO.
Currently, the only exchange where you can buy NEO directly for fiat is Hitbtc.
Where to Buy NEO with Bitcoin or Ethereum?
Buying Bitcoin or Ethereum is particularly easy with all kinds of payment methods like credit card, bank transfer, and Skrill. Here is a list of recommended exchanges:
Now, after you bought Bitcoin or ETH, you can open an account in any of the exchanges that list NEO (some of them listed below), search for NEO/BTC or NEO/ETH and then convert the coins:
Rebranding to NEO
NEO has already gained a foothold in the country and as part of its rebranding, the platform is renamed as NEO from the end of August of 2017. This rebrand was part of a bigger move to put blockchain technology in China's spotlight. The rebranding was launched at the Microsoft Headquarters in Beijing, and the new brand will be supported by Microsoft's G.M. of Developer Experience. Furthermore, they partnered with Microsoft to create a consortium Blockchain called The Legal Chain in order to provide digital evidence storage services, including e-medical records, intellectual properties, digital contracts, etc.
[x_line style="border-color:red;"]
The company has its own currency, which is found on most exchanges as NEO. It is important to note that the majority of stock exchanges across China use NEO. Also, owners of the NEO tokens can use them to collect dividends in other token named GAS.
The purpose of holding NEO is:
1) Voting rights on proposals that will always benefit yourself as a NEO holder. You are always the beneficiary of any changes to the network.
2) You generate "Gas" simply by holding NEO in your wallet ("Gas" was previously called "Antcoins"/"ANC").
3) You collect a portion of platform transaction revenue through "Extra Service Charges".
The GAS from synthesis and from ESC fee collection goes straight to your wallet in real time and based on the weighting of your NEO holdings.
There is essentially no utility volume on any network including Ethereum currently. However, as volume increases going forward with platform maturity and real world usage of the NEO network, it can be assumed that volume and these revenues will increase, potentially to a substantial level. Asset creation and alteration specifically should be a recurring function.
Economics of Gas charged for the Extra Service Charge: An equilibrium will likely be met. If Gas is cheap, more of it will be charged. If it's expensive, less will be charged. Gas is divisible by up to 8 decimals, unlike NEO shares which are not divisible.
All of this sounds great. However, NEO will need to announce some big projects if it wants to become China's Ethereum.
Meanwhile, the NEO team project is working together with Chinese officials in mapping a real-world asset utilizing NEO' smart contract technology called Smart Contracts 2.0, and the project has also signed up several new startup companies as partners. They also plan to add other partners as the project progresses.
Moreover, the team behind the NEO has patented cross-chain interoperability. This patent is expected to benefit the project in the long run.
NEO Roadmap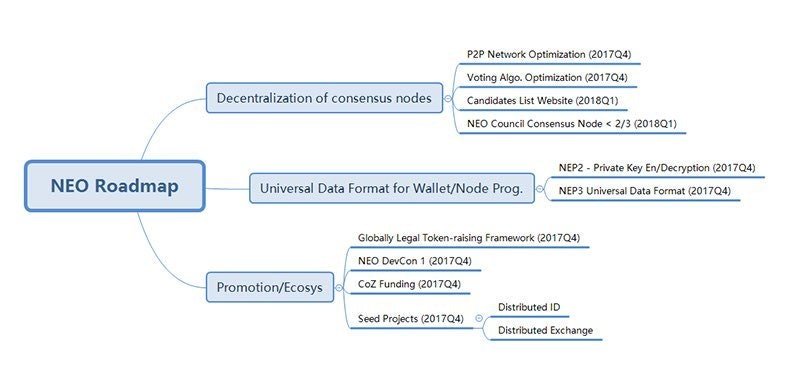 [x_line style="border-color:red;"]
NEO and Chinese Regulation Authorities
Regulation in China is good for NEO in my opinion!
NEO will implement a set of X.509 compatible digital identity standards that will support Web Of Trust point-to-point certificate issuance model.
This will enable authorities to proof the identity of a public address, which will comply with the concept of Know Your Customer (KYC) that Chinese authorities want to enforce on ICOs. This might be a great advantage for NEO over any other platform as NEO is currently the only platform with this advantage. Other countries might follow with these regulations and NEO will be in compliance.
This might mean that any other startup with an ICO worldwide – who wants to comply with these regulations, shall look at NEO.
NEO vs. Ethereum
Ethereum is one of the most successful and famous digital currency platforms, and NEO aims to position itself as the Chinese version of Ethereum. NEO is much like Ethereum, but there are some differences. What are the similarities and differences between NEO and Ethereum? Let's look into this step-by-step comparison between NEO and Ethereum.
There are several differences between Ethereum and NEO.
However, the key difference between these two lies in the technology behind them, particularly in the technology by which they are built, and more specifically, their programming language. Ethereum only functions with Solidity, which is both amazing and a drawback at the same time.
On the other hand, NEO is compatible with all coding languages, which means developers do not have to learn a new language for coding smart contracts. Industry experts believe that NEO' compatibility with all coding languages is expected to generate a bigger following of users.
Both NEO and Ethereum are able to combine fees, smart contracts and DApps. However, it is still too early to tell whether NEO can effectively become the Ethereum of China and dominate the market.
Read full comparison article here.
Market Cap at 1 Billion USD
However, there are also several factors working in favor of NEO. OnChain is a parent firm of NEO, and it is one of the most reliable brands in China these days. The project has secured millions of dollars in funding. This should see it advance this technology for years to come. Although NEO seems to have every opportunity and reason to become China's Ethereum over time, it is still uncertain if it can reach Ethereum's level.
[x_blockquote type="left" style="background-color: #1d3863; color: white;"]This is NEO Smart Economy, where all real assets can be digitized, traded with certainty using defined trading rules in Smart Contracts, and knowing who you are trading with using Digital Identity.[/x_blockquote]

CaptainAltcoin's writers and guest post authors may or may not have a vested interest in any of the mentioned projects and businesses. None of the content on CaptainAltcoin is investment advice nor is it a replacement for advice from a certified financial planner. The views expressed in this article are those of the author and do not necessarily reflect the official policy or position of CaptainAltcoin.com