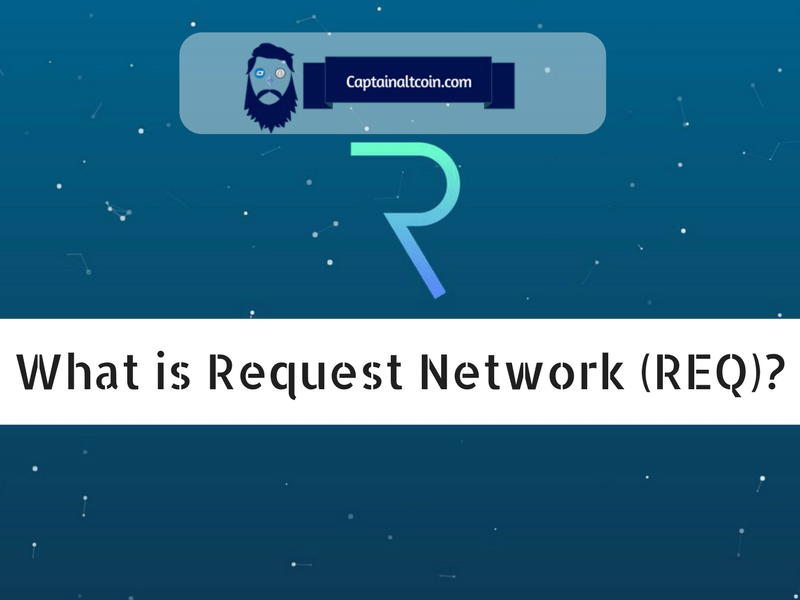 The crypto space is rapidly growing and with all of the emerging ICOs, market fluctuations, and the latest trends and improvements in cryptocurrency and blockchain technology sectors it can be difficult to track some of the major achievements happening inside the crypto space. There are over one thousand distinct cryptocurrencies currently available in the market. That's why it is crucial that you have the right tools to track valuation and progression of the crypto you own and are looking to invest it.
In this article, we are going to cover the Request Network. Request Network was launched in 20/10/2017 and is one of the more recent payment system proposals that is gaining a lot of attention from the crypto enthusiasts.
What Is Request Network?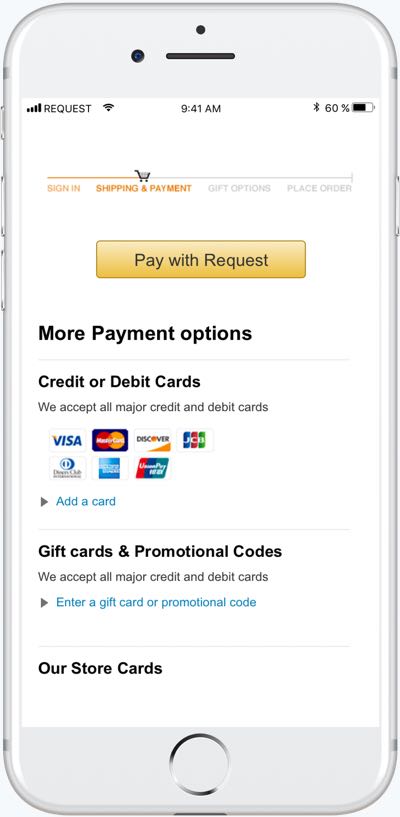 Often referred to as "PayPal 2.0," Request Network is a new type of payment system platform that allows anyone to request a payment (a Request Invoice) for which the recipient can pay in a secure way. It is built on top of the Ethereum network, making it an ERC20 token. All of the information is stored in a decentralized authentic ledger. This results in cheaper, easier, and more secure payments. It also allows for a wide range of automation possibilities. Request Network is a decentralized platform that enables anyone to request P2P payments, and makes business to business or business to client invoicing easier and cheaper as well. Request Network will definitely impact existing online payment systems such as PayPal, Stripe and powerhouse credit cards institutions (like Visa, MasterCard, etc.) by providing a cheaper and faster alternative.
Another thing to note here is that the Request Network is designed to work with any currency, fiat and crypto, and the receiver can decide to receive it in a specific currency. Atomic Swaps are similar to this. However, they are not technically transactions. Atomic cross chain swap (ACCS), which is a fancy name for an extremely old and well-known structure – a call option, also does not give you the opportunity to receive or send in fiat currency.
The Request Network Team
The team behind the Request Network  consists of 6 members and 3 (external) advisors – CFO and co-founder Christophe Lassuyt, CTO and co-founder Etienne Tatur, CMO Julien Devoir, data analyst Laura Girod, lead engineer Vincent Rolland, and advisers Lasse Clausen, Christopher Heymann, and Gilles Fedak.
The majority of the Request leadership team previously created Moneytis, a company that specializes in low-cost international money transfers. Moneytis had a 20% monthly growth-rate, but the team found that the majority of money transfers were invoices and wanted to focus their business on the issues involved with them. That's why the team chose to pivot and create the Request Network. They also recently released the product test net, Colossus.
 Request Network 2018 Roadmap
As I already said above, the Request Network (Request for short) is an Ethereum-based, decentralized payment system designed to remove the need for trusted third-parties to provide a cheaper and more secure payment solution that works with all global currencies. Anyone who uses Request is able to request payment where the request button is used. It's important to note that with request payments, all money transfers are made without having to be managed by a bank or other money services like PayPal, which greatly reduce transaction costs. One more thing worth noting is that all payments are recorded on a public ledger, and no additional fees for services are charged to users of the Request Network.
The team itself outlines 5 use cases for Request Network: Online payments, Internet of Things (IoT), Invoicing, Audit & Accounting, and Transparacy, and these systems will have their own systems in place to make sure that the whole network runs as intended. This system is designed for individuals, businesses, and governments who need a simpler method to make payments and track funds.
The Request Network currently has its own token, known as REQ, which is an ERC20 token that you spend to use the Request Network. However, the Ethereum network will support the ability to exchange any currency all over the world using the request system. This means that their token isn't necessary to send or receive funds. The REQ token will be used for transaction fees, which will stay between 0.05% and 0.5% and decrease as the system grows. A portion of the REQ fees will be burned, which has the added incentive of reducing the total circulating supply of REQ tokens, therefore, causing an upward pressure in its price. Other purposes of the REQ token include forming governance in community voting and acting as an intermediary for cross-currency exchanges.
Q1 2018 (Request Great Wall)
In the first quarter 2018, the Request Network team plans on making some major moves, including:
Launching their "Pay With Request" button online, which will offer an alternative to the traditional "Pay with credit card" and "Pay with PayPal" methods outside audits of the Request Contracts.
Adding the ability to manage cryptos to request.
Getting Request on Main Net.
Providing proof of concept (PoC) that will show that the Request Core will work with Bitcoin oracle.
Building partnerships with accounting, audit, and payment firms.
Q2 2018 (Request Stonehenge)
In this quarter, the team promises to improve the Request Network by:
Providing PoC using ZkSnarks.
Adding control of fiat currencies (USD, EUR, CNY…).
Improving the system in order to process a larger number of requests.
Working with governments, city halls, and related associations to publish real time information on their budget.
Develop discussion groups around the topic of using Request Network at major institutions such as Worldbank, IMF, ECB and the UN.
Q3 2018 (Request Colosseum)
The third quarter is meant to improve the Request Network by:
Deploying the Escrow extension to the Request Network, which will allow the release of funds upon delivery or upon satisfaction of other conditions.
Deploying the Tax extension to give people the ability to pay taxes in real time.
Adding a Reputation Offchain layer to the network.
Deploying the Down Payment extension to allow deadlines for payments.
Deploying the Late Fees extension, which will create penalties for late payments.
Q4 2018 (Request Petra)
The 4th quarter listed on the website will bring the following:
Deploying a governance system (Vote/Token Chat system).
Deploying the "Internet of Things framework" project.
Deploying inter-currency settlement through REQ token, which will allow the Request Network to make international payments.
Launching the "Continuous Payment" extension, which will essentially act as a down payment system that allows infinite micro payments.
This is only a short summary of what the Request Network team says it will accomplish in 2018. Visit the Request Network website if you need more information about the project.
How to buy Request Network (REQ)?
You can't buy it directly for fiat. There has to be a middle step in form of buying BTC, ETH or LTC on some of the exchanges that support fiat/crypto pairing. You can check detailed guide on how to buy coins for fiat on some of the more popular exchanges:
Coinbase, Coinmama, Cex.io, LocalBitcoins.
After that, you transfer the bought BTC/ETH/LTC to exchanges where this token is traded. As of right now, this token is traded, among other exchanges on:
Advantages
The Request Network has several significant advantages over current payment systems. The Request Network is built as a layer on top of the Ethereum network, so payments are instantly sent out as soon as they are confirmed and they don't have to wait to be approved by "middlemen" such as payment services and banks. You always run the risk of having your information stolen if you use an online service or a credit/debit card online. With the Request Network, payments will be made using a request button. This will provide users with a 1-click confirmation experience. This will also make transactions securely, because users won't have to specify banking information, which will prevent anyone from taking their information or identity.
Compared to PayPal and similar products, for example, the Request Network provides a cheaper, faster and more secure payment solution that works with all global currencies. It also prevents the chargeback abuse that occurs when using online payment systems.
The team behind the project claims that as more transactions are made, the transaction costs will decrease. The Request Network is also tackling auditing and budget transparency, which will allow businesses to track invoices to audit payments as well as record transactions for accounting purposes. Invoicing is made simpler with the use of systems that allow for the holding of payments, real time tax payments, real time auditing, and contract penalties.
One of the reasons why cryptocurrency projects are so popular in the financial industry is the fact that cryptocurrency payments are non-refundable, which means that a payment that is sent out cannot be sent back unless the receiver decides that a refund is necessary, which they must manually pay back the same amount.
Other than payments, the Request Network is also highly transparent and can be used by governments, nonprofits, and other organizations to bring transparency to their budget and expenditures.
Disadvantages
The concept behind the Request Network is certainly impressive and there are so many exciting things planned for REQ in 2018. However, not everyone is positive that the team behind this project will be able to deliver on what it is setting out to do.
The first concern that people share is that the roadmap is audacious, to say the least, and it may be difficult for the team to accomplish everything without a simple, singular focus. Also, the team is working together in another project called Moneytis, and many people are worried that the team will not be able to juggle the responsibilities of running two projects at the same time.
People are also concerned that the project will not be able survive, due to its many blockchain competitors, like OmiseGo, Populous, TenX, and others. The Request Network is still in the early stages of development and so far, there has not been any proof that it will actually function as promised. Should the Request Network project fail, this may present a problem for investors. However, this concern will soon be addressed in the first quarter of their 2018 roadmap plan, when they will be pushing REQ to Ethereum's Test Net.
Scaling is another discussion of concern, as Request Network is built on top of Ethereum. Ethereum, however, currently suffers under scalability problems, and it has a lot of bugs with smart contracts. This concern can be overcome by Request moving to another platform in the future if Ethereum doesn't provide them the scaling they need. However, having to move over and adapt to another platform will still hinder development.
Most businesses and financial institutions shy away from cryptos due to the complicated tax laws that accompany them and due to their threat to the current financial system, so there is the issue of convincing people to use the Request Network as well. True, the Request Network does not necessarily rely on digital currencies, but it is still a new project and it is likely that all major companies will approach this new payment system with hesitation. The Request Network project could be brought to a screeching halt if they couldn't manage to convince these companies to use their new system.
Also, any project in the crypto ecosystem is susceptible to hacking. The Ethereum network has been hacked in July 2017, when an unknown hacker stole nearly $32 million worth of Ethereum, which was third heist in 20 days. There is always the possibility of another hack taking place, which could mean disaster in the project's infancy. It's very important to do your research and proceed with caution before you invest in any cryptocurrency or crypto project because even if the project itself is not hacked, anyone holding may be hacked for their coins if the Request Network becomes extremely successful.
Partnerships
The team entered Y Combinator, an exclusive start-up accelerator, which has a 1-2% acceptance rate, so being in the program says a lot about the credibility of the project and team.
Request Network has also partnered with Kyber Network. This system allows exchange and conversion of digital assets, which gives users two options to pay a request when they do not tokens of the requested currency. They also partnered with the 0x project to help with cross-currency payments. Additionally, the platform also makes use of other big names in the crypto space such as Civic and Aragon.
Opportunities
The Request Network is certainly bound for success if they are able to follow through on their vision.
Let's first take a look at the success of the Request Network team, which is headquartered in Singapore. The team is also the driving force behind the Moneytis company, which means that the Request Network is not the first project that this team has taken on together. Moneytis is an international transfer service that has received $454,220 funding in 6 rounds. Moneytis provides cheap transfer rates based on the rates of competitors, has amazing reviews, and has also repeatedly received funding to continue their services and grow their business. Moneytis has also received recognition by some other major companies. The ING group, which is headquartered in Amsterdam and operates in more than 40 countries worldwide, partnered with Moneytis in 2016. As you can see, Moneytis is a very successful project, so it can be safe to assume that the team is capable enough to make the most out of the Request Network project.
There have been a handful of companies and cryptocurrency projects in recent years that have actually turned out to be a plot to scam people out of their money. Based on the success of Moneytis, it is highly unlikely that the team is trying to take money or create a new coin to make money off it.
Given the success of the team and the credibility and success of Moneytis are not the only indications that this project can be extremely successful.  Y Combinator's, which  is an incubator where early stage startups receive seed investment, advice and connections from its experienced partners, contribution to the project only furthers the concept that request will succeed. Started in March 2005, Y Combinator is an American seed accelerator has provided funding to over 1,400 startups in over 30 different markets. The Request Network project is the first cryptocurrency project to be funded by them, which clearly demonstrates the idea that the Request Network has massive potential.
Besides all of the above, the Request Network is also trying to fix one of the most fundamentally problematic areas of personal and corporate finances. The network provides easier money tracking, faster payments, the ability to transfer any type of currency, not just their REQ token, and vital systems that many related cryptocurrency projects are missing. With one of the most needed and viable use cases in the financial industry, impressive backing, and their highly anticipated 2018 roadmap, Request Network has the capacity to grab a lot of highlight in 2018 if the entire project goes according to plan and they can convince some of the major financial players to use request in place of other payment systems.
Conclusion
The Request Network boasts that this project will revolutionize the way that we make payments online. However, 2018 is the year of the working cryptocurrencies and there are a great deal of crypto projects that have been launched or have yet to be launched that promise revolutionary changes as well. Request Network is definitely impressive and is attempting to bring blockchain solutions to every aspect of payments. However, it is too early to tell whether or not the project will make the changes that it is setting out to do.
One thing we love about this project is the team that has years of payments experience (working together nonetheless) and has the support of arguably the best start-up accelerator in the world. It has even hit every milestone it has set out so far, and is actually ahead of its own schedule, which is not something you see often in the cryptocurrency world.
If they are able to achieve development goals and deliver before the competition adapts to the changing space of finances, they have a good shot at dethroning the current payment platform kings.
Useful Links
---
If you are hardcore crypto-fanatic, you probably hold some of these coins as well. Here are the wallet solutions for them:

CaptainAltcoin's writers and guest post authors may or may not have a vested interest in any of the mentioned projects and businesses. None of the content on CaptainAltcoin is investment advice nor is it a replacement for advice from a certified financial planner. The views expressed in this article are those of the author and do not necessarily reflect the official policy or position of CaptainAltcoin.com