24Option Review – a close look at fees, withdrawals/payouts & regulation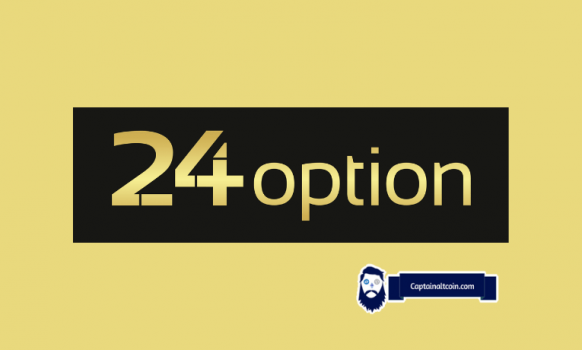 24Option Review – a close look at fees, withdrawals/payouts & regulation
Good news and educational sections
A good and precise pip value calculator that shows exactly what your profit or loss will be with each pip move
24Option review is a new article in our series on Forex, CFD and crypto brokers.
The platform looks to provide an intuitive trading experience empowered with the latest technological advancements. With a mission to "bring trading to the masses", 24option looks to be a quality solution for both new traders as well as professionals.
24Option Facts & Figures
Trade nearly 200+ global stocks at 24Option via CFDs. Spreads are competitive and stop loss and take profit orders are available. Even trade new cannabis firms in Canada!
Instruments
CFD, Forex, Crypto, Stocks
Demo Account
Yes
Min. Deposit
$250
Pay Methods
Cashu, Paysafecard, Yandex Money
Min. Trade
From 0.1 lots
Regulated By
CySec
MT4 Integration
Yes
MT5 Integration
No
Mobile Apps
iOS, Android and Windows
Auto Trading
No
Social Trading
No
Copy Trading
No
Trade Signals
No
Islamic Account
No
CFD
FTSE Spread
1 pt
GBPUSD Spread
0.2 pips (var)
Oil Spread
1 pip
Stocks Spread
0.2% Var
Forex
24Option deliver a high quality forex trading service, with over 45 currency pairs and variable spreads from just 3 pips.
GBPUSD Spread
0.2 pips (var)
EURUSD Spread
0.2 pips (var)
EURGBP Spread
0.9 pips (var)
Assets
45+
Cryptocurrency
24option offer crypto with the tightest margins. They also offer markets against a range of currencies, not just USD.
Spread
BTC 0.4%, ETH 0.5%
Coins
BCH, BTG, BTC, ETH, LTC, XRP, XRM
About 24option
---
This user-friendly platform is in operation since 2010 and has placed a strong focus of 4 specific points:
Connecting Opportunities – such opportunities arise daily and are numerous and 24option wants to give you the means to take them.
Maintain Control – 24option wants to let you control the ability to drive your own success.
Personal, Professional Support –the platform provides "steady, dedicated support" to assist you in every step of your way towards profit.
Freedom of Choice – the broker gives you access to over 100 tradable assets which you can use to potentially earn.
To be perfectly honest, none of these points mean anything special nor do they set the company apart much from the rest of the market, as you'll find similar principles with any legitimate broker. The platform does what most traders want from their broker: it lets you trade a solid variety of assets which include currencies, indices, stocks, commodities and even cryptocurrencies. All in all, you'll find more than a hundred tradable assets on 24option. As the name implies, the platform used to trade options in the past but these assets were removed in 2017.
The platform apparently puts significant emphasis on education and has a native education center for its traders. Besides having plenty of educational videos on forex and investing, the center has a calendar which contains dates of upcoming education webinars. Attending these webinars will give you a chance to learn from the trading experience provided by 24option's traders. In here you'll also find an interactive crypto booklet which will teach you about the basics of blockchain, Bitcoin, Ethereum, and crypto in general. Final educational resource you'll find is the advanced interactive e-book, designed to provide a visual guide into the world of Forex/CFD and help you learn how to make the most of your trading experience.
Other features that users might find useful include 24/7 trading and trading support in a range of different languages including English, Spanish and Italian. 24option has an economic calendar which helps you track key economic events that could potentially influence the price of your assets. The calendar gives traders the option of selecting the type of events they want to track as well as the time they wish to receive platform alerts on their preferred news releases.
Important thing to mention is the platform's partnership with Trading Central. Through this partnership, 24option looks to bring advanced market analysis to its clients. The analysis gives commentary on selected assets and notifies the trader with updates. Trading Central is an independent research and financial investment company that provides technical analysis, information and strategies of forex, stock and financial markets.

We recommend eToro
✅Copy single trades or complete portfolios of top traders ✅Aside of CFDs, trade real stocks, ETFs and cryptocurrencies. ✅FREE trading on certain stocks. ✅Adjustable leverage.
75% of retail CFD accounts lose money.
Account Creation
---
Your trading account at 24option is the base upon which you can build your Forex/CFD portfolio. You can simply just register to start demo/real trading on the platform for free. With this basic account, there are a total of four types of accounts available to 24option users. You can consult your Account Manager who will help you choose an account based on your requirements; whether you want a more personalized experience or if you want to earn extra percentage on each investment, 24option staff will help you. Biggest leverage you'll be given on the platform is 1:500.
Basic accounts include:
short platform introduction
minimum deposit of $250
1 Basic lesson from the educational center
1 free withdrawal
a dedicated account manager
no access to webinars and seminars
access to daily news
a short introduction to the financial markets
a demo account with 100,000
access to Trading Central
leverage up to 1:500 (outside of EU)
Gold accounts are given:
2 Basic lessons
minimum deposit of $5,000
1 monthly webinar
access to daily news
access to Trading Central and its SMS alerts
access to senior account managers
access to 1 monthly free withdrawal
one-on-one course for using MetaTrader4
better spreads than the previous level
leverage up to 1:30
Platinum accounts get:
3 Advanced Lessons
2 monthly webinars
access to daily news
access to Trading Central and its SMS alerts
3 monthly free withdrawals
better spreads than the previous level
leverage up to 1:400
VIP accounts come with:
5 Advanced Lessons
5 monthly webinars
access to daily news
access to Trading Central and its SMS alerts
no withdrawal fees
best spreads on the platform
leverage up to 1:400
If you are a professional trader the platform allows you to apply for a professional account. This enables traders to trade with increased leverage in regulated regions like Europe, besides giving them lower stop-out levels. 24option requires its professional traders to have worked in financial services for over a year or to have to have a certain net-worth/income.
Trading/Interface
---
24option lets its users trade either on the proprietary web-based trading platform or through the MetaTrader 4 integration. The web-based platform is simple, easy to look at, with a user interface that is very friendly. Any popular internet browser of today like Chrome, Mozilla, Opera, Brave, can be used to access 24option trading. As such, traders of all levels of expertize can make their trades in a quick, simple manner.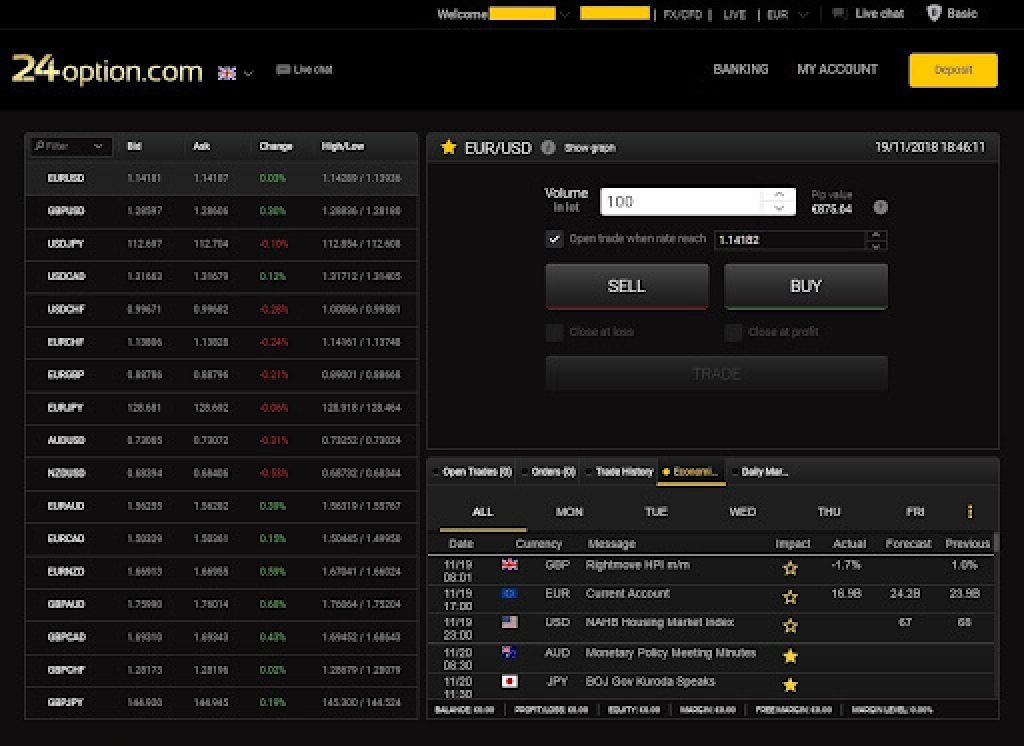 To make a trade on 24option, you'll need to choose an instrument on the left section of the screen, then fill out the volume you wish to trade (shown in lots). Entering the volume will automatically give you a pip value to the right. Immediately below the volume and pip value, there is an "Open trade when rate reach" box; check the box if you wish to open the trade only when the rate reaches a certain price. The process is the same for both buy and sell trades. From there, you have the option to select to "Close at loss" or "Close at profit." Checking either of these boxes will allow you to adjust the measurement to pips or rate and then adjust the figure. Once you are ready, click Trade.
Potential risks and rewards concerning a trade you wish to place on the market are listed out through the interface. Web traders are also able to utilize a quality charting interface that will look quite familiar and won't be hard to get used to. Left side of the interface contains a list of available markets and instruments you can trade on 24option. If you can't locate your desired asset by scrolling through the mentioned list, there's a search bar which you can use to look for said asset. Search results can be filtered by on-platform asset types.
On the right you'll notice the instrument's chart as well as the part of the interface you can use to buy or sell. The chart lets you use a wide variety of charting tools and patterns to help you analyze the asset's potential. The Economic Calendar tool and Daily Market updates are located directly below, alongside a list of your open trades, orders, and trade history. Finally, web traders can contact customer support staff straight from the platform, ensuring a seamless trading experience.
Web trading isn't your only way of using 24option; users can switch to either the mobile app which can be installed on both Apple and Android devices or can use the MetaTrader 4 integration to trade that way.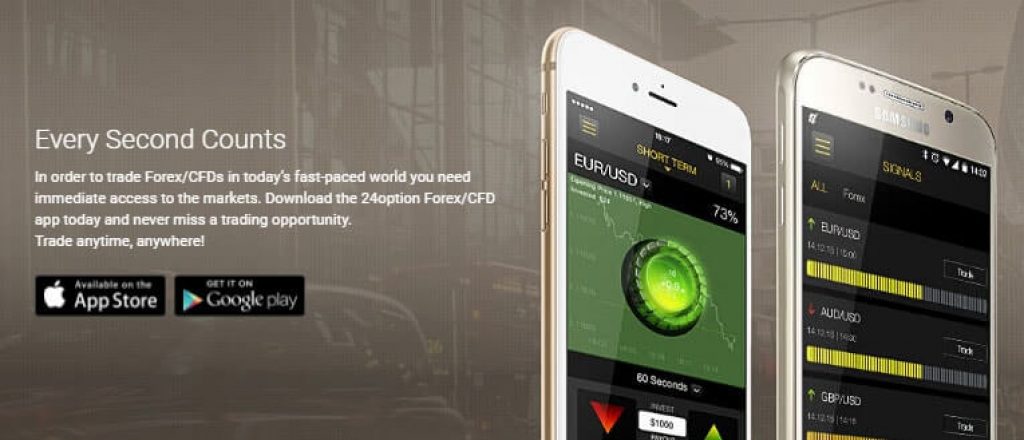 Assets
---
The list of assets that are offered on 24option includes:
Forex – Currency trading is one of the most popular and active markets in the world, with daily trade volumes sitting in trillions of dollars. Trade EUR, USD, JPY, GBP, AUD and CHF, as well as some more exotic currencies on 24option.
Cryptocurrencies – the platform offers CFDs for several most popular cryptocurrencies, including Bitcoin, Ethereum, Litecoin, Dashcoin, Ripple, Stellar and Monero.
Commodities – all sorts of real-life goods and commodities are traded on 24 option, including gold, silver, aluminum, zinc, cotton, cocoa, orange, corn, soybean, wheat, coffee, copper, etc.
Stocks – stocks on companies like Google, Facebook, Apple, Deutsche Bank can be traded as well.
ETFs – 24option offers more than 25 most popular market ETFs.
Indices – includes indices from the world's biggest economies. Dow Jones Industrials, NASDAQ, DAX, FTSE, MICEX and TADAWUL are just some of the indices you'll find on 24option.
The assets are traded in the form of CFDs or contracts for difference; these are derivative products that make it possible to trade on the difference between closing and starting values of an asset without actually owning it. With CFDs, you buy when you expect the market to go up and sell when you think the price is about to go down. Forex market is a class of its own, letting you trade currency pairings to achieve profit from the changing values of said currencies. Overall, you'll find over 200 tradable assets on 24option.
Team/Regulation
---
There is no official team listed behind 24option. The platform operates from two domains, 24option EU and 24option international. The information we managed to find told us that the website (www.24option.com/international) is operated by Richfield Capital Limited, a Belize investment firm, authorized and regulated by the International Financial Services Commission of Belize with license number IFSC/60/440/TS/18. Richfield Capital Limited apparently does not offer services within the European Economic Area and Switzerland, as well as in certain other jurisdictions such as the USA, British Columbia, Canada and some other regions.
Other entity, 24Option EU, is owned and operated by Rodeler Limited, a Cyprus Investment Firm which is licensed and regulated by CySEC (Cyprus Securities and Exchange Commission) under license number 207/13. Since CySEC is a member of ESMA (European Securities and Markets Authority), it means that 24Option also operates in compliance with MiFID II (Markets in Financial Instruments Directive).
While Richmond Capital and Rodeler Limited list their addresses for everyone to see on their website, the companies operate from Belize and Cyprus; considering this multiple company/country structure, there could be some problems with recovering your funds/suing people if the company goes belly up. That being said, the regulating agencies that gave 24option its licenses vouch for the platform's integrity and security of your funds.
Deposits/Withdrawals
---
The minimum deposit on 24option varies on the type of payment. Funds can be deposited in multiple currencies but it's recommended to deposit in your account's selected currency to avoid paying conversion fees. You can deposit or withdraw from your trading account using a range of methods such as bank wire transfers, Skrill, Neteller, Qiwi, Giro Pay, JCB, MasterCard, Visa, Discover, Switch, OKPAY, Perfect Money, Astro Pay and iDeal. To view the specific options for your region, go to the Banking page of 24option. 24option allows you to start trading almost momentarily after you make the deposit.
For withdrawals, customers need to have a verified account. This means that a government issued ID needs to be shown to the people who run 24option so that they can confirm your real identity. Gold and Platinum account holders can enjoy regular free withdrawals.Standard account holders are given their first withdrawal free. Remaining withdrawals may incur a percentage charge and this figure will depend on the method you used for withdrawing the funds. Withdrawal requests can be made at any time and are processed within 24 hours.
Fees
---
The platform potentially charges withdrawal fees to all but Platinum users. Different fees are applied for different kinds of withdrawal. Inactivity fees for accounts that do not have any transactions for a period of two months or more are also a thing to be aware of. The fee for two to three months of inactivity is 80 EUR, 120 EUR for three to six months, 200 EUR for more than six months of inactivity.
| ACCOUNTS | BASIC | GOLD | PLATINUM | VIP |
| --- | --- | --- | --- | --- |
| Minimum Balance | $250 | $5,000 | $10,000 | $50,000 |
| EUR/USD | 2.5 PIPS | 2 PIPS | 1.6 PIPS | 1.1 PIPS |
| GBP/USD | 2.8 PIPS | 2.5 PIPS | 1.9 PIPS | 1.4 PIPS |
| USD/JPY | 2.8 PIPS | 2.5 PIPS | 1.9 PIPS | 1.4 PIPS |
| Crude Oil | $0.13 | $0.12 | $0.11 | $0.09 |
Security/Support
---
As for the security of 24option, you have the industry standard features present on most similar market platforms. The website is protected by a Secured Socket Layer (SSL) provided by Comodo CA Ltd. SSL encrypts all data during transmission over the internet to protect it from being accessed by cybercriminals. 24option also keeps clients' deposits in segregated bank accounts in accordance to regulatory requirements. This is done so that the broker cannot use investors' funds for trading and will always be able to reimburse its clients. There is also an Investor Compensation Fund (ICF) available for traders from Europe under the jurisdiction regulated by the CySEC. This fund will compensate traders up to €20,000 if 24option fails or becomes insolvent and if their funds prove to be non-retrievable.
As for on-platform support, we all know that a responsive and professional help section/customer support helps greatly enhance ones trading experience. 24option didn't really blow us away in this section, having a very barebones 'FAQ' on their website. Aside from that, you can contact their multilingual support team anytime via phone, live chat or email.
Is 24Option a scam? Or is it a legit trading platform?
The platform is not a scam per se, but there are a lot of testimonials from their former customers who claim they were scammed out of their money. It could be a negative reputation damage orchestrated by their competitors, but it could also indicate that there are some questionable activities going on around the company. Better stay on the safe side and invest with
eToro
.
Conclusion – 24Option Platform Review
---
24option established itself as one of the more popular online brokerage platforms for trading CFDs of various attractive assets. During our review, we found little that would suggest the platform isn't legitimate or secure. Their quality seems to be recognized on another level as popular Italian football club Juventus has them as a sponsor. Overall, the platform has years of delivering quality trading services to its customers behind it and it's likely that this trend will continue in the near (and not so near) future.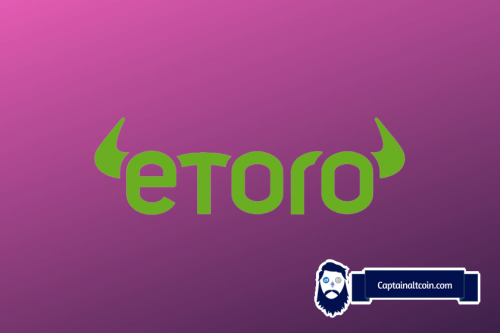 67 % der CFD-Konten von Privatkunden verlieren Geld.
✅Mit den einzigartigen CopyTrade- und CopyPortfolio-Produkten von eToro können Sie einzelne Trades oder komplette Portfolios von Top-Händlern kopieren.
✅eToro bietet nicht nur CFDs, sondern auch den Handel mit echten Aktien, ETFs und Kryptowährungen an.
✅Es bietet den kostenlosen Handel mit bestimmten Aktien an.
✅Es bietet einstellbare Hebelwirkung.
24Option alternatives
---
In case you are not swayed into registering on 24Option, you might be interesting in learning more about its direct competitors which we cover in the following reviews:
PROS
Good news and educational sections
A good and precise pip value calculator that shows exactly what your profit or loss will be with each pip move
CONS
Desktop and mobile platforms do not offer live streaming news
High maintenance and withdrawal fees
No fundamental research

CaptainAltcoin's writers and guest post authors may or may not have a vested interest in any of the mentioned projects and businesses. None of the content on CaptainAltcoin is investment advice nor is it a replacement for advice from a certified financial planner. The views expressed in this article are those of the author and do not necessarily reflect the official policy or position of CaptainAltcoin.com