Retail investors market, already seeing a steady incline of clientbase in the last couple of years, is brimming with new potential traders amidst the coronovirus pandemic.
Every time a new trader inquiries around about the best forex and CFD brokers, Plus500 and eToro's names pop up almost regularly. It is easy to figure out they belong to the top-shelf brokers but who would actually win a battle between eToro and Plus500.
You can read full guide on eToro – is it a scam or legit platform here.
Also, similar guide about how legit is Plus500 can be found here.
That is what we are going to illuminate today. Before we move into the nuts and bolts of both platforms, couple of very important disclaimers and warnings:
CFDs are complex financial instruments and come with a high risk of losing money quickly due to leverage. You should stop and think through whether you understand how CFDs work and whether you can afford to take the high risk of losing your money.
Please keep in mind that both of these brokers are market makers which means that their platforms are closed environments which are often subject of manipulations.
Also keep in mind that at least three quarters of traders lose money when they trade CFDs. Losing money is especially highly probable when you use leverages, so we advise against trading on a margin (synonym for leverage trading) and just invest in stocks or ETFs (it is possible to invest in real stocks and ETFs on eToro). Unfortunately, Plus500 doesn't allow non-leveraged trading nor do they allow adjustment of leverages so you are offered no other option but to trade with leverages on Plus500.
When we are at it, there are more exchanges that offer cryptocurrency trading on leverage – see the list here.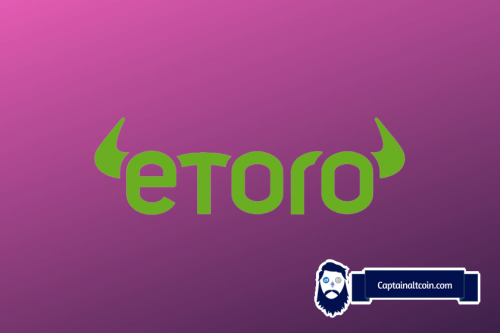 68% of retail CFD accounts lose money
✅ With eToro's unique CopyTrade and CopyPortfolio products, you can copy individual trades or complete portfolios from top traders.
✅eToro offers not only CFDs, but also trading in real stocks, ETFs and cryptocurrencies.
✅It offers free trading in certain stocks.
✅It offers adjustable leverage.
Plus500 vs eToro at a glance
Plus500
eToro
Instruments
CFDs of Stocks, Forex, Commodities, Crypto, Options, Indices, ETFs
Stocks, ETFs, CFD, Forex, Crypto
Demo Account
Yes
Yes
Minimum Deposit
€/£/$100
Stocks & ETFs – $10
Crypto – $10
Currencies – $1,000
Commodities – $1,000
Indices – $1,000
Minimum Trade
varable
$1
Regulator
ASIC, FSP, FCA, CySec
FCA, CySec, ASIC
MT4 Integration
No
No
Mobile apps
iOS, Android and Windows
iOS, Android and Windows
Trading Software
WebTrader
Proprietary software
Scalping
No
No
Base currency
GBP, USD, EUR, AUD
USD
Deposit/withdrawal methods
Bank Wire, VISA, MasterCard, Neteller, PayPal, Skrill
Bank Wire, VISA, MasterCard, Giropay, Local Bank Deposits, Local Bank Transfers, Neteller, PayPal, Skrill, UnionPay, WebMoney, Yandex Money
Withdrawal fee
0
$5
Social Trading
No
Automate your trades via Copy Trading – Follow profitable traders. Open and close trades automatically when they do.
Trade Signals
No
Yes, via Copy Trading
Assets
70+
50+
CFDs Spreads
Variable
FTSE 1pt
GBPUSD 4 pips
Oil 5pts
Stocks 0.24% var
Forex Spreads
Variable
GBPUSD 4 pips
EURUSD 3 pips
EURGBP 4 pips
Cryptocurrency
Offers only Crypto CFDs with tight spreads, ideal for speculators
Offers both real coins and CFDs, with their own wallet and exchange plus free crypto tax calculator.
Spread on Crypto CFDs
BTC 0.5%, ETH 1%, LTC 1%
BTC <1%, ETH 2%
Coins
BCH, BTC, ETH, LTC, XRP, IOTA, NEO, EOS, XMR
BTC, ETH, BCH, XRP, DASH, LTC, ETC, ADA, MIOTA, XLM, EOS, NEO, ZEC, BNB
Plus500 vs. eToro: General info
Plus500 is an international financial brokerage firm which provides online trading services in contracts for difference (CFDs) across more than 2,000 securities and multiple asset classes including commodities, options, ETFs, forex, shares, and cryptocurrency.
And ever since Plus500 listed cryptocurrency CFDs that can be traded on a margin, it awakened an interest of crypto enthusiasts and comparisons between Plus500 and other cryptocurrency margin trading platforms. For this reason, we will do a thorough Plus500 review – so keep on reading.
Plus500 is regulated in 7 different countries and have been in business since 2008. They are headquartered in Haifa, Israel. Here are their official regulatory licenses: Regulated by Financial Conduct Authority (FRN 509909) and Cyprus Securities and Exchange Commission (License No. 250/14). Plus500AU Pty Ltd (ACN 153301681), licensed by: ASIC in Australia, AFSL #417727, FMA in New Zealand, FSP #486026; Authorised Financial Services Provider in South Africa, FSP #47546.
Below is a quick tabular overview of Plus500 broker.
| | |
| --- | --- |
| ?️ Country of regulation | UK, Cyprus, Australia, New Zealand, Singapore, South Africa, Israel |
| ? Trading fees class | Low |
| ? Inactivity fee charged | Yes |
| ? Withdrawal fee amount | $0 |
| ? Minimum deposit | $100 |
| ? Time to open an account | 1 day |
| ? Deposit with credit card | Available |
| ? Depositing with electronic wallet | Available |
| ? Number of base currencies supported | 10 |
| ? Demo account provided | Yes |
| ?️ Products offered | CFDs on Crypto, Commodities, Forex, Indices, ETFs, Options |
Who has better fees and spreads: eToro or Plus500?
Fees charged by the broker can be classified into two groups: trading and non-trading fees. Plus500 fees are low to average and put them in the more attractive group of brokers when it comes to this criteria.
Plus500 will charge a currency conversion fee of up to 0.3% for all trades on instruments denominated in a currency different to the currency of your account.
| Assets | Fee level | Fee terms |
| --- | --- | --- |
| S&P 500 CFD | Low | The fees are built into spread, 0.45 is the average spread cost. |
| Europe 50 CFD | Low | The fees are built into spread, 1 is the average spread cost. |
| EURUSD | Average | The fees are built into spread, 0.6 pips is the average spread cost. |
| Inactivity fee | Low | $10 per quarter after 3 months of inactivity |
However, all spread fees on Plus500 are variable and subject to change with time so you will need to check before every trade what are the current calculations of the broker and how much will they charge you for the service.
Based on our limited testing, Plus500 appears to be competitive with their spreads on most of its major forex pairs, while exotics are a hodgepodge. Discounts are not offered to active traders or VIP clients.
Plus500 also charges a variable overnight/rollover fees that are also variable and depend on the trading instrument.
As for the non-trading fees, Plus500 does charge the inactivity fee – $10.00 / month after 3 months of no logins.
Their cryptocurrency CFD spreads are around industry average – 0.50% for BTC, 0.80% for ETH and increases incrementally with other smaller coins like NEO which is traded at a 4.40% spread.
eToro charges different fees for each asset class they list. The fees are usually built into the asset price via the so called spread (difference between bid and ask price).
Spread fees occur when you buy anything on eToro, stocks, cryptos, and so on, however they are built into the buying price that you see in eToro.
And fees are really specific to what you want to trade.
Commodities and currencies are represented in pips. Whereas stock and crypto coins are shown in percentages.
Generally, brokers can charge you two types of fees: trading fees and non-trading fees.
Trading fees – they are charged by the broker when you trade in the form of commissions, spreads, financing rates and conversion fees.
Non-trading fees occur outside of trading activities – like withdrawal fees or inactivity fees.
Fees vary, depending on the asset and trader's region (for example, eToro offers feeless trading of ETF to EU traders).
Stock fees and ETF fees
eToro charges low fees for these asset classes.
NOTE: if you trade without leverage, you can buy actual stocks and ETFs on eToro. When you use leverage, then you trade CFDs.
For EU traders, there is no commission whatsoever. For non-EU, fees charged are low in comparison to direct competitors like Plus500 or Trading212.
| Assets | Fee level | Fee terms |
| --- | --- | --- |
| S&P 500 CFD | Low | The fees are built into spread, 1% is the average spread cost. |
| Europe 50 CFD | Low | The fees are built into spread, 3 is the average spread cost. |
| EURUSD | High | The fees are built into spread, 3 pips is the average spread cost. |
| Inactivity fee | Low | $10 per month after one year inactivity |
Cryptocurrency fees on eToro
A fee of 1% is calculated for buying or selling crypto assets on eToro.
In addition to this eToro charges a flat $5 payout fee while deposits are free.
Overnight fees
These are fees that eToro charges for your leveraged positions. It is essentially an interest rate you pay them for loaning you money so you can trade with leverage and on your margin.
These fees are also asset-specific and are paid on the borrowed amount. For example, if you have $1000 margin and you went a 3x leverage on stocks – that means that you have a position of $3000 and pay overnight fees for the $2000 that is borrowed to you from eToro.
Minimum deposit & base currencies
Plus500 has an industry average minimum deposit requirement of $100. Since it offers 3 additionaly base currencies: GBP, EUR and AUD – minimum deposit is 100 units of any of these currencies.
Plus500 also supports other minor currencies, but you will need to communicate this with their support and wait for their green light before depositing your local currency that is not one of the 4 above mentioned.
One important note is that deposits made with wire/bank transfer require a minimum deposit amount of $500. For all other payment methods the minimum deposit remains $100.
There are no upper limits how much you can deposit if you use bank wires as a deposit method. There are maximum amounts you can deposit with other methods: $40,000 in the case of credit/debit cards, and either $10,000 or $20,000 in the case of electronic wallets.
There is a minimum deposit amount you need to put in on eToro. All deposits are converted into USD as that is the only supported base currency. This means that if you deposit money in any other currency, eToro will make a conversion into USD and charge you 0.025% fee for that service. Same will happen when you want to withdraw the money into your non-USD currency.
You must have $200 to participate in CopyTrading and make a minimum investment of $1,000 for CopyPortfolios. The minimum quantities for manual positions are based on the instrument.
For currencies (such as cryptocurrencies) and commodities, it is just $10. For stocks, it is $10 as well. Finally, for ETFs and indices, it is $1000.
Deposit and Withdrawal methods on eToro and Plus500
Deposit methods on Plus500 are numerous, similarly to other top brokers and include:
Debit or Credit Card
Bank / Wire Transfer
Electronic Wallets: PayPal, Neteller, Skrill
Among crypto currency platforms, eToro stands out as one of the few platforms that offer users the ability to purchase crypto currencies via PayPal in combination with various other payment options.
Other deposit and withdrawal options include:
wire transfer (Swift and SEPA)
Giropay
Skrill
Neteller
Credit Card
PayPal
WebMoney
Leverage & margins
Plus500 offers very high leverages, higher than the majority of other similar brokers:
up to x300 for major currency pairs (such as EUR/USD)
up to x20 for non-major currency pairs (such as EUR/NZD), Gold and major indices
up to x150 for commodities other than Gold and non-major equity indices
up to x10 for CFD stocks and ETFs
up to x20 for cryptocurrency
The following limitations are defined by the European Securities and Markets Authority (ESMA), and apply to retail clients of eToro (Europe) Ltd (CySEC regulated) and eToro (UK) Ltd (FCA regulated):
x30 for major currency pairs (such as EUR/USD)
x20 for non-major currency pairs (such as EUR/NZD), Gold and major indices
x10 for commodities other than Gold and non-major equity indices
x5 for CFD stocks and ETFs
x2 for cryptocurrency
The following limitations apply to Professional clients and clients of eToro Australia Capital Ltd (ASIC regulated):
x400 for currency pairs
x100 for commodities and indices
x20 for selected CFD stocks
x10 for other CFD stocks and ETFs
x2 for cryptocurrency CFDs
eToro USA does not offer leveraged trading.
Allowed Countries
Plus500 accepts traders from Australia, United Kingdom, South Africa, Singapore, Hong Kong, Germany, Norway, Sweden, Italy, Denmark, United Arab Emirates, Saudi Arabia, Kuwait, Luxembourg, Qatar and most other countries.
Traders can not use Plus500 from Belgium, Iran, United States, Canada, Zimbabwe, Nigeria, Cote D'Ivoire, Cameroon, Thailand, India, Indonesia, Brazil, Egypt, Pakistan, France, Cayman Islands, Philippines.
eToro is available in the majority of the globe, with the exemption of Canada, Cuba, Japan, North Korea, Iran, Syria, Turkey, Serbia, Albania, and Sudan.
Financial markets & instruments on Plus500 and eToro
Plus500 is strictly a CFDs platform – they do not offer spot trading of any instrument listed on their platform. Their stocks, forex, commodities, cryptocurrencies etc are all in the form of CFDs.
These are the types of more than 2,000 financial instruments that can be traded on Plus500 (in the form of CFDs):
Indices
Forex
Commodities
Crypto
Shares
Options
ETFs
| | eToro |
| --- | --- |
| Currency pairs (#) | 47 |
| Stock index CFDs (#) | 13 |
| Stock CFDs (#) | 1,900 |
| ETF CFDs (#) | 145 |
| Commodity CFDs (#) | 6 |
| Bond CFDs (#) | – |
| Futures CFDs (#) | – |
| Cryptos (#) | 17 |
As a multi-asset brokerage, eToro allows users to trade thousands of financial instruments, including over a dozen crypto currencies (all major coins such as Bitcoin, ETH, XRP, IOTA, EOS, XLM, ADA, EOS etc). Based on the concept of social trading, eToro is designed to be suitable for both new and experienced traders.
Customer Support
Plus500 offers chart and email support systems for their clients with no telephone number. Don't be to surprised if the answers to your initial questions you put into their chat seem artificial and bot-like. They will probably be answered by an automated chatbot that will try to find a solution for you from their FAQs.
If it fails to do so, an actual support agent will take over and help you out with your issue.
eToro has a thorough help center that provides basic information about trading as well as answers to the most common user problems. In addition, eToro only offers a simple ticket system for the majority of its user complaints and the answers are often slow. Beyond the traditional support lines, eToro also answers customer queries via social media. As a beginner-friendly platform, eToro also offers a variety of training materials and customer support for users, ensuring that help is at hand when it's needed.
Trading platforms on Plus500 & eToro
Plus500 has its own trading solution and is not using popular platforms like MT4 or MT5. The platform can be downloaded to your device or used via web-browser or mobile apps.
The platform is pretty solid but not too advanced: few advanced features available within Plus500's flagship platform include trailing-stops and gaurunteed stop-loss orders (GSLO), which can be helpful risk management tools for traders.
The platform is newbie-friendly and features over 100 technical indicators and 21 drawing tools – more than sufficient for an average Joe.
However, the platform is not a good fit for experienced, power users as it has very limited research tools. It also has no integration with external signalers or copy traders.
eToro has it own proprietary web trader platform along with mobile platforms for all popular operating systems.
With its neat design and advanced functions, eToro did a great job of packing good design with functionality. The work flow is intuitive, menus and buttons are where you expect them to be, everything is labelled correctly and the color scheme is pleasant.
It is hard to customize though, as the panels are fixed. One exception is the watchlist, which is easy to configure.
Trust and reputation
Plus500 is regulated in couple of juristidictions where it has to comply with the fund protection provisions as well. In the event of insolvency of Plus500 or their custodian funds, users are protected up to $50k and $85k respectively, under the Financial Services Compensation Scheme (FSCS).
Plus500 also offers a negative balance protection, which is another mandatory stipulation by the regulators.
As a regulated platform, eToro is governed by the highest standards of accountability and transparency and is licensed to offer its services to large parts of the world. Currently eToro is regulated by the Cyprus Securities & Exchange Commission (CySEC).
Who is safer for trading: Plus500 or eToro?
Plus500 is one of the more popular and highly rated CFD trading apps on Apple's App Store and Google Play
When you open an account with Plus500, they are obliged by the UK Financial Conduct Authority to hold their client money under strict protection rules and in segregated bank accounts.
Just like with many other brokers, there are a lot of complaints about the broker on popular forex rating sites but that is a mix of inexperienced traders falling prey to their own temerity and negligent behaviour and complexity of the offered financial instruments. Also, we do not want to absolve the broker of their responsibility as they do have a lot of pitfalls in the fine print and everybody is strongly advised to meticulously read the terms and agreements before signing up.
In terms of cyber-security, eToro platform is extremely safe and never had any issues with hacking attacks or user fund losses. eToro also takes precautions to ensure the funds and personal information of clients are safe. Traditional funds remain secure in European banks of tier 1.
To make an informed judgement call, we highly advise that you inspect the platform for two criterias:
how you are protected if something goes wrong
what the background of the broker is
How you are protected
eToro operates three legal entities and serves customers based on their residency. This matters because the entity you belong to defines the amount of protection you get.
Citizens of the United Kingdom can open an account at eToro (UK) Limited and be protected by the FCA. If eToro runs into trouble and becomes insolvent, eToro UK clients can expect to be compensated by the maximum amount of £85,000 guaranteed by the Financial Services Compensation Scheme (FSCS).
Australian traders are served by eToro Australia, which is under the regulation of ASIC, the Australian financial authority. ASIC however does not provide any obligatory investor protection for a pre-set amount.
Other investors will have their live trading accounts with eToro (Europe) Limited, which is regulated by the Cypriot financial authority, CySEC. The amount of investment protection coverage at eToro Europe is a maximum of €20,000. This threshold is set by the Cypriot Investors Compensation Fund.
Here is a tabular summary for quick comparison:
| Country of clients | Protection amount | Regulator | Legal entity |
| --- | --- | --- | --- |
| United Kingdom | £85,000 | Financial Conduct Authority (FCA) | eToro (UK) Ltd. |
| Australia | No protection | Australian Securities and Investments Commission (ASIC) | eToro AUS Capital Pty Ltd. |
| Other clients | €20,000 | Cyprus Securities and Exchange Commission (CySEC) | eToro (Europe) Ltd. |
With all that in mind, you should remember that there are no regulations for cryptocurrencies. Because of this, if you engage in cryptocurrency trading or other crypto-related investments, there is no insurance from the investor compensation schemes within the UK or Cyprus. The lack of regulations also means that if you have a complaint, you cannot file it with your financial ombudsman service.
There is no investor protection for cryptos. There is also no negative balance protection for traders from non-EU countries.
Despite this, eToro takes pride in working to resolve issues as seamlessly as possible. In addition, there are numerous social platforms where you can register complaints, which may influence other users.
Special features
Plus500 offers no special features such as external trading signals or copy trading, PAMM or MAM (special integrations where you can manage other people's funds or let someone else manage yours). Plus500 obviously puts focus on the basics, making it simple and easy for relatively new traders to buy CFDs of their choice with no super advanced options.
eToro's next generation investment product CopyPortfolio is also a feature not found on any other crypto currency platform. CopyPortfolios allows eToro users to easily invest in top trader portfolios so they can copy the trades of the best traders on the website. eToro users who invest in a CopyPortfolio let eToro manage their capital professionally and avoid the guesswork of trading.
In addition, eToro also offers a unique social feature known as CopyTrading which allows users to automatically copy the trades of other successful traders based on specific conditions.
Education & Research
It is fair to say that Plus500's education and research segment is not their strong suit. They offer almost no research articles or videos, no news feed aside of a very useful economics calendar and traders sentiment – you can see it in a form of a bar that shows how many buyers/sellers are there for certain trading pair/instrument.
Their platform is solidly equipped for charting – there are all advanced indicators and tools for efficient technical analysis.
eToro does have a research and education section with lots of videos but, in all honesty, there is much better information on YouTube and trading websites, for free. So, this segment of eToro is average at best.
Demo account
There is a fully featured demo account you can use for testing out the platform and you own trading strategies. It is recommended that you try out the demo before switching to a live account. In order to use the platform, you will need to verify your account and complete your KYC procedure by submitting your proof of identity and proof of residence documents.
eToro does have a demo account where you can hone your skills and trade with fake money. When you are ready to take the training wheels off, you will need to verify your account and deposit funds to start trading with real money.
Who is better in the end: eToro or Plus500?
So who should you choose after reading all of these Plus 500 vs eToro facts? Well, I suppose you have an idea what you want out of a broker and have an inclination to either Plus500 or eToro already.
If you are looking for tight spreads – Plus500 takes the W.
If you are, however, into signals, copy trading, more feature-rich news and research section – eToro is the way to go.
eToro is also much more focused on cryptos – they offer the option to buy real coins as well. You can also purchase non-leveraged products like stocks and ETFs on eToro while tht is not possible on Plus500.
Plus500 also has fixed and high leverages, which equates to higher risks as well. Hence, it is not a good fit for new traders as high leverages are more akin to gambling then investing.
eToro allows you to adjust leverages or even buy completely non-leveraged instruments. In that case, you actually buy an underlying asset and not a CFD.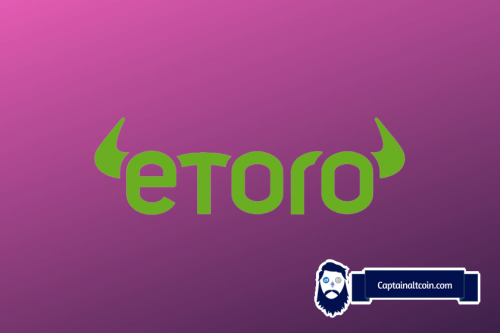 68% of retail CFD accounts lose money
✅ With eToro's unique CopyTrade and CopyPortfolio products, you can copy individual trades or complete portfolios from top traders.
✅eToro offers not only CFDs, but also trading in real stocks, ETFs and cryptocurrencies.
✅It offers free trading in certain stocks.
✅It offers adjustable leverage.
Read more about how eToro stands when compared with other brokers and crypto exchanges in the following guide:

CaptainAltcoin's writers and guest post authors may or may not have a vested interest in any of the mentioned projects and businesses. None of the content on CaptainAltcoin is investment advice nor is it a replacement for advice from a certified financial planner. The views expressed in this article are those of the author and do not necessarily reflect the official policy or position of CaptainAltcoin.com