CoinStats App Review – Is CoinStats Portfolio Tracker Safe To Use?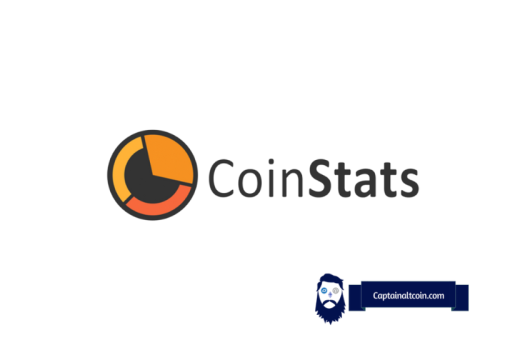 CoinStats App Review – Is CoinStats Portfolio Tracker Safe To Use?
A solid portfolio management dashboard
Military-grade encryption
Staking option (up to 20% APY)
CoinStats intro
---
Crypto portfolio trackers are apps for tracking your cryptocurrency holdings and can connect to a wide range of wallets, exchanges, and other services. The portfolio tracker can be integrated with all of your platforms to provide a consolidated view of all of your crypto assets on a single screen. CoinStats is a powerful and widely popular crypto portfolio tracker. This platform provides an approach that allows professional crypto traders to analyze their past trades and plan future ones.
Similar to Coinmarketcap, CoinStats provides an extremely detailed view of coins' prices. In fact, you can track the prices of about 8,000 cryptocurrencies which is a pretty remarkable number.
Moreover, there is a heatmap where you can track the current state of the whole crypto market.
In this article, we will go through CoinStats' features in detail and analyze why this platform has become more and more popular among experienced crypto traders.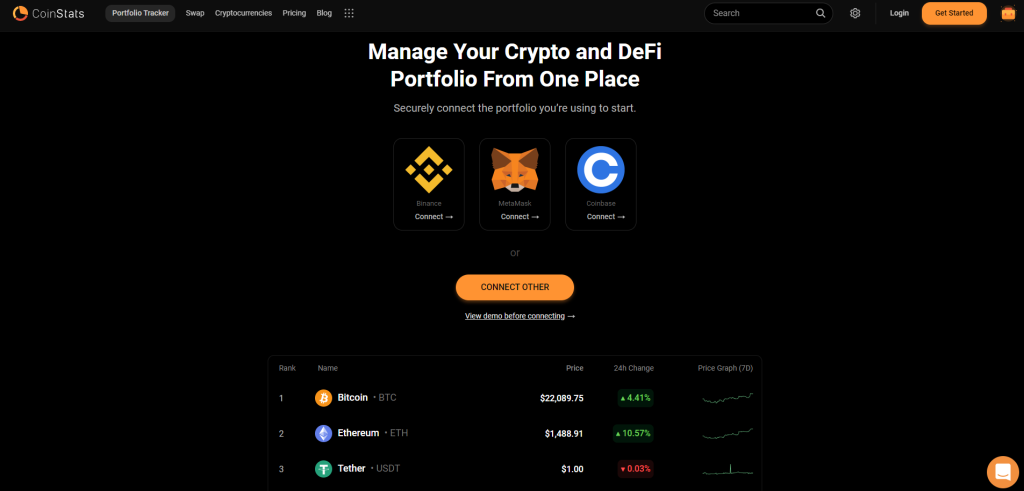 Best Features of CoinStats
---
A solid portfolio management dashboard, military-grade encryption, and staking are just a few of the potent tools that CoinStats offers to its users.
Since security is a top priority for CoinStats, this platform offers its military-grade encryption service to all users who create an account. The platform also employs security measures to protect against threats both internally and externally. To provide every user confidence when using the program, CoinStats offers these cutting-edge security features.
Furthermore, users can earn up to 20% APY by staking their crypto investments. Users can do this through the CoinStats wallet. Besides that, access to decentralized finance (DeFi) services is made possible through the wallet. Keep in mind that In less than 1 minute, users can register for a wallet.
By concentrating on the Ethereum token ecosystem, CoinStats has been able to set itself apart from FTX (ex. Blockfolio), for instance, and some other top cryptocurrency portfolio trackers. There is currently the no better place to concentrate for cryptocurrency traders who wish to own a wide range of various assets than Ethereum. Even though there are many different blockchain projects available today, Ethereum now hosts the majority of the most widely used decentralized applications.
What About CoinStats Pro and CoinStats Premium?
---
Besides the above-mentioned features, two crucial ones of the CoinStats cryptocurrency portfolio tracker are CoinStats Pro and CoinStats Premium. These are subscription-based software improvement options that provide CoinStats users access to a number of extra features. You may link to 10 separate exchange accounts and 10 different cryptocurrency wallets with CoinStats Pro. Additionally, you have access to Coin Insights, a special feature of the app that contains in-depth assessments and analysis for a huge variety of crypto assets, and you may track up to 1,000 transactions every month.

By enabling users to link the unlimited number of exchanges and cryptocurrency wallets to the platform, CoinStats Premium goes a step further. Users of CoinStats Premium can monitor up to 100,000 transactions per month, and you'll even get a dedicated account manager to help you manage your cryptocurrency portfolio.
Starting (monthly) prices for CoinStats Pro are $3.49 and CoinStats Premium is $13.99, respectively. Or, you can be billed annually $41.91 (Coinbase Pro) and $167.92 (Coinbase Premium). Visit CoinStats' pricing page to find out more about the platform's plans.
What Cryptocurrency Exchanges and Wallets are Supported?
---
At the time of writing, Coinstats supports more than 70 platforms (exchanges and wallets) that you can use to connect to your Coinstats account. This means that there is an extremely high chance the portfolio tracker supports any sort of crypto trading available on the crypto market. Especially if you are a crypto trader who mostly operates on the Ethereum network. Please see below some examples of crypto exchanges and wallets supported by Coinstats:
Is CoinStats Safe?
---
Any program that acquires access to your actual crypto holdings puts up the chance that you will end up losing money. This is precisely why security is something absolutely every crypto platform or any platform even remotely involved in crypto needs to pay special attention to. However, using a cryptocurrency portfolio tracker like CoinStats can also be done in a secure manner.
One thing that most crypto traders will like to see when it comes to safety is that CoinStats has never been hacked before, even though it has been around in the crypto industry for years. You can relax a little more knowing that your money is safe if all you are doing is using the CoinStats interface to examine the balances you have in various exchanges and cryptocurrency wallets. Of course, you must also ensure that your CoinStats program is only given a limited amount of access to your exchange accounts. Allowing CoinStats to execute trades or withdraw money using the API credentials you give the app does not mean much unless you intend to trade using the platform.
On the other hand, if you do decide to trade using the CoinStats app, then please do treat your CoinStats account like you would treat your account on the actual trading platform. Actually, you might want to add an additional level of security since if someone gets to your CoinStats account, they will have access to all of your accounts on various exchanges. That's why our sincere suggestion here s to use the CoinStats platform only for tracking your portfolio and leave the trading for actual trading platforms and exchanges.
Supported Operating Systems
---
With CoinStats, you may use any of your devices to access your account. CoinStats is compatible with both iOS and Android mobile devices. Your laptop or desktop computer's web browser can also be used to access your CoinStats account. Even the Chrome and Firefox web browsers have an extension for this platform.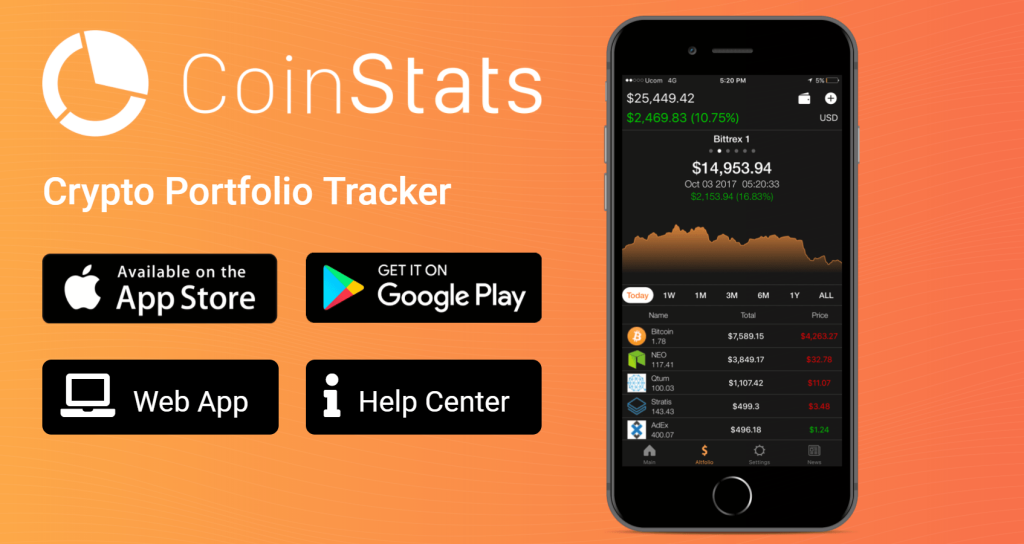 Downsides
---
Every crypto platform (or every platform for that matter) has its own downsides and drawbacks that potential users have to be extremely careful about. When it comes to CoinStats, there are three main downsides based on our research, so let me break each one.
First of all, FTX and some other popular crypto portfolio trackers offer far better support for both exchange integrations and cryptocurrencies. Even while it is rather unusual, it is possible for certain popular crypto assets and exchanges not to be listed on the CoinStats app.
The lack of a natively supported cryptocurrency trading engine by CoinStats is the second factor that might be a dealbreaker for some users. The platforms' APIs will be used to execute all trades performed through the CoinStats on exchanges that are not connected to CoinStats.
And the third and probably the least important downside of CoinStats is the fact that the free version has a lot of limitations since it's missing some of the platform's key features. For instance, if you are a trader who is making trades on various exchanges, you might not be able to connect all of your exchange accounts on the free version.
FAQs
---
PROS
A solid portfolio management dashboard
Military-grade encryption
Staking option (up to 20% APY)
CONS
The free version is limited
Not suitable for complete beginners
Other portfolio trackers support more exchanges and crypto assets.

CaptainAltcoin's writers and guest post authors may or may not have a vested interest in any of the mentioned projects and businesses. None of the content on CaptainAltcoin is investment advice nor is it a replacement for advice from a certified financial planner. The views expressed in this article are those of the author and do not necessarily reflect the official policy or position of CaptainAltcoin.com