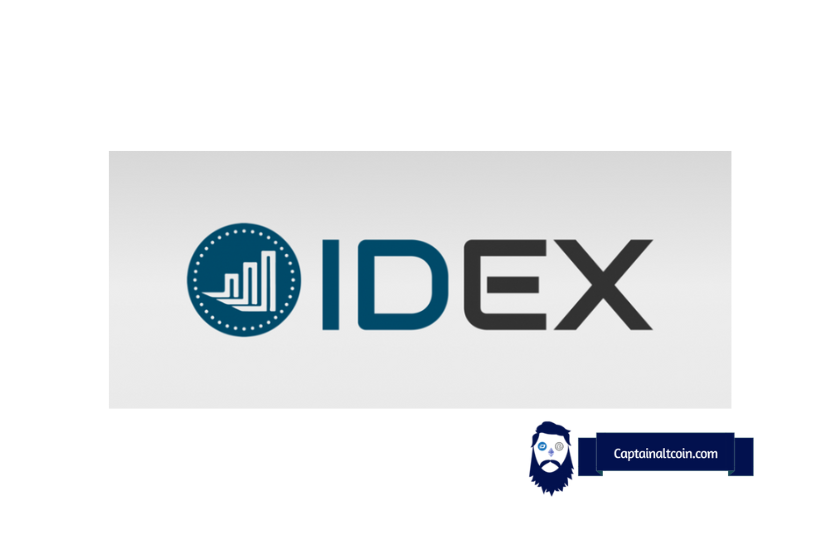 The year 2018 is seemingly set to be one dedicated to the emergence of decentralized exchange platforms.
IDEX emerged as one of the top DEXs and this IDEX review will cover the reasons behind this surge in popularity.
Ethereum's EtherDelta started this new wave of exchanges that are able to provide their services in a way that isn't tied down to a central identity. Since then, new platforms keep popping up left and right; one of the most recent additions to the decentralized exchange pack is IDEX.
IDEX (less commonly known as AuroraDAO, which is the name of the company that owns it) is an Ethereum-based Dapp designed to operate as a token exchange. It allows its users to perform real-time trading of Ethereum and ERC20 tokens. Unsurprisingly, their focus on ETH means that you won't find any BTC exchange pairs on the platform. It functions in a similar manner to EtherDelta, where it's based on an Ethereum smart contract that allows users to trade over 200 cryptocurrencies in a safe, peer-to-peer environment while maintaining control over their wallet's private keys.
IDEX has a very ambitious team behind it that plans to make it one of the most advanced DEXs out there. Clearly, their plan is working, as IDEX recently surpassed 150,000 users and is currently the #2 Ethereum Dapp in the world by volume, users, and transaction count.
Creating an account on IDEX
---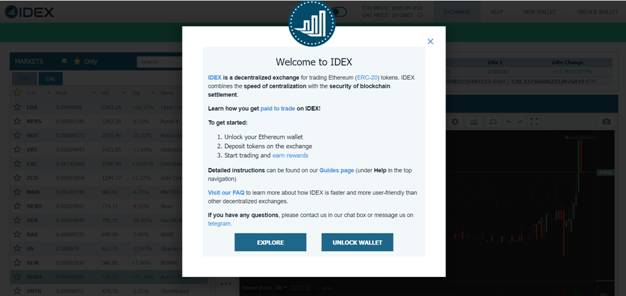 Let's start this crypto IDEX exchange review with basics – how to sign up.
IDEX exchange welcoming page will greet you with the message above, giving you clear instructions on how to gain access to the exchange's trading features. Clicking Explore will let you browse the interface without an account; if you decided that you do indeed want to trade then you should click on the Unlock Wallet button.
IDEX exchange will offer you 4 ways of "unlocking" a wallet, which basically means connecting an existing Ethereum wallet to the exchange/creating a new wallet if you don't have one already:
Check out the provided links for further instructions on how to unlock a wallet to be used on the exchange. As a quick note, we should point out that the first two options provide the fastest user experience while the MetaMask/Ledger options come with increased security. Unlocking a wallet basically connects your Ethereum-based wallet with the built-in exchange wallet, which enables you to send funds between the two.
Once created/connected, you will be able to see your wallet address by clicking the icon in the top right-hand corner of the IDEX exchange starting page.


Interface
---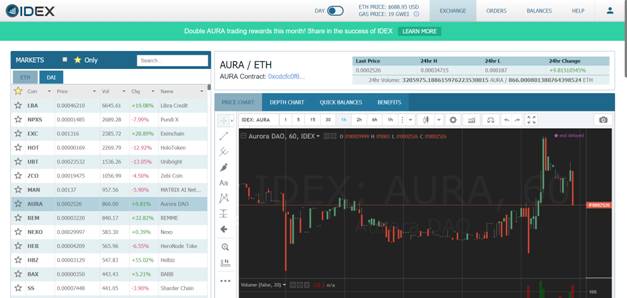 IDEX exchange interface is pretty sleek, responsive and functional, probably among the better ones out there even when compared to some centralized exchanges. Markets are neatly tucked on the left, with Aurora twitter feed live updating just below them.
The middle/right side of the page is dominated by the price graph of the asset you are currently looking at, with some neat tools that can help you do in-depth analysis on your coin. Just beneath you can find the Buy/Sell order forms, with order books being on the bottom of the page. It has a neat day/night feature for those traders who like to stare at their charts up to late night hours, without disturbing anyone who is trying to sleep nearby.
Depositing, withdrawing and trading funds on IDEX exchange
---
Moving on with our IDEX exchange review takes us to inspection of main features – depositing, trading and withdrawing funds.
This wallet will need to have Ethereum on it to allow you to purchase tokens from IDEX exchange and to pay for gas fees on your transactions. Everything you buy on the cryptocurrency exchange will be an ERC20 token and will be stored in this wallet. Once a wallet is connected, you can review your balances by navigating to the Full Balances section of the Balances dropdown menu in the upper right corner of the screen.


To check if the connected wallet has any funds, you will need to click on the Query button next to the coin you wish to deposit. Once you queried your coin and the balance is updated, you can go and click on the Deposit button and chose how much you want to deposit on IDEX exchange.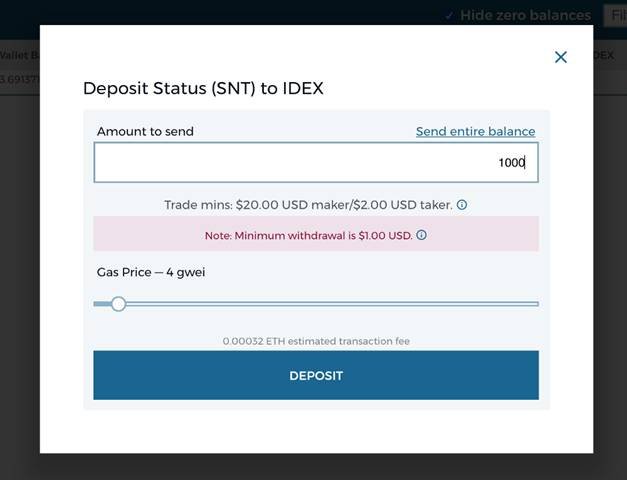 After clicking deposit you will receive a pop up with an input field. In that field put the amount of the asset you would like to deposit. If you would like to deposit all that you have, click Send Entire Balance. You must then choose the gas price you want to use from the slider. Once you have chosen the gas price click Deposit. After clicking deposit you will receive a confirmation popup. Review it and click Confirm. After clicking Confirm you will receive another popup that informs you the deposit is processing.

You can check the status of your transaction by visiting the Balance History page from the Balances dropdown menu. Ether deposits happen in one transaction while token deposits require two transactions to complete. If you are on MetaMask/Ledger, extra confirmation will be required for your second transaction. Finally, once the deposit is completed you will receive a popup notifying you of its completion.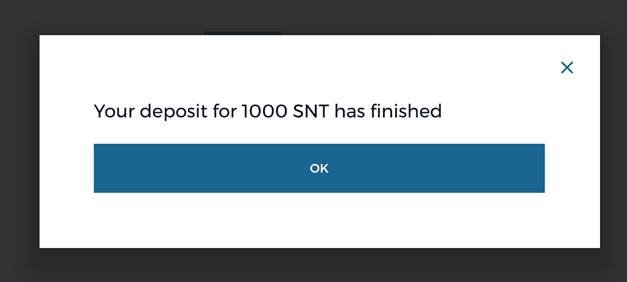 Withdrawing can also be done through the Full Balances page. Simply click on the Withdraw button next to the asset you want to withdraw. Enter the desired amount and click on withdraw.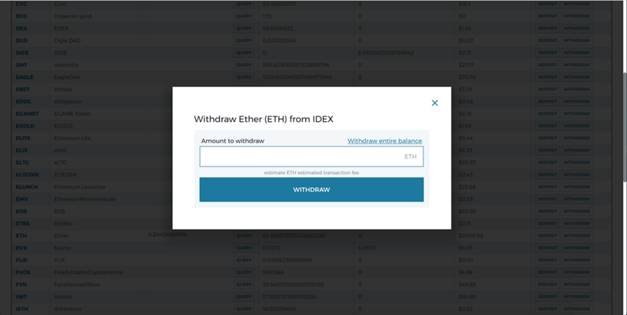 Click Confirm on the following popup and wait for your transaction to process. Its status can be tracked by clicking on the processing link in the asset row.


Another option is to transfer your tokens to different wallet. Navigate to Full Balances once again and click on the Transfer button in your desired assets row. The token must be in your wallet (not deposited to IDEX exchange) and you may need to query the blockchain for the token to show up.
IDEX exchange manages transactions for its users with the help of Ethereum and its smart contracts. The contract is supported by an off-chain trading engine. This engine broadcasts the transaction itself on the Ethereum network; the user then signs off on the transaction with their private key. The off-chain structure manages the trading experience, while the smart contract controls the funds, trade authorization, and final settlement. Thanks to this system, IDEX exchange is able to update account balances and order books in real-time, while providing users with an excellent (in general) trading experience.
This model of operating also helps reduce the probability of the IDEX exchange network becoming overwhelmed with transactions. While all of this is true on the paper, the network did experience some significant performance issues as it started growing in popularity. The Aurora team (the Aurora team is led by Alex Wearn) pounced on the issue and resolved any slowdowns quickly, and are actively preparing for any future inconveniences. With IDEX exchange, the user gets the speed and simplicity of a centralized exchange while maintaining the security and user control of a decentralized exchange.
Trading on IDEX exchange
---
IDEX exchange allows its users to make limit and market orders. After you choose your desired asset, you can simply adjust the type of trade you wish to do in the Buy/Sell part of the interface. Underneath this interface you will see the order book which lists Asks and Bids which can help you get a feel of current trading prices. If you choose to place a limit order, just fill in the price you want to buy/sell the asset for and the amount you would like to buy/sell. Now all you need to do is wait for your order to be filled. Market orders will of course be filled instantly, per the price suggested by the market.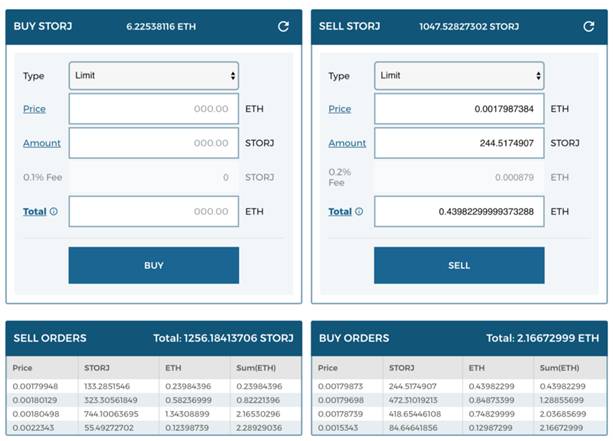 A full guide on how to buy and sell tokens on IDEX exchange can be found on this link. As an IDEX exchange user/trader, you are given the option to monitor and cancel orders you aren't happy with (and that still haven't been filled). Instructions on how to do so can be found on this link.
Supported Currencies on IDEX
---
IDEX exchange is an Ethereum-based cryptocurrency exchange, which means it deals exclusively in Ethereum and ERC20 tokens trading pair. From older tokens like OMG, and BAT to rising stars like MKR, TOMO, and CPC, IDEX provides an impressive amount of tokens that anyone can purchase. This of course means that Bitcoin and other non-ERC20 tokens cannot be traded on IDEX as trading pair.
The platform also has a native AURA token, which can be staked to secure the IDEX chain. To incentivize participation, AURA stakers are rewarded IDEX fees, DC banking fees, and fees from any other future Aurora products. The trading platform looks to incentivize market makers and traders as well, with people who provide the most liquidity to IDEX also receiving rewards in AURA tokens. More about the reward system can be read here.
Fees – cheaper than centralized exchanges?
---
The trading fees of IDEX are considered in the low end for the industry. Market makers or users, who create a new order for the order book and improve liquidity, are charged a maker fee of 0.1%. Takers, or anyone who fills an order on the book and takes away liquidity, are charged a trading fee of 0.2%. Takers are also responsible for paying transaction gas fees. Check out IDEX's FAQ page for in-depth information on fees.
Security – How Safe Is IDEX?
---
The platform is considered very secure, even though it does ask you to use your private key to trade on it. However, the keys are encrypted and stored in your browser memory, meaning that they cannot be accessed by an outside party. You use your keys to verify transactions and once you log out, they are completely deleted from memory.
Verifying transactions can be done only with your private key which means that your funds are safely stored on the smart contract, without the possibility of being stolen (unless you compromise your private key somehow). This combination of a smart contract/off-chain based, verified by user transactions is the main reason why the exchange is so secure. Ultimately an extra layer of protection can be added if you decide to log onto the IDEX exchange through your MetaMask or Ledger hardware wallet.
IDEX Customer Support
---
The exchange offers its users customer support service and anyone in need can contact the team by using the Contact Form. The IDEX team is also very active on social media and can be contacted through their Twitter account and Telegram group. An FAQ section contains guides and addresses the most common issues that plague their user base.
IDEX Team
---


The team behind IDEX is the team behind Aurora Labs S.A, a company located in Panama. The Aurora project is a collection of several Ethereum based apps and protocols which create a decentralized banking and finance platform. The protocols/apps included in the platform are:
IDEX – the first high-performance decentralized exchange that provides both real-time trading and on-chain settlement.
Boreal – Boreals are the price-stable cryptocurrency of Aurora, backed by a combination of ether reserves, demand for loan repayment, and retailer endorsement.
Snowglobe – Snowglobe is a protocol for high-performance, EVM-compatible, decentralized sidechain exchanges.
Decentralized Capital (DC) – an autonomous, decentralized bank for the blockchain age, providing boreal loans to users anywhere in the world.
Final thoughts – IDEX exchange review
---
To conclude this exchange review, we must say that with EtherDelta continuously failing its users, a competitor was definitely needed on the Ethereum-based exchange market. While IDEX is still relatively new, it has managed to win over many former EtherDelta users, which can be seen from its current status as the no.1 Dapp on the Ethereum blockchain. Its excellent features have deservedly launched it there and it looks like its rise has only just begun.
IDEX
Relatively new but solid decentralized exchange that is completely focused on Ethereum ecosystem and ERC Tokens.
PROS
Intuitive and user-friendly interface
High privacy
Fast trading
Low fees
Plenty of tokens on offer
Secure
Lots of guides on how to use the platform
Good customer support
CONS
Beginners will have trouble learning how to use the platform
Low trading volumes
No Bitcoin trading
Lack of trading options
Minimum order limits
1.5x higher Gas fees than on EtherDelta
No fiat trading

CaptainAltcoin's writers and guest post authors may or may not have a vested interest in any of the mentioned projects and businesses. None of the content on CaptainAltcoin is investment advice nor is it a replacement for advice from a certified financial planner. The views expressed in this article are those of the author and do not necessarily reflect the official policy or position of CaptainAltcoin.com