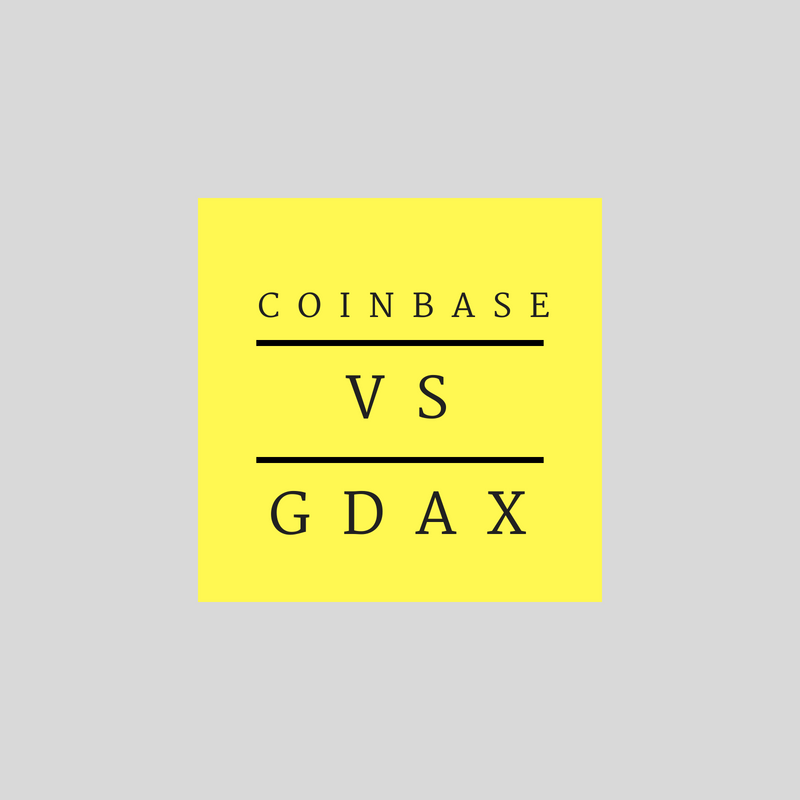 Coinbase and Coinbase Pro are two of the world's most popular ways to buy and sell cryptocurrency, so many newcomers are eyeing them as options to make their first crypto investment.
In this Coinbase vs Coinbase Pro comparison, we'll walk you through the key differences and help you decide which platform is better for you.
Two Platforms from the Same Company
---
Coinbase and Coinbase Pro are two separate but connected platforms, owned by the same company, yet they cater to very different types of traders and users.
Coinbase is a place for consumers to easily buy, sell, and store digital currency, while  Coinbase Pro is designed to cater to sophisticated and professional traders.
Coinbase Pro is a full-fledged cryptocurrency exchange for professionals to trade digital assets. It allows users to trade cryptocurrencies Bitcoin, Litecoin, and Ethereum, as well as EUR and USD fiat currencies. Coinbase Pro works similarly to traditional stock and forex platforms, but the platform does not provide an official wallet service, nor are they looking to introduce merchant services at this point. Coinbase Pro also allows users to trade using a variety of different strategies, including:
Margin Orders – This means you can margin trade with a leverage between 2x and 3x depending on the crypto trading pair, which is a very risky way to go about trading. However, the upside can be enormous.
Stop Orders – This allows you to set stop losses. This means that if the price drops to a certain threshold, Coinbase Pro will automatically sell a specified amount of your cryptocurrency.
Limit Orders – This feature allows users to set a price limit that you want to purchase something at. For example, if you think the price of Bitcoin is going to drop overnight, you can set a limit buy for a lower price, and if the price does drop, Coinbase Pro will fulfill your order at the lower price.
Market Orders – This is pretty standard on any exchange and can be done on Coinbase. However, you will pay a lower fee if you do it onCoinbase Pro.
Deposits and withdrawals can be made using cryptocurrencies or using bank transfers. You can also transfer funds instantly between your Coinbase and Coinbase Pro accounts.
Customer USD funds in Coinbase Pro are FDIC insured. This means that your balance up to $250,000 is protected.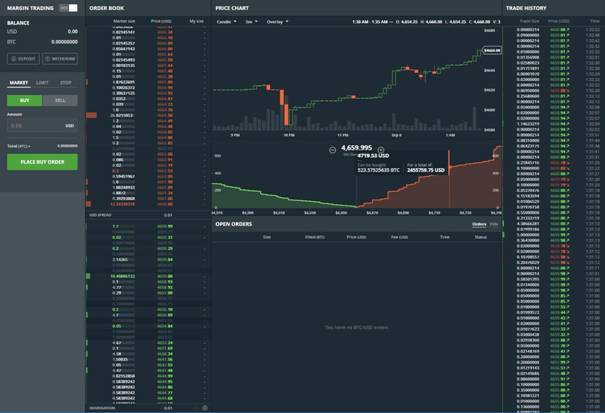 Coinbase Pro comes with a very intuitive interface and provides users with charting tools and trade history.

Coinbase is geared towards retail consumers and cryptocurrency newcomers, and it aims to make purchasing, selling, and storing cryptocurrency as easy as can be. Instead of requiring users to trade on a market, Coinbase allows you to purchase Bitcoin, Litecoin, and Ethereum directly from them at a set price, and this price is typically very close to the current market price being traded on Coinbase Pro.
In addition to bank transfers and cryptocurrency deposits, Coinbase also allows users to make withdrawals using PayPal. They also allow users to use credit cards to make purchases, something few exchanges offer.

Coinbase Pro vs Coinbase: Key Information
---
Site
Visit Coinbase
Visit Coinbase Pro
Company Launch
2012
2012
Company Location
California, USA
San Francisco, CA, USA
Site Type
Easy Buy/Sell Methods
Cryptocurrency Exchange
Available Cryptocurrencies
Bitcoin (BTC), Ethereum (ETH), Litecoin (LTC)
Bitcoin (BTC), Ethereum (ETH), Litecoin (LTC)
Buy/Deposit Methods
Bank Transfer, Credit Card, Debit Card
Bank Transfer, Cryptocurrency
Sell/Withdrawal Methods
Bank Transfer, PayPal, Cryptocurrency
Bank Transfer, Cryptocurrency
Fees
~4% buying with credit cards,

~1.5% buying with bank transfer

~.25% or less
Security
Great
Great
Community Trust
Great
Great
Verification Required
Yes
Yes
Customer Support
Good
Good
Mobile App
Yes
No
Beginner Friendly
Yes
No
Deposit and Withdrawal Methods –Coinbase offers additional payment methods, including PayPal withdrawals and credit card deposits.
Beginner Friendliness – Considering the company's goals with these two platforms, it should come as no surprise that Coinbase is the more beginner-friendly option.
Coinbase vs Coinbase Pro Fees 2021 – Coinbase Pro shines when it comes to saving on fees, with no fees charged on maker trades. Trading fees are typically .25%, and volume-based discounts can drop these fees down to .1%. Check their fee structure page to see the specifics.
Coinbase charges ~4% when using credit cards or PayPal and ~1.5% when buying or selling via bank transfer. It's important to note that Coinbase offers some of the lowest credit cards buy/sell fees in the industry. One more thing worth noting is that alternative payment methods will always have higher fees.
Keep in mind that both these sites use the same back-end and are both insured and backed by some of the biggest players in the finance world such as Andreessen Horowitz, Union Square Ventures, and the New York Stock Exchange.
Supported Countries
---
Coinbase Pro currently operates in the United States, Singapore, Australia, Canada, and Europe (including UK).
Coinbase serves customers in the United States, United Kingdom, Australia, Austria, Sweden, Switzerland, Netherlands, Norway, Denmark, Finland, Slovenia, Spain, Malta, Monaco, Cyprus, Czech Republic, Singapore, Slovakia, Portugal, San Marino, Poland, Latvia, Liechtenstein, Ireland, Italy, Greece, Hungary, Canada, Croatia, Belgium, and Bulgaria.
Difference between Coinbase and Coinbase Pro: Which Site is Best for You?
---
Coinbase is the perfect option for those who are looking for a simple way to purchase and store Bitcoin, Litecoin, Ethereum, and other coins available on the platform.
On the other hand, if you're familiar with trading platforms or willing to learn to use them, Coinbase Pro is the option that can help you to save a ton of money on fees, as well as enjoy the much greater functionality.
Coinbase Pro looks complicated, and if you are a beginner, it may seem like a scary big step to jump from something as simple as Coinbase into Coinbase Pro. However, you'll get the hang of it after you watch a few tutorial videos and play around with the options.
Both platforms come from a trustworthy company, well respected in the cryptocurrency community and they both offer something valuable to the right group of people.
Pros and Cons of Both Exchanges
---
Coinbase Pros ✅
It has lower fees than "easy buy" competitors
You can purchase cryptocurrency faster than most exchanges
You can buy cryptocurrency with bank transfers and Credit Cards and Debit Cards
Beginner friendly and easier to use than an exchange
It safely stores customer funds
Regulated and trustworthy company.
Coinbase Cons ❌
It has slightly higher fees than most exchanges.
Wallets are less secure than a wallet that is controlled by you
It monitors how you spend your cryptocurrency
Coinbase Pro Pros ✅
International market
Low fees
Good liquidity
Coinbase Pro Cons ❌
Customer support could be better
Not beginner friendly
---
Make sure to check out our guides on other cryptocurrency exchanges:
exchange comparisons
You can also check comparisons we made between some of the most known exchanges:

CaptainAltcoin's writers and guest post authors may or may not have a vested interest in any of the mentioned projects and businesses. None of the content on CaptainAltcoin is investment advice nor is it a replacement for advice from a certified financial planner. The views expressed in this article are those of the author and do not necessarily reflect the official policy or position of CaptainAltcoin.com