Coinbase vs. Bittrex Exchange Comparison
403 ERROR
The request could not be satisfied.
---
This distribution is not configured to allow the HTTP request method that was used for this request. The distribution supports only cachable requests. We can't connect to the server for this app or website at this time. There might be too much traffic or a configuration error. Try again later, or contact the app or website owner.
If you provide content to customers through CloudFront, you can find steps to troubleshoot and help prevent this error by reviewing the CloudFront documentation.

---

Generated by cloudfront (CloudFront)
Request ID: hxBIPosSc7CGQjn2kpkcl4U2lXlv-2dWrcizxwktTBVj-sbe7p1pfA==

Coinbase and Bittrex are two of the most popular and most well-regarded cryptocurrency exchanges. In this Coinbase vs. Bittrex review, we'll go over the advantages and disadvantages of trading on each, who each platform is best suited for, and more.
Coinbase vs Bittrex Key Information
| | | |
| --- | --- | --- |
| | | |
| Site | Visit Coinbase | Visit Bittrex |
| Company Launch | 2012 | 2014 |
| Company Location | California, USA | Seattle, United States |
| Site Type | Easy Buy/Sell Methods | Cryptocurrency Exchange |
| Available Cryptocurrencies | Bitcoin (BTC), Ethereum (ETH), Litecoin (LTC) + 25 others | Bitcoin (BTC), Ethereum (ETH), Litecoin (LTC), and 190+ More |
| Buy/Deposit Methods | Bank Transfer, Credit Card, Debit Card, Cryptocurrency | Cryptocurrency, bank transfers |
| Sell/Withdrawal Methods | Bank Transfer, PayPal, Cryptocurrency | Cryptocurrency, bank transfers |
| Deposit Fees | Yes | None |
| Trading Fees | 1% fixed | 0.25% |
| Withdrawal Fees | Yes | Yes |
| Security | Great | Good |
| Has Been Hacked | No | No |
| Community Trust | Great | Good |
| Customer Support | Good – 24/7 email, chat according to American working hours | Good – email |
| Countries Supported | 33 Countries | Worldwide |
| Derivatives? | No | No |
| Futures? | No | No |
| Margin Trading? | No | No |
| Mobile App | Yes | No |
| Beginner Friendly | Yes | No |
Coinbase to Bittrex Journey
Coinbase and Bittrex have been around for a while and both follow a similar flow of users, and this flow might not be so different from what brought you to your search.
Here is my journey from Coinbase to Bittrex.
I will make the point that I started out on Coinbase because it was easy to navigate. I purchased some BTC, ETH, and/or LTC and got some skin in the game, but in time, I wanted more.
However, I wanted to start trading other coins, and the Coinbase fees were starting to look daunting so I started to look at other alternatives such as Poloniex, Gemini, Bittrex, and others.
Even if this pattern doesn't accurately describe your journey, it is very insightful to the difference between Coinbase and Bittrex.
See, Coinbase is great place for newcomers to buy cryptocurrency and is the leader in attracting new users and is considered a "unicorn" among startups valued at $1.6 billion. They have an easy platform but they do not offer margin trading, and also the 1.49% trade fee is too high for wealthy investors. However, many of these users eventually advance their understanding of the cryptocurrency world, and they want to stop paying the relatively high Coinbase fees and to explore new waters with different altcoins. This is when they end up splitting off to a variety of different exchanges that make Bitcoin appear more conventional and familiar. A lot of people feel more comfortable entrusting their money to a service that gives them more trading flexibility and offers lower fees.
Many of these users find the features they want on Bittrex. They end up spreading out their holdings across Coinbase, Bittrex, and potentially a hard wallet or two.
This Coinbase vs. Bittrex review will help you to understand the differences between these platforms, and which will suit you the best.
Bittrex vs Coinbase: Available Cryptocurrencies
Bittrex is perfect for those who want to buy a bunch of different altcoins. The best thing about Bittrex is that it will allow you to buy a wide variety of altcoins, and this ability is where Bittrex stands head and shoulders over Coinbase. However, Coinbase does have its separate platform called Coinbase Pro where you can trade a lot of cryptocurrencies these days.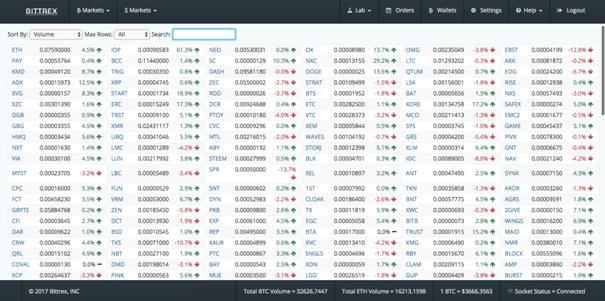 Bittrex claims to be the next generation in crypto currency trading and they support the trading of a whopping 190+ different coins, while Coinbase only allows its users to purchase and sell three of the most popular cryptocurrencies – Bitcoin, Litecoin, and Ethereum. They plan to add more cryptocurrencies in the future, but they'll probably only add a few more of the most popular ones.
Supported Countries
Coinbase currently serves a total of 33 countries (although this may soon drop to 32 as Vogogo, their Canadian payment service, shuts down).
Although Bittrex is a US-based broker and is available globally, several states have limited or no access to Bittrex, which probably reflects the evolving nature of cryptocurrency regulation in those states.
Security
There are so many great exchange options out there. However, in order to be a successful exchange in the modern day, your security has to be absolutely water-tight because a single poorly handled security threat could be lethal for the exchange company's user-base.
Coinbase offers the most robust security in the entire Bitcoin exchange market and has never been hacked in its 5 years of operations. Coinbase treats USD wallets like bank accounts and are insured up to $250,000 by FDIC (Federal Deposit Insurance Corporation), which is an independent agency of the United States government that protects you against the loss of your insured deposits. At any given time, only 2% of Coinbase holdings are exposed, and any losses incurred are fully insured by a syndicate of Lloyd's of London. 98% of customers' cryptocurrency funds are stored in secure offline cold storage, and the private keys used for authorization of cold storage transactions are held in fragments between offline hard drives and paper, in different locations with backups in case of losing any pieces. They also offer two-factor authentication (2FA), email notifications and use PGP email encryption.
Bittrex is being handled by a group of "security freaks" that are focused on keeping their customers safe at all time and they pride themselves on providing a secure platform and employ the most reliable security technologies available. These include utilizing an elastic multi-stage wallet strategy that keeps 80% to 90% of all funds offline. Bittrex also offers 2-Factor Authentication, and I strongly advise using the Google Authenticator for the 2FA's that you would be doing. Speaking of 2FA's, a huge number of their registered members were hacked at around April 2016, but the users that had 2FA installed had no issues with their accounts being compromised.
Both Coinbase and Bittrex are considered very secure platforms. However, both sites are exposed to a small risk of being hacked because even tenured security experts in the world know that there is no such thing as a "perfect system" or software that can keep you safe. Storing your funds on either exchange long-term is not recommended because it increases the potential of them getting hacked. Storing them for a short-period is fine. However, you should only keep what you plan to actively trade.
Coinbase, Ideal for Newbies
The reason why so many people get into the cryptocurrency world through Coinbase is that people at Coinbase have done an amazing job at creating an extremely user-friendly interface. This makes buying coins a very simple process.
Both Coinbase and Bittrex allow its users to buy BTC, ETH, and LTC. However, the platforms are drastically different for beginners.
Bittrex is a secure online cryptocurrency exchange that allows its users to trade coin pairs with each other similar to a forex or stock exchange, which can get complicated for newbies and there's a lot of room for making small but expensive mistakes.
Coinbase, on the other hand, is easier to use than an exchange and keeps the process very narrow-focused and simple.
When trading fiat currency for BTC, ETH and LTC, Coinbase allows you to deposit your fiat currency and purchase your selected quantity. Coinbase is so much simpler and more convenient to use for many first time users, and that's the reason why so many users prefer this site. Coinbase is great place for newcomers to purchase cryptocurrency and buying crypto via Coinbase is a very straight-forward process:
Credit/Debit Card Purchases:
Verify your account
Verify your Credit Card
Instantly purchase BTC, ETH, or LTC at the set price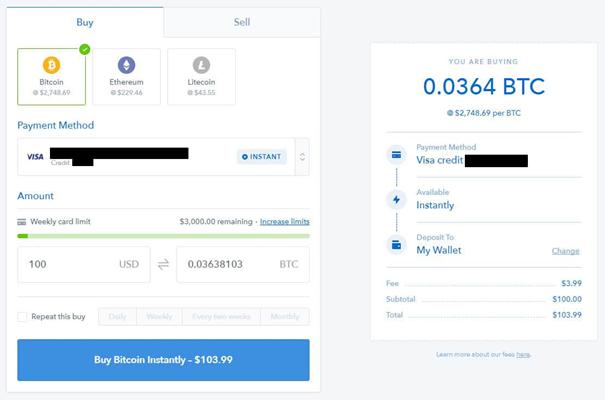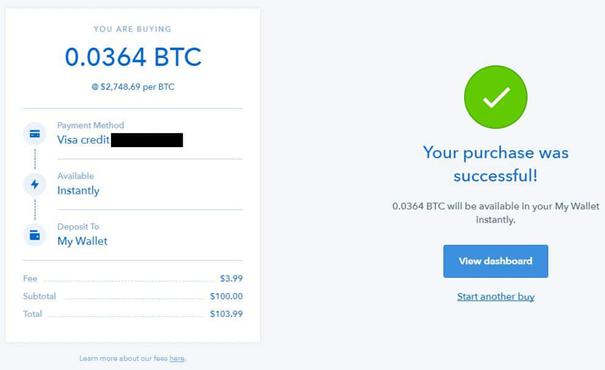 It's important to note that the bank transfer and credit card buying limits on Coinbase vary by user. Credit card limits are determined by account age, purchasing history, and verification status (there are four verification levels on Coinbase). Bank transfers are recommended to those users who want to buy greater amounts because you can immediately access higher limits after you've been verified.
Bank Transfer Purchases: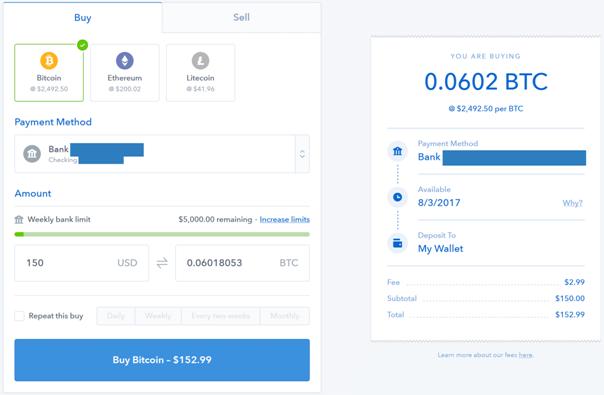 Verify your account
Purchase BTC, ETH, or LTC at the set price
The amount of coins will be in your account after a few days of processing
Bittrex does not currently offer direct purchase of coins using credit cards, debit cards, wire transfers, or ACH bank accounts. The feature is currently closed. However, people ate Bittrex claim that they will be launching better USD markets and options to deposit, which means you would have to purchase your BTC, ETH, or LTC on another exchange such as GDAX or Coinbase, and then transfer it into Bittrex to trade.
In order to get the lowest amount of fees, it's strongly recommended that you use bank transfers on Coinbase instead of credit cards. When you purchase coins on Coinbase, you lock in the current price. However, you can't transfer your coins out until after your bank transfer is done being processed.
Fees
Coinbase has done a phenomenal job at creating an extremely user-friendly interface and it also has a few more benefits that are unique to the platform. However, their fees are comparatively high to most other exchanges, and their fees range from roughly 1.49% to 3.99% fee, depending on your payment method.
Bank transfers in the US carry a fee of 1.49%
Credit/debit card buys carry a fee of 3.99%
As you can see, credit cards come with the higher fee, due to the fees charges by credit card companies and risks of fraudulent chargebacks, which means that you can save about 2.5% by using bank transfers.
In between Bittrex fees vs Coinbase, Bittrex trading fees stand at 0.25% on all trades, so if you're looking to save on trading fees, Bittrex is definitely worth considering.
Coinbase charges these fees to purchase BTC, LTC, and ETH with USD. On the other hand, Bittrex fees are on the trading of other cryptos, such as purchasing Ethereum with Bitcoin.
That being said, you can utilize both Coinbase and Bittrex in your crypto trading routine by exchanging US dollars for your coins of choice. After that, you can transfer your coins to Bittrex to trade for other coins that Coinbase doesn't have.
It's highly recommended to avoid using a credit/debit card because it will get you a 3.99% fee.
Both Coinbase and Bittrex Are Trusted Companies
Both Coinbase and Bittrex are based in the United States and they both have been around for a while.
Based in San Francisco, California, Coinbase is the most popular cryptocurrency exchange platform. It was launched in 2012, and since their launch they have attracted a significant amount of investment capital from reputable investors, venture capital firms, and even banks and financial institutions such as BBVA, USAA Bank, and the New York Stock Exchange. The exchange was founded by Brian Armstrong and Fred Ehrsam, and they've served over 8 million customers and helped users exchange over $20 Billion worth of digital currency.
Launched in 2014, Bittrex doesn't have the same investment accolades as Coinbase. However, it is still seen as a very trusted platform. Bittrex is based in Seattle, USA, and currently experiences 24 hour trading volumes of just under $300M. The site has a good reputation and up until this point. Bittrex was founded by IT and security experts with more than 50 years of combined knowledge from a variety of companies including Amazon, Blackberry, Microsoft, and Qualys.
Customer Support
The cryptocurrency world doesn't really have anything to brag about when it comes to customer support and this is still a bone of contention in the industry with many companies leaving this as an unaddressed area. A simple search on Google for any crypto exchange will turn up dozens of seething reviews criticizing the poor customer service of whatever site you're looking up, and you will see that many users have complained about slow response times, which could be because of increased demand.
Coinbase has customer support via email and they also offer instant chat support which operates according to US business hours. Coinbase support is very professional, and it's better than at many of its competitors. Coinbase customer support still has its shortcomings, but in our personal experiences, we've typically received responses from support within 24-72 hours, which is much quicker during the work week. They also have an extensive FAQ for general questions.
Customer service support for Bittrex might be the problem people are not very happy with, but communication is not out of reach. Bittrex offers a support center, a support email at support@bittrex.com, and the broker also answers questions through Twitter, Facebook, and Slack, making it highly accessible to customers. Bittrex also operates a Zendesk where users can review FAQs and read news articles.
Coinbase vs. Bittrex Pros and Cons
Coinbase
PROS:
Easy to use and beginner friendly
Safely stores customer funds
Has lower fees than "easy buy" competitors
Purchase cryptos faster than most exchanges
Simple and modern website
High liquidity
Regulated and trustworthy company
You can purchase cryptos with Credit Cards and Debit Cards (In addition to bank transfers)
CONS:
Has slightly higher fees than most exchanges
May track how its users spend their cryptocurrency
Puts investors before users
Prepaid credit cards are not allowed
Coinbase wallets are less secure than a wallet you control yourself
Bittrex
PROS:
Great security
Automated features
Easy to navigate
Huge selection of altcoins
CONS:
Customer Service problems not being resolved on time
No fiat trading
Verification process is slow
No fiat payment options
Conclusion
Coinbase and Bittrex serve two different purposes, so if you had to pick one over the other, you might have some difficulty. There is some overlap between the services they offer. However, they both possess a huge advantage that the other doesn't.
Coinbase lets you buy Bitcoin, Litecoin, and Ethereum with USD, while Bittrex offers good options for trading via Bitcoin and Ethereum, but it does not currently offer fiat trading pairs (trading via USD, EUR, GBP, etc).
Bittrex supports the trading of over 190+ different cryptocurrencies, whereas Coinbase only allows its users to purchase and sell three of the most popular cryptos – Bitcoin, Ethereum, and Litecoin.
Something many people do is use Coinbase to purchase Bitcoin, and then move it to Bittrex to trade for other coins that Coinbase doesn't have.
Coinbase is a great choice for those who are looking for something simple to get started with cryptocurrencies. On the other hand, Bittrex is a great site for frequent traders or users looking to invest in other altcoins

CaptainAltcoin's writers and guest post authors may or may not have a vested interest in any of the mentioned projects and businesses. None of the content on CaptainAltcoin is investment advice nor is it a replacement for advice from a certified financial planner. The views expressed in this article are those of the author and do not necessarily reflect the official policy or position of CaptainAltcoin.com