Coinbase and Xapo are two of the most popular cryptocurrency platforms providing exchanges and wallets services, and they are led by teams with deep financial services and security expertise. In this review, we'll go over everything from the key features of each platform, which platform is the easiest and most convenient to use, and ultimately which platform will suit you the best.
Coinbase vs Xapo: Key Information
| | | |
| --- | --- | --- |
| | | |
| Site | Visit Coinbase | Visit Xapo |
| Company Launch | 2012 | 2014 |
| Company Location | California, USA | Hong Kong |
| Site Type | Easy Buy/Sell Methods | Cryptocurrency Exchange |
| Available Cryptocurrencies | Bitcoin (BTC), Ethereum (ETH), Litecoin (LTC) + 20 others | Bitcoin (BTC) |
| Buy/Deposit Methods | Bank Transfer, Credit Card, Debit Card | Bank Transfer, Cash, Credit Card, Debit Card |
| Sell/Withdrawal Methods | Bank Transfer, PayPal, Cryptocurrency | Bank Transfer, Cryptocurrency |
| Fees | Medium | Low/Medium |
| Security | Great | Great |
| Community Trust | Great | Great |
| Verification Required | Yes | Yes |
| Customer Support | Good | Good |
| Mobile App | Yes | Yes |
| Beginner Friendly | Yes | Yes |
Comparing the Features of Xapo and Coinbase
You are starting out with Bitcoin or any other digital cryptocurrency and you're not sure where to begin. Who can you trust to deliver what you want in exchange for your hard earned traditional money? Coinbase and Xapo are two of the most popular cryptocurrency platforms and they have likely both popped up during your research with plenty of celebrators and haters for each company.
So which one is best for you and which one you should choose to get started?
Both companies offer very similar services as they both want to help you bridge the gap between traditional finance and digital currency without risk. They both strive to create a trusted platform that will make switching between fiat and cryptocurrencies simple and straightforward for new users.
Headquartered in San Francisco, CA, Coinbase is one of the most famous names in the industry that can get you started with digital currencies in a matter of minutes. At Coinbase not only can you purchase and hold Bitcoin, you are also able to buy Litecoin and Ethereum with the same ease.
Coinbase also allows you to buy Bitcoin directly from them via a credit card, which is very useful if you are in a hurry. However, you should watch out for the hefty fees with this method. One more thing worth mentioning is that by depositing money via bank transfer, European and UK customers can save up to 4% on fees.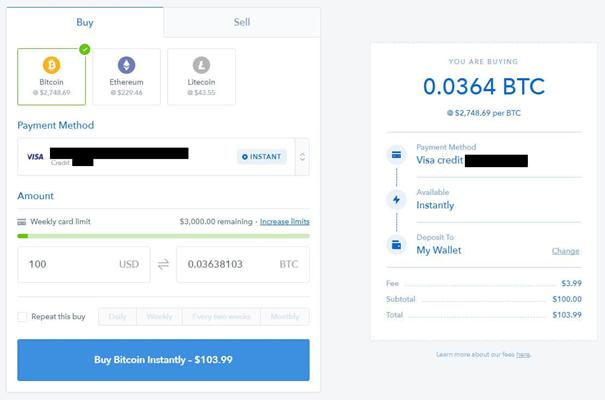 Launched in 2014, Xapo is a newcomer on the crypto exchange block. Their Bitcoin services are pretty simple for new users. However, it's worth noting that you can't directly buy Bitcoins via a credit card. They only operate in Bitcoin. This is a distinct frustration for anyone wanting to expand their range of cryptos.
Xapo is operated by legitimate entrepreneurs and businessmen who have a long history of building companies that are successful. They've made themselves available to public scrutiny, which, in a world where many companies and exchanges have very little publicly available information about the teams, is worth mentioning.
You can work in multiple fiat currencies once you are fully verified. You can seamlessly transfer between Bitcoin and all major currencies like USD, EUR, GBP, etc, which is perfect if you are using different fiat currencies because there is no need to select a 'local' currency and then be stuck with high fees for moving to another alternative.
You can easily include multiple fiat currency wallets and transfer instantaneously between them at competitive exchange rates whilst viewing your overall net worth, which means that you can purchase your Bitcoin in Euros before switching back to pounds in just a couple of clicks.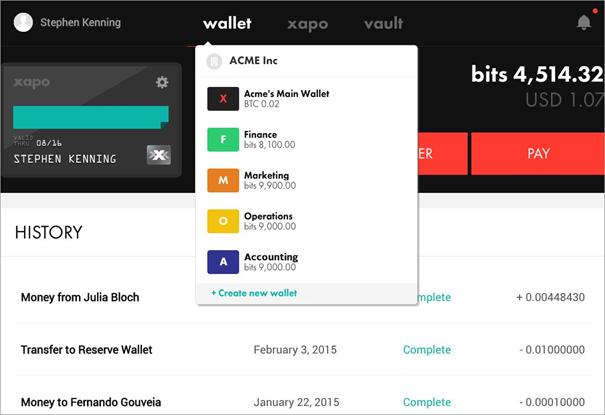 Trust and simplicity are what drive both of these companies. You can purchase coins directly from Xapo and Coinbase so you don't have to learn the ins and out of trading markets. Both sites also allow you to store your private keys offline in cold storage for industry-leading standard security. Xapo keeps its cold-storage servers in three separate locations around the world, one of which is in an underground ex-military bunker in Switzerland, which makes for a cool marketing story to show they are serious about the security of your Bitcoins.
Available Cryptocurrencies
Coinbase has the distinct advantage of providing Bitcoin, Ethereum and Litecoin services, which is really helpful if you a looking to create a portfolio of strong digital currencies. On the other hand, Xapo only provides Bitcoin storage and exchanges, which can be frustrating when looking to either receive or purchase Litecoin to complement current Bitcoin holdings. More currencies would be a bonus for those who are serious about providing a complete cryptowallet option.
Supported Countries
Coinbase is the world's largest Bitcoin exchange and they offer their brokerage services in the United States, Australia, Singapore, Canada, and the United Kingdom.
Coinbase also serves customers in the following European countries: Austria, Bulgaria, Belgium, Norway, Poland, France, Greece, Monaco, Netherlands, Denmark, Finland, Liechtenstein, Malta, Cyprus, Czech Republic, Croatia, Italy, Latvia, Hungary, Ireland, Portugal, Romania, Slovenia, Spain, San Marino, Slovakia, Sweden, and Switzerland.
Xapo is a reputable company that operates globally. The Xapo team has worked hard to support a massive amount of countries and FIAT currencies, ranging from Bhutanese Ngultrums (BTN) to Zambian Kwacha (ZMK), which means that Xapo supports everything from less popular fiat currencies to popular ones such as USD, GBP, EUR, CNY, RUB, and JPY.
Fees
As we already mentioned above, Coinbase offers instant credit card purchases. However, this comes with a 4% interest rate which becomes pretty chunky for large Bitcoin purchases. You can deposit funds into their account to buy cryptocurrency, which removes this fee. However, all buy transactions are still subject to a 1.5% fee rate.
Xapo fees are a little different and they vary depending on how you go about your business. In order to get started, you'll need to deposit money into a Xapo fiat wallet. This can be done by credit card. However, this will result in large fees. Bank transfers are available for minimal cost. You can also use a local trusted Xapo teller with varying fees. You can quickly purchase Bitcoin for no fee at near market value once you have your deposit loaded.
Safe and Secure
As you already probably know, security is the most important component to any great exchange and wallet service. Xapo and Coinbase have some of the best security systems currently available.
Coinbase combines their easy to use service with top-tier security, and they offer their users a variety of features to secure their personal accounts. They use offline storage methods and 2-step authentication (2FA). This means that your account can't be accessed with just your regular password.
Xapo, on the other hand, offers a little more flexibility in how you store your funds. They allow you to move between online and vault storage at your discretion. They focus on constantly pushing industry security methods and you'll find access to various parts of your account needs 2FA and an extra pin code. And if you really want a next layer, you can even store your Bitcoins in a Xapo's secret Swiss mountain bunker built to withstand cyber and nuclear attack.
Both Platforms Are Trusted by the Community
Coinbase remains a longstanding name with within the cryptocurrency world. The company was launched in the summer of 2012, and it has built its reputation as early adopters and is now starting to penetrate the wider public. Coinbase was launched by Brian Armstrong and Fred Ehrsam, originally providing an exchange for professional Bitcoin traders.
Coinbase is operating in the United States, which means that is required to comply with U.S. laws and regulations, at both a federal and state level. These laws and regulations and laws force accountability onto Coinbase. This is something that may be lacking from some of their offshore competitors in other countries with less strict regulations. It's also worth noting that Coinbase has many trustworthy investors backing the company, including Digital Currency Group, Blockchain Capital, Bank of Tokyo, and Alexis Ohanian (Reddit Co-Founder).
Xapo is incorporated in Hong Kong and they have scaled fast since its 2014 birth, particularly during 2017 when they cemented their place in the Bitcoin growth. The founder Wences Casares is an international entrepreneur with over 20+ years in building and selling technology businesses. He is now seen as a thought leader in the industry, and even payment giants such as PayPal seek out his advice now. The COO of Xapo is Federico Murrone and he worked as the CTO of Patagon. He has focused his career on technology his entire life. The President of Xapo is Ted Rogers. He brings over fifteen years of experience in business and finance to Xapo.
Both companies provide consumers with different options and they have become big players in Bitcoin's expansion. With Xapo building from Hong Kong and Coinbase growing out of the US, there are different business ideals on the table alongside worldwide banking options.
Customer Support
Both Coinbase and Xapo are aiming to make cryptocurrency user-friendly, so both these companies have really well-structured support for their customers.
Coinbase does an amazing job of making you feel at home and they pretty much walk you through every step of the process from the moment you land on their website. They greet you with information about Bitcoin and they also have a knowledge base and email support. They genuinely want to make the experience painless.
Xapo does a respectable job at helping the customer and they provide excellent customer support via email, Facebook and Twitter:
However, for me, there are still some questions unanswered. It's Bitcoin, it's 2017, so you'd assume you can expect to find everything you need online, right? Xapo looks to have a pretty extensive support center. However, most of it is hollow with little helpful information and they seem to be more interested in selling their Bitcoin debit card before you even have any Bitcoins.
When it comes to customer support both platforms are lacking. This is largely due to the large influx of people into the cryptocurrency world, combined with "angry voices being the loudest". However, it's likely that both sites will improve their customer service as time goes on.
Xapo vs Coinbase: Conclusion
There is a lot to like about both platforms. Also, neither site is severely lacking when it comes to getting your Bitcoin life off to a smooth start. Xapo is a reputable company that prioritizes security and, with a touch more effort, can reduce your fees quite dramatically, while Coinbase might just edge it for the absolute newbie who just wants to get some cryptos and learn the ropes. There is top quality security from both sites. However, Xapo takes pride in their security and feels like your account has its own personal bodyguard.
However, the major deciding factor for many people might just be currency offerings. If you want multiple fiat currency choices, then Xapo is seamless. On the other hand, for those wanting multiple cryptocurrencies, Coinbase leaps off the page.
Coinbase vs. Xapo Pros and Cons
Coinbase Pros
Easy to use
Safely stores customer funds.
Has lower fees than "easy buy" competitors
Purchase cryptos faster than most exchanges
Regulated and trustworthy company
You can purchase cryptos with Credit Cards and Debit Cards (In addition to bank transfers)
Coinbase Cons
Has slightly higher fees than most exchanges
May track how its users spend their cryptocurrency
Coinbase wallets are less secure than a wallet you control yourself


---
Xapo Pros
Easy and intuitive UI
Reputable company
Enhanced security
Seamless payment solution integration (a debit card)
Xapo Cons
Slow customer support
You are not in control of your Bitcoin

CaptainAltcoin's writers and guest post authors may or may not have a vested interest in any of the mentioned projects and businesses. None of the content on CaptainAltcoin is investment advice nor is it a replacement for advice from a certified financial planner. The views expressed in this article are those of the author and do not necessarily reflect the official policy or position of CaptainAltcoin.com