In this review, we are going to take a closer look at two established cryptocurrency exchanges that provide different services for the blockchain community – Coinbase and Changelly. Changelly is primarily used to convert one cryptocurrency for another, while most investors use Coinbase as an "on-ramp" to convert fiat currency (e.g. US dollars) to blockchain assets.
In this "Coinbase vs. Changelly" review, we'll go over the advantages and disadvantages of trading on each exchange so you can easily pick which one best suits you.
Coinbase vs. Changelly: Key Information
| | | |
| --- | --- | --- |
| | | |
| Site | Visit Coinbase | Visit Changelly |
| Company Launch | 2012 | 2013 |
| Company Location | California, USA | Belusova Prague, 155 00 Czech Republic |
| Site Type | Easy Buy/Sell Methods | Cryptocurrency Exchange |
| Available Cryptocurrencies | Bitcoin (BTC), Ethereum (ETH), Litecoin (LTC) | Bitcoin (BTC), Ethereum (ETH), Litecoin (LTC), +69 more coins |
| Buy/Deposit Methods | Bank Transfer, Credit Card, Debit Card, Cryptocurrency | Credit Card, Debit Card, Cryptocurrency |
| Sell/Withdrawal Methods | Bank Transfer, PayPal, Cryptocurrency | Cryptocurrency |
| Deposit Fees | Yes | None |
| Trading Fees | 1% fixed | 0.5% |
| Withdrawal Fees | Yes | None |
| Security | Great | Great |
| Has Been Hacked | No | No |
| Community Trust | Great | Good |
| Customer Support | Good – 24/7 email, chat according to American working hours | Average – email |
| Countries Supported | 33 Countries | Worldwide |
| Derivatives? | No | No |
| Futures? | No | No |
| Margin Trading? | No | No |
| Mobile App | Yes | No |
| Beginner Friendly | Yes | Yes |
Company Trust
Coinbase was founded by Brian Armstrong and Fred Ehrsam in 2012 and quickly became one of the biggest and most popular Bitcoin exchanges on the market. Coinbase is located in Silicon Valley and their focus is on the US market, but the company currently operates in 32 countries and offers Bitcoin storage in 190 countries across the world. Originally, Coinbase has started as an exchange (selling Bitcoins to customers directly), but in 2016 it introduced a Global Digital Asset Exchange (GDAX) – a platform for trading a wide variety of digital assets and a direct exchange of Bitcoin and Ether for fiat currency. Boasting $20 billion of digital access exchanges across 10 million accounts, Coinbase has been featured in major newspapers around the world (e.g. Bloomberg, TIME) and is supported by several notable investors such as the New York Stock Exchange, Andreessen Horowitz, and Union Square Ventures.
Changelly is a well-known platform that was created in 2013 by the team who made MinerGate, in which they get their good reputation from and the only reason why people are openly doing business with them. Their headquarters is located in Belusova Prague, Czech Republic, and since its release in 2015, Changelly has grown its user base to over 500,000 traders. They have several partnerships with well-established wallets like Coinomi and Jaxx, but even with these established partners, Changelly doesn't have the trust of some of the community because of the hidden fees/exchange rates.
Available Cryptocurrencies
Coinbase offers 3 cryptocurrencies (Bitcoin (BTC), Ethereum (ETH), and Litecoin (LTC)). There have been rumors that more coins will be added soon (some people say that they plan to support Bitcoin Cash (BCH) on January 1st). However, these rumors haven't been confirmed by the company.
Changelly, on the other hand, supports numerous coins and pairings including: Bitcoin (BTC), Ethereum (ETH), Litecoin (LTC), XMR, ZEC, DASH, ANT, BAT, BCC, BNT, XRP, STEEM, ETC, DOGE, FCN, AMP, CVC, DCR, DGD, PAY, PIVX, POT, QTUM, EDG, EOS, EXP, GAME, GBYTE, GNO, GNT, GUP, LBC, LUN, MAID, STRAT, SWT, SYS, TIME, TRST, MLN, NAV, NEO, NLG, RADS, REP, RLC, SNGLS, SNT, STR, USDT, WAVES, WINGS, XAUR, XDN, and XEM.
Investors who value coin selection should choose Changelly because this site has the largest offering of cryptocurrencies on the market and new coins are constantly added to the platform. On the other hand, if Bitcoin, Ethereum, and Litecoin investing is your goal, then I recommend you stick to Coinbase.
Supported Countries
When it comes to the number of countries where Coinbase is supported, a total of 32 countries are available for you to turn to, including the United Kingdom, the United States, Australia, Austria, Finland, Canada, Croatia, Greece, Hungary, Ireland, Italy, Jersey, Belgium, Bulgaria, Czech Republic, Denmark, Latvia, Netherlands, Norway, Liechtenstein, Malta, Monaco, Cyprus, Poland, Portugal, Spain, Sweden, Switzerland, San Marino, Singapore, Slovakia, and Slovenia. One more thing worth noting is that Coinbase also offers Bitcoin storage in 190 countries across the world.
Changelly is currently available to customers in any country worldwide.
Funding Methods
Coinbase allows you to fund your account in multiple ways – you can use credit cards, debit cards, bank transfers, and bank wires. Also, you can fund your account without being verified. Your account can also be funded with cryptocurrency (specifically BTC, ETH, and LTC). However, you can't exchange between cryptos, and to do this, you would need to first sell one cryptocurrency for fiat before purchasing another. However, the process is counted as two transactions in Coinbase, which means that this doubles the number of fees you pay.
Changelly does not provide a wallet, so there's technically no account for you to fund. Instead, you use a debit card or a credit card to buy cryptocurrency and send it to a separate wallet where you want to receive your new coins. In addition, when it comes to creating an account with them, you do not need to confirm anything on your email. This means that all your transactions can remain anonymous. Changelly also virtually accepts almost all the coins in the market today, which can be used to fund this purchase providing an easy way to exchange blockchain assets.
Because of the drastically different funding structures, I recommend Changelly to switch between cryptocurrency and Coinbase to buy them.
Interface
Coinbase was designed with the beginner investor in mind, and since their launch, they've served over 8 million customers and helped users exchange over $20 Billion worth of digital currency. Coinbase allows its users to purchase and sell three of the most popular cryptos – Bitcoin, Ethereum, and Litecoin with just a few clicks from their website or mobile app. Coinbase has a modern and user-friendly design which allows you to track the performance of the coins in your portfolio. This sleek dashboard is extremely easy to navigate.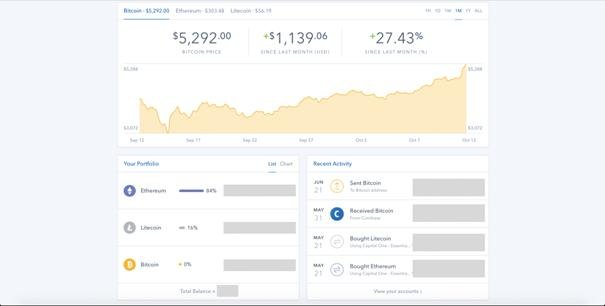 Changelly also has a simple interface that provides ample instructions that should make even the most beginner investor feel comfortable using their platform. They walk you step-by-step through the process of exchanging your assets – just select which two currencies you'd like to exchange, the amount of the currency you're exchanging from, and which wallet to send your final currency.

Changelly's exchange process was pretty straightforward. However, I have to say that I experienced several technical problems while using the site. Several buttons wouldn't work unless I reloaded the page, and the site crashed multiple times. To conclude, the site will be a great way for new investors to begin swapping blockchain assets once the Changelly team fixes these problems.
Fees
Coinbase's easy-to-use interface comes at a price with high trading fees, ranging from roughly 1.49% to 3.99% fee, depending on your payment method.
Coinbase charges an exchange fee when both purchasing and selling cryptocurrency, and their fees are higher than most other popular exchanges. Credit cards come with the higher fee (3.99% for debit or credit card purchases), due to the fees charges by credit card companies and risks of fraudulent chargebacks. Bank transfers carry a fee of 1.49%, which means that you can save around 2.5% by using bank transfers.
Changelly fees seems to have better option and they only charge a 0.5% exchange fee for each trade. However, poor exchange rates on the platform cause you to pay hidden fees that are set and collected by the blockchain network. The exchange rates on Changelly are often at a worse rate (sometimes up to 50% worse) than what'd you find on other exchange platforms. As you can see below, at the time of this writing, the market rate of Bitcoin is $5337.69 according to coinmarketcap.com.


Using Changelly's exchange calculator, $5338 will buy you ~.866 Bitcoin, which is slightly more than 13% less of one full Bitcoin and much greater than the 0.5% fee that they state.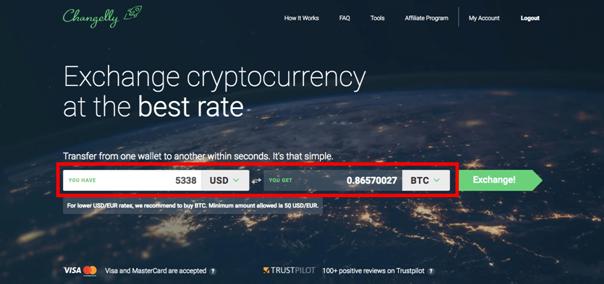 Transfer Limits
Changelly limits the amount of fiat currency you can exchange during your first week of making trades. For US, Australian, and Canadian citizens a $50 cap is placed for the first transaction. If making another purchase within 4 days, users from the mentioned countries can now buy a maximum of $100. After a full week (7 days) from the first purchase, the cap is raised to $500 with no more than 3 payments within the first week. After a month of the first transaction, you're free to exchange with no limit.
The transfer limits on Coinbase are higher than average. They vary from person to person and are determined by your level of verification, account age, and buying history. If you're a fully verified customer, you should be able to get weekly limits of at least $5,000 for bank account purchases and $50 for credit and debit card purchases.
Purchases made using the USD wallet or a credit/debit card on Coinbase are completed instantly, while bank transfers typically took 3-5 business days. However, Coinbase recently announced that users can now make these purchases instantly as well. Coinbase is holding up withdrawals of all types for 72 hours.
Safe and Secure
Coinbase and Changelly are two of the most popular and well known cryptocurrency exchanges in the world today and you should feel confident that your funds will be safe when using either of these platforms.
Coinbase holds all U.S. dollar deposits in banks that are covered by FDIC insurance, up to a maximum of $250,000. 98% of customers' cryptocurrency funds are stored in secure offline cold storage that are held in safety deposit boxes across the world alongside paper back-ups. As you can see, Coinbase offers the most robust security in the entire Bitcoin exchange market and these measures protect customers' funds from being lost or stolen by hackers. They also offer two-factor authentication, email notifications, they use PGP email encryption, and passwords are hashed and encrypted. One more thing worth noting is that Coinbase hasn't been hacked in the past.
Changelly doesn't provide as much details about their security policies as Coinbase does, but there's not much to worry about in regards to fund security. The platform has no storage of deposits and the transactions are instantaneous, which means that your funds aren't likely to be stolen due to an attack on the exchange. Changelly also uses 2-factor authentication (2FA) and an HTTPS security protocol, which helps with the security of your account.
Customer Support
Coinbase support is very professional and they have a robust support system containing an FAQ library (where you will be able to find an answer to most questions before even contacting customer support), customer support bot, and email ticketing process to resolve complex issues. Coinbase struggles with their customer support sometimes due to a huge popularity, but most support tickets are answered within 1-3 business days.
Getting to customer support on Changelly isn't intuitive and the link to the support system only works on some of their pages. There were numerous times when I clicked on the "Support" link only to be navigated back to the home page, and on other pages, a buggy pop-up window appears where you can enter your problem. On the plus side, the exchange has an FAQ section that will probably answer many of your questions.
Coinbase vs Changelly Pros and Cons
COINBASE PROS:
Easy to use and beginner friendly
Safely stores customer funds
Has lower fees than "easy buy" competitors
Purchase cryptos faster than most exchanges
Simple and modern website
High liquidity
Regulated and trustworthy company
You can purchase cryptos with Credit Cards and Debit Cards (In addition to bank transfers)
COINBASE CONS:
Has slightly higher fees than most exchanges
May track how its users spend their cryptocurrency
Puts investors before users
Prepaid credit cards are not allowed
Coinbase wallets are less secure than a wallet you control yourself
CHANGELLY PROS:
Trusted by hundreds of thousands of traders
The largest offering of cryptos on the market
Accepts Credit Cards
Has competitive commission fees for crypto-to-crypto conversion
Website is beautifully designed
CHANGELLY CONS:
High transaction fee
As a young("ish") company, it still has a lot to prove
Has negative comments from the community
Coinbase vs. Changelly: Final Thoughts
Coinbase is one of the most popular options used to buy Bitcoin and Ethereum, and is a great platform to begin investing in blockchain assets. It is integrated into the US banking system and holds over 600,000 customer wallets. Its simple funding process, in-depth customer support, and easy-to-use interface are perfect for the cryptocurrency beginner.
On the other hand, if your objective is to invest in a wide range of coins, then Changelly has the advantage. The website is fairly young compared to other exchange titans out there today, so it is noticeable that the team is still working to fix some bugs on the website. Once these issues are resolved, I have no doubt that the site will rise in popularity.
Comparisons
We have also compared Changelly vs Shapeshift as two most known instant crypto-converters. Make sure to read that one as well.
Make sure to check comparisons we made between some of the most known exchanges:

CaptainAltcoin's writers and guest post authors may or may not have a vested interest in any of the mentioned projects and businesses. None of the content on CaptainAltcoin is investment advice nor is it a replacement for advice from a certified financial planner. The views expressed in this article are those of the author and do not necessarily reflect the official policy or position of CaptainAltcoin.com