VeChain has seen a fair share of praise and controversy over time. Some call this project the one Blockchain-as-a-Service company to revolutionize modern supply chain management.
Focusing on industries like luxury goods, agriculture, medicine production, clothes, food, etc., VeChain promises to deliver a "trust-free and distributed business ecosystem to enable transparent information flow, efficient collaboration, and high-speed value transferring."
The technology of VeChain tracks items through their production/shipping cycle, ensuring that the final customer receives an authentic, full-quality product.
Others aren't so supportive of the project and its cryptocurrency, calling it a straight-up scam. VeChain is often criticized for being a rip-off of Ethereum; some also point out that their "partnerships" with BMW, Oxford, and other major companies and government entities weren't exactly real. Their X-Nodes program saw a fair share of criticism as well.
But we won't be delving deeper into any of said positives/negatives about VeChain in this article. This piece will assume that you've done your due diligence, gathered enough information about the project, and decided you want to buy your VeChain tokens. Naturally, to buy/own a cryptocurrency, you need a wallet that can store it; further down, we've compiled a list of the best wallets on the market for storing VeChain.
What Are The Best VeChain Wallets?
---
Before we go into details of the best VeChain wallets, let's have a quick look at the 3 best options, and after that, we will go not only through each of them more thoroughly but some of its competitors as well.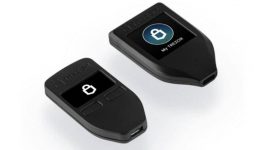 Inexpensive hardware wallet with screen
Screen offers verification and extra protection
Established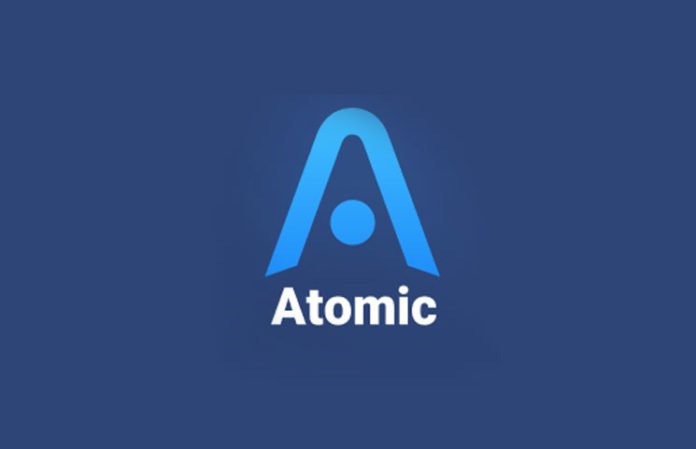 High security
Supports a wide range of crypto assets
Atomic swap offers a viable alternative to crypto exchange
How to store VeChain?
---
Storing your VeChain will require you to get a cryptocurrency wallet. You can choose to store your VET (native token) on the wallet of the exchange you bought the token, however, this can be risky. Storing your crypto on the exchange means that you leave your wallet's private keys in the hands of said exchange.
Exchanges are centralized entities (something that should be replaced with the birth of DEX's), and centralized entities are vulnerable to outside attacks. If someone hacks, say, an employee of an exchange, that someone can then potentially gain access to the exchange's private key database; once in there, it won't be that hard to steal crypto from a lot of people, including you.
The wallet you want to use is typically one which lets you retain control over your private keys. Desktop wallets, mobile wallets, paper wallets, and hardware wallets are touted as the safest options out there. Desirable features of one average wallet include increased safety measures like password encryption, 2FA, and PIN codes that lock access to the wallet. Making sure that the wallet is supported by the VeChain project and is being continually developed is the final thing you should pay attention to. And now to the actual VeChain wallets that you can use to store your VET tokens.
Best Vechain wallet – where to store Vechain
---
We generally advise anyone who has a worthwhile amount of crypto to store it on one of the hardware wallets (here is a table of the best ones):
VeChain Thor Wallet (mobile)
---
VeChain Thor mainnet was released this summer and was immediately followed up with a native wallet application. The initial release of the VeChainThor wallet came in the form of a light mobile wallet app, which aimed to provide a "powerful, secure, simple and fully functional portal to the VeChainThor blockchain". The wallet can be downloaded in both iOS and Android versions.
VeChainThor mobile wallet has been lauded by the community as a streamlined and reliable way of storing one VET/VTHO token. The wallet has several useful features:
Robust Security Protection: VeChainThor Wallet has undergone a series of security testing by trusted third-party security firms, including functional tests, source code reviews, smart contract audits, session management audits, input security audits, etc. It also offers 2FA protection and fingerprint protection to the wallet's owner. Other safety features include POST data encryption, access control, jailbreak / Root check, HSTS certificate check, repeat prevention, local data encryption, packing protection, reverse protection, and more.
Cross-platform Crypto Asset Management: VeChainThor wallet provides a secure and effective environment for cryptocurrency transactions. With the function of observing wallet, users can effectively perform VET token swap, X Node binding, and observe the balance of their crypto assets in their VeChainThor hardware /desktop wallets (hardware VeChain wallet is expected to be released soon, it will be cold storage wallet, not the hot wallet).
X Node Binding Service: X Node participants are able to transfer their X Node status from the Ethereum wallet (e.g., MEW) to the VeChainThor wallet by using the X Node Binding Service. This process allows X Node owners to earn VTHO by staking VET tokens.
VTHO rewards: The Thor wallet can be used to claim VTHO rewards. These are received in a number of ways, including simply holding VET tokens and owning an X node.
VeChain plans to add a lot of features in the upcoming releases of the VeChainThor Wallet, including an identity system, integration with VeVID, and a dApps browser. Overall, this solution is ideal for people who own either an iOS or an Android phone and want a lightweight solution for storing their VeChain.
VeChainThor Wallet (desktop)
---
VeChainThor desktop wallet was released sometime after the mainnet launch and it brought the much-sought-after Windows/Mac OS capabilities to storing VET tokens. The wallet is stored on Github under the name thor-sync and is currently still in development. The Vechain themselves claim that the wallet is "experimental software" that should be used at your own risk; still, the community feels it's decent enough to access the VeChain blockchain and send/receive cryptocurrency.
SimpleHold
---
SimpleHold is an open-source and non-custodial wallet launched by a reputed instant crypto swap platform, SimpleSwap, in February of 2021. It has a mobile app and browser extension with support for over 70 cryptocurrencies, NFTs, and integration with hardware wallets (cold wallets, not hot wallets).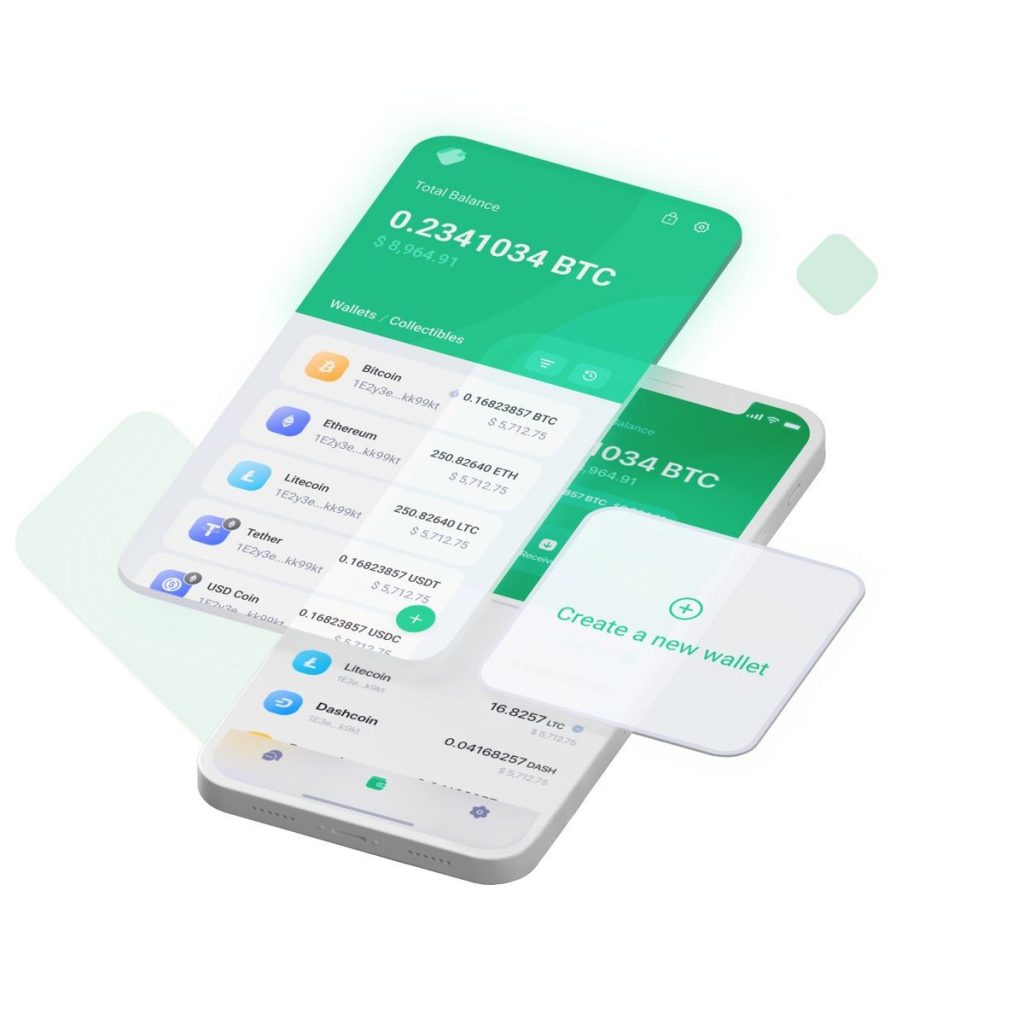 It also has built-in support for SimpleSwap so you can swap coins for cheap, directly from the wallet dashboard.
SimpleHold works with all major browsers, including the favorite browser of all crypto enthusiasts, Brave Browser. The main pros of the wallet are the simple and beginner-friendly interface. A con is the lack of the ability to stake coins from the wallet.
Atomic Wallet (desktop, mobile)
---
Atomic Wallet works as a decentralized wallet platform for custody-free, immutable, cross-chain, and transparent cryptocurrency trading. The trading takes place on the wallet's decentralized atomic swap exchange. This exchange lets users operate without the need to register and perform annoying and privacy intruding KYC/AML verifications. Enabling anonymous cross-chain swaps with no third-party risk, the wallet is a safe and private solution for managing your cryptocurrency. Atomic Wallet is capable of storing over 300 cryptocurrencies, including VET.

The wallet offers several features, including the old-fashioned instant exchange or direct cross-chain atomic swaps through two integrated exchanges, Changellyand Shapeshift. The wallet is of the desktop kind, being suitable for use with Windows, macOS, Ubuntu, Debian, and Fedora. With low fees, a wide variety of coins on offer, and a well-tuned user interface, this wallet is available for your desktop Linux/Windows/Mac. Mobile wallets are expected to happen soon.
Trust Wallet (mobile)
---
Trust Wallet is an iOS and Android wallet which offers secure and reliable storage for various types of crypto. You can review Trust Wallet's open-source code online, and the app has also been audited by security experts, Stateful. Trust Wallet can also be accessed through your online browser. The wallet allows you to send, receive and store various types of cryptocurrency tokens:
Ethereum (ETH), all ERC20, ERC223, and ERC721 tokens, GoChain (GO), POA Network (POA), Callisto (CLO), Ethereum Classic (ETC), Wanchain (WAN), and VeChain (VET).

The wallet stores the user's private keys locally on his device, which is an important security feature. However, it does not offer 2FA. It has a backup facility for the simple recovery of your wallet and offers a built-in decentralized exchange thanks to its partnership with Kyber Network. Another Trust Wallet feature is a built-in Web3 browser that allows you to interact with decentralized applications directly from the Trust Wallet app. Overall it's a simple, solid mobile solution that offers more flexibility than the native VeChainThor wallet but sacrifices some security features for that.
Cobo Wallet (hardware/mobile)
---
Cobo Wallet is another solution that aims to provide simple and secure storage for your favorite cryptocurrency. It is a hardware/mobile wallet that has some impressive features, including:
Secure Data Transfer: the wallet is "air-gapped" to keep your transactions safe from hackers. It eliminates all WiFi/Bluetooth/NFC/Bandwidth capabilities to prevent attack attempts from the network
Military-Grade Durability: Cobo is the first hardware wallet that meets US military standard MIL-STD-810G with an IP68 waterproof rating & IK9 certification
Multi-currency support: Cobo offers support for BTC, ETH, BCH, DASH, LTC, ETC, TRX, EOS, and 500+ ETH, TRX, EOS tokens
Next-Generation Security: A proprietary bank-grade encryption chip with tailored firmware that meets BIP 32, 39, and 44 protocols to ensure that your private key is stored in the encryption chip at all times
The hardware wallet goes all out on security, including a self-destruct mechanism that prevents side-channel attacks, web authentication to prevent supply chain attacks, elimination of all USB ports to prevent active attacks, and firmware upgrade via TF card, and multisig features for maximum security. Meanwhile, the mobile wallet offers the ability to stake POS wallets and collect income. It also offers a dApp browser, a built-in dApp store, and dApp SDK for developers. Cobo is a relatively new player on the market, but it appears to be one that'll stay present there for a long time.
Ledger Nano S (hardware)
---
Ledger Nano S is one of the most popular wallet solutions on the market. The wallet is a hardware solution that can store your Bitcoin, Ethereum, and many other altcoins. The wallet is the safest storing option for your cryptocurrency. The wallet has been a mainstay of the crypto community for a while now, with everyone from the average beginner to the experienced investor recommending it as one of the best storage solutions.

The device looks like a USB and has an OLED screen that lets you check your transactions. It can be hooked up to a computer via a USB cable which lets the Ledger Nano S connect to the internet and use the desktop Ledger Manager app to manage your cryptocurrency. The wallet is a cryptocurrency storage powerhouse and you can't go wrong with it to be the best wallet for VeChain.
Disclaimer: Third-party wallets named above, while recommended by the VeChain project itself, aren't officially related to the project; therefore, these solutions are technically a riskier way of storing your VET than using the VeChainThor wallet. Stay safe, practice caution, and do your due diligence whichever storage solution you choose.

CaptainAltcoin's writers and guest post authors may or may not have a vested interest in any of the mentioned projects and businesses. None of the content on CaptainAltcoin is investment advice nor is it a replacement for advice from a certified financial planner. The views expressed in this article are those of the author and do not necessarily reflect the official policy or position of CaptainAltcoin.com