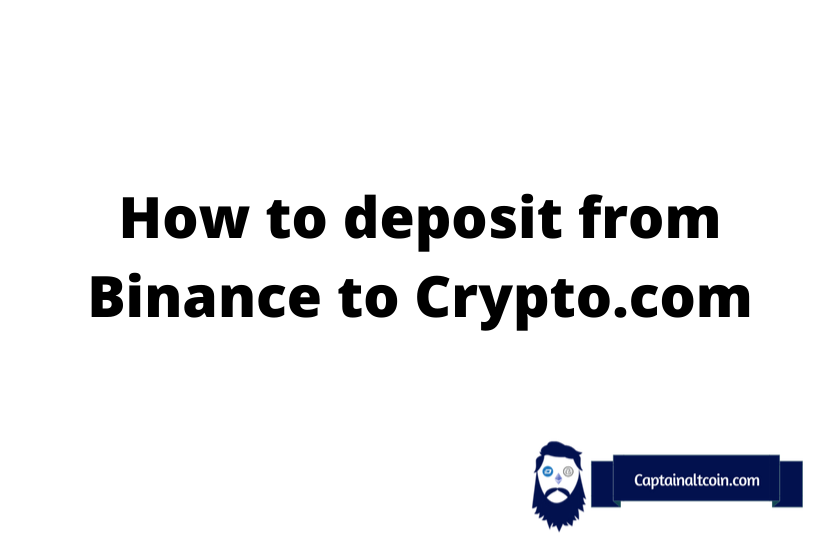 IMPORTANT WARNINGS
---
Trying to deposit a non-supported token may result in the loss of tokens.
Send a small test amount first
Beware when choosing the network which you want to use for sending crypto
How to Withdraw Cryptocurrency on Binance
---
First of all, if you still do not have an account at Binance, then you need to register one. It is a surprise if you haven't already, but these are wackier times.
Then after you log in, you will see the main page, and hover your mouse on "wallet" and click on "overview".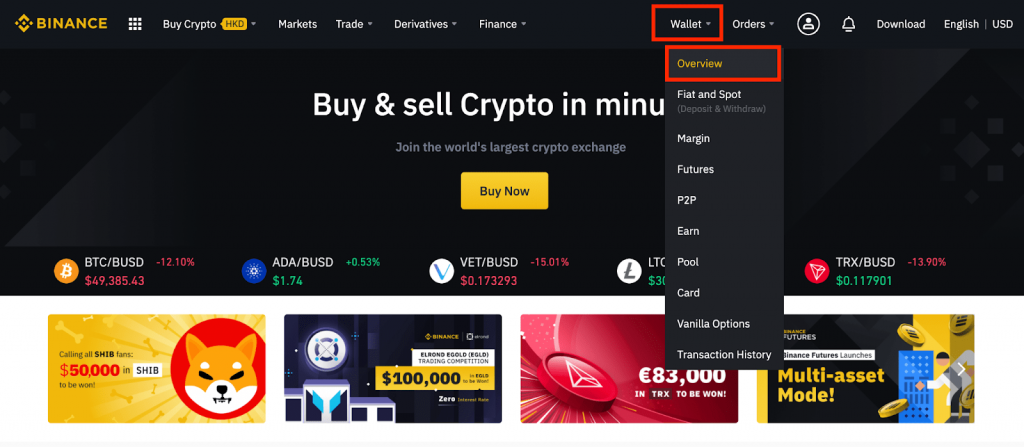 After that, a new page with deposit and withdrawal will open like this;


Click on withdraw, and it will redirect you to a page that asks if you would like to withdraw crypto or fiat. Since we are talking about moving crypto from Binance to Crypto.com, we will go ahead and click crypto.
On the next page, it will ask you which coin you want to withdraw and other details like a network.
The network part is very crucial to this process. There are two types of choices here, one is using the native network where you move actual coins like ETH or BTC (this can be slow or expensive), and the second is using wrapped versions on some other chains (most popular are BSC and Tron for their fast confirmations and low-cost transfers). If you want to withdraw ETH as a BEP20 then you are not getting the actual coins, you are getting the "wrapped" version in that blockchain (BSC in this case). This is one method of making it cheaper and it works on both sides. The other option is picking a coin and a network that is inherently cheap.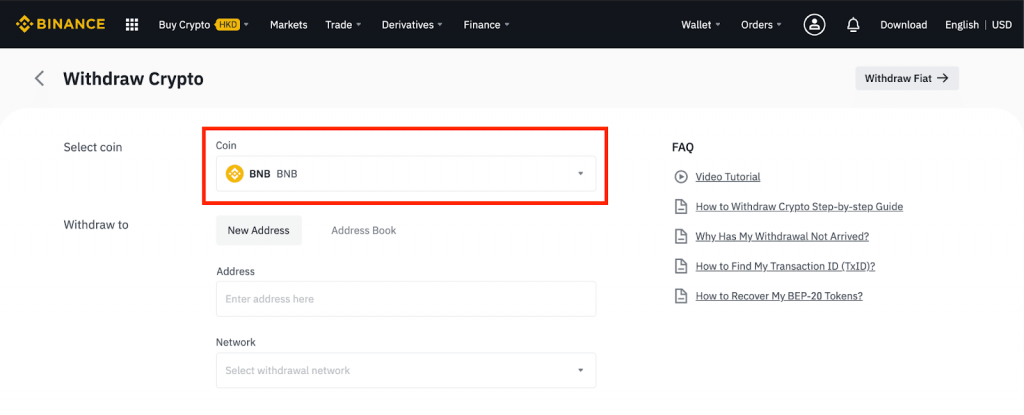 On this page, we are clicking that "coin" button and selecting which coin we would like to withdraw. We need to be careful to select the right coin and the right network that we want to use. If you send BNB but send it in BEP20 instead of BEP2 then you will lose all of your coins. So this is one of the most crucial parts of this transaction.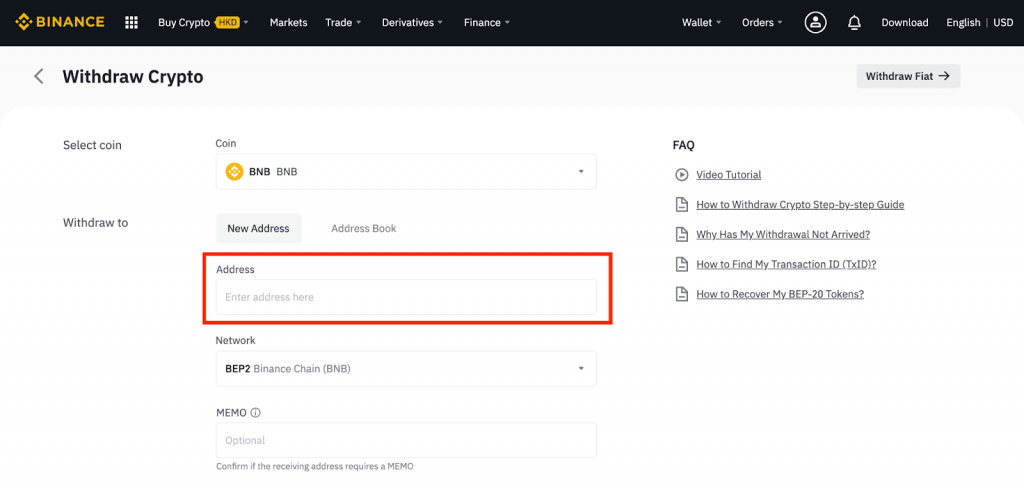 The next stage is copy-pasting the address part. Let's be honest with each other, none of us actually write the address one to one, we just copy-paste it. So when we are doing it, we are taking risks. Risks such as copy-pasting a wrong address we were dealing with before. So in this case, you need to double even triple, and quadruple check your address to make sure that you are withdrawing to the right one.
Since we need a withdrawal to an address, and we are depositing into Crypto.com, how do we do it?
Visit Binance Now Visit Crypto.com Now
Getting deposit address from Crypto.com
---
You need to sign up and also need to download their app which you can find in both the app store and google play. It works on any smartphone and doesn't require much space.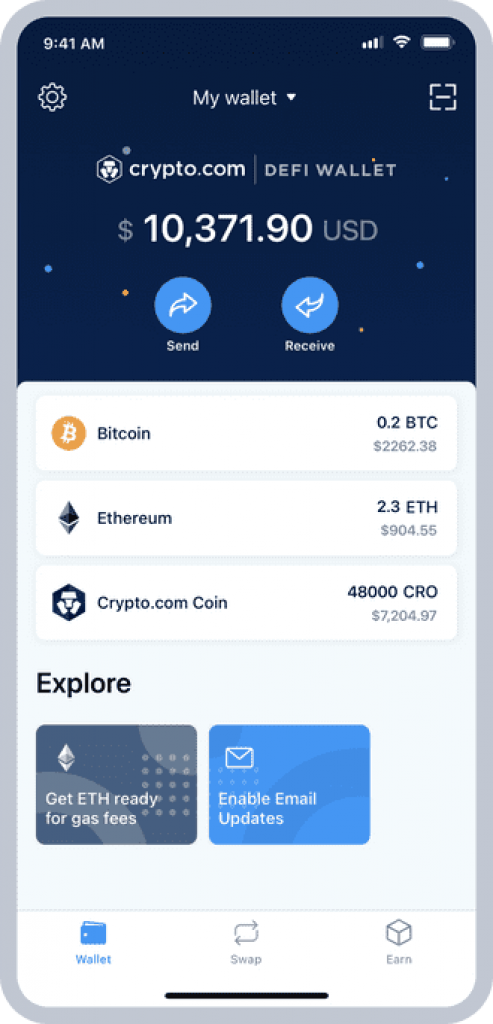 After you log in to your account, you will see a "receive" button under your total funds. Click on it to open up your deposit page.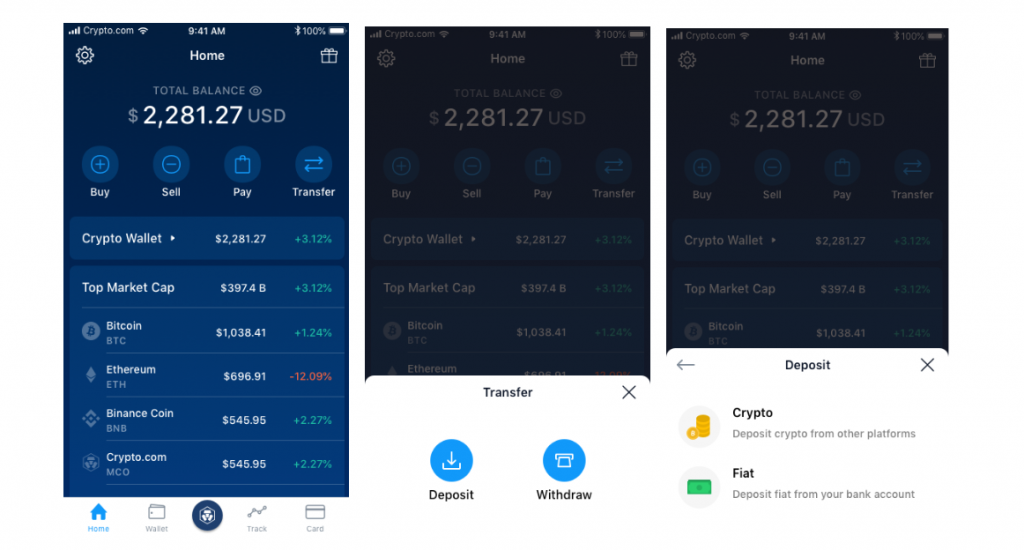 It will ask you fiat or crypto. Since we are moving our crypto from Binance to here, you select crypto again. And pick where you are depositing to.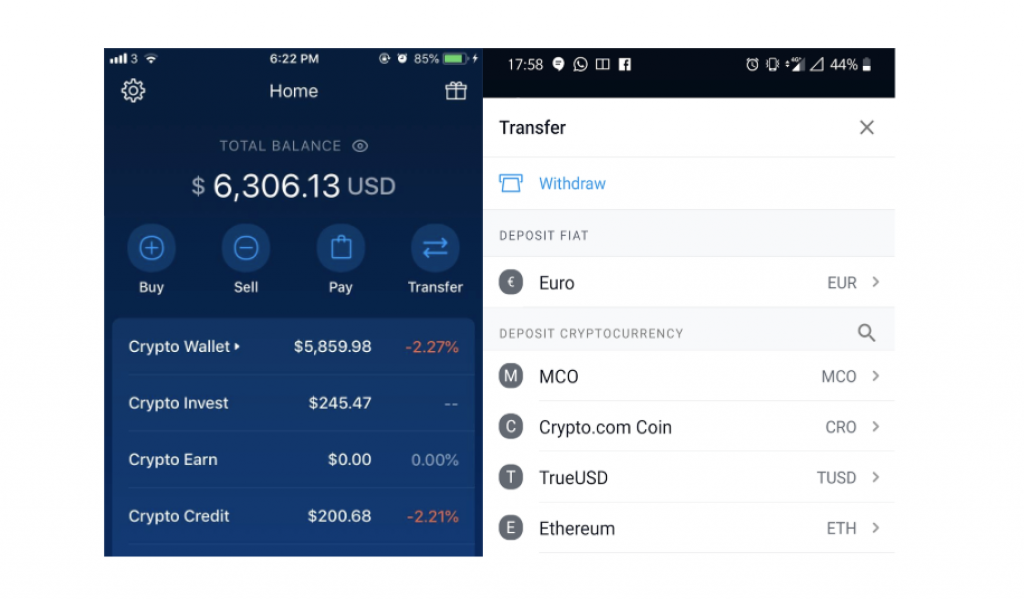 Pick the coin you want to deposit, and the network you want to send it to as well.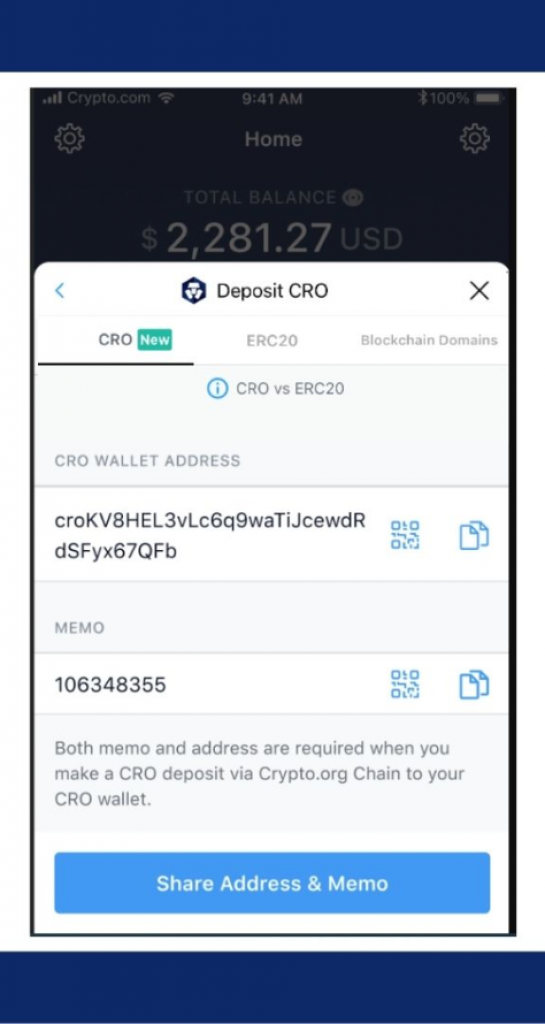 Copy the address you need to send to, and use this when you are withdrawing from Binance.
Back to withdrawal process at Binance
---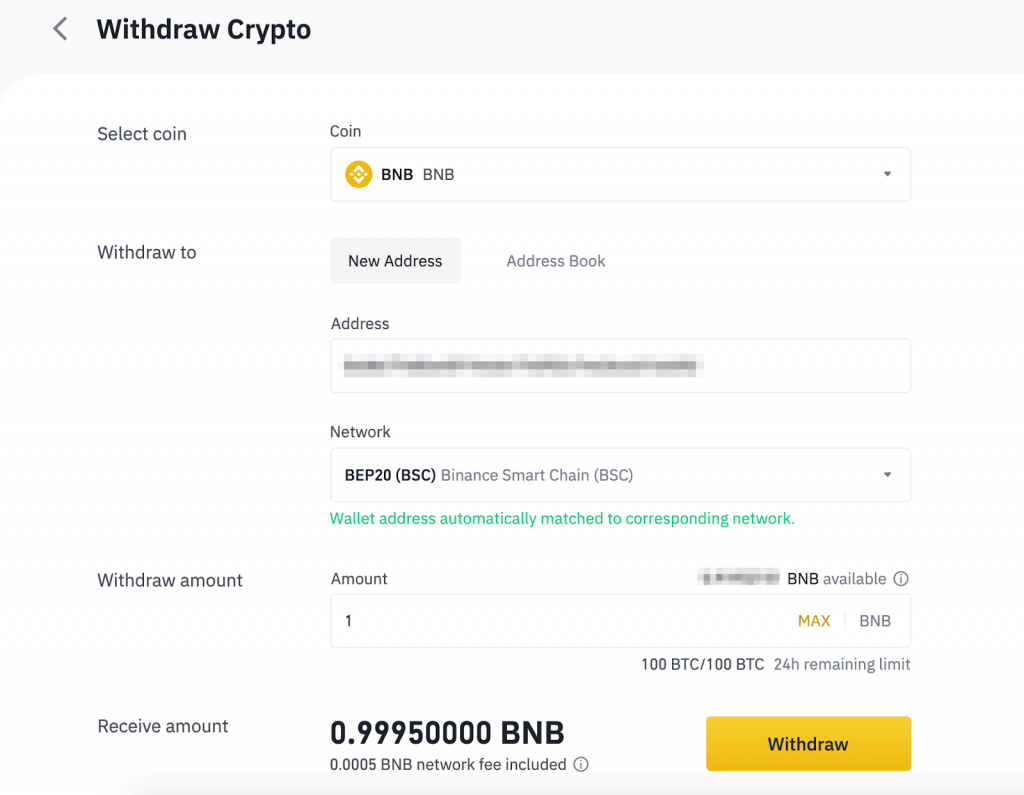 After writing down the amount, and checking everything over once again, you are ready to click the "withdraw" button at the bottom.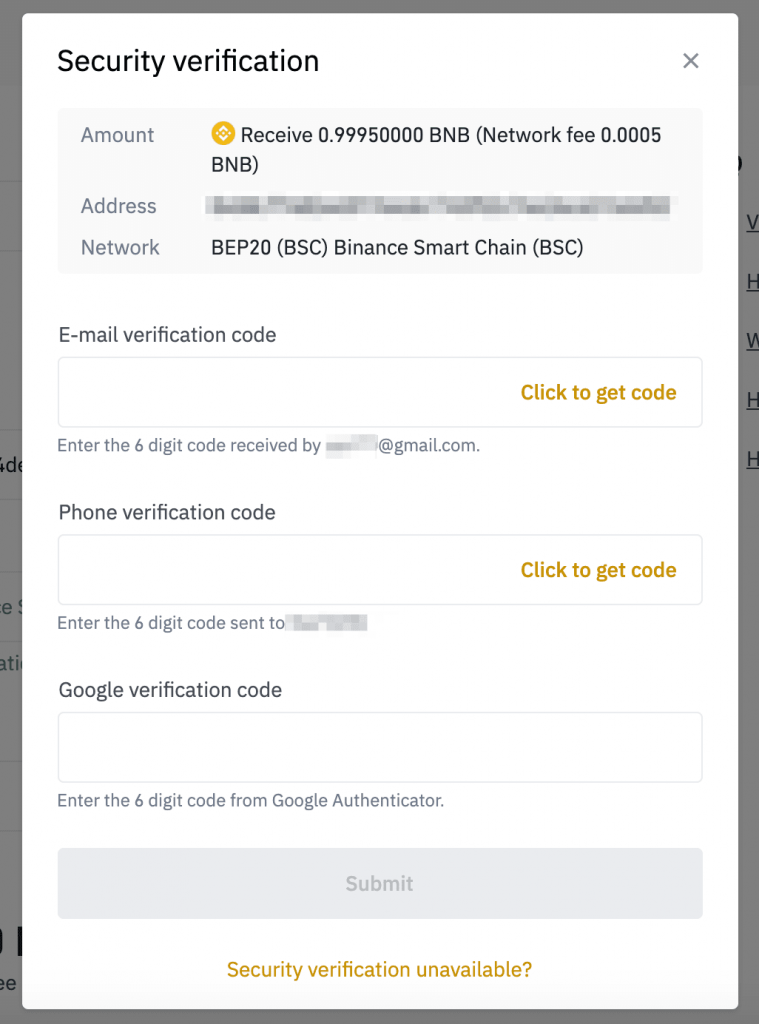 Depending on your security preferences, Binance will send your e-mail a code, and then based on your preferences if you use phone verification or Google 2FA, or even both, you will get them both and write them down to finish the last part. After you are done, just click submit and you are done.
Conclusion
---
When you are done with all of this. Your transaction will be taken to a queue that is quite short at Binance. After it is approved, it will be on its way to where you withdraw it to. It may take a while based on what you withdrew but it will eventually be there.
So all in all, you withdraw from Binance using the deposit address given to you by Crypto.com rest is just about waiting and nothing more.
Read also:
FAQs
---
Where is My Crypto Deposit?
---
Things may a little time in the crypto world these days. If you haven't received it yet, it is wise to wait some more. If you have doubts, you could contact the support.
How long does the transfer take?
---
This depends on which coin you are transferring, and which network it is on. A Bitcoin legacy withdrawal will not be as fast as BNB on BEP20, or an ETH ERC20 withdrawal will not be as cheap as an SOL transfer.
Does Binance have crypto deposit fees?
---
There is no deposit fee at the Binance. You can freely deposit any amount you want.
Does Binance have crypto withdrawal fees?
---
There are withdrawal fees at Binance. It changes based on the coin you withdraw and the network you use. You can use this website to check further; https://www.binance.com/en/fee/cryptoFee
Does Crypto.com have crypto deposit fees?
---
There is no deposit fee at Crypto.com either.

CaptainAltcoin's writers and guest post authors may or may not have a vested interest in any of the mentioned projects and businesses. None of the content on CaptainAltcoin is investment advice nor is it a replacement for advice from a certified financial planner. The views expressed in this article are those of the author and do not necessarily reflect the official policy or position of CaptainAltcoin.com