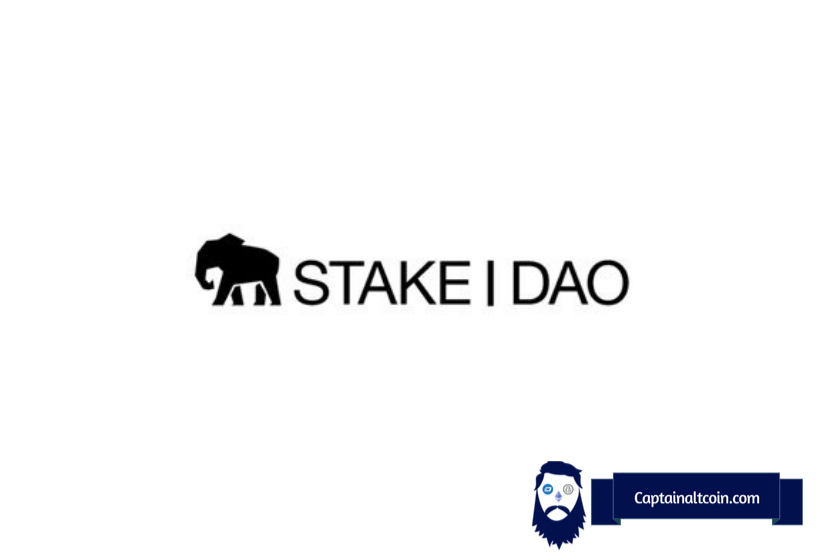 Stake DAO is a non-custodial platform that launched in February 2021 designed to bring passive income to your crypto portfolio. The project is built on top of various decentralized blockchain protocols and offers a seamless way for people to grow, track, and control assets directly from the wallet. The developer's aim is to give everyone, from rookies to experts, competitive yield products and strategies.
The premise, but does it actually work?
Presentation
---
Staker DAO prides itself on being simple to use and intuitive. That's not my experience. Already on the site, I found very few indications on all the relative information, for starters how to access these features.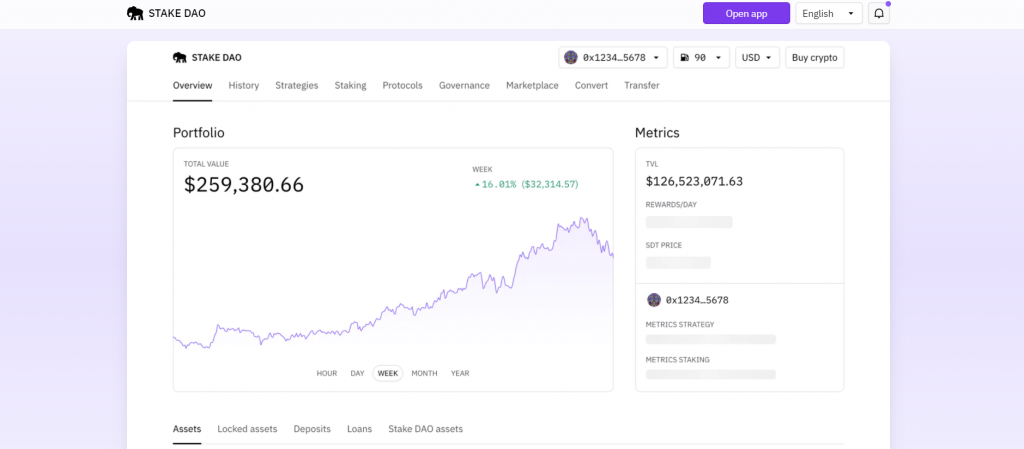 The site has a non-working trading chart that is blank where information should be given. Furthermore, I had to dig a lot to find all the information presented below, as the Stake DAO homepage offers nothing but cliche phrases and empty promises.
None of the information on the homepage has a hyperlink to read how to back up the claims. We could assume that the Staker DAO should just hire a better content writer and get some better design, hopefully, that's the case and not something rather shady.
For starters, there's no white paper to be found on the site. The lack of clarity regarding the technicalities of a project is never a good sign. The first question that comes to mind is, what do they have to hide?
There's also nothing known about the Stake DAO development team. That's most of the time, another massive red flag. The people behind Stake DAO are legally untouchable as no one knows who they are, so good luck suing.
The site thiscoinscam.com, gives Staker DAO a very poor score of 2.23/10, and not surprisingly. This goes to show that my opinion is echoed by almost every other review I read on the project. 
So in conclusion, the presentation is awful, what about the project itself?
How does Stake DAO work?
---
Stake DAO claims to put all the best strategies, staking protocols, and more, into one intuitive dashboard, offering users an easy way to earn more from their digital assets. Every strategy on Stake DAO has its own risk score, making it up to individual investors to find what fits them best. On the project for everything from strategies based on stablecoins to Bitcoin and a wide array of ERC-20 tokens.
Stake DAO takes a 15% "performance fee" on every strategy. This fee is then converted to the native SDT Governance token and then distributed to all holders on the platform. The rest be it the 85% is left to the users and compounds automatically in their chosen strategy. 
Another additional charge is the 0.5% withdrawal fee when users remove their assets from a given strategy, the proceeds are again distributed to token holders.
Stake DAO also has two liquidity pools on both Sushiswap, Uniswap, Hoo, and 0x Protocol. Users can earn additional SDT rewards for providing liquidity.
What kind of financial services does Stake DAO offer to retail investors?
---
On Stake DAO provides users with a "fiat-to-crypto on-ramp" which allows for their conversion, yield earning investment strategies, portfolio management, an all-in-one staking portal, an open governance feature, and insurance products for all assets held on the platform.
What are the specific ways in which Stake DAO can grow wealth for retail investors?
---
Currently on Staker DAO users can generate passive income with four staking strategies. This could mean depositing your assets in smart contracts for the time period as well as using the staking portal of native assets, where users can earn additional rewards,
And as we said before Stake DAO also has two liquidity pools working on multiple protocols.
LP Strategies
---
The investor through Stake DAO deposits his token into Liquidity Pools on leading decentralized finance protocols such as Curve. These use the liquidity provided to 'make markets', i.e. to process trading activity and deliver stability.
By providing liquidity via staking, the investors earn rewards. That Stake DAO to users staking on their platform, creating a flow of passive income.
To be more specific, 15% of all harvested from each strategy is taken and redistributed to the community. Users staking SDT are entitled to these fees.
So in simple terms on Stake DAO users can stake many Proof of Stake protocols all in one place, earning SDT rewards on top of the staked asset. You can then use the LP tokens earned in the strategy section.
Strategies
---
Investors also get to deposit funds into Stake DAO strategies. A 15% performance fee and 0.5% withdrawal fee will apply to these strategies, both of which will be distributed to community members staking SDT.
Stake DAO offers a passive and perpetual passive strategy, various options strategies, and an arbitrage strategy. Curiously, they only go into detail in explaining the passive strategy.
With Passive Strategies users can deposit Curve LP tokens as deposits. These are the LP tokens you receive when depositing inside curve.finance. Stake DAO accepts 5 different Curve LP tokens (at the moment), that you receive from 5 curve pools.
So to deposit into Stake DAO strategies, you need to first deposit assets in a curve.
Stake DAO supports the following Curve LP tokens:
3CRV
eursCRV
eCRV
crvRenWSBTC
FRAX3CRV-f
The passive strategy works by taking these LP tokens and depositing them in Convex finance, a protocol that focuses on maximizing yield for LP tokens. The deposited tokens then start generating returns.
LP Farming
---
Users get LP tokens i.e. Liquidity Provider tokens, when they
Users earn rewards in $SDT for providing liquidities in these pools.
SDT staking and the xSDT token
---
Stake DAO token holders deposit their SDT into The Sanctuary, which stakes it.
The deposited SDT then automatically issues xSDT to the user, which is indicative of the token staked in The Sanctuary, which can be swapped back at any time. xSDT can then be used for governance as we'll explain later on.
Governance
---
On Stake DAO, SDT and xSDT holders vote on both community and Stake DAO team proposals. The protocol is decentralized so the DAO (decentralized autonomous organizations), be it the community votes on the platform's future, for example, there have been proposals for the implementation of new strategies and changes to the staking reward structure.
Firstly a SDT or xSDT holder can create a signal vote to build interest in an idea. If the signal vote passes then the DAO will vote whether to approve it or not.
Unfortunately from what I've seen, there's no indication that the Staker DAO community is very active. This means that the whole DAO
Marketplace | NFTs
---
On top of everything else Stake 2 NFT series on OpenSea called Tempest and Pythia. Both of them are built with the ERC1155 standard. Tempest is earned by staking the xSDT via Palace contracts to earn points, that can be then used to redeem Tempest NFTs
Pythia NFTs were made available on OpenSea for sale. Each of the two series has 100 common, 10 rare and 1 unique piece. Users can then check their pieces on Marketplace and earn even more NFTs as soon as they launch.
Something interesting about the Stake DAO NFTs is that they aren't just high price JPGs but also offer real utility.
All Stake DAO NFT owners can stake their NFTs (Marketplace => My Collection) on Ethereum staking contracts and earn $SDT every week on Polygon, of course in proportion to their deposits in Stake DAO strategies or pools.
Read also:
Why I Like Stake DAO
---
Staker DAO's first impression is among the worst I've seen in a long while, with their broken website, lack of relevant information, and absolutely no clarity for anyone looking for information. Other than the awful, and I repeat awful presentation, Staker DAO looks like an interesting project.
The project different's itself from other competitors by offering new and original earning strategies, NFT staking, and high APY. In fact, staker's DAO strategies achieve better returns than most competitors.

Additionally, Staker DAO is the only project that offers compounding services and boosted returns on Curve pools such as Polygon and Avalanche, leading the space. And the option trading strategy is great and among the best in the space.
The Q4 upcoming roadmap also looks promising with new unique options strategies being developed in partnership with Opyn, a Bond Program with the Olympius DAO and a new DAO architecture, and a lot more.
In terms of price action, I expect it to pump in the upcoming altcoin season. Stake DAO is a nano-cap, meaning that it won't take a lot for it to pump like crazy.
All the price indicators are telling the same story, SDT is undervalued. For starters, the TVL is a whopping $500M, while the market cap is just over 2 million. This brings the Market Cap/TVL to a whopping 0.043.
The all-time high was at $15.51 back in February 2021, today it's at only $3. I suspect the massive crash was caused by the whales selling their positions. Unfortunately, that could happen again as much of the supply is hoarded by a few wallets. That's also something to keep in mind.

The fundamentals are there. For me to invest any significant sum, Stake DAO has to start working toward putting their message across, giving more clarity to investors and investing in a better marketing and content writing team. These are often forgotten in the crazy DeFi space, but they make or break the token. 
A Stake DAO representative has personally assured me that the White Paper will soon be out, a step in the right direction.
If they play their cards maybe just maybe Stake DAO will be able to take up the giants in LP farming space such as YEARN Finance and Badger DAO
Not financial advice, do your own research.

CaptainAltcoin's writers and guest post authors may or may not have a vested interest in any of the mentioned projects and businesses. None of the content on CaptainAltcoin is investment advice nor is it a replacement for advice from a certified financial planner. The views expressed in this article are those of the author and do not necessarily reflect the official policy or position of CaptainAltcoin.com