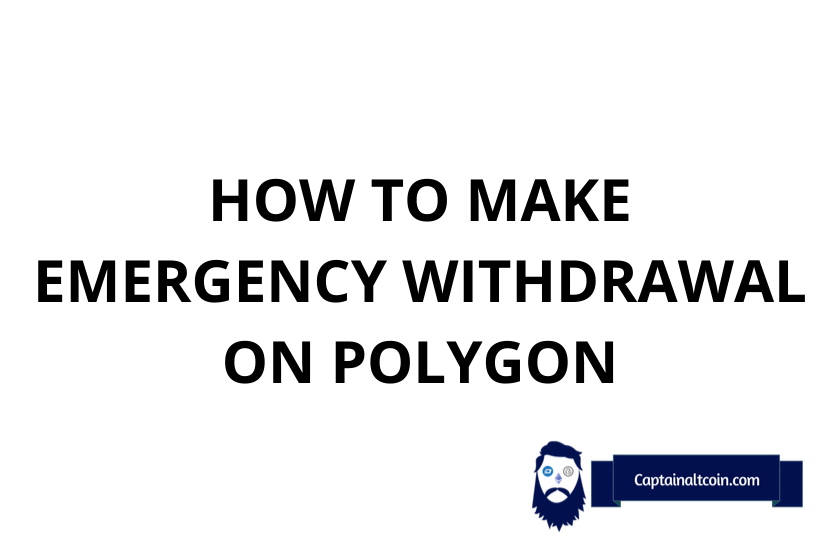 Decentralized Finance is sweet. Being in control of your own assets and being able to use them however you like is exciting. That is why more and more ie Crypto enthusiasts are flocking to this innovative enterprise by utilizing decentralized applications and decentralized exchanges built on a growing number of scalable blockchains. 
At the time of writing, the total number of DeFi wallets on the Ethereum blockchain is well past three million with a combined Total Value Locked(TVL) of $89.3 Billion
Unfortunately, though, Decentralized Finance(DeFi) has its sour sides. Because absolutely anyone can create cryptocurrencies on decentralized protocols (like ETH, Polygon, SOL, etc.), unscrupulous individuals utilize this property to scam investors of their hard-earned money. One way they do that is by RUG PULLING. This article will explain what a rug pull is and how you can quickly get out of a rug pull on the Polygon network.
WHAT IS A RUG PULL?
---
In English Language, to pull the rug from under someone means to take away important support from someone or something. In the world of cryptocurrencies and DeFi, it means to have liquidity removed from a liquidity pool on a decentralized exchange. In simpler terms, it is a theft in which the creators of a crypto token abandon it after stealing investor money. It's a term that investors dread, yet, it keeps happening. How does it happen?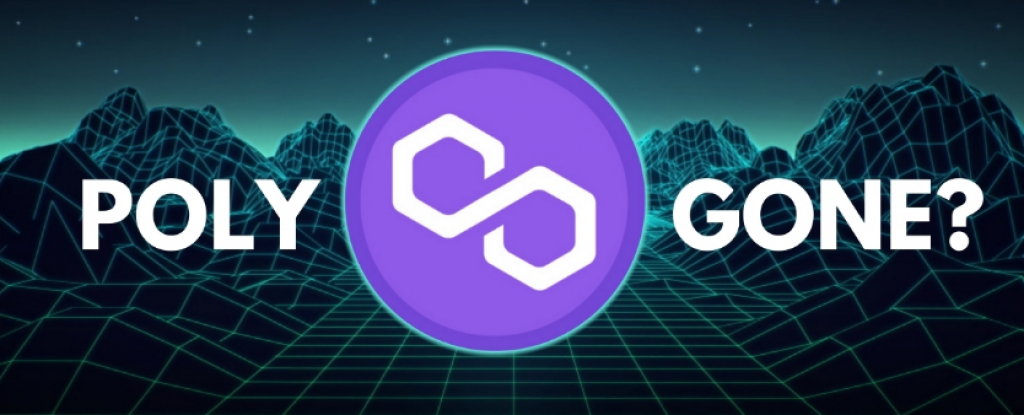 Dubious individuals create a token and list it on a DEX, pairing it with a leading cryptocurrency like MATIC. They then create a temporary hype on social media about the coin, luring investors in. They may even inject a substantial amount of liquidity into the liquidity pool of the coin to boost investor confidence.
Unsuspecting investors swap their MATIC for the listed token pushing the price up until it gets to a point that the fraudulent creators of the coin are comfortable with. The creators then withdraw all the liquidity from the pool, driving the price to zero and leaving the investors with a bag of worthless coins.
It's scary, isn't it? Well, if you already added liquidity to a token pair on Polygon and it rug pulls, can you still salvage your funds? Let's see
HOW TO WITHDRAW YOUR FUNDS FROM A RUGPULL
---
KNOW THE MASTERCHEF ADDRESS: This is a very important step in order to be able to use the emergency withdrawal function. The masterchef address is the master code that runs all operations on a token. To know how you can get the masterchef contract, visit the frequently asked section at the end of this article.
PROCEED TO POLYGONSCAN: After verifying the masterchef address, navigate to the contract via Polygonscan. You will see a 'contract' tab. Select the 'contract' tab and then click on the 'write contract' tab. You will see a link saying 'connect to web3', click on it, choose your wallet, and click 'connect'. You are now connected to the masterchef contract.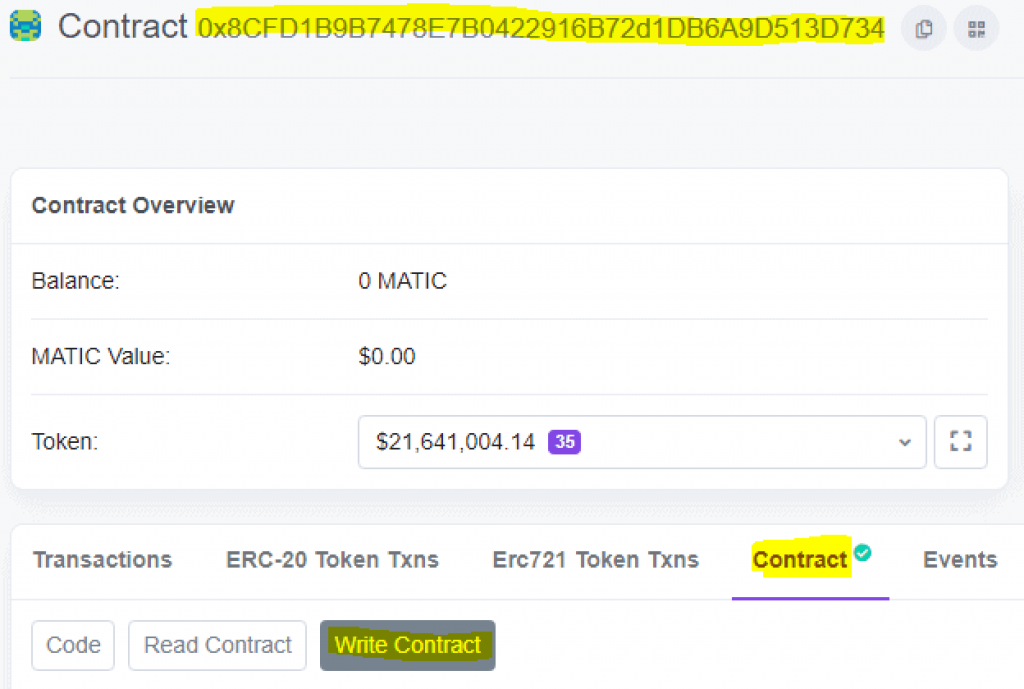 CALL THE EMERGENCY WITHDRAW FUNCTION: Within the 'write contract' tab, you will find a section called 'emergency withdraw'. Enter the pool ID(PID) of the pool you want to remove your funds from and click on 'write'. You will get a notification that your operation is successful. You should then have your funds back in your wallet, if the liquidity has not already been drained
POOL ID? You can get the PID on the documentation page of the farm. It is usually in a range from 0-25 depending on the number of pools altogether. If you are in a hurry, just start from 0 and work your way up until you hit the correct Pool ID. It will likely not be long before you hit the correct number.
DON'T DELAY! There is a need for speed when performing emergency withdrawals after news of a rugpull has spread. This is because the creators of the token can add a hard rug code in the emergency withdraw function and then there is nothing you can do to salvage your funds
Now that you have known what you can do to salvage your funds in case of a rugpull, prepare yourself  by noting the masterchef address and your pool ID whenever you invest in a DeFi token. It won't take much time but it will give you an advantage as you race against time to outsmart the fraudsters.
Read also:
FREQUENTLY ASKED QUESTIONS
---
How do you get a contract on masterchef?
---
The easiest way for you to do that is to check the token's social media handles and github repository to know if they included a link to it in their community chats. If that doesn't work, follow this step-by-step analysis:
First, open the contract of the chosen token in Polygonscan. Click the contract address, scroll down and hit 'contract'
After that, click 'Read Contract'. You might want to read it carefully to know if there are any hidden, malicious functions.
Still under the 'Read Contract' tab, scroll down until you see an address under 'getOwner' or 'Owner'
A new contract opens up. Click the contract heading(which usually has a 'mark sign' next to it). It will then bring up the masterchef contract
What is emergency withdrawal?
---
Emergency withdrawal is a last-ditch attempt to withdraw your funds when it turns out that the user interface of a yield farm is down because of a technical issue or a deliberate rugpull. In such cases, you interact directly with the masterchef address on the scan program of the blockchain on which the token is built(like Polygonscan, bscscan, etherscan, etc).
This procedure would not work, though, if liquidity has already been drained from the pool or if a hard rug code has already been installed. Take note, also, that the emergency withdrawal function restores back your funds but not any rewards you may have gotten from farms or pools
What is masterchef contract?
---
A masterchef contract is a smart contract that oversees a token or yield farm. It is the central part of a cryptocurrency's code that is used for minting and burning of tokens and that runs all operations.

CaptainAltcoin's writers and guest post authors may or may not have a vested interest in any of the mentioned projects and businesses. None of the content on CaptainAltcoin is investment advice nor is it a replacement for advice from a certified financial planner. The views expressed in this article are those of the author and do not necessarily reflect the official policy or position of CaptainAltcoin.com