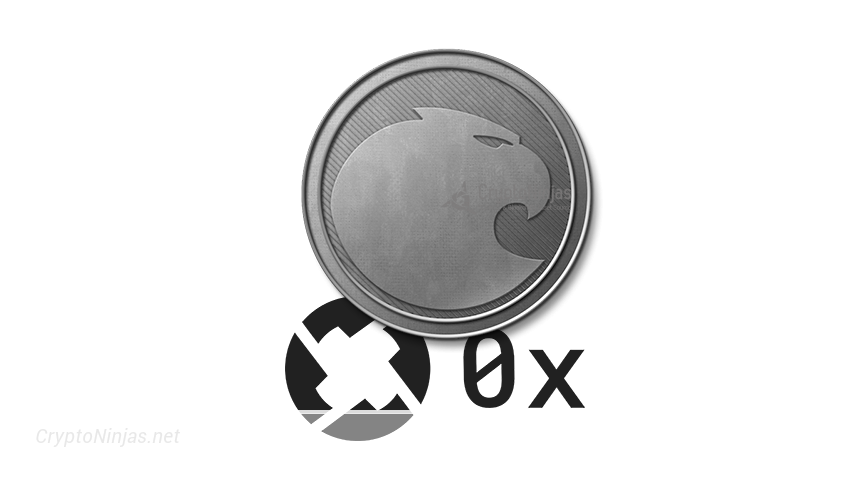 0x has, perhaps surprisingly, performed somewhat negatively in the previous timeframe. Peaking at $1.02/14390 satoshi on August 7th, the currency saw a sharp drop on the 14th towards $0.638564/10771 satoshi. Some futile attempts of recovery were dissipated on the next crucial market point as 0x again plummeted on September 5th. This run ended on the 12th with the currency reaching monthly lows of $0.46/7475 satoshi. From there onwards 0x started gaining positive ground, reaching $0.719908/10818 satoshi before experiencing another strong drop in the last 24 hours.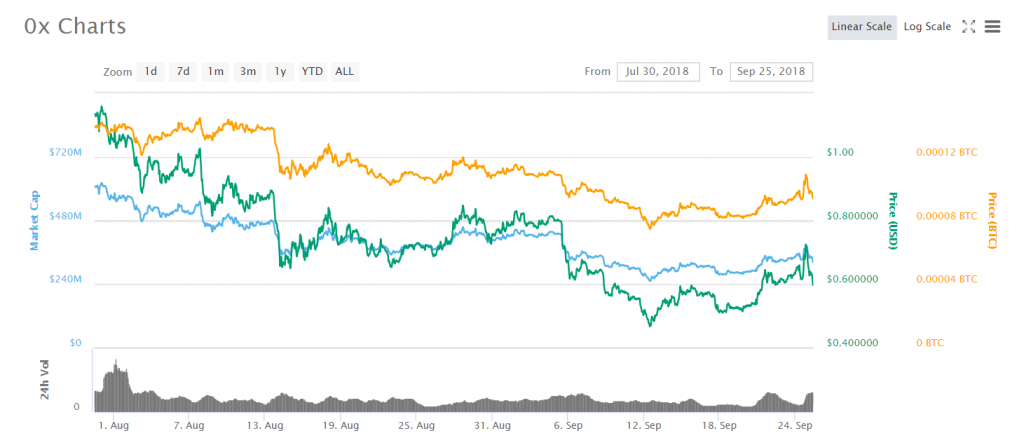 0x can be purchased for $0.602813 USD (-15.25% drop in the last 24 hours)/9457 satoshi (-11.80% drop in the last 24 hours) at the moment of writing. Daily trade volume sits at 2,191 BTC with Binance (58%), HitBTC (5%) and Upbit (3%) being responsible for most of it. With a market cap of $325,503,393, 0x is currently 27th most valuable cryptocurrency on the market.
Trader alanmasters points out several signals:
"First you can notice the descending channel, red, on the chart above. You can see that after the #4 red candle, ZRXBTC -4.20% price has been going up. ZRXBTC -4.20% is now also trading above EMA10 (blue line).
The #4 red candle, which is a hammer and where the lowest price was hit. Also coincides with the bullish divergence on the MACD followed by above average volume. All these signals point to additional bullish action.
The RSI is at its highest since August and the STOCH is on the bullish side and trending up. All these bullish signals are asking us to open a position and trade this coin."
His complete analysis, containing trading targets and a deeper insight into the market can be seen here.
The base protocol for launching decentralized exchanges for any type of asset saw a couple of important updates lately. The biggest one was the launch of 0x protocol v2.0, a new, highly vetted system of Ethereum smart contracts which will be an important part in the project's mission to create a "world where value can flow freely". The project's official announcement explains the value of this new release best:
"Version 2.0 brings further modularity and extensibility, allowing developers to address many new use cases. Over the past year, we have not only seen an explosion in the number of ERC20 tokens, we have also seen a growing set of new token standards such as ERC721 for non-fungible tokens (NFTs). 0x Protocol v2.0 addresses the needs of both developers and end users to access and exchange all types of new digital assets as they emerge."
You can check out this link to see more details about this update, as well as an overview of the v2.0 protocol, instructions on how to upgrade to it, 0x.js documentation and packages, code sandbox for 0x v2.0, intro into building relayers, 0x-starter-project Github and a full specification for 0x v2.0. The project immediately opened a Reddit AMA which has the 0x 2.0 as the main topic of discussion. The AMA is still going on and questions relating to the project's governance, David Sacks' involvement, UI, project use cases and more are currently waiting to be answered by the team. Check out the questions/answers in full here.
Regarding ecosystem updates, Relayer Report #10 was released a couple of days ago. As always Rahul Singireddy took the chance to provide information about the things that were done across the ecosystem. This week the report included activity from Bamboo Relay, LedgerDex, StarBitEX, DDEX, OpenRelay, Paradex, Mobidex and Shark Relay.
We saw a couple of new faces join the team's efforts during the last couple of weeks. David Sacks, the early COO of PayPal, the founder and CEO of Yammer, and now the General Partner and co-founder at Craft Venture, joined the project's advisory team. Rahul Singireddy, Relayer Success manager responsible for the Relayer Report publication, has also joined the 0x core team alongside Weije Wu, a research fellow who will be in charge of giving his inputs on decentralized governance. Clay Robbins will be joining 0x's ecosystem development efforts alongside Matt Taylor who will deal with marketing. These new hires are a result of the project's increased focus on cooperating with blockchain savvy talent; anyone interested in potentially working for 0x can apply here.
---
?Read our reviews of Genesis pool mining and Hashing24 pool mining review.
---
In an effort to further motivate new developers to take up blockchain opportunities, the project will be visiting this year's Ethereum hackathon which will be held from October 5th-7th.
The largest Ethereum hackathon in the world is happening in SF on Oct 5-7. @ETHSanFrancisco is beginner friendly and free for developers. The 0x team is excited to be sponsoring, judging, hacking and mentoring! Sign up before Sept 23rd at https://t.co/gRfIQQBF1u ?️ https://t.co/m27wchI1SQ

— 0x (@0xProject) September 20, 2018
This hackathon comes just weeks after the project visited ETHBerlin where the team got a chance to sit side-by-side with hackers and builders and use 0x to find ways to further improve the experience of building with their tools, as well as the overall quality of 0x's codebase.
0x has finally went ahead with the launch of the long-awaited v2.0. This should enable the DEX's built on top of it a much bigger selection of "listable" tokens and should in return result in an increased liquidity for said tokens. As always, plenty of strong updates from 0x, one of the strongest projects out there; a project that might become the next Coinbase addition sooner rather than later.

CaptainAltcoin's writers and guest post authors may or may not have a vested interest in any of the mentioned projects and businesses. None of the content on CaptainAltcoin is investment advice nor is it a replacement for advice from a certified financial planner. The views expressed in this article are those of the author and do not necessarily reflect the official policy or position of CaptainAltcoin.com