Satochip Review – Security, Supported Coins, Price, Pros & Cons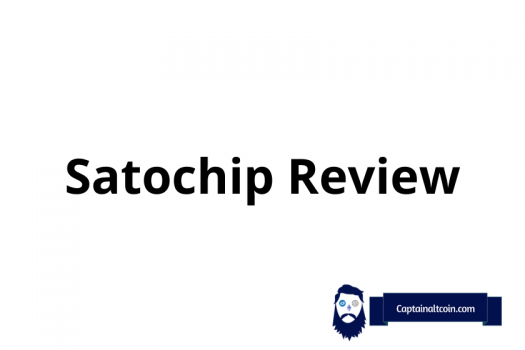 Satochip Review – Security, Supported Coins, Price, Pros & Cons
It's very affordable
Its inconspicuous design as a bank card makes it easier to carry about.
It supports a good number of cryptocurrencies
It supports various software
It has a mobile application for a more customized experience
It is fully open-source and community-driven
It has an EAL6+ secure chip element which gives it high protection against penetration attacks by hackers
SATOCHIP OVERVIEW
---
When thinking of a hardware wallet, what usually comes to mind? Perhaps you think of something with the shape of a flash drive or similar to a small android phone with screen capabilities. Well, you wouldn't be wrong because there have been hardware wallets in those shapes.
However, today we will talk about a hardware wallet that perhaps has the most inconspicuous design of them all, a hardware wallet shaped like a credit card – the Satochip wallet. Follow along as I introduce this wallet to you.
ONE MINUTE REVIEW
---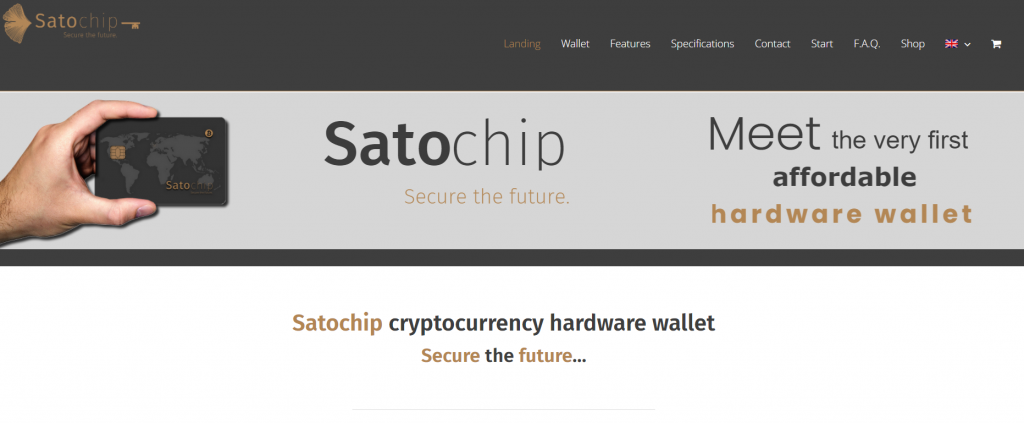 Satochip is an acronym that stands for Secure Anonymous Trustless and Open-source Chip. It is shaped like a bank card and was founded in 2014 by Baudoin Collard and Bastien Taquet. It is a hardware wallet model that combines simplicity, affordability, and security features in one portable bunch.
It's interesting to note that even though the wallet has a minimalist design, it doesn't compromise on all the essential features of a hardware wallet. Its secure element is EAL6+(Greater than that of Ledger), and it supports 1000+ cryptocurrencies while being compatible with various software and maintaining a seed-recovery option.
BEST FOR?
---
The Satochip wallet is best for anyone who wants to store cryptocurrencies for some time but wants something budget-friendly. It is perhaps the cheapest hardware wallet there is right now, which still maintains the core properties of hardware wallets
SATOCHIP HARDWARE WALLET FEATURES
---
It has a small-form design like a bank card. This makes it very portable as you can safely carry your assets in your wallet or store them anywhere else, for that matter.
It weighs only 10 grams, measuring 85.60 by 53.98 mm in dimensions.
It is fully open-source under the AGPLv3 license.
It has a smartphone mobile app companion which can be used to approve transactions and enable two-factor authentication.
It has an EAL6+ secure chip element
PRICING
---
The Satochip website has a shop from which you can purchase the wallet and related accessories. It is strongly recommended to purchase through the shop to guarantee the authenticity of the product. These are the price ranges for the various products:
The Satochip hardware wallet with Bitcoin, Bitcoin Cash, Litecoin, Ethereum, or SLP designs is 25 Euros each.
A customizable version of the wallet goes for 35 Euros.
The designer versions range between 40-50 Euros.
Lastly, the official chip reader is priced at 15 Euros.
SUPPORTED CRYPTOCURRENCIES ON SATOCHIP WALLET
---
When it was created in 2014, the Satochip wallet only supported Bitcoin. However, with more versions came more crypto support. It now natively supports Bitcoin Cash, Bitcoin Cash SLP, and Litecoin.
It didn't stop there; support for Ethereum and ERC-20 tokens came with the wallet's incorporation with clients like MyCrypto, MyEtherWallet, and the Satochip Metamask extension.
The Metamask extension incorporation also made it possible to include coins on other chains, like BEP-20 coins, Avalanche, and Matic, among others. Altogether, the Satochip wallet currently supports more than 1000 coins and is still counting.
MOBILE APP
---
The Satochip mobile application is an Android application designed by Satochip to be used together with the wallet. It can act as the wallet screen and be used to confirm and sign transactions before approval. Its minimum requirement is the Android 5.0 operating system, and it can be gotten on the Google Play Store. Unfortunately, it is not available for Apple and Windows operating systems.
PROBLEMS
---
One major problem the Satochip wallet might have is that the card design may make it more vulnerable than its counterparts. Thus, even though it is portable, it may not be durable compared to other hardware wallets.
In addition, its screenless design means that you need a card reader and a computer to make sense of it. Also, the fact that it is not entirely air-gapped leaves room for serious doubt. Lastly, there are not many helpful articles on its website.
If you can move past those problems and focus on the fact that it's cheap, portable, and gets the work done, then you surely would enjoy the product.
SECURITY FEATURES
---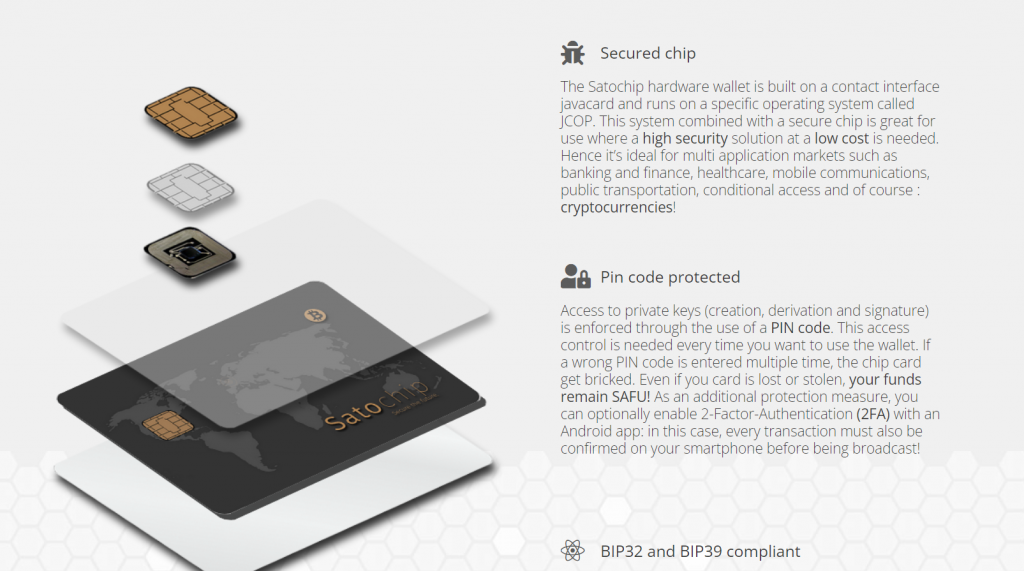 The main security feature that Satochip boasts of is its EAL6+ secure element (secure chip) embedded in the chip on the card's surface. This is the same security chip that makes credit card companies Visa and Mastercard two of the most secure payment processors in the world. To further put this in perspective, Ledger (one of the leading names in crypto wallet security) uses an EAL5+ secure element (secure chip), one step lower than Satochip.
Another security feature of Satochip is the enforcement of a PIN code before access can be granted to the wallet. In addition, you can take this a notch up by choosing to enable two-factor authentication. When you do that, transactions are parsed and verified through your smartphone app before being approved.
SATOCHIP VERSUS COMPETITORS
---
There have been a lot of hardware wallets on the scene since Trezor first opened the show in 2014, many of which are no longer functional. Satochip stands out among them all mainly due to its price and the value it produces at such price. The only rival in terms of cost is the Tangem wallet. However, it falls short in its screen absence which makes it necessary to couple it with other devices to enable transactions.
It holds its ground in security, being better than or at par with most of the frontrunners. Its usability excels, too, as it supports thousands of coins. It is not completely air-gapped, so it falls behind Ngrave. Also, it supports multiple software, just like Trezor and Ledger.
Lastly, its portability and customizability give it another edge over its competitors. Those reasons are probably why a discussion of top hardware wallets is not complete without mentioning the Satochip wallet.
Read also:
FREQUENTLY ASKED QUESTIONS
---
PROS
It's very affordable
Its inconspicuous design as a bank card makes it easier to carry about.
It supports a good number of cryptocurrencies
It supports various software
It has a mobile application for a more customized experience
It is fully open-source and community-driven
It has an EAL6+ secure chip element which gives it high protection against penetration attacks by hackers
CONS
So far, the wallet has not been audited. In the cryptocurrency world, that is a big deal.
It is not completely air-gapped as it still has to be connected through a USB or NFC card reader.
Can be attack vectors for hackers.
It could be too complex for beginners to understand.
It needs a card reader to be functional. This racks up the total cost of using the wallet.

CaptainAltcoin's writers and guest post authors may or may not have a vested interest in any of the mentioned projects and businesses. None of the content on CaptainAltcoin is investment advice nor is it a replacement for advice from a certified financial planner. The views expressed in this article are those of the author and do not necessarily reflect the official policy or position of CaptainAltcoin.com