Jet-Bot Review – Pricing, Supported Exchanges, Returns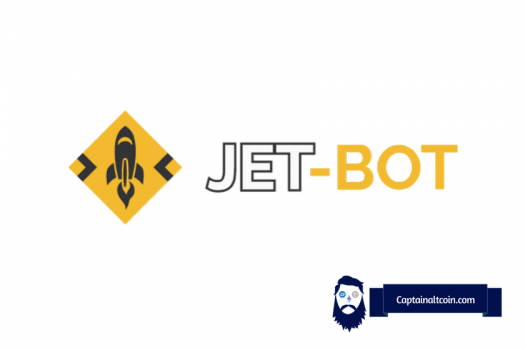 Jet-Bot Review – Pricing, Supported Exchanges, Returns
It offers copy trading to its users
It has a simple and easy-to-use interface
Users can create their own custom bots with their own strategies
There is a three-day free trial for users to test the platform
No credit card or KYC is required for account creation
JET-BOT OVERVIEW
---
Jet-bot is one of the newest additions to the world of crypto trading bots. It was introduced in 2020 and quickly took the crypto world by storm, garnering positive reviews among its many users.
In this article, we will discuss some of its outstanding features, its merits, and demerits, as well as a step-by-step guide for anyone who may be interested in signing up for their services.

We recommend Pionex instead
✅ 16 FREE bots ✅ Deep liquidity provided by Binance & Huobi ✅ Has direct fiat purchases ✅ Has a very profitable arbitrage bot with ZERO risk
WHAT IS JET-BOT?
---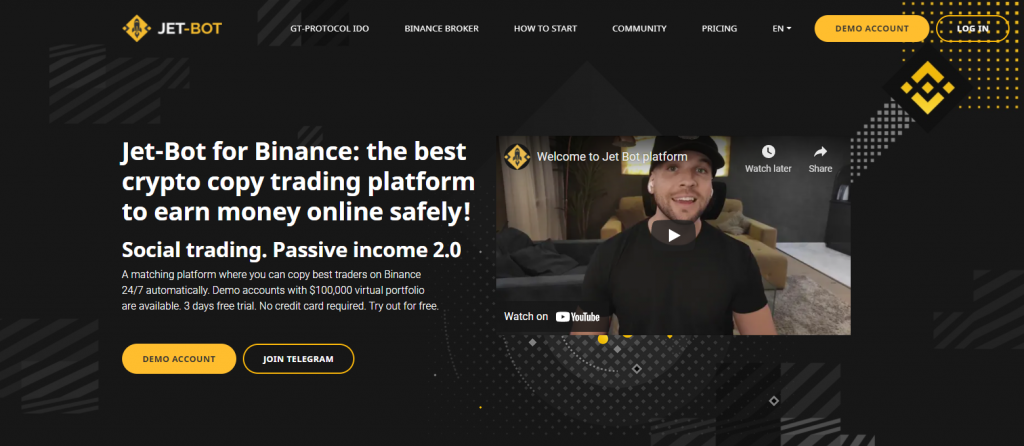 Jet-bot is a trading bot platform that simplifies the trading process by letting inexperienced users follow the battle-tested strategies of successful traders. This mechanism is known in the finance world as copy-trading and is one of the reasons why Jet-bot is gaining popularity.
The copy trading feature is even more effective because you copy the strategy of expert traders, not the traders themselves. These strategies have been tested in real-life scenarios by many other traders and have been found to work well. Thus, there is more basis for confidence in its viability.
Another unique feature of Jet-bot is that it is integrated with Binance as an authorized broker. Therefore, users can create a Binance account through Jet-bot with just one click. A feat like this is extremely rare in this industry and makes Jet-bot stand out from its competitors. Also, the platform provides a demo exchange account with $100,000 virtual capital to let traders try out its features without the risk of losing their assets.
HOW TO START WITH JET-BOT
---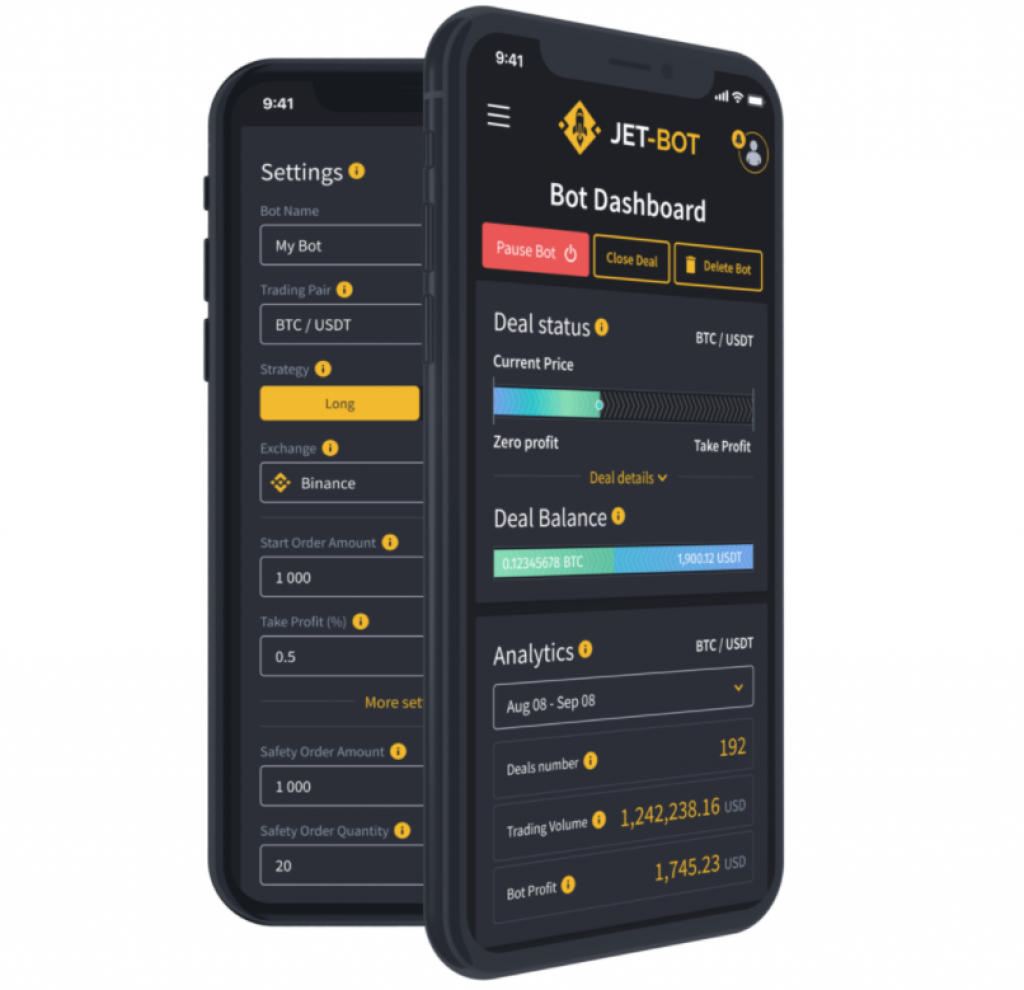 It's pretty straightforward. First, go to the website www.jet-bot.com. On the website, click 'Login' and then 'Register'. A login form will appear where you enter your email address and password. You can also choose to sign up with your Telegram, Facebook, or Google account.
The platform will send a link to the email address you provided to verify your account. You would then be asked to connect the account with your Telegram account. Once that is done, your account has been created successfully.
The next step after that is to connect your Binance account to Jet-bot. For that, you would need your API key and secret key. Then you create your bot and choose either demo, futures, or spot as its working scope. Lastly, you enable the alert system on Telegram to update you on the progress of your bot strategies.
Additionally, it makes use of Telegram to allow you mobile access to bot creation, setup customization, and trading report access. By using the Binance API, Jet-Bot enables you to take advantage of the faster synch speed.
PRICING
---
There are four pricing plans on Jet-bot. They are:
👉 BINANCE BROKER PLAN: costs $7.99 monthly and includes one futures bot and one broker account.
👉 BEGINNER PLAN: costs $27 monthly and provides a spot bot, a futures bot, and an exchange connection.
👉 BASIC PLAN: this goes for $41 per month and includes two spot bots, two futures bots, and two exchange connections.
👉 EXTENDED PLAN: It is the most expensive, costing $62 per month. The package includes ten spot bots, ten futures bots, and ten exchange connections, among many other features.
Payment is made through Coinpayments (a crypto payment provider) in either BTC, ETH, TRX, BNB, or USDT. There is also a 30% discount if you pay a yearly bill.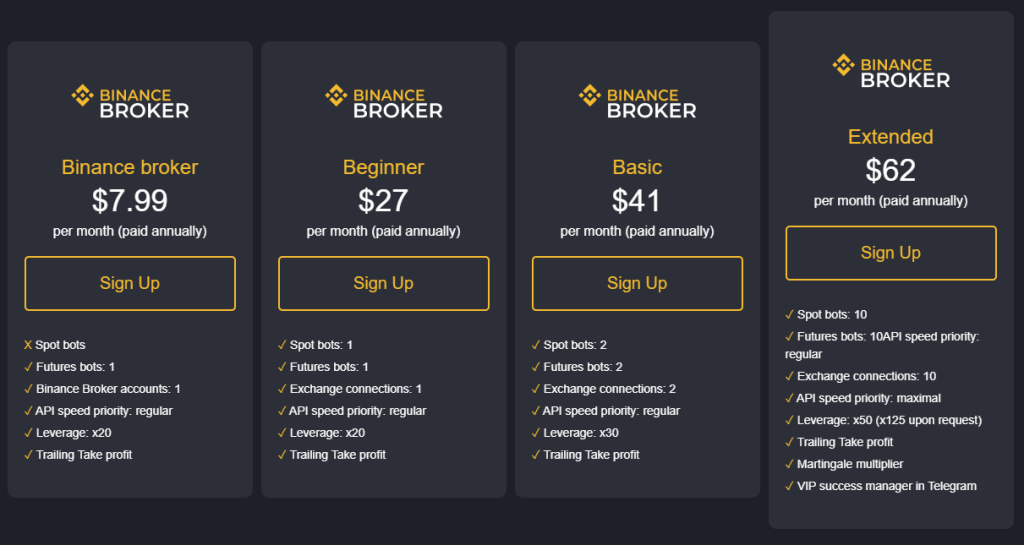 INTEGRATION WITH BINANCE
---
This is one of the strong suits of the Jet-bot platform. It is officially licensed as an official broker of the Binance exchange. This means it acts as a mediator between the Binance exchange and crypto traders. Thus, Jet-bot users can create Binance accounts, complete with all its functions, directly on the Jet-bot platform.
HOW PROFITABLE IS COPY-TRADING WITH JET-BOT
---
The numbers speak for themselves. Jet-bot bots have built an outstanding record of success, with some recording as high as 10,756% total profit in less than a year. These profitability figures are verifiable through social media reviews from real people who have used the bot as well as through video reviews on YouTube and other channels. Also, over 700 people gave the platform a 100% rating on Coinpayments. That is an incredible feat!
In spite of this, remember that past successes do not always predict future success. Therefore, don't hurry into a decision without doing sufficient research. Remember that no matter how promising a crypto venture may be, it may all go to flames within the twinkle of an eye.

We recommend Pionex instead
✅ 16 FREE bots ✅ Deep liquidity provided by Binance & Huobi ✅ Has direct fiat purchases ✅ Has a very profitable arbitrage bot with ZERO risk
IS JET-BOT SAFE?
---
Jet-bot only acts as a third-party program on your Binance account with limited authority. It doesn't withdraw your funds from your account to its platform before trading. Therefore, your funds remain in your Binance account, available for deposit and withdrawals as you see fit.
JET-BOT TRADING STRATEGIES
---
COPY-TRADING WITH TOP TRADERS
---
This is one of the most popular features of Jet-bot. After signing up on the platform and gaining access to your dashboard, you see a section on the top left corner tagged 'Top bots'. Clicking on it will open up a page where you see the best-performing bots on the platform. All you need to do is follow them and watch as their trade strategies are replicated on your account, with no need for supervision by you.
It is not free, though. Each bot has its own one-time fee for following its strategy. The bots also differ in the minimum amount required, as well as the trading pair with which they work.
TRADE BOTH LONG AND SHORT STRATEGIES
---
This feature allows investors to keep making a profit, no matter which direction the market goes. There are two types of bots on the platform, the spot, and the futures bot. The spot bot can only make you profit when the market is trending upwards.
The futures bot can make a profit in either direction but comes with a liquidation risk not associated with the spot bot. However, it is possible to avoid liquidation by launching a second bot in the opposite direction or adding to your future margin.
AUTOMATE AVERAGING THE ENTRY PRICE BY PLACING SAFETY ORDERS
---
Safety orders are put in place to ensure that you get your profit even if the market is not moving as expected. How does it work? Let's say you placed a buy order for ETH at $5,000 and set your bot to close the trade when you have yielded a profit of 5%. That means the bot will make a profit when ETHhits $5,250.
Suppose the market then goes in the opposite direction; that would mean, under normal conditions, that you have to wait longer before reaching your profit point. However, with safety orders, the bot buys more as the price goes lower to average your entry price and reduce your take-profit price.
AUTOMATE STOP-LOSS, TRAILING, MARTINGALE, AND OTHER FEATURES
---
These are all essential features of every trading strategy. Jet-bot automates the whole process for you, ensuring that you do not make losses you can't account for or lose out on profit you should have realized. Also, with the Martingale method, the bot makes it easier for you to regain what you lost by doubling your trade size in the next trade. This method is bold but has been proven to work in the long run.
DEMO ACCOUNT
---
Once you sign up, you're provided with a demo account with $100,000 virtual cash provided for trading practices. A demo bot is also assigned to your account, and it immediately gets to work while keeping you informed of all trades via your Telegram account. You can keep using the demo account indefinitely and familiarise yourself with various strategies on the platform before switching to real versions.

We recommend Pionex instead
✅ 16 FREE bots ✅ Deep liquidity provided by Binance & Huobi ✅ Has direct fiat purchases ✅ Has a very profitable arbitrage bot with ZERO risk
Read also:
FREQUENTLY ASKED QUESTIONS
---
PROS
It offers copy trading to its users
It has a simple and easy-to-use interface
Users can create their own custom bots with their own strategies
There is a three-day free trial for users to test the platform
No credit card or KYC is required for account creation
CONS
Supports only Binance exchange

CaptainAltcoin's writers and guest post authors may or may not have a vested interest in any of the mentioned projects and businesses. None of the content on CaptainAltcoin is investment advice nor is it a replacement for advice from a certified financial planner. The views expressed in this article are those of the author and do not necessarily reflect the official policy or position of CaptainAltcoin.com