I always assumed that Exodus was a wallet app and Coinbase was a humungous US cryptocurrency exchange. But Coinbase offers a hot wallet, and Exodus has an exchange. There's now so much crossover in features as to place Exodus in direct competition with Coinbase. Many of these smaller platforms could pose a serious challenge to the big boys. Here's why.
Anyone with a vision, a computer science degree, and a blockchain can do it. Scalable distributed ledger technology requires no huge investment in plant and machinery – the barrier to entry is very low. This is the story of how a DeFi wallet could dare to challenge a multi-billion-dollar financial behemoth at its own game; It's the tale of DeFi's rise and CeFi's fall.
At a Glance
---
Coinbase is a publicly listed company on the Nasdaq, trading as COIN, with a market cap of around $70bn. They have custodial services and OTC trading for institutions and billionaire crypto-whales. They are about as regulated and legitimate as cryptocurrency platforms get, so expect them to hand over your personal information to the IRS or law enforcement at the drop of a hat.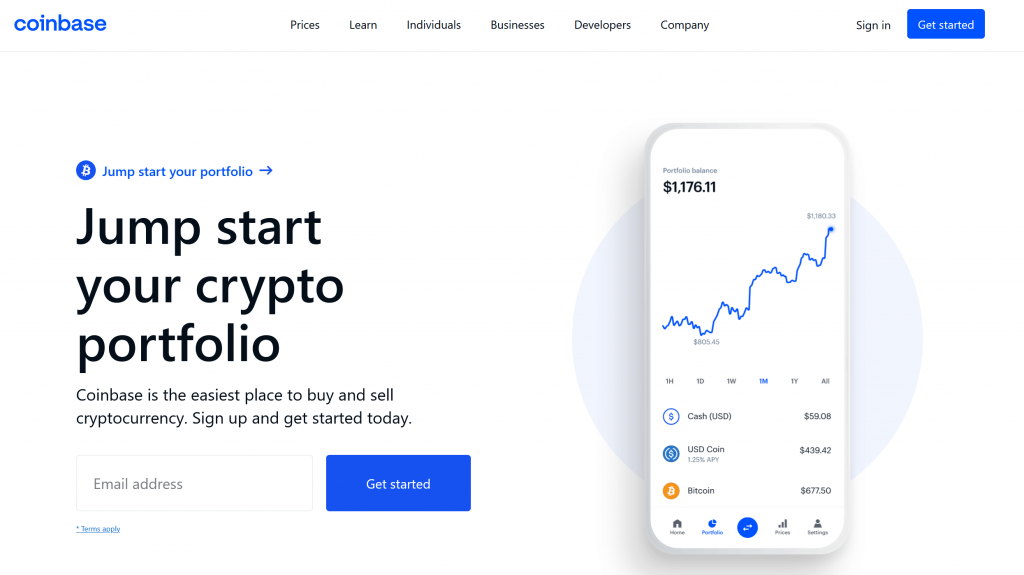 Exodus is kind of the opposite. Their company is regulated by the SEC, but their service is decentralized. The best of both worlds? They're a DeFi platform where you can pseudonymously do exactly what you want with your finances. There's one small exception in the account recovery process, but in general, Exodus works very much in the spirit of decentralized finance.
There's nobody looking over your shoulder, you maintain control and ownership of your cryptocurrency, and you even get 24/7 customer care. The last one will resonate with many frustrated Coinbase users.
Exodus vs. Coinbase: Features
---
We've chosen the features that are critical to everyday use, including security, ease of operation, and compatibility. Sometimes, features have the same function but utilize different execution. For example, Exodus swaps tokens across a peer-to-peer network. Coinbase has market makers with massive liquidity to ensure you can (almost) always exchange your crypto. The user might never notice the difference, but the security and privacy implications are far-reaching.
Deposit and Withdrawal Methods
---
Exodus will not accept fiat. That's the biggest practical difference between the platforms. You need to own cryptocurrency and transfer it to your Exodus wallet to start trading, whereas Coinbase will sell you crypto – for a price. You can use a standard bank transfer and debit/credit card payment, or Paypal to load up your Coinbase account, but the commissions are quite high when first you purchase crypto.

Coinbase supports fiat withdrawals but Exodus doesn't. You will pay a service fee of around 1.9% to withdraw your fiat from Coinbase to a regular bank account. The only way to get your assets off the Exodus platform is to transfer them to an external wallet address.
Exodus points out that it doesn't charge anything for either deposits or withdrawals. You pay only the standard network fee. It's wise to compare how much network fees are at the time of transfer and choose the cheapest option.
Supported Currencies
---
Exodus wins this one. There are twice as many coins and tokens, with around 145 at the time of writing. This is refreshed every 2 weeks, along with new features and security updates. For the more exotic tokens, Exodus is your best bet.
Coinbase's token collection is half the size but covers most of what beginners would want to trade. Coinbase has some obvious omissions like XRP and BNB, but these are for political and competition reasons. At some point, XRP will be relisted on Coinbase, once they have crushed the SEC's case against them.
Exodus does not support some popular tokens such as Balancer and AMP, so make sure your intended tokens are supported before you commit to any platform.
Security
---
Both companies have built their reputations around developing superb security – they're financial platforms, so it's their number one priority. Customer losses occur almost entirely through user error, but the typical errors are different for custodial and non-custodial platforms.
Coinbase
---
The recent hack that emptied 6000 Coinbase customer accounts, was caused by a "Flaw in the company's SMS account recovery process." The villains still needed the passwords and Coinbase commented that "…there was no evidence to suggest the information was obtained from the company." Coinbase maintains that in the end, it was user errors that enabled the attack. In what is therefore an act of human kindness, Coinbase reimbursed the customers. Well done!
Even once the Coinbase 2FA "flaw" is fixed, the villain just needs to take control of your phone to receive an account recovery code. Sim-cloning attacks happen, and once a villain also has remote access to your desktop or a keylogger installed, they can take all your loot. The scam still requires user error with password secrecy – so be careful. Your safety is in your own hands.
Exodus
---
The way to get REKD with a custodial wallet is to lose access to your hardware, typically through a lost or stolen phone, or a laptop that decided to die suddenly. You can recover your wallet with your 12-word seed phrase, without which your assets will be gone forever. Exodus appreciates this is harsh for first-time crypto-users, so they require an email address for account recovery after a hardware failure.
The wallet software is not open source, so a certain amount of trust is required in the Exodus team. Both of these features are counter to DeFi principles but no systemic flaws have been exploited – as far as we know.
Bottom Line
---
As long as nobody knows you have anything to steal and you follow good internet hygiene, neither platform will let you down. Coinbase might hand over your transaction history to the government authorities. Exodus will not be able to, theoretically.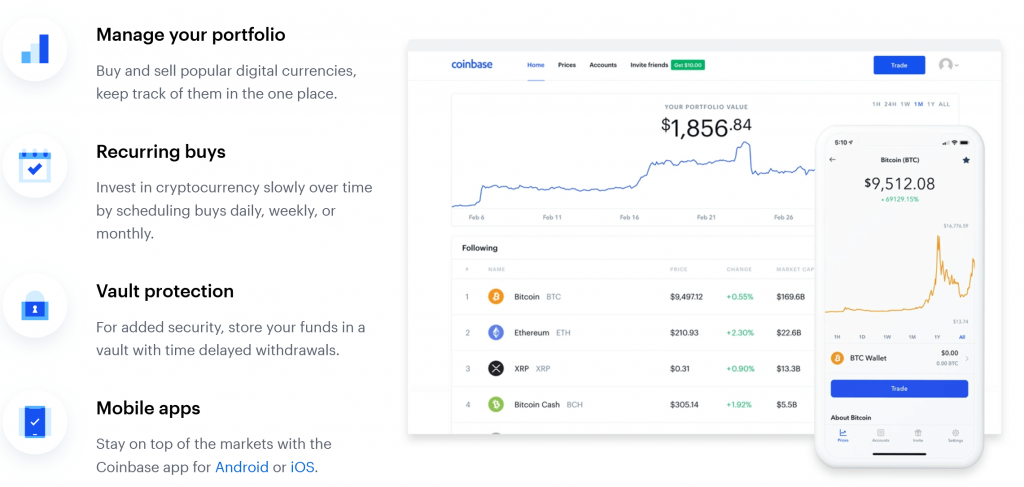 It's interesting to note that when a bank got robbed in the old days, the customers' accounts were not affected. Centralized crypto platforms are more like safety deposit boxes hosted by exchanges. DeFi is more like having a safe at home.
Fees
---
Exodus charges nothing on top of the standard network fees for whatever cryptocurrency you are transferring or exchanging. That's the good news. So where does Exodus make its money? They charge API exchange services companies for access to their exchange.
Here's the bad news. The more exotic token markets with fewer participants tend to have much larger spreads. This is the price difference between the lowest offer and the highest bid. On Exodus, there can be several percent spread that trades must overcome before being profitable. Traders always seek out the tightest spreads, and these are found on the more popular, more liquid pairs, for example, BTC vs BNB.
Coinbase exchange fees are a percentage of the trade value as trades happen off-chain. They are fixed, however, so trading all currencies more or less costs the same. This can make trading a lot cheaper and quicker, but not always.
For purchasing crypto with fiat, you can expect to pay a few dollars per transaction, plus there's an annoying approx 0.5% spread between buys and sells with some coins. There's a 3.99% charge for credit cards, so by the time you buy your crypto and exchange it for your target token, you could be down 5% on the trade before you start. There's also a fee of 1.49% when you withdraw fiat to your bank account.
Pro-Tip. Go to CoinbasePro for much better exchange fees. Use your same username and password to access a much better exchange than the Coinbase platform offers.
Ease of Use
---
Exodus is designed beautifully. It looks fabulous, and the touch and feel are awesome. If I was holding crypto in an online wallet, Exodus would be one of my first choices. Coinbase has become the most popular place for US citizens to buy their first crypto.
Once you've transferred it to your Coinbase hot wallet, there seems little reason to move it anywhere else. This is especially so if you trade through CoinbasePro, where the fees are much cheaper.
I think the Exodus wallet and app are intuitive enough to find your way around all the features without getting stuck. It helps if you know what you are doing, but the features are all clearly visible and the user interface nudges you through each process. People often say they do not 'do crypto' because they don't understand it enough. Exodus has made a serious effort to reduce this confidence gap. Good on them!

Mobile App
---
This is where the rubber meets the road, for many – how well the app works. If you're familiar with cryptocurrency, then Exodus wins this one easily. You need to download and install the application, then open a wallet. This shouldn't be beyond beginners, but it does need doing properly. You can't access Exodus through a browser, so you'll need to download the desktop app if you want to use your laptop.
Coinbase is accessible through a browser on your desktop so no download is required. You can use any desktop to access your account, but be very careful about using public computers. The mobile application is a standard Android or iOS download from the usual sources. You all know the drill by now.
Which Nationalities Can Use Exodus and Coinbase?
---
Coinbase is regulated in the US for US consumption. Apart from Hawaii, you can access Coinbase from all US states. Coinbase also services over 100 countries and territories around the world, so access is almost universal.
Exodus is available in most US states. The naughty list includes Hawaii, New York, Washington, Oregon, Louisiana, and Alabama. Most countries that don't have explicit crypto bans in place tacitly allow access. Always follow your local jurisdiction's laws to avoid grief.
And the Winner Is…
---
Both platforms do most things impeccably well so the choice is really about DeFi vs CeFi. If you're dealing with fiat currency, Exodus cannot help you. Once you've bought your crypto at Coinbase, you could transfer it to Exodus, but you could not realize profits in US$ without moving it elsewhere. After this fiat deal-breaker, the options are less clear.
Coinbase is considered easier to use, but I'm not sure about that. The Exodus user interface is so attractive and logical that I much prefer dealing with it. The security risks are real but different for each platform, and adequate protection is in place to consider them both safe. Certainly, there should be no rug pulls as both companies are registered with the SEC.
I would never store significant amounts of cryptocurrency in anything other than a cold wallet. Given that, it wouldn't be a total disaster if I was hacked on either platform, I prefer to take responsibility for my own assets and would therefore choose Exodus. I like to maintain custody of my private keys and have better control of my data. Theoretically, no official could deny me access to my assets held on my Exodus wallet.
Make sure to check comparisons we made between some of the most known exchanges:
FAQs
---
Does Exodus support DeFi?
---
Exodus is a DeFi wallet, so yes, they do support DeFi. As mentioned above, Exodus requires a valid email contact for seed-phrase recovery, which is not strictly DeFi. Compared to Coinbase, the answer is yes.
Does Exodus support NFTs?
---
Theoretically, NFTs can be stored on any wallet that supports the underlying blockchain. To view and manage your NFTs however, you'll need to hold them in a wallet that supports NFT services. Exodus is working on a wallet feature to provide these NFT upgrades, but for the moment, you may only store your NFTs on your Exodus wallet.
Does Coinbase support DeFi?
---
You can buy DeFi tokens on the Coinbase exchange, although this is a space to watch. The SEC is deciding whether a token is a security, partly based on how decentralized it is. This might cause Coinbase to delist tokens that fail the SEC test or refuse to collect KYC information (Know Your Customer).
On the other hand, you can do all the usual DeFi things through the Coinbase wallet, like lending and staking. The problem is that Coinbase knows exactly who its customers are, and any transfers to a DeFi wallet from your Coinbase exchange wallet will be obvious to anyone snooping on you. So yes, they have access to some DeFi products, but not in the spirit of DeFi.
Does Coinbase support NFTs?
---
According to the news, a Coinbase NFT marketplace is upcoming. Imaginatively named, Coinbase NFT, you will be able to mint, buy and sell NFTs. One presumes this will interact seamlessly with the Coinbase wallet so you can store and manage your NFTs independently of Coinbase. Watch this space.
How do Exodus and Coinbase Work?
---
Coinbase is a CeFi (Centralized FInance) exchange and on-ramp for cryptocurrency. They are licensed and regulated so you are protected in exchange for giving up your privacy. There are multiple services, including a DeFi wallet, but Coinbase is a company that charges its customers fees and commissions on transactions. It is a very traditional approach to retail business.
Exodus is different – its services are DeFi so you forego the protection to maintain control of your crypto assets, and privacy around what you choose to do with them.
Is the Exodus Wallet safer than Coinbase?
---
There are different security issues with each. They're both well protected against standard villains trying to heist your crypto, but Coinbase is not at all safe from institutional villains, like the IRS and the government.
There is no 2FA with the Exodus wallet, which has raised some eyebrows, but the centralized 2FA process is seen as an exploitable weakness in DeFi terms. Remember, it was the 2FA system that failed in the recent Coinbase fiasco leading to the hurried reimbursement of 6,000 Coinbase customers.
Always be aware that criminal hacks require the user to make an error, so as long as you take care, both wallets have excellent standards of security.
Who should use Exodus vs Coinbase?
---
It depends on your priorities. If you want to buy cryptocurrency with fiat, then there's no choice to be made. Coinbase sells crypto and Exodus doesn't. If your main concern is privacy then Exodus is the best option.
Check which of the platforms supports your favorite tokens, and consider if you need to access the platform from multiple desktop devices. Coinbase is considered better for beginners, but I think anyone who understands the concept of a wallet, will have no trouble setting one up and managing it.
Is Exodus wallet better than Coinbase?
---
It looks better, it feels better, and it's more decentralized, therefore yes, in my opinion. Exodus is the better wallet. It depends on whether you are happiest using CeFi or DeFi, but overall Exodus does everything I need with no obvious downsides – so far.
Has Exodus Wallet ever been Hacked?
---
The proprietary Exodus wallet code has never been hacked. Exodus doesn't store your private keys, so even if there was a Coinbase-style data breach, your assets would not be at risk from a hack on the Exodus head office.
Their wallet software is not open-source, so you never know. Maybe some bad actor has back-door access to all the wallets. The hack would have to come from inside the company, and it's extremely unlikely to happen at this stage.

CaptainAltcoin's writers and guest post authors may or may not have a vested interest in any of the mentioned projects and businesses. None of the content on CaptainAltcoin is investment advice nor is it a replacement for advice from a certified financial planner. The views expressed in this article are those of the author and do not necessarily reflect the official policy or position of CaptainAltcoin.com