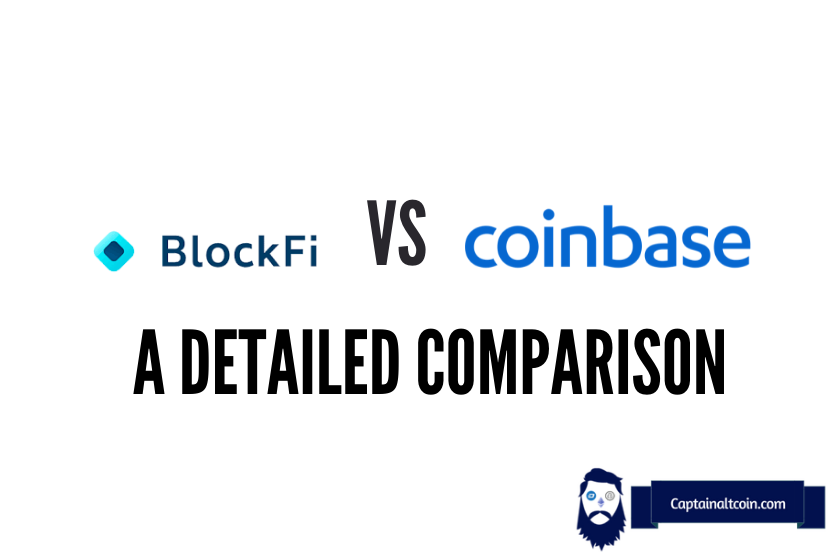 BlockFi
---
BlockFi is a cryptocurrency investment platform that allows users to lend their crypto assets and earn interest. Users can also use their crypto holdings as collateral to secure loans. The cryptocurrency platform enables users to leverage their crypto assets and put them to good use.
The privately-owned company was launched in 2017 and has its headquarters in New York. BlockFi has a strong leadership team with a wealth of experience in the traditional financial industry.
With BlockFi, you can deposit funds, spend your crypto, earn interest, and buy or sell crypto. At its launch, BlockFi mainly focused on the BlockFi Interest Account (BIA), which allowed crypto holders to deposit funds into the platforms and earn interest. The trading platform has since increased its product offering to include other products like crypto accounts.


Who's Behind BlockFi?
---
BlockFi is led by CEO and Founder Zac Prince who launched and grew two other startups-Admeld sold to Google and Sociomantic, which was sold to DunnHumby. He has a long experience in the financial and banking industry.
Other members on the team include Co-Founder and SVP of Operations Flori Marquez, Chief Risk Officer Rene van Kesteren, Chief Technology Officer, Mahesh Paolini-Subramanya, Chief Financial Officer Tony Lauro, Chief Compliance Officer David Spack, and Chief Security Officer Adam Healy.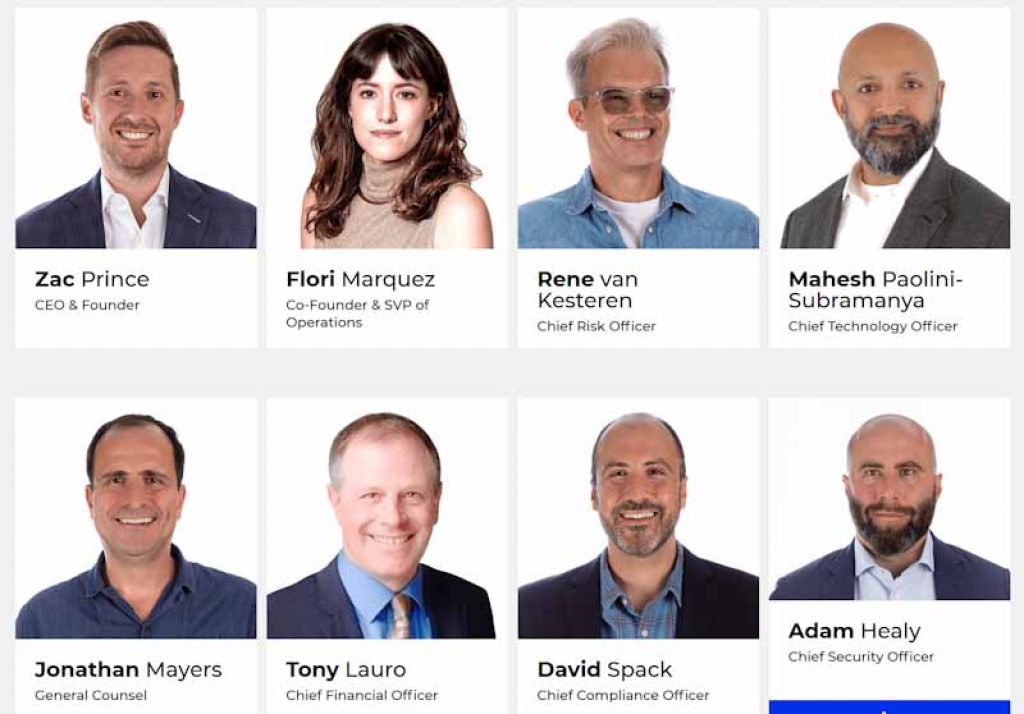 Coinbase
---
Coinbase is one of the largest cryptocurrency companies globally, with operations in more than 100 countries and over 30 million users worldwide. The company offers various services, among them buying and selling Bitcoin through debit and credit cards and bank accounts.
At its launch, Coinbase mainly focused on offering Bitcoin brokerage services. The company has since expanded to new horizons. Coinbase is fully regulated and has managed to raise more than $540 million in capital from leading investors like The NYSE, Andreesen Horowitz, and Ribbit Capital.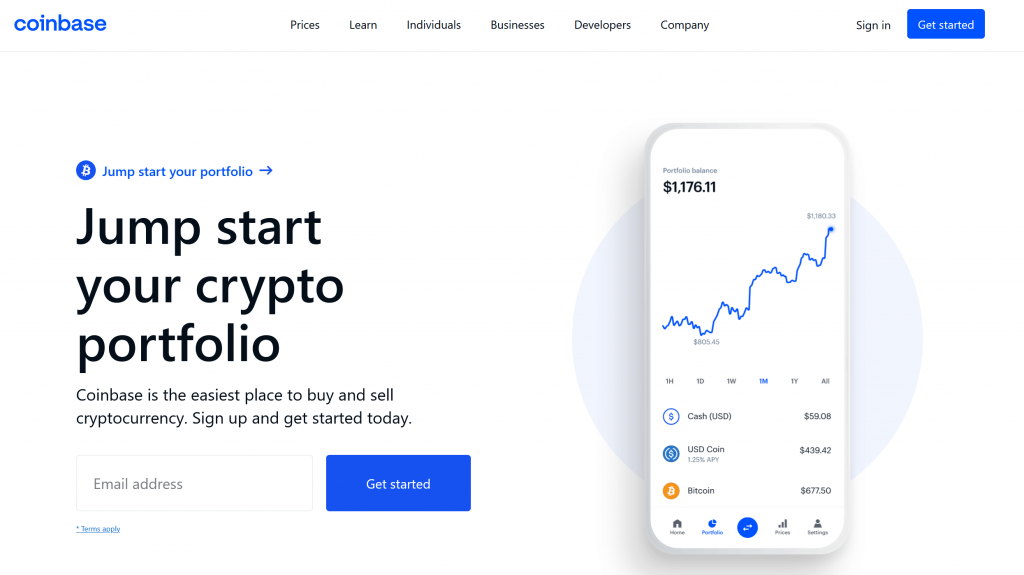 Who is Behind Coinbase?
---
Coinbase is led by Brian Amstrong, who is a Co-founder and CEO, and he is assisted by a team comprising of Emilie Choi, the President & Chief Operating Officer, Surojit Chatterjee, the Chief Product Officer, Alesia Haas, the Chief Financial Officer, L.J. Brock, the Chief People Officer, Paul Grewal, the Chief Legal Officer, and Manish Gupta, the EVP of Engineering.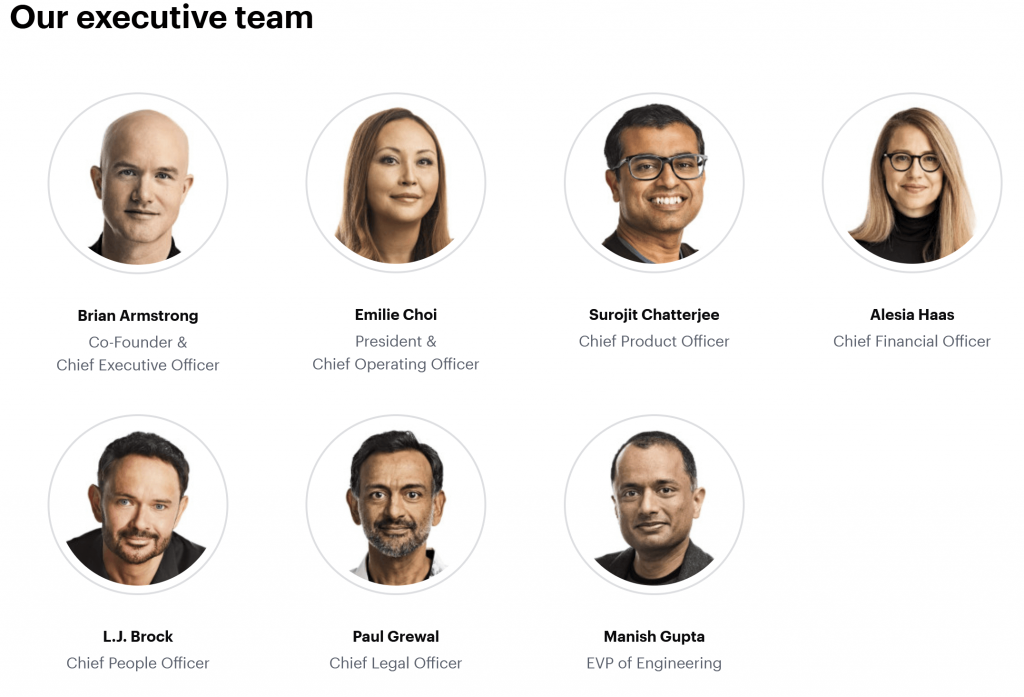 Main Differences
---
BlockFi operates as a modern-day crypto bank but where account holders earn more interest than traditional financial institutions. The company is able to pay the high-interest thanks to the relatively high fees on lending. The difference between what is paid out in interest and what is collected in fees is what keeps the company profitable. Below are key products offered by BlockFi;
BlockFi Interest Account
---
The BlockFi Interest Account (BIA) was the flagship project when the company launched in 2017. Members can deposit funds in a BIA account and watch their funds appreciate as they earn interest. The platform pays 6% on BTC and up to 8.6% on stablecoins.
The BIA account can be opened in three simple steps and does not require a minimum balance. To open an account, you first need to enter your personal details; next, deposit funds in your account in crypto or stablecoin. Watch your crypto assets appreciate in value and earn interest.
Trading Account
---
A BlockFi Trading Account allows the account holder to trade various crypto assets within the BlockFi interface. The seamless trading experience enables users to trade their coins while still earning interest.
To trade, users need to first select the asset to purchase and then pay. After entering the amount, click on 'swap.' The fiat currency will be traded for a cryptocurrency. This account does attract any fees; it is very flexible, with quick and streamlined trading.
Crypto-Backed Loans
---
The Crypto-Backed loans allow users to take out crypto loans against their pledged collaterals. Users can borrow up to 50% of their crypto assets deposited in BlockFi. The loans are offered at the rate of 4.5%, although the rate and the collateral size may differ depending on the loan amount requested and the cryptocurrency backing the loan.
Borrowers can use the borrowed funds to expand and diversify their portfolios by adding more crypto assets.


Bitcoin Rewards Credit Card
---
The company is working on launching its 1st credit card with a Bitcoin rewards program. The Bitcoin Rewards Credit Card will allow holders to earn 1.5% in bitcoin returns on all purchases.
On the other hand, Coinbase is a cryptocurrency exchange platform that allows crypto holders to exchange their cryptocurrencies and profit from price differences. The platform offers an easy and convenient way to buy, sell, and exchange digital currencies. Coinbase users can trade Bitcoin, Bitcoin Cash, Litecoin, and Ethereum. Products offered by Coinbase include;
Liquidity
---
When choosing a cryptocurrency exchange, liquidity is an essential factor to consider, as currency shortage may cause the cost of transactions to go up. Coinabase offers a wide range of investment opportunities that increases the level of liquidity on the platform allowing users to conduct large transactions without hitches. The exchange has listed more than $150 billion in crypto assets.
Wallet
---
Similar to many other crypto exchanges, Coinbase offers a digital wallet that securely holds members' deposits. The Coinbase Wallet app is available on mobile phones, which ensures that the trader has access to their funds at any time. The app can be downloaded on Google Play Store and Apple App Store.
USD Coin
---
Coinbase also allows users to buy USD Coin; a stablecoin pegged at 1 USDC for $1. The USD Coins listed on Coinbase are backed by fiat currency in U.S. dollars. The coins are stored in the Coinbase wallet or any other wallet that is compatible with Ethereum. Verified Level 2 Coinbase users can also earn rewards on UDSC that they hold.
Coinbase Pro
---
Coinbase Pro is a trading platform designed for users who trade frequently. The platform has an extensive asset portfolio compared to the regular one, with more than 50 assets currently on offer. Coinbase Pro also offers higher rates for trading large volumes.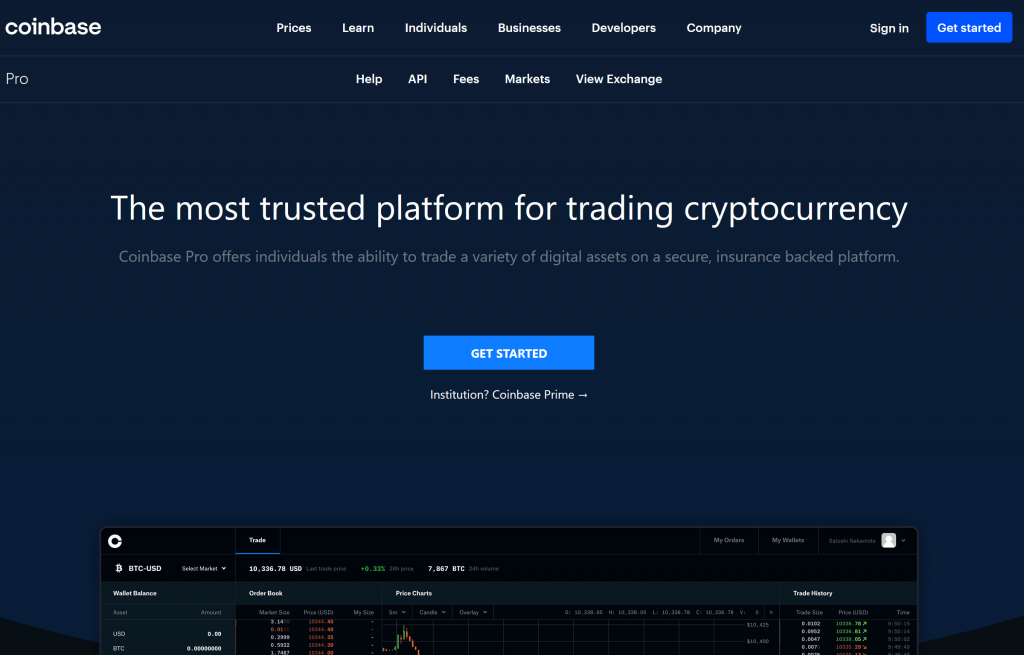 Trading experience
---
BlockFi offers first speed on all transactions as well as immediate interest accrual. Users can access and trade several cryptocurrencies BTC, ETH, LTC, and PAX. Users can trade using the online platform or can opt for the BlockFi mobile app.
Coinbase is extremely easy to navigate and trade with and can be accessed through android or iOS devices. The platform is, however, only web-based and is not available on the mobile app. After login in, users can access their account balance, the performance of the portfolio.
Available Coins and Contracts
---
BlockFi supports six popular cryptocurrencies, including;
· Bitcoin (BTC)
· LINK (LINK)
· Ethereum (ETH)
· Litecoin (LTC)
· Paxos Standard (PAX)
· PAX Gold (PAXG)
BlockFi also supports stablecoins, including;
· USD Coin (USDC)
· Gemini dollar (GUSD)
· Tether (USD)
· Binance USD (BUSD)
Coinbase offers several crypto assets like;
· 1INCH
· BTC
· AAVE
· ADA
· ALGO
· ANKR
Trading Fees
---
Opening an account and becoming a BlockFi member are all free. In addition, trading on the platform does not attract fees. Users only pay a fee when signing up for Crypto-Backed Loans. Users are charged a small interest rate on all loans taken.
On Coinbase, users pay a spread fee of 0.5% and a transaction fee for all cryptocurrencies. Below is the fee schedule on Coinbase;
· Transactions below $10-$0.99
· Transactions more than $10 but less than or equal to $25-$1.49
· Transactions above or equal to $50-$1.99
· Transactions above $50 but less or equal to $200-$2.99
Security and Trustworthiness
---
All deposits on BlockFi are protected by The Gemini Trust Company. In addition, the trading platform is regulated by the New York Department of Financial Services. Gemini system was recently audited and issued with a SOC2 compliance certificate by Deloitte. The compliance adds another reason to trust BlockFi with your assets.
Up to 95% of all BlockFi accounts are held by Gemini in cold storage, while the rest are held in hot wallets, which are insured by Aron.
Coinbase is one of the safest crypto exchanges, with no reported adverse incidents like hackings and fraud. Around 99% of funds held by Coinbase are stored in offline cold storage. Only 1% of the funds is held in an online account, and these assets are insured.
Coinbase is among the only four exchanges licensed in N.Y. under the BitLicense program, which has strict KYC rules. The BitLicense program is under piloting in New York.
BlockFi Credit Card
---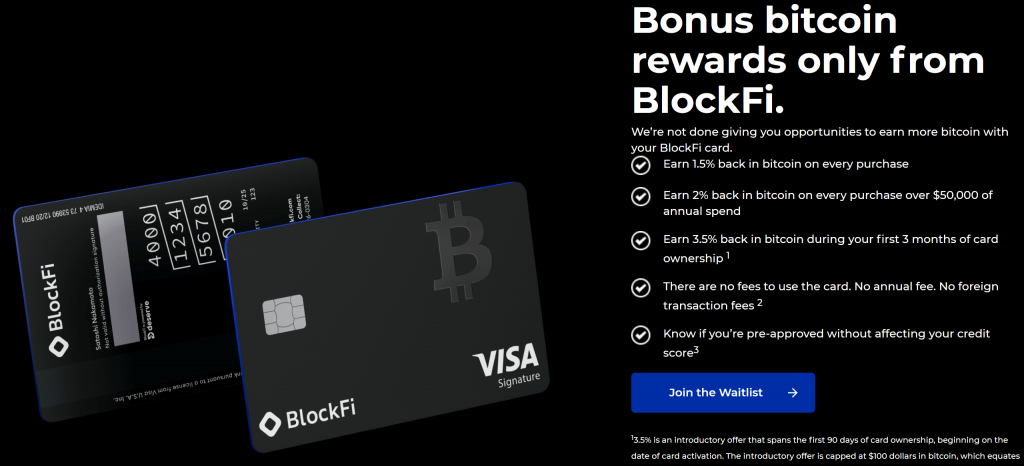 BlockFi recently opened a waitlist for its upcoming BlockFi Bitcoin Rewards Credit Card, the first-ever Bitcoin rewards credit card. Cardholders can use it to pay for goods and services and earn bitcoin rewards. The card is the first in the crypto industry and replaces the traditional miles and points, and cash-back reward structures. All payment made using the card earns a 1.5% discount in bitcoin.
The Bitcoin Rewards Visa Credit Card is being piloted by Visa under its Fintech Fast Track program. In addition to BlockFi and Visa, other companies involved in Bitcoin Rewards Visa Credit Card are Evolve Bank & Trust and Deserve.
Coinbase Card
---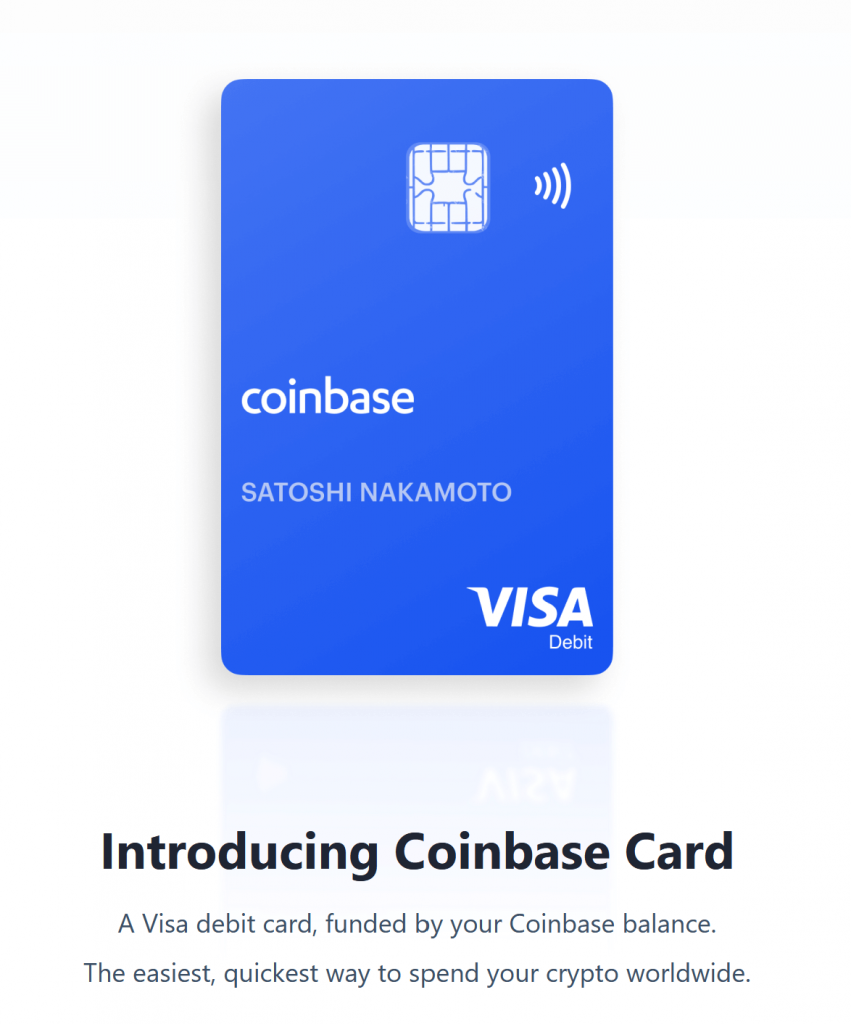 Coinbase Card is a Visa card that enables holders to pay using any crypto assets in their portfolio and earn rewards. The card can be used in any place that accepts Visa. Users earn four percent in rewards on all purchases made using the card. There are no annual or sign-up fees.
To get and use the card, users need to download the Coinbase Card available on Apple App Store and Google Play store for iOS and Android users, respectively. The app contains all instructions on how to apply and get your card. After applying for the card, users gain instant access to a virtual Coinbase Card as they await delivery of the physical card.
BlockFi Mobile App
---
BlockFi is accompanied by a mobile app for both iOS and Android users. Users can use the app to manage their accounts from the hand, including viewing account balances, trading and borrowing money, and accumulating interest on their crypto holdings.
BlockFi Exchange
---
The BlockFi exchange is a trading platform that enables users to trade between different assets. In addition to earning interest on the principal amount deposited, BlockFi users can yield more returns by compounding their earned returns to fetch more profits.
There are no fees charged when trading on the BlockFi exchange. The company earns money by selling data on user's trades to institutional cryptocurrency companies. The companies, in turn, act as market makers to offer more liquidity on the BlockFi exchange.
Coinbase Exchange
---
Coinbase is one of the easiest and simplest to use. The company has managed to create a trading experience that accommodates both experienced and novice traders. The exchange is feature-rich, making it one of the most preferred by crypto traders. The unique feature on the platform is the recurring buys which allow users to invest in digital currencies at their speed by setting daily, weekly, and monthly auto-trading features.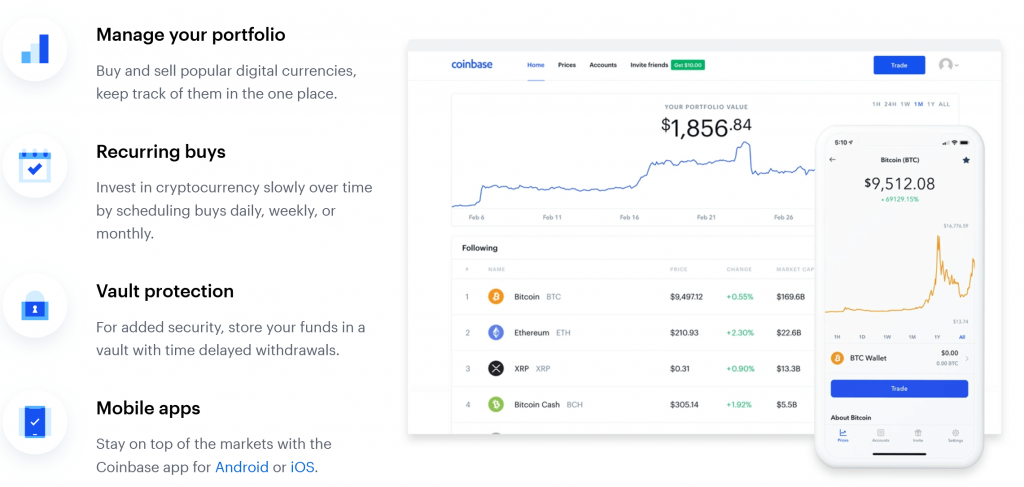 BlockFi Features & Benefits
---
Below is a summary of the top features and benefits of opening a BlockFi account;
· Easy account management; users can easily manage their funds deposited in a BlockFi account. The company allows users to retain full control over their accounts and portfolio.
· Payment flexibility; BlockFi users can choose to trade any currency and receive interest in the selected crypto.
· Mobile App takes flexibility and convenience to a whole new level, allowing users to access, trade, and manage their accounts from the smartphone or tablet.
· No minimum balance and hidden charges; there are no 'catches' on the BlockFi platform, and all terms and conditions are revealed and agreed on by the user when signing up.
· Security; there is a lot of emphasis on safety on the BlockFi exchange, including two-factor authentication. Money deposited in BlockFi is held with Gemini's custodial system.
BlockFi vs. Coinbase: The Takeaway
---
Both BlockFi and Coinbase have a solid and solid reputation with a keen interest in securing the users' crypto assets. For users seeking a Bitcoin rewards credit card, BlockFi is maybe the right platform, while for users who are more interested in Visa backing, the Coinbase Card may work well.
Visit BlockFi Now Visit Coinbase Now
More about our other crypto exchange comparison, check this out:

CaptainAltcoin's writers and guest post authors may or may not have a vested interest in any of the mentioned projects and businesses. None of the content on CaptainAltcoin is investment advice nor is it a replacement for advice from a certified financial planner. The views expressed in this article are those of the author and do not necessarily reflect the official policy or position of CaptainAltcoin.com