eToro Wallet Review – Fees, Supported Coins, Security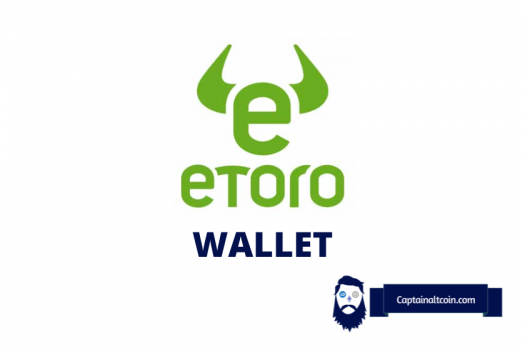 eToro Wallet Review – Fees, Supported Coins, Security
Ease of access: A synchronization occurs with existing accounts and the eToro wallet.
Reputation: It is not just of a good reputation it is also fully regulated.
Large Crypto access: Etoro wallet offers its users access to a large cryptocurrency base (more than 120) cryptocurrency. It also has a conversation technology that supports several (Up to 500 crypto pairs).
Social trading: Users can match the moves of famous traders. Popular traders' moves can be copied and implemented.
UI/UX: The user interface has a simple and intuitive design.
Security: The eToro platform has a premium and world-class level of security. It provides world-class and up-to-date security even when you lose access to your crypto wallet. This security is provided by an on-chain private key service or security key that allows for quick recovery and can never be lost.
Account Fund ease: Users can easily fund their accounts on the wallet with a low minimum and begin investing.
WHAT IS eToro WALLET?
---
The popularly called eToro money is a hot wallet storage offered and used as a means of storing crypto securely. With the eToro wallet, you can convert one crypto to another, transfer and accept crypto back and forth between another wallet, and send crypto from the trading platform to your eToro money/wallet. To get a clearer understanding of the functionality of the eToro wallet, let's dive into the eToro platform, which features the wallet.
The eToro platform is a global trading platform that encourages the trade of commodities, currencies, ETFs, crypto, and CFDs. eToro is a brokerage founded in 2007 which offers social trading and various trade types.
One notable feature of eToro that has soared the platform's popularity is its copy trading. This copy trading feature makes it distinct in the digital market industry. The platform makes it possible for traders who are new to the market to enjoy interaction with skilled traders or investors, check their portfolio and learn from their trading experiences or even copy them.
This is organized to provide traders with fundamental knowledge of crypto investment. Moreover, it offers beginners a demo account with a sum of $100,000 as play money to practice transactions before going deep into investing with their own funds.
eToro is a credible platform designed with essential trading tools and a simple interface for both new and advanced traders. Basically, the eToro platform seems to be more fitting for experienced users due to its low user education.
It functions as a web-based system and as a mobile app for Android users. The eToro multi-crypto wallet is available for use on IOS and on Android devices.
68% of retail CFD accounts lose money Cryptoassets are highly volatile and unregulated in the UK. No consumer protection. Tax on profits may apply.
For traders that consider their time very important to them, buying cryptocurrency on eToro is an excellent choice. The process is really simple and straight to the point, with no unusual delay and limitations. Etoro understands that every second counts and so they make the transaction fast and seamless.
Transactions made with a debit card kill the need for cash transactions which means transactions can be carried out at any location with any device be it a computer, a mobile phone, or a tablet.
eToro ensures that cryptocurrency purchases on its platform are extremely safe and secure. Meaning nobody will hack you and steal your valuables when using eToro.
With the eToro wallet, you can manage several cryptocurrencies all in one wallet. You can as well send your coins from the wallet to other wallets. On eToro, the least deposit amount is $200 excluding US and UK traders who can own an account with $50 and $10 respectively. With this parameter, traders can easily open a trading account by simply filling out and submitting the registration form.
You can fund your eToro account in various ways such as using PayPal, Union Pay, Skrill, and also with credit cards like MasterCard and Visa. When using a card payment method, the platform does not charge you any fee be it for clearance, tax, or for the transaction.
Users are also allowed to trade specific assets without actually possessing them, this is called CFDs. CFD stands for 'Contract for Differences' which is determined by speculating on the price fluctuation of a certain asset. This form of trading is made easy since eToro offers copy trading. This can guide beginners in their CFD trading journey. Assets that can be traded as CFDs are crypto, currencies, stocks, and indices. eToro readily provides different assets which are available and accessible on the platform.
Similar to futures contracts, it is a form of agreement between the broker and a trader. It involves a trader opening the position and choosing parameters like leverage, whether it will be a short or long position, and so on. Both the broker and the trader come to a consensus when opening the position.
Presently US traders are not allowed to trade CFDs on eToro.
No doubt, eToro is a highly profitable trading platform. This fact does not shield your money from risks. Generally, there are risks associated with crypto trading, whether you're a beginner or not.
SUPPORTED COINS
---
On the eToro platform, you are permitted to trade over 56 coins including the most popular ones like Bitcoin (BTC), Stellar Lumen (XLM), Ethereum (ETH), Bitcoin Cash (BCH), Litecoin (LTC), Chain Link (LINK), TRON (TRX), NEO (NEO), IOTA (MIOTA), Uniswap (UNI), Cardano (ADA).
eToro has supported fiat currencies such as GBP, EUR, USD, AUD, TAB, RMB, PLN, NOK, PHP, SEK, MYR, IDR, DKK, CZK, VND. A number of ERC-20 tokens are supported, which can be sent or received through an Ethereum wallet.
DOES IT STORE NFTs, CRYPTO ART & COLLECTIBLES?
---
Unlike some other platforms that allow you to store collectibles and NFTs, eToro only accepts the trade of currencies, ETFs, stocks, CFDs, and commodities. eToro does not store NFTs, crypto-collectibles, and Arts but you can purchase NFTs with eToro. All you have to do is to buy ETH from eToro which can be used to purchase your desired NFTs on a marketplace. Definitely, you'll need a wallet like the Metamask wallet that can link you to the ETH-based DeFi and the marketplace.
IS THERE A FEE WHEN YOU SEND TO AND FROM eToro WALLET?
---
eToro does not charge on transactions. Instead, transaction fees are determined by the blockchain. Each time you transfer funds to your eToro wallet from the app, the platform charges a small fee based on the market and the currency. On every withdrawal, eToro takes a fee of $5.
Unlike some other platforms, eToro takes no commission fee from traders. On eToro, there is no such fee as a hidden fee, extra cost management fee, though it seems to have a higher spread fee in comparison with other platforms.
The spread can be explained as the difference between the offer (buying price) and the bid ( selling price) of a certain crypto asset. A position can be closed if the price of a product goes above the spread price as hoped by the trader. Spread feelings on eToro differ depending on the crypto that is sold or bought. That is like the major way through which eToro generates its money.
HOW TO SET UP THE eToro CRYPTO WALLET
---
Step 1: First download and install the eToro money from the App Store to your mobile device
Step 2: Once you open the wallet, you'll find a brief introduction to the wallet's features. Proceed to sign up. Remember that you must be a verified member or user of the eToro platform to use the eToro wallet. This means you must have that green tick close to your name on the eToro account.
Step 3: Sign up with the same options you used for your eToro account.
Step 4: Input your email address and choose a strong password
Step 5: Find and click on your country and then agree to the T and Cs.
HOW TO VERIFY eToro WALLET
---
As you know, verifying your eToro wallet is a requirement in order to enhance the security of assets and prevent fraudulent activities. Now how do you verify your eToro wallet? To begin, you must present a POI (Proof of Identity) and a POA (Proof of Address). For newbies here, let's quickly talk about what the POI and POA mean.
POI details include your name, phone number, passports, date of birth, date of issuance, and perhaps expiry date. Ensure that all these documents can be clearly and fully seen. You can then scan these documents using the eToro app.
A POA carries your name in full, your address, and the date of issuance. You can make use of either a Tax bill, bank statement, electricity bill, or water bill as your POA. Whichever you choose to use, ensure it is properly scanned and can be clearly seen. As soon as these details are well presented, eToro will begin processing the verification. Kindly bear in mind that this process may take a little while before it is finalized. The platform will notify you immediately after the verification process is done. In case there is an issue with any of your presented documents, you will be notified in your email and then given a guide on what to do.
HOW TO TRANSFER CRYPTOCURRENCY TO ETORO WALLET FROM ETORO TRADING PLATFORM
---
Go to your trading account and tap on "Portfolio"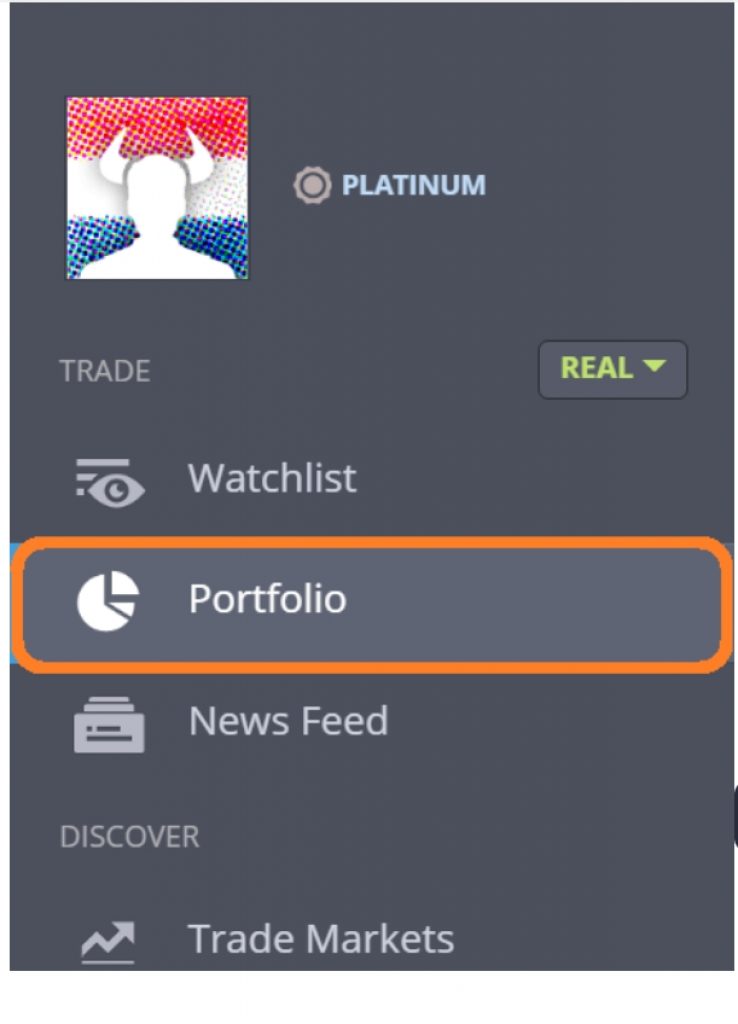 You will find a list of cryptos you can transfer. Tap on anyone you wish to transfer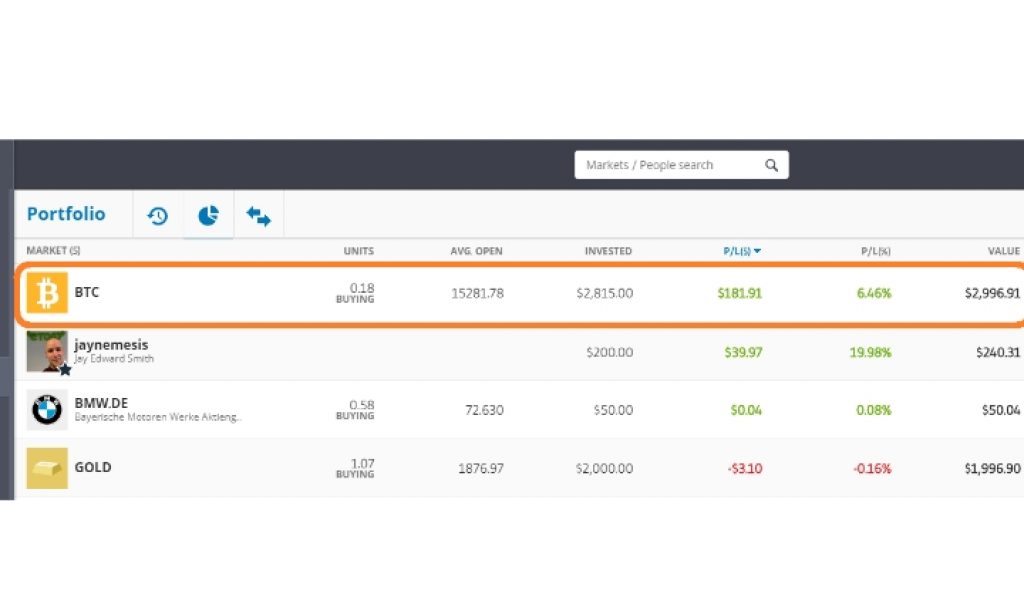 After clicking on the cryptocurrency, it will show your open trades for the particular crypto you've chosen. Then pick a trade of your choice.


you will see "Transfer to Wallet" on the "Edit Trade" page. Just a click on it is okay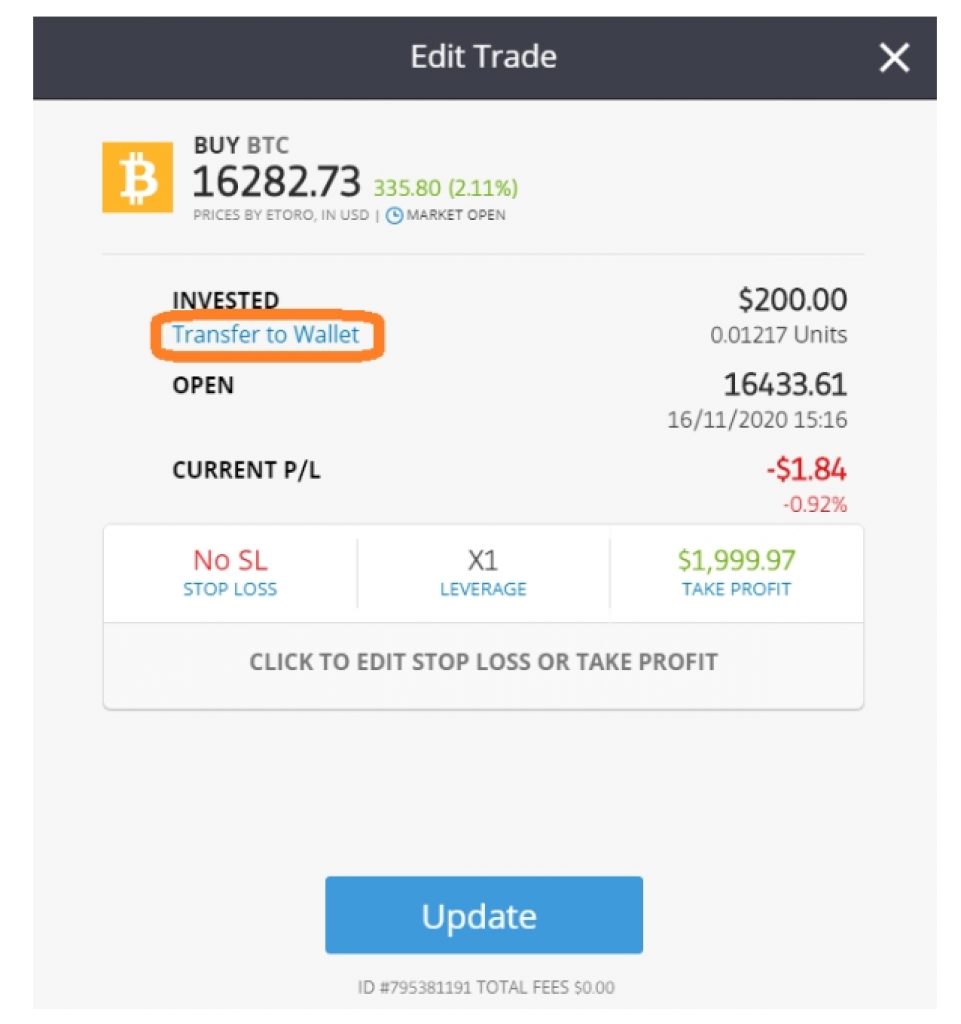 go over the details to confirm. Click on "Transfer" down the page for processing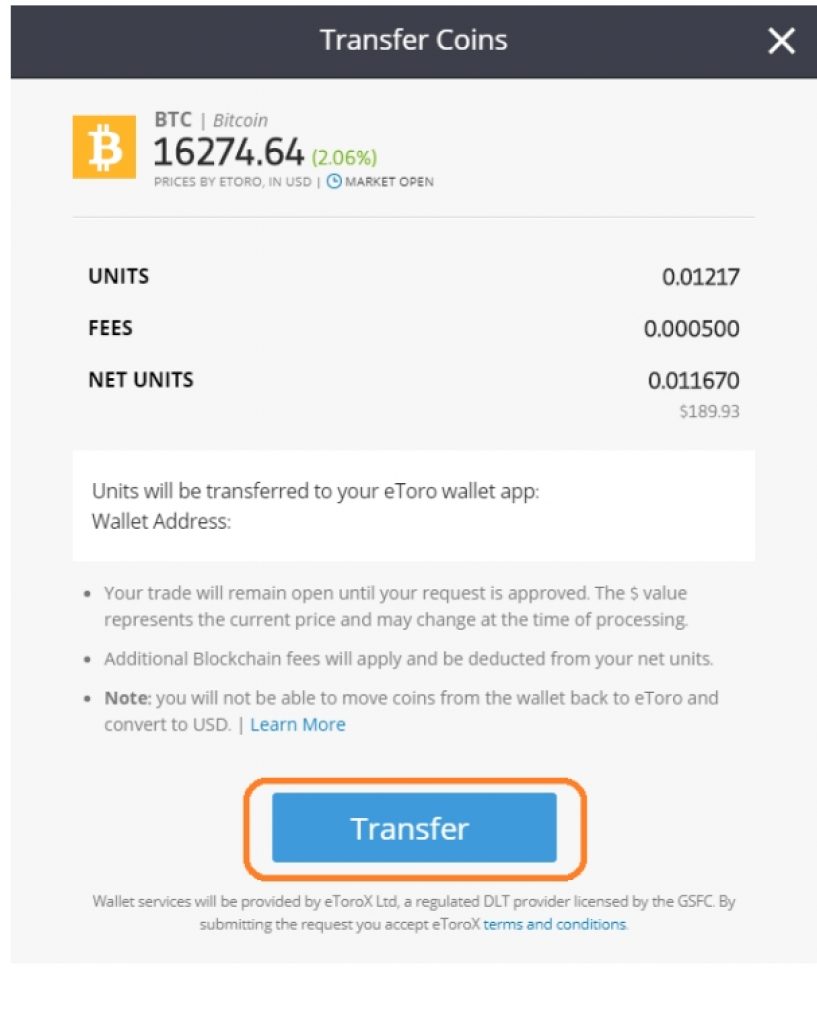 Nice! A notification will be sent to tell you the status of your request. If the trade line says "pending transfer", you just have to wait for the process to end.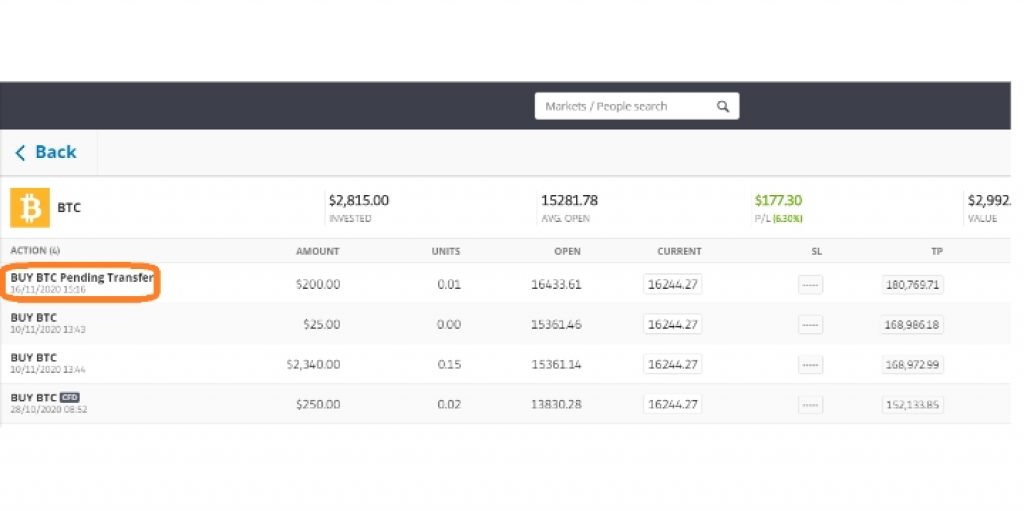 Note: your request may take as long as five working days before it becomes fully processed.
Moreover, after eToro must have processed the request it may still take more time before your wallet receives the coins.
Also transferring crypto from the platform to the eToro money is an irreversible action. This means you cannot transfer funds from your eToro wallet back to the platform.
It is okay to use a wire transfer to purchase your crypto before transferring it to your wallet. This is in compliance with the platform's regulation and also to avoid delays in complications in the process of transferring your funds.
You can now transfer your crypto to other wallets or change it to another crypto currency. Keep reading to find out how you can transfer your crypto to other wallets.
68% of retail CFD accounts lose money Cryptoassets are highly volatile and unregulated in the UK. No consumer protection. Tax on profits may apply.
HOW TO SEND CRYPTOCURRENCIES TO OTHER WALLETS
---
Below are the steps to help you can follow:
First, sign into your eToro money App
Look below 'Crypto' and click on the crypto you wish to send. Let's use XRP in this case
Click 'Send' after you have selected the amount you want to sell, including the receiver's public address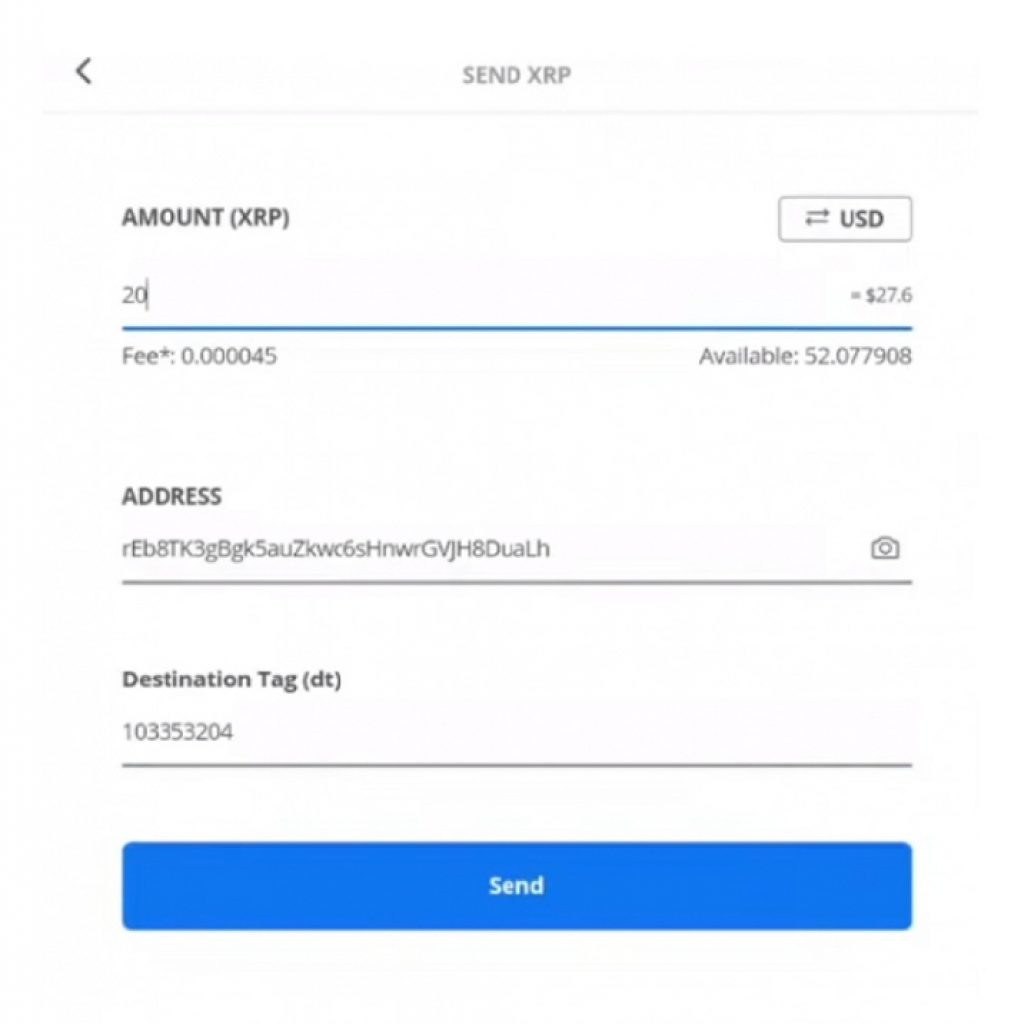 Kindly go over the address for confirmation before clicking the 'Send' tab
You will receive an SMS on your phone with a code. Input the code correctly and click 'Verify'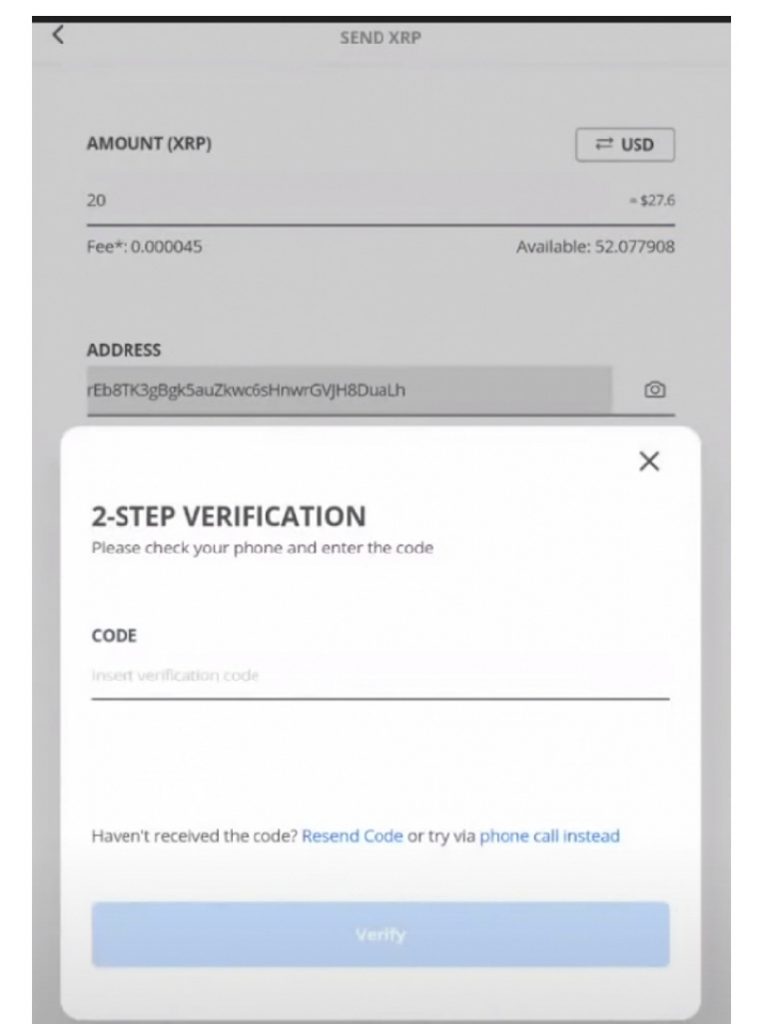 A notification will be sent to you as a confirmation of your request
HOW TO RECEIVE CRYPTOS FROM OTHER WALLETS
To receive crypto to your eToro mobile wallet from other wallets, please use the following steps
Sign in to open your eToro mobile wallet on your device
Select the crypto you want to receive below the 'Balance' tab
Click on 'Receive'. Check for your public address which the sender will use for the transfer
Copy your address and paste it carefully to avoid mistakes. Then send the address to the one sending the crypto. An alternative for the sender is to get your public address by scanning the QR code.
HOW TO BUY COINS WITH eTORO WALLET
---
It is advised that when buying cryptocurrency, investors should not invest amounts that can ruin their lives. Realistic, informed and achievable investing is key to success.
To buy coins on eToro wallet, follow the following steps
Step 1: Download and install the eToro App
Step 2: Sign up or create an account by filling in your credentials on the eToro platform.
Step 3: Log into your wallet using your mobile app.
Step 4: Navigate to the Balance tab, below it, click on the cryptocurrency choice you want to buy
Step 5: When your crypto choice has been selected, click on send.
Step 6: Confirm the inputted address to be sure, then you can affirm by clicking on send.
Step 7: You will receive a confirmation code via SMS sent to your mobile device.
HOW TO RECOVER ACCESS TO YOUR ETORO WALLET
---
The eToro Wallet platform supports numerous (more than 120) cryptocurrencies. It also has an in-app conversion technology that supports several (Up to 500 crypto pairs). Due to these, security is paramount. eToro provides world-class and up-to-date security even when you lose access to your crypto wallet. This security is provided by an on-chain private key service or security key that allows for quick recovery and can never be lost.
Go to the wallet page
Press the 'Sign in' tab
Below the password box, you'll find 'enter your password or reset it there'. Click on 'reset it here'
You'll be sent a guide in your email to help you choose another password.
It is understandable that eToro withholds more information about their private key technology for security purposes but users can rest assured that the platform is safe, highly secured, and fully regulated.
68% of retail CFD accounts lose money Cryptoassets are highly volatile and unregulated in the UK. No consumer protection. Tax on profits may apply.
FREQUENTLY ASKED QUESTIONS
---
eToro is a multi-asset platform which offers both investing in stocks and cryptoassets, as well as trading CFDs.
Please note that CFDs are complex instruments and come with a high risk of losing money rapidly due to leverage. 68% of retail investor accounts lose money when trading CFDs with this provider. You should consider whether you understand how CFDs work, and whether you can afford to take the high risk of losing your money.
Past performance is not an indication of future results. Trading history presented is less than 5 complete years and may not suffice as basis for investment decision.
Copy trading is a portfolio management service, provided by eToro (Europe) Ltd., which is authorised and regulated by the Cyprus Securities and Exchange Commission.
Cryptoassets are highly volatile and unregulated in the UK. No consumer protection. Tax on profits may apply.
eToro USA LLC does not offer CFDs and makes no representation and assumes no liability as to the accuracy or completeness of the content of this publication, which has been prepared by our partner utilizing publicly available non-entity specific information about eToro.

CaptainAltcoin's writers and guest post authors may or may not have a vested interest in any of the mentioned projects and businesses. None of the content on CaptainAltcoin is investment advice nor is it a replacement for advice from a certified financial planner. The views expressed in this article are those of the author and do not necessarily reflect the official policy or position of CaptainAltcoin.com